B2B Marketing Strategies for eCommerce Success
Are you a B2B eCommerce seller or planning to start a B2B online business? Then you must be aware that B2B sales are much more competitive and comprehensive than B2C sales. Also, the quantity in the discussion is much greater, and therefore, the way you market your product needs to be well strategized.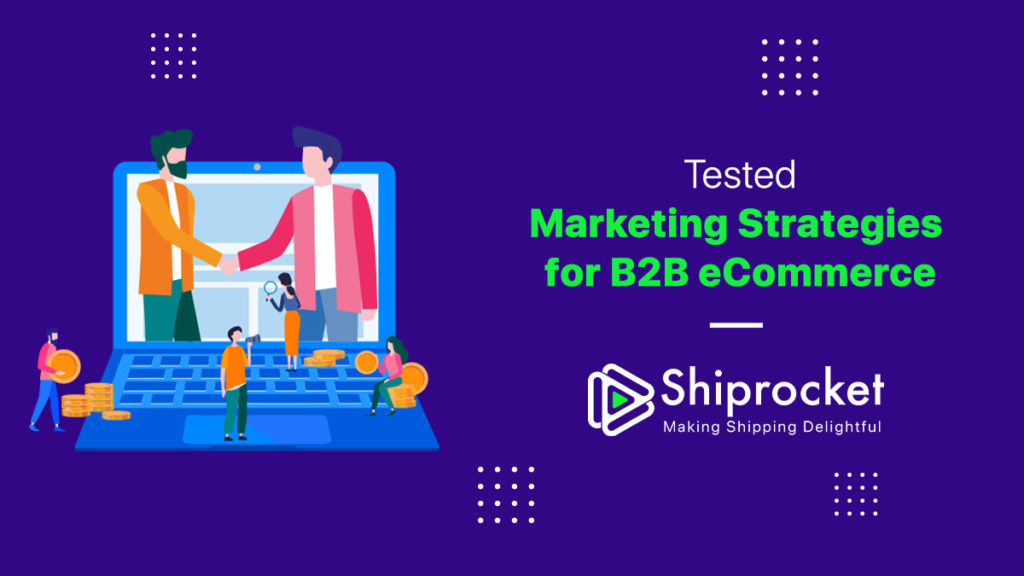 According to a report by 99firms, nearly 50% of B2B companies invest 10% or more of their annual budget in marketing. This implies that B2B marketing is an essential part of any business, and companies invest millions in it to thrive.
If you think that applying B2C eCommerce strategies to your B2B initiative will yield the same results, then you might want to dig deeper into the details.
Your target market for B2B businesses is different. Along with that, the nature of the company and the duration of the deals is much longer. Hence, your marketing strategies must also be such that you can influence and convince your prospects for an extended period.
Since the money spent on B2B eCommerce deals is much higher, prospects look into every aspect of the business before locking in a contract. They will want to analyze everything about your product beforehand, and it must be marketed similarly.
Here are a few marketing strategies for your B2B eCommerce business that can help get quality leads and long term conversions.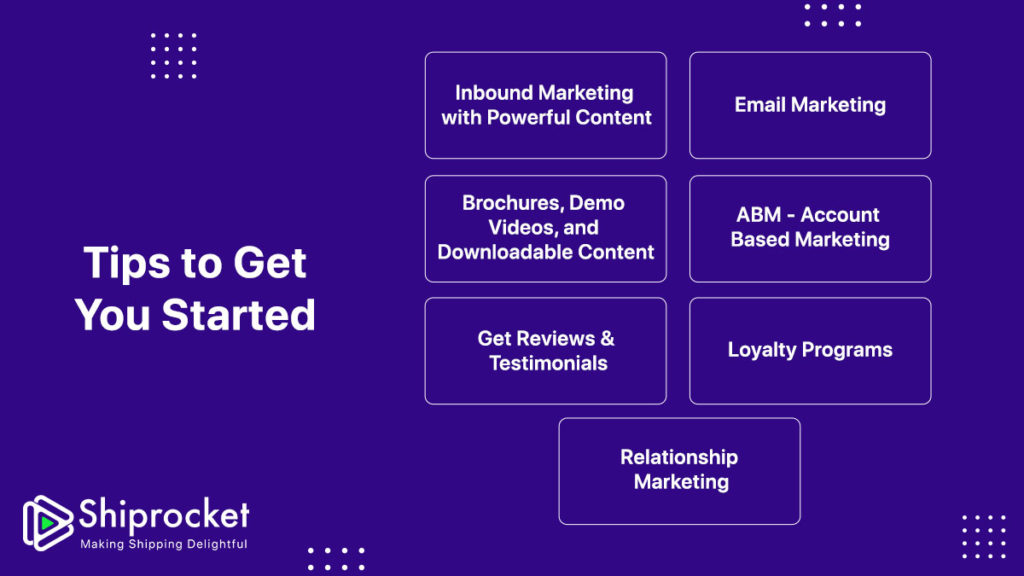 Inbound Marketing with Powerful Content
A lot of research goes behind purchasing any product or service for an extended period. Thus, if any company is buying your product for six months or a year, they will want to know everything about that product. Nobody wants to invest their money for a lost cause.
The primary way they can do this is by reading about your product. You can take this opportunity by providing your customers with accurate details about your brand through engaging content or can wait for them to find it from other untrustworthy sources.
This is where inbound marketing and content marketing comes into play. Detailed content is significant for up to 90% of shoppers and especially for B2B shoppers.
Content marketing includes writing relevant product descriptions for your offerings and creating a website with all the essential information. This optimization will help you provide correct information and rank on search engines to be discovered quickly.
Getting ranked higher on search engines is essential for B2B marketing as it helps you stay on top of your game. Inbound marketing can help you do so.
Other inbound marketing strategies can include –
Blogs
Blogs are an excellent way to give out information and improve website rankings on Google. Blogs can be useful to generate leads and drive results without a huge investment. They can also help you build your email list and run engaging email marketing campaigns.
You can write about the product, its advantages, and mention use cases. This can help you improve brand awareness, as well.
eBooks
eBooks are much more detailed information pieces about your product. They accumulate all different sources and give your buyers a doc that can help them clear all their queries.
Even though eBooks are long-from content, they will be beneficial for individuals seeking complete information. On the contrary, ebooks won't perform well in B2C ecommerce as consumers don't spend a long time researching.
Whitepapers
White papers contain statistics about the industry and ongoing industry trends. You can leverage the power of white papers to interact with your customers and present them with your product's benefits through hard stats.
These can help you improve credibility and make a more substantial mark on your customer's minds.
Email Marketing
Email marketing was the most used B2B marketing tactic in 2019, used by 84% of marketers (Sagefrog, 2019). It is the best marketing strategy in terms of ROI.
Emails are among the most effective ways of communicating with potential buyers and providing them with information right where they will read it.
You can use emails to offer your existing customers unique offerings, give recommendations, and land royalty programs. Along with this, it can be used to automate communication with your buyers. For example, you can send back emails, messages about why they haven't taken action on your product, remind them about abandoned carts, etc.
Brochures, Demo Videos, and Downloadable Content
Want to educate your customers thoroughly about your product? Give them content they can carry with them wherever they go.
Provide your customers with the right information in the form of downloadable content like PDFs, product sheets, brochures, etc. This will help them learn more about your product with all the specifications.
Along with that, demo videos like a charm for any eCommerce business. They are engaging, educational, and convey the message in an extremely interactive manner.
Prepare demo videos and leave them on your website for customers to return to when they read your eBooks.
ABM – Account-Based Marketing
When you acquire new customers, the next challenge is convincing them to purchase your next purchase with your brand. Therefore, it is essential to redirect your marketing initiatives toward retaining these customers.
This is where account-based marketing comes into the picture. This form of marketing involves many optimization activities where you can interact directly with your key accounts. It consists of personalizing the buying experience, analyzing the customers' feedback, and working on retaining these customers.
We all are aware that acquiring a new customer is much more expensive than retaining an existing customer.
When you sell a product to any business, there is a hefty negotiation and tweaked to match requirements. Since the product is now suitable for a specific business, you can utilize its personalization initiatives requirements.
Customize the product catalog for the existing customer. Create & distribute unique content about their needs so that they are convinced to purchase only from your store when they are up for it next.
Continuously analyze the feedback provided by these customers and enhance the requests put across. Eliminate any bottlenecks in the business and improve your selling process.
Get Reviews & Testimonials
Work with existing customers so that they can write positive reviews about your website and product. These reviews and testimonials have a significant impact on the buyer's purchase decisions. If your store has positive reviews online, it is quite a validation for someone who is still in the research phase of their social media process.
Since B2B commerce involves larger orders and the amount at stake is much higher, buyers must be looking for reliable suppliers who offer an excellent after-sales service, reliable shipping, and product quality.
Collect as many positive reviews as possible and highlight them on Google and your website.
Loyalty Programs
Loyalty programs are ideal for B2B commerce marketing. The crux of loyalty programs is ensuring long-term partnerships. As your customers are already on the lookout for a long-term association, a loyalty program will only add to their benefit.
Need to be loyalty programs can add to a great lifetime value. However, they are not the same as B2C programs. You will have to closely look at the incentives and decide the purchasing volume for them to move up higher. The amount and deliverables will be more significant, and the payouts will have to match them.
You can also build a reseller program and give sellers incentives to grow your brand name and distribution network.
Relationship Marketing
The art of conversation is not extinct in B2B eCommerce. If you want to attract customers and form long-term associations with them, you will have to incorporate some relationship marketing into your business.
You must put a team in place to attend to your customers' calls and give them a proper understanding of the product. If required, this team must also be equipped to physically meet the buyer and explain to them the nitty-gritty details of the product and deal.
In-person product demos are instrumental in persuading buyers to convince them of purchasing your product. Don't take this step lightly, as it has a significant influence on your customer's purchase decision.
Conclusion
Marketing initiatives are equally crucial for B2B eCommerce. If you do not market your product or service correctly, you might lose out on customers and fail to make a mark on new ones. Therefore, apply the strategies to increase convergence and grow your B2B eCommerce business.
Calculate Your Shipping Costs Now