What Is B2B eCommerce Model – Advantages, Disadvantages and Trends
The B2B eCommerce business model has become one of the most successful online business strategies that have led to massive revenue for internet businesses. It is expected that by the year 2020, the revenue related to B2B eCommerce will shoot to around $1.2 trillion. This means that B2B commerce is exponentially rising at a rate of 7.4% every year. With the rapid growth of eCommerce across the globe, more and more companies are adapting to the B2B model to accomplish goals and increase profitability. Let us have an idea of what the B2B eCommerce model is and how does it suit the modern-day business proceedings.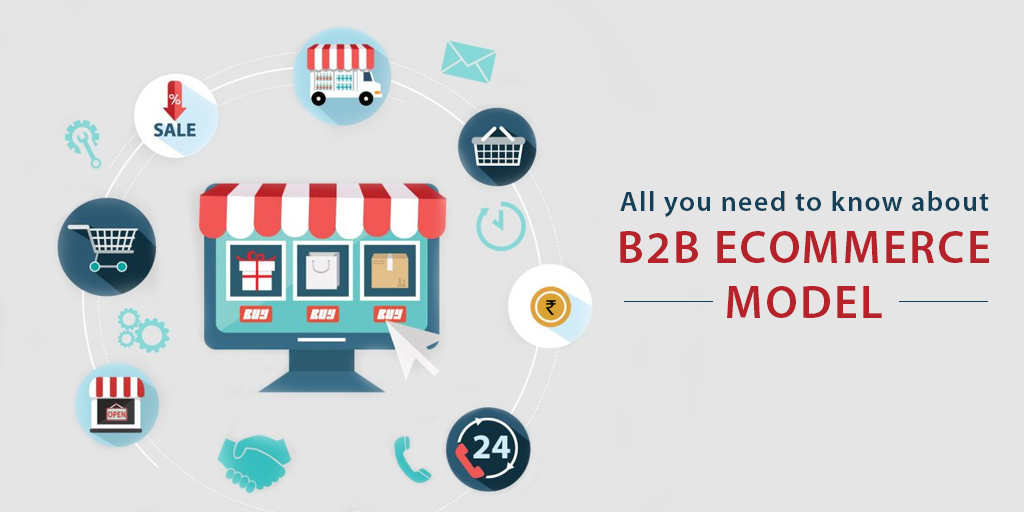 What Is The B2B eCommerce Business Model?
In simple terms, the B2B eCommerce Business is a form of electronic commerce that deals with the transaction of goods and services between businesses through the internet. In most cases, this transaction is performed through an online portal. The main objective of this business model is to increase the business efficiency and revenue of retailers. Rather than manually processing orders, all the orders in the B2B model are processed in the digital platform. Contrary to the conventional eCommerce model of purchase and sale between the consumer and seller, the B2B model deals in commercial transactions between businesses.
The crux of this business model is based on careful planning in order to have efficient and profitable transactions in consideration of complex market conditions.
Types of B2B eCommerce
There are three major types of B2B eCommerce categories, and each of them has its pros and cons.
B2B2C
B2B2C, or business-to-business-to-consumer, this type of B2B eCommerce sells directly to the consumer without any middleman. These goods are then sold to the B2B entities that sell them directly to the consumer.
Wholesale
Wholesale businesses buy goods in bulk from distributors or manufacturers to then offer them for sale to the consumer at retail prices.
So, if you're a wholesale supplier, buyer-oriented B2B marketplaces are a good way to advertise your products to buyers and retailers with less marketing effort. Buyer-oriented marketplaces only exist where there are many buyers and fewer sellers.
Manufacturer
Manufacturers produce goods in large amounts that are then sold to other suppliers, wholesalers, or manufacturers. Businesses are increasingly needing manufacturers to be able to complete online transactions with access to personalized features like pricing, production schedule, or sizing.
Distributor
Distributors majorly take care of packaging, shipping, and marketing. These are things that usually manufacture wouldn't prefer doing in-house.
B2B eCommerce Business Model Advantages
Market Predictability
Compared to the other business strategies, the B2B eCommerce business model has more market stability. B2B sectors grow gradually and can adapt to various complex market conditions. This helps to strengthen the online presence and business opportunities and get more potential clients and resellers.
Better Sales
An improved supply chain management process along with a collaborative approach increase customer loyalty in the B2B eCommerce business model. This, in turn, leads to improved sales. It helps businesses to showcase product recommendations and unlock effective upselling and cross-selling opportunities.
Lower Costs
Due to an effective supply chain management process, this online business model leads to lower costs for businesses. In most cases, the work is done through automation that eradicates the chances of errors and undue expenditure.
Data Centric Process
One of the main advantages of the model is that it relies on effective and factual data to streamline the whole process. In this way, errors can be avoided and proper forecasts can be made. With an integrated data-driven approach, you can calculate detailed sales statistics.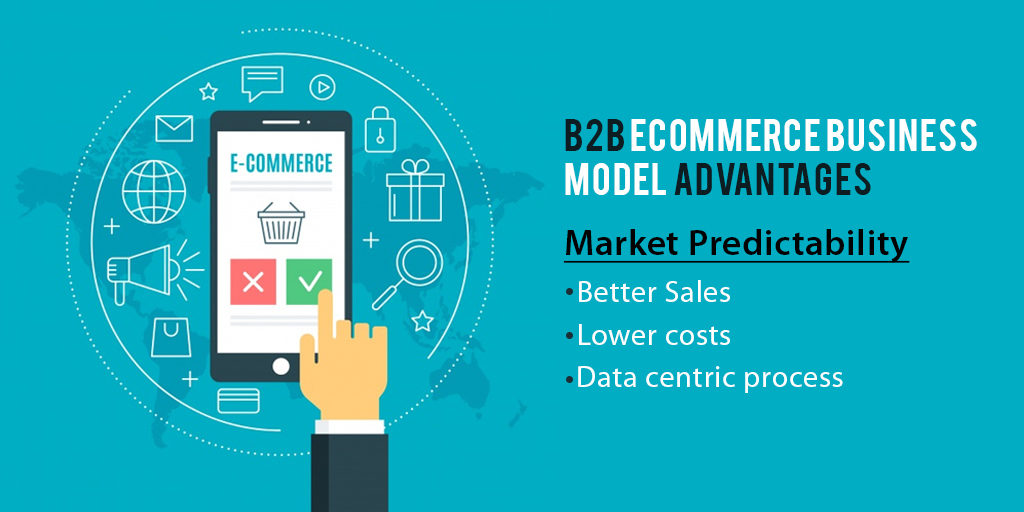 B2B eCommerce Business Model Disadvantages
Just like the other business models, the B2B eCommerce Business model has some flaws too, which are:
Limited Market
Compared to the B2C model, this type of business has a limited market base as it deals with transactions between businesses. This makes it a bit of a risky venture for small and medium eCommerce businesses.
Lengthy Decision
Here, the majority of the purchase decisions involve a lengthy process as there are two businesses involved. The process may involve dependence on multiple stakeholders and decision makers.
Inverted Structure
Compared to the other models, consumers have more decision making power than sellers in the B2B business model. They may demand customizations, impose specifications and try to lower price rates.
Trends in B2B Commerce
Younger Buyer Segment
Recent market statistics suggest that nearly half of the B2B buyers are young, tech-savvy and sophisticated. These buyers expect more ease of use just like on the customer-driven websites. The unique purchasing preferences of the younger buyer segments will help B2B businesses grow in the long term.
Mobile Commerce
Mobile commerce is here to stay as a trend in major business sectors. It is changing the face of B2B marketing since 42% of the B2B customers use mobile devices during the purchase process. Right from comparing prices to viewing a plethora of other features as well, new age buyers are using more and more mobile devices for making a purchase.
Personalization
On the task of making purchases more mobile-friendly and optimized, personalization is yet another trend that will help B2B businesses succeed in the long run. Plenty of companies around the world are already implementing sophisticated personalization in the form of price optimization algorithms to deliver dynamic pricing. Ultimately creating personalized experiences will be the one reaching more profitable B2B sales in the coming years.

Nevertheless, it is finally up to the business to decide on how to take their venture forward based on their business vision, revenue target, and other business objectives.
What all should a B2B eCommerce website contain?
It must have a clear message on the home page, the items must be listed properly, and it must be optimized to ensure all information is shared correctly.
How can I ship my B2B orders?
You can ship your B2B orders with a shipping aggregator like Shiprocket. We also provide freight shipping with Rocketbox and you can store your inventory in Shiprocket Fulfillent's warehouses and we will handle the order fulfillment for you.
Is it essential to have a mobile website for B2B businesses?
Yes. A mobile website makes your business more accessible and most buyers are online through their mobile these days. It will increase your chances of conversion.
Calculate Your Shipping Costs Now