13 Best Practices To Help Enhance Your B2B eCommerce Business
The B2B eCommerce industry is growing rapidly and is predicted to reach the $1.2 Trillion mark by 2021. But what is B2B eCommerce and what practices should you follow to make your B2B eCommerce business scale higher? Let's dig deeper into this subject!

What is B2B eCommerce?
B2B eCommerce is a form of electronic trade between two businesses. It is a more organized form of online trade where there are multiple decision makers involved and the cost of transactions is higher. Currently, it is the fastest growing eCommerce sector and sellers are investing significant time and resources to make their B2B efforts work!

Most of the time, you put in a lot of effort but somehow your visibility among businesses remains the same. Furthermore, the traffic on your website is high, but conversions aren't, due to which, your sales don't match your expectations. To achieve your goals, it is necessary you follow a few practices that will help your business grow in the right direction.

With the help of these practices, you can grab the attention of maximum organizations, fulfill their business needs through a seamless experience, and persuade them to purchase from your brand.
B2B eCommerce practices for enhancing sales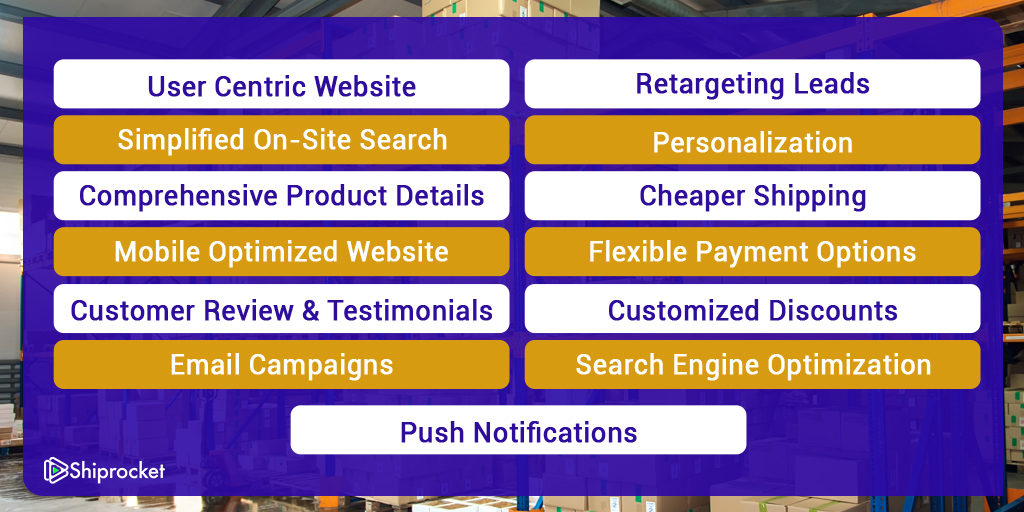 1) User-centric website
Most users head to an online site to find a solution to their query. Thus, it is necessary you provide them with the solution they came searching. According to recent research by Hubspot, 76% of users believe that a website's design should facilitate their search. B2B consumers approach your website looking for specific products. Therefore, make sure your website's navigation is simple, and a layman can move from one page to another in search of what they need.
2) Simplified on-site search
In B2B eCommerce, people don't come in search of just one or two products. For example, if you manufacture fountain pens, a stationery shop owner will not contact you for only 5 or 10 pieces of this fountain pen. Moreover, going through 10 steps to find one fountain pen will prompt the retailer to go to a website where the process moves faster. Thus, add an advanced search option so that your user can directly enter the product code, name, or ID to locate the product quickly and purchase faster.
3) Comprehensive product details
These are some aspects that overlap with B2C businesses, but these are more important for B2B eCommerce websites. For someone who is purchasing products in large quantities, it is crucial they know every detail of the product. Thus, your description must contain the following information:

High-quality images preferably with a zoom
Technical specifications
Product ID
Make and Model details
Part numbers (if applicable)
Regulatory information
Price
Availability
Delivery details
Make sure to place these details appropriately to avoid any confusion for the buyer.
4) Mobile optimized website
With the shift to m-commerce, it is imperative you optimize your site for both desktop and mobile. These days, most businesses are conducting B2B sales through their mobile devices. Hence, the experience must not be broken on the mobile front. Furthermore, returning customers also prefer mobile applications as they have the flexibility to access your shop anytime, anywhere.
5) Customer review & testimonials
In the B2B eCommerce space, customer reviews and testimonials hold a much higher value for the buyer. It is because they are investing a considerable sum of money and want all the validation before doing so. Also, testimonials from businesses hold a higher significance since it is not easy to publish fake reviews from organizations. Thus, to improve your credibility, keep sourcing reviews from your existing clients.
6) Email campaigns
59% of marketers still believe that email marketing is an effective technique to make an impact on their buyer. Draft your emails in a manner that informs B2B businesspeople about your service, educates them about its impact, and solves problems faced by their business. Gather email addresses from your users whenever possible. You can do so, by using an email opt-in on your website or by collecting emails while providing downloadable content such as ebooks. This process is essential for generating a quality mailing list which will further help you convert leads.
7) Push notifications
Push notifications can amplify marketing efforts by many folds. Users engage more with push notifications, and the click-through rate is substantially higher from this source. Therefore, spend time formulating high-quality push notifications, that give out vital information about your brand in a creative manner. Don't forget to include appealing CTAs to promote your product among your target audience.
8) Retargeting cold and warm leads
If some of your leads do not convert in the first attempt, you must keep running campaigns for them as well. The requirements of businesses change with time and subsequent growth. A product or service that is not required today, may be required tomorrow. Thus, retarget your leads on different mediums and keep them informed about any updates in your model. By this methodology, you increase the chances of converting previously unsuccessful leads. But with B2B, the retargeting audience is usually lower. Therefore, careful segmentation and targeting can help you persuade a large number of prospects. An excellent place to start would be segmentation of users by their position in the sales funnel.
9) Personalization
eCommerce personalization is the key to a seamless customer experience. Therefore, to make the buyer journey smooth, focus on the small details on your website and improvise the user experience continuously. Always remember, your objective is to make the work of your audience easier. A few things to keep in mind for B2B website personalization are as follows:
a) Optimized checkout page
Optimize the checkout page with recommendations, one-click checkouts for returning customers, and a wish list or save to cart option so they may resume from where they left.
b) Custom catalog display
For the sellers with whom you are already under contract, you can create a separate portal where they can log in and see only the products which are covered in their contract. This step saves time and confusion for both of you and also promotes increased business between your respective companies.
c) Option to reorder
As most B2B sales are repetitive, have an option through which buyers can reorder from their past orders. Trust us, this saves buyers a tremendous amount of time and energy and promotes a faster transaction.
10) Cheaper shipping
As with B2C eCommerce, shipping also plays a significant role in B2B eCommerce. Try and provide the buyer with free shipping, discounted shipping, or flat rate shipping. This will increase your reliability and give you an edge over your competitors. Also, ship orders using a shipping software that offers you bulk shipping and cheap shipping rates as B2B requirements are usually centered around this requirement.
11) Flexible payment options
Most businesses are now opting for online payment options along with offline methods. Include a secure payment gateway on your website to provide your buyers with different online payment modes. But don't wholly evade offline payment options like cheque payments or demand drafts. Give them the opportunity to decide which method is most suitable for their business.
12) Customized discounts
It is no secret that pricing is a strong determinant of eCommerce success. Pricing can vary due to many factors like volume, regulations, etc. Therefore, try to adjust discounts for returning customers or give them an advantage when shipping their orders. You can also provide introductory discounts for first-time buyers. Through this action, you can improve loyalty and gives your business a significant boost.
13) Search Engine Optimization
SEO is an essential component of your eCommerce marketing strategy, and you can improve your business metrics by merely investing some time optimizing your website for various search engines. It helps in improving your website's ranking and visibility across Google, Bing, Yahoo, and other search engines. Make sure you include SEO optimized and quality content at every step of your buyer's journey.

Employ these best practices to provide your buyer with a seamless experience while you increase sales. Try all these practices and decide which works best for your business!

Calculate Your Shipping Costs Now