Product Photography Tips You Must Know
When consumers buy online, they perceive the value of the products and judge the brand through its visual representation. This indicates the value of having high-quality and enticing product photography.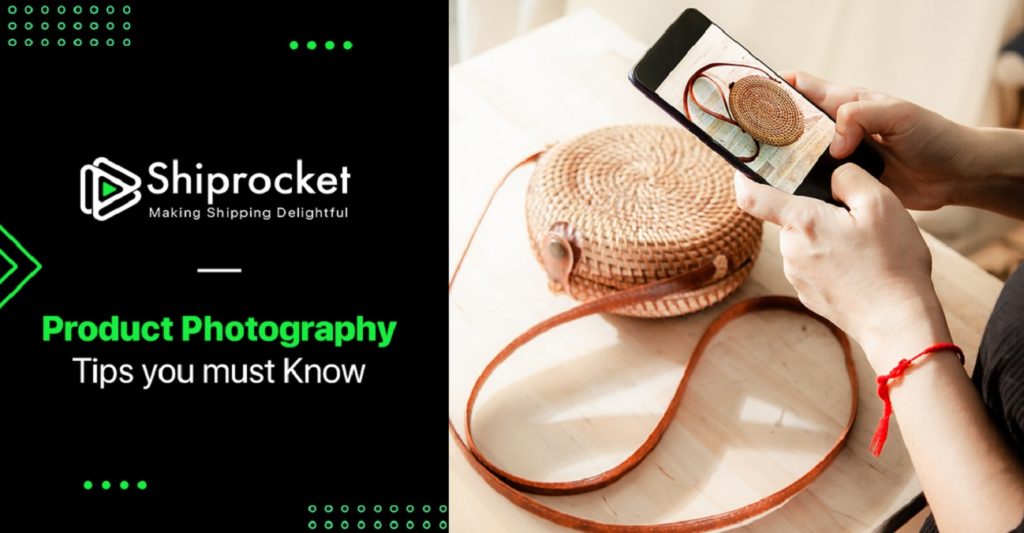 Not every eCommerce retailer can afford to invest in professional product photography services, especially those who have just started an online business. For them, DIY photography is an excellent alternative, provided they know product photography tips and techniques.
By product photography, we don't mean aesthetics only. High-quality images can also be the reason behind low sales and conversion. This especially matters if you are selling products on online marketplaces where your products are showcased along with the competitor's products. We mean it when we say that the perceived value of the product is directly related to the image quality.
When you start a business, you may not want to opt for professional services as they might come expensive. There are many tools that you can employ to help yourself with product photography. In this blog, we shall discuss several tips to make things easier for you.
What is Product Photography?
Product photography is a technique of showcasing the products attractively and enticing potential consumers to make a purchase. Product images play a pivotal role in a customer's decision-making process, ultimately impacting the conversion rate.
It is an essential part of both online and offline advertising. The product photographs are used in brochures, catalogues, billboards, online ads, and company website.
Types of eCommerce Product Photography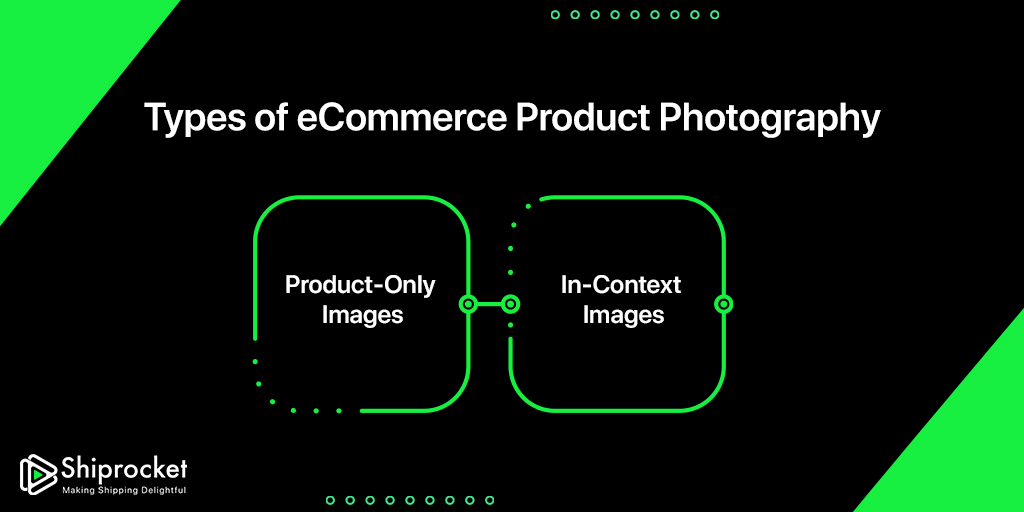 There are two types of product images that you can use across all your marketing channels:
Product-Only Images
The first type of product photography is clean-cut product-only images on white background. These include featured images in a variety of angles to showcase the product in the best way possible. The white background helps create a consistent look across the product line.
In-Context Images
In-context images are shot with the product being used in the intended environment. They may include complementing products and are well-suited for social media, emails, and blog posts.
Equipment Required for Product Photography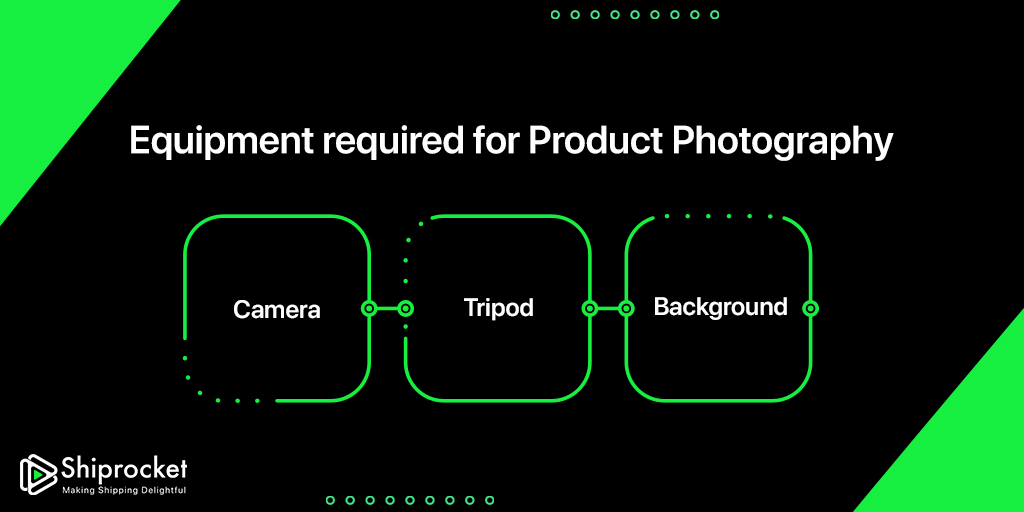 You are only going to need a few things that won't cost you much.
Camera
Camera, of course! You don't require any professional camera. While clicking products photos with professional cameras is fantastic, it's unnecessary to spend so much money on the camera.
If you own a smartphone with a good camera, it'll work perfectly well. Remember, the camera doesn't click pictures, but the photographer does!
Just click a few pictures and see the results. As per your requirement, you can change lighting and exposure, and even edit the pictures after clicking them.
Tripod
Tripod provides stability to the camera and reduces the blur effect on the picture. Also, sometimes you need to set the highest aperture to let the minimum light come in through the lens. But, in order to click an image with the right exposure, you would want to keep slower shutter speed. In this scenario, the tripod comes very handy to reduce the blur effect.
Background
Most of the product photographs have a white background to let the product come out nicely. Poster board and white sweep can be your best go-to options for white background.
Product Photography Tips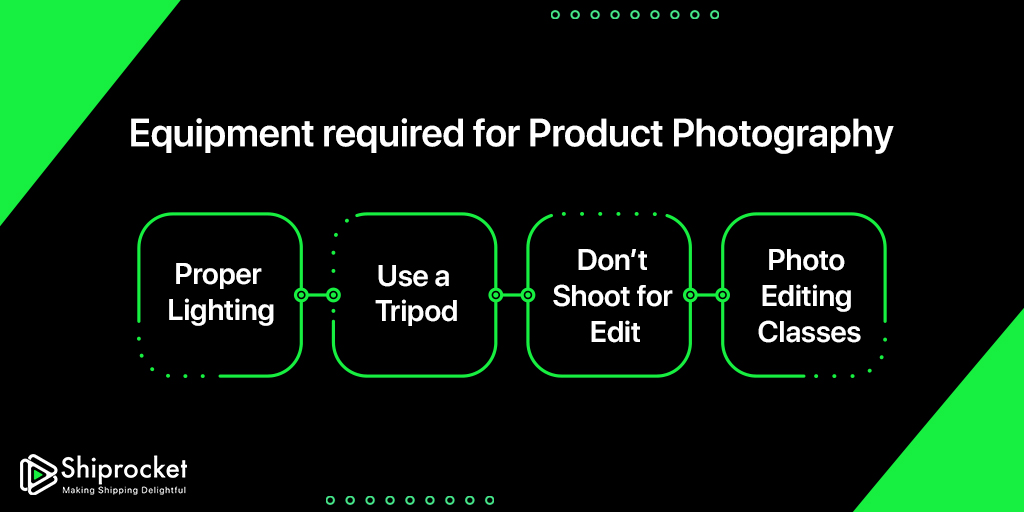 Between launching your website and crafting SEO-friendly content, we suppose you won't have time to study the basics of product photography. But don't worry, we have done the work for you. Here are a few tips that we have collated especially for you.
Proper Lighting
Photography is all about capturing light! Without light, nothing would be clear – neither your product nor the background. There are two lighting options for product photography – natural lighting and studio lighting. The product, purpose, and platform will help you decide the lighting setup you need to use.
Natural lighting is a good option for products such as edible items, clothing, and people. Notably, natural-looking pictures work well on social media channels like Instagram. If you are clicking the picture inside a room, you can leave all windows and doors open to let maximum natural light come through. At the same time, if you are photographing outside, you will have plenty of light. However, you might need some light controlling equipment such as light reflector to maintain the right exposure.
Now, if you sell products that are generally used indoors, such as cookware, then artificial lighting setup is preferable. You can build a simple studio with artificial lights such as CFL bulbs and LED studio lights to help you with the lighting aspect of your product photography.
Use a Tripod
Tripods might sound unnecessary to you, but they are imperative. They play a significant role in the clarity and quality of the product. Notably, tripods are easy to use, as well.
Tripods provide stability to the camera to avoid clicking pictures with shaky hands. So, using tripods will make sure there is no blur, which is a critical aspect of product photography.
Whether you are using a DSLR or a mobile camera, tripods don't come very expensive. They are available in varying price range and cost as low as just Rs. 500.
Don't Shoot for Edit
Don't click a somewhat okay picture and leave the rest on editing. Sometimes, it takes more time to edit just because the first draft was sloppy. If you click some not so okay pictures and leave the rest of the work on Photoshop, nothing significant is going to happen. You need to think about your strategy again.
This doesn't mean that you should not edit the photographs. Editing is a skill, and it can undoubtedly create a visible impact on the quality of the picture. But again, if editing takes so much of time and effort, clicking a fresh picture makes much more sense. Editing must only include a few touch-ups to enhance the overall beauty of the picture. But if you need to crop out the product from its background completely, then it is a problem.
When you shoot your photographs, try to not shoot for the edit. Try to click as many pictures as you can. With this, you would require minimal editing, that too just to enhance the piece of art without changing it completely.
Photo Editing Classes
While we suggest minimal editing, it's still a prerequisite that you know the basics of editing. You must know making some small edits like tweaking contrast or saturation. The problem with editing is that there are so many things that you can do. And it can become overwhelming for you if you do all these without any formal training.
Especially if you are using photo editing software like Photoshop, you would want to know its basics to use it effectively. You can simply head towards YouTube if you don't wish to spend bucks and enroll yourself for a course. Thousands of free tutorial are available on YouTube that can help you learn Photoshop.
With these simple tips and tricks to click beautiful product pictures, you can make a significant impact on your customers and on your sales too!
Calculate Your Shipping Costs Now