Top 7 Marketing Strategies to Promote Your Hyperlocal Business
Hyperlocal delivery has given small businesses the much-needed boost they required. Earlier, only well off sellers, who had their own fleet could deliver products to their customer's doorstep. But today, almost every business can do so with the help of hyperlocal delivery services and ease of listing products on the marketplaces.
But, if you want to sell your products to many customers, it is imperative that you market these services appropriately. The first step in this direction is to make people aware of your store and all the items you sell in it. Next, make sure your customers know about your delivery services. This will validate their purchase decision and make them order from you.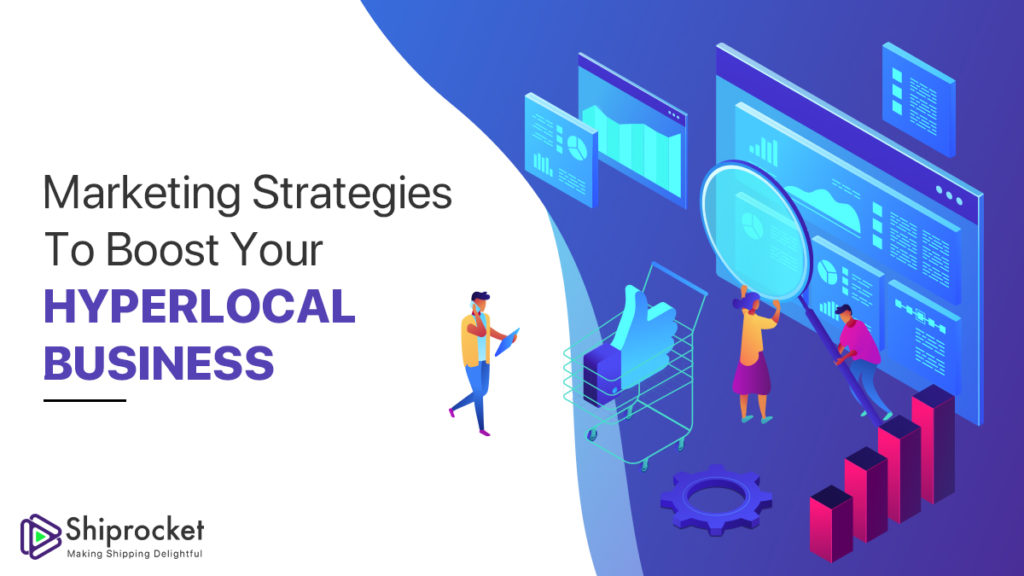 In doing so, you need a solid hyperlocal marketing strategy that also ensures increased visibility of your business. Since most delivery services offer a delivery area of up to 50 km, you must put your best efforts to promote your business aggressively in that area.
Here are a few strategies for your hyperlocal business to help you reach out extensively to your customers-
Google's My Business Listing
Have you ever searched Google for something like chemist shops near me, or Chinese restaurants near me? The search results you get on the very first page include those businesses that are listed in your area on Google. It is in these listings that you can find the contact details, address, business hours, etc.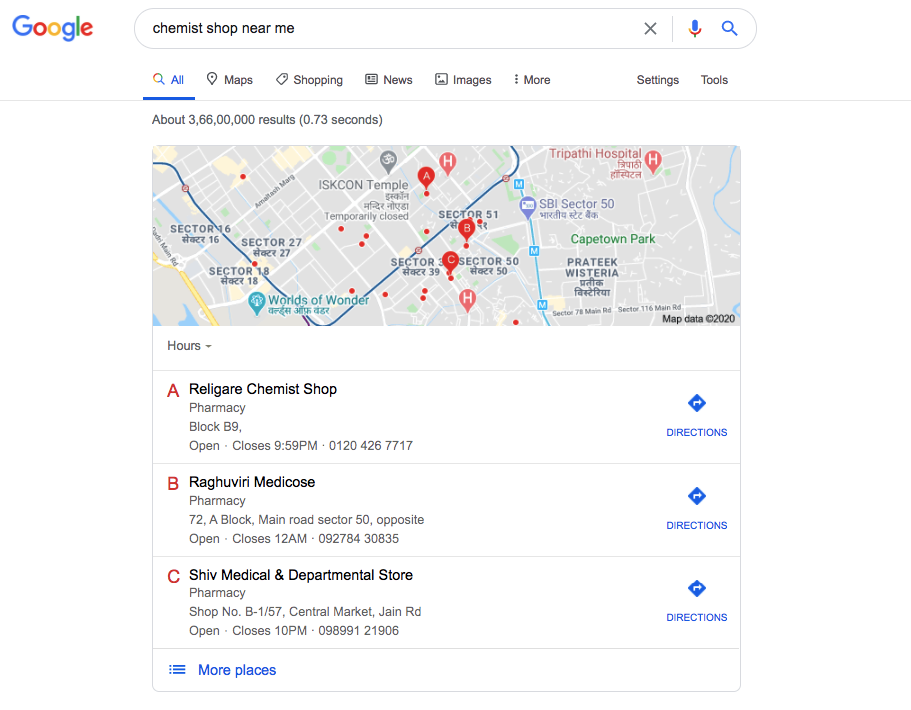 Google's My Business is a free tool for hyperlocal businesses that enables them to list their companies online and reach out to relevant customers.
It is essential to update your 'My business' listing on Google as it is the first thing people search for when they need something urgently. For this reason, you must have all the relevant information, such as operational hours, address, contact details, holidays, map links, etc. If you have a website, add that too. Furthermore, if you hyper-locally deliver your items, mention that in your listing.
To optimize your 'My Business' listing, use relevant keywords, add the correct category, and include detailed business information. If these details are updated correctly, you will be able to rank higher on Google's results, and potential customers will be able to locate you faster.
Get Customers to Review Your Store
According to a report by Wordstream, 54% online buyers read reviews before purchasing an item. This shows that customer reviews play a vital role in a viewer's purchase decision.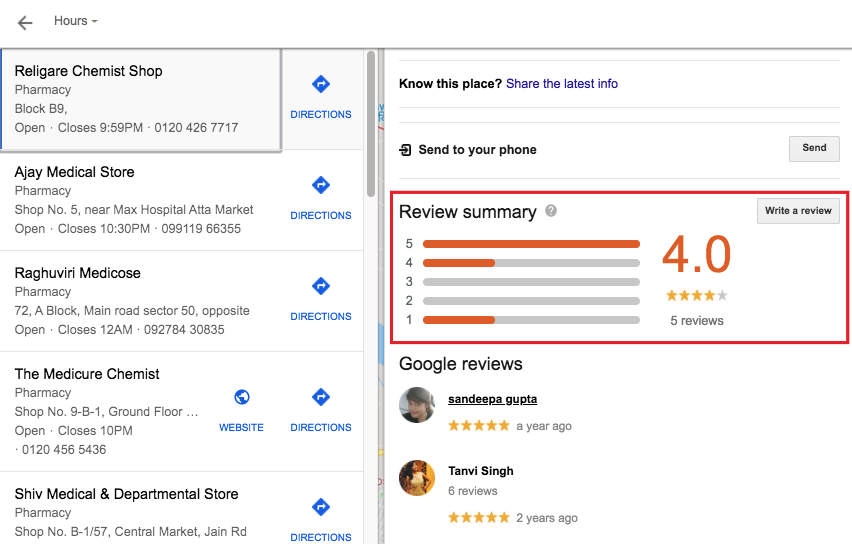 Hence, ask your customers to drop reviews on your Google listing, if you want to increase the credibility of your store. Not only will it help you improve trust among prospective buyers but also increase the chances of people shopping from your store.
Location-Based Keywords
If you have a website for your store, use location-based keywords. For instance, if you sell grocery items in Sultanpur, you can use keywords like grocery delivery in Sultanpur or Online grocery stores near Chattarpur. These examples can be extended according to the nature of your business. You can also use keywords related to the area. For example, if we talk about Sultanpur, you can use farmhouses, near Qutub Minar, etc.
These will help you rank higher on Google's search, and increase your search visibility among your customers. You can place these keywords in your profile, product descriptions, blogs, product pages, etc.
Correct Contact Information
The contact information that you mention on Google, my business listing, or on your website, must be correct. Remember that your customers will contact you via the number you provide to ask about the operation hours, availability of a product, directions to your store, etc. The first instinct of customers after looking at a listing on Google is to call the web store up and ask for details.
So, if the details you entered are incorrect, you can lose out on many potential customers. Make sure that the number you enter is working, and incoming calls must go through. Always try to keep this number at the shop so that if you are not available, somebody else from the shop can answer the queries of the customer.
Social Media – The Universal Weapon
Today, it is imperative to have a social media presence if you want to grow your brand quickly. According to a report by statista, there are nearly 351 million social media users in India. You can leverage this audience by posting about your brand on your social media page, showing the latest products, highlighting your hyperlocal delivery services, etc.
You can also ask your users to review your shop on social media platforms like Facebook and Instagram. This will give you an upper hand over your competition, and develop good credibility online.
Facebook groups are also a great tool to promote your store. In India, many homemakers are part of such groups and use it as a medium to purchase daily groceries, etc. You can promote your hyperlocal business in such groups and inform the members about the hyperlocal delivery services offered by you.
Another great idea is to list your inventory on Facebook. People who find out about your store from FB can directly shop on the paltform and save time.
Location-Based Advertising
Advertisements based on locations are an excellent way to target mobile users who live in a particular area. You can set up a hyperlocal ad area and use it to send text messages, app notifications, emails, etc. to buyers.
This practice helps you target new customers in a personalized manner, leave a long-lasting impression on them. In other words, whenever your customers want to purchase in a heist, they can return to your store.
Offline Marketing
Offline marketing has always been an essential part of any hyperlocal business. To successfully promote your business, you need to put posters in housing societies and inform RWA organizations to promote your business among residents. This will give you good coverage as well as spread awareness about your store in your neighborhood. Another smart tactic is pasting posters on notice boards of buildings or inside lifts.
Also, you can ask someone to distribute these flyers to people who come for evening walks in parks and nearby areas.
Final Thoughts
A strong hyperlocal marketing strategy can help you define your target audience and deliver faster. If you want to maximize your reach to people, make sure you promote your store on all vertices such as online, social media, and offline, etc. This will ensure that you don't miss out on customers from any of these platforms and amplify all possible chances of sales..
Calculate Your Shipping Costs Now