What is 4PL: Importance, Benefits & Contrasts with 3PL
You might have heard of 4PL, but what is it exactly? Fourth Party Logistics (4PL) is a logistics model where businesses entrust their supply chain management and logistics to an external service provider. Unlike Third Party Logistics (3PL), a 4PL provider takes charge of the entire supply chain, serving as the primary point of contact. Their responsibilities span resource management, technology, infrastructure, and strategic insights. Let's explore 4PL, its benefits, and more in detail.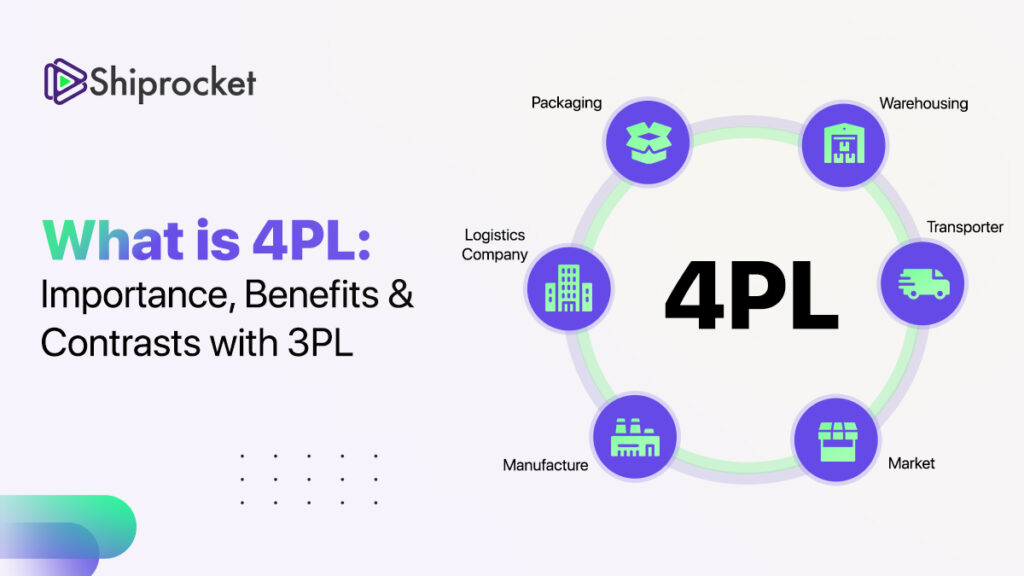 Definition of Fourth Party Logistics (4PL)
In a 4PL arrangement, manufacturers outsource their supply chain management and logistics to an external provider who acts as a single point of contact between the customer and multiple logistics service providers and carriers, playing a significant role in achieving the customer's strategic goals. It oversees warehouses, shipping companies, freight, and agents. It comes with the trade-off of reduced control over logistics and fulfillment, making it more suitable for organisations lacking logistics expertise.
A 4PL integrates resources, processes, and technologies to manage an organisation's supply chain. They streamline activities, offer visibility, and serve as a single point of contact. Outsourcing to a 4PL partner brings advantages such as cost reduction and standardisation but also reduces control over the logistics process. Evaluating the network, considering metrics, and checking references is crucial in selecting a 4PL provider.
Importance and Relevance of 4PL in the Logistics Industry
4PL is becoming increasingly important and relevant in the logistics industry. Here are some reasons why:
Supply chain optimisation: 4PL providers are experts in supply chain management and can help companies optimise their supply chains. By managing all logistics-related activities, they can identify inefficiencies and implement solutions to improve the supply chain's performance.
Cost savings: By streamlining the supply chain and optimising logistics processes, 4PL providers can help companies save costs. They can negotiate contracts with suppliers and carriers, optimise transportation routes, and reduce inventory costs.
Improved visibility: 4PL providers use advanced technology to provide real-time visibility into the supply chain. It allows companies to track shipments, monitor inventory levels, and identify potential issues before they become problems.
Flexibility: 4PL providers offer flexible solutions that can adapt to changing business needs. They can scale up or down depending on demand and adjust logistics processes to accommodate new products or markets.
Risk management: 4PL providers can help companies manage supply chain risks. They can identify potential risks, such as disruptions in transportation or supplier issues, and develop contingency plans to mitigate them.
Focus on core competencies: Companies can enhance their focus on core competencies by outsourcing logistics activities to a 4PL provider. This strategic decision enables them to allocate additional resources towards vital areas such as product development, marketing, and other key growth drivers.
Global reach: 4PL providers have a global network of partners and suppliers, which allows them to provide logistics solutions for companies operating in multiple countries. It can help companies expand into new markets and manage logistics across different regions.
Difference between Fourth and Third-Party Logistics (3PL)
Third-party logistics and fourth-party logistics are essential components of the supply chain. However, the two have significant differences that are important to understand.
Simply put, 3PL involves outsourcing logistics operations to a third-party provider, while 4PL involves outsourcing the entire supply chain management to a fourth-party provider.
In 3PL, a company hires a third-party provider to handle certain logistics operations, such as transportation, warehousing, or distribution. The 3PL provider acts as an extension of the company's logistics department, working to improve efficiency and reduce costs. However, the company retains control over the supply chain and makes all final decisions.
On the other hand, 4PL involves outsourcing the complete management of the supply chain to a fourth-party provider. The 4PL provider takes on a more strategic role, coordinating and managing all aspects of the supply chain, including vendors, 3PL providers, and technology. The goal of 4PL is to improve supply chain efficiency by integrating and optimizing all components.
4PL is often more expensive than 3PL, requiring higher trust and collaboration between the company and the provider. 3PL may be a better option for companies that want to retain more control over their supply chain or have already established relationships with multiple logistics providers.
Advantages of 4PL
Here are some benefits of using 4PL services:
Increased efficiency: 4PL providers are experts in logistics management and use advanced technologies to optimise the supply chain. They can streamline processes, reduce waste, and improve delivery times.
Cost savings: A 4PL can leverage its expertise, network and technology to reduce the total cost of ownership for the client by negotiating better rates with 3PLs, eliminating inefficiencies, optimising inventory and transportation, and implementing best practices.
Visibility and control: A 4PL can provide end-to-end visibility and control over the supply chain using advanced IT systems, data analytics and reporting tools. It enables the client to monitor the performance, track the status, identify the risks and opportunities, and make informed decisions.
Scalability and flexibility: A 4PL can adapt to the changing needs and demands of the client by offering customised and scalable solutions, accessing a wide range of resources and capabilities, and managing multiple 3PLs across different regions and markets.
Innovation and improvement: A 4PL can drive continuous improvement and innovation in the supply chain by applying best practices, benchmarking, auditing, feedback mechanisms, and introducing new technologies and solutions.
Improved customer experience: 4PL providers can help companies improve customer experience and satisfaction by improving supply chain efficiency and reducing delivery times. It can lead to increased customer loyalty and repeat business.
4PLs for Your eCommerce Business
If you're in the retail or eCommerce business, you know that managing your logistics operations can be a complex task. From procurement to delivery, there are numerous aspects to consider, and any inefficiencies or delays can significantly impact your business operations and customer satisfaction.
4PL can help simplify the process by providing end-to-end logistics solutions. 4PL providers can manage all aspects of your logistics operations, from warehousing and transportation to customs clearance and last-mile delivery. It can save you time, resources, and money.
Partnering with a 4PL provider can also help you stay competitive in a fast-paced market. 4PL providers use advanced technologies and processes to optimise their supply chain, reduce waste, and improve delivery times. It can help you improve operational efficiency and reduce costs.
Furthermore, 4PL providers offer customised solutions tailored to your business needs. It can help you adapt to changing market conditions and customer demands. Whether you need a comprehensive logistics solution or a specific service, a 4PL provider can deliver the right solution.
Lastly, 4PL providers can help you manage risk by providing contingency plans and alternative solutions in case of disruptions in the supply chain. It can help you minimise the impact of unforeseen events and maintain the continuity of operations.
Conclusion
4PL is an innovative logistics model that provides end-to-end logistics solutions to businesses. By outsourcing logistics management to a 4PL provider, businesses can benefit from increased efficiency, scalability, customised solutions, and risk management. 4PL providers use advanced technologies and processes to optimise the supply chain, reduce waste, and improve delivery times. It can help businesses stay competitive and focus on their core business activities. As businesses face increasing pressure to improve supply chain efficiency and reduce costs, 4PL can be a valuable solution for those looking to streamline their logistics operations and improve overall performance.
Frequently Asked Questions(FAQs)
What are the components of 4PL?
The major components of a 4PL are the architect, control room, supply chain infomediary, and resource provider.
What is an example of 4PL?
An example of 4PL is when a manufacturer outsources all of its supply chain activities, such as procurement, warehousing, transportation, distribution, and customer service, to a single provider that coordinates and optimizes the performance of multiple 3PLs.
How does 4PL work?
4PL works by taking full responsibility for the supply chain management of a client. 4PLs assess, design, build, run, and measure solutions for the client using their capabilities and outsourcing functions to different 3PLs. 4PLs also leverage technology to plan, execute and monitor the supply chain's compliance.
Calculate Your Shipping Costs Now