AJIO Seller's Handbook: Benefits & Strategies for Online Success
Reliance Digital came up with a brilliant lifestyle and fashion initiative called AJIO. In a very short time, AJIO has become the best and most used online application for shopping by several million customers across the country. This ultimate shopping destination for most Indians is a retail store that gives you the option of all the trending and latest styles suited to every generation. Starting your eCommerce selling journey on AJIO is a brilliant option to sell as much as possible.
Gaining as much exposure as possible is key to selling your products. This platform gives you all the viewer exposure and marketing tools that help you acquire a few thousand customers easily. AJIO is an extremely user-friendly and easy-to-use marketplace. Hence, buyers find it extremely convenient to look up products they plan to buy.
Let's dive into the steps of becoming an AJIO seller, the benefits of selling on the eCommerce platform, and more.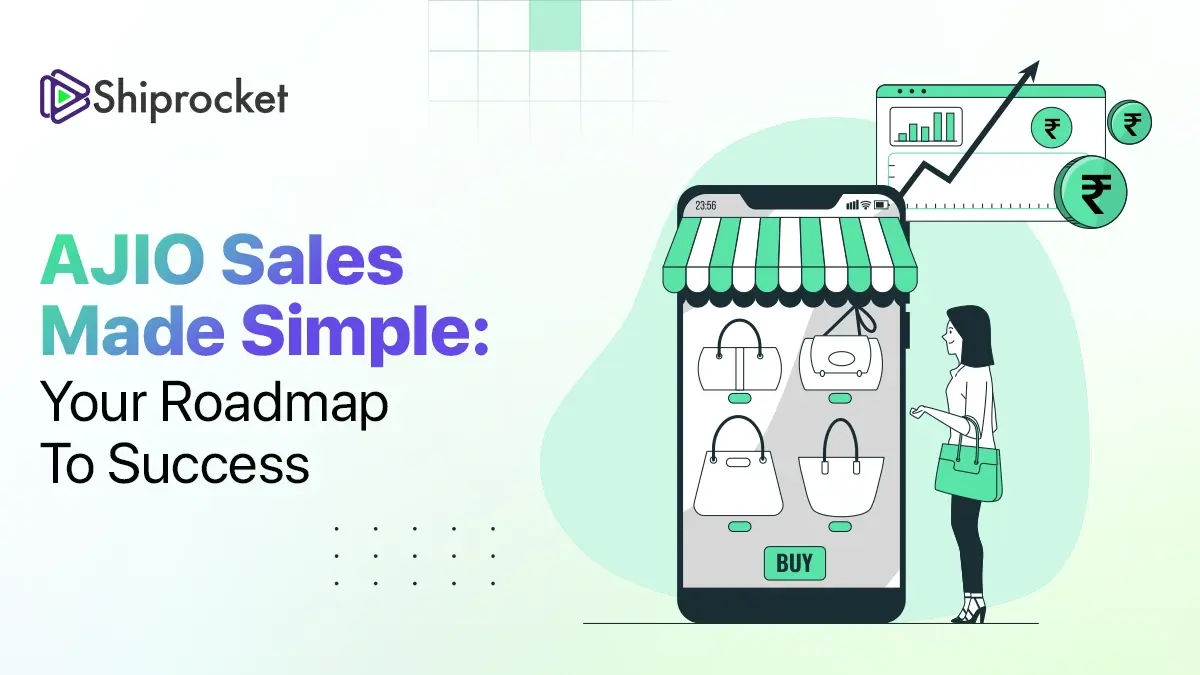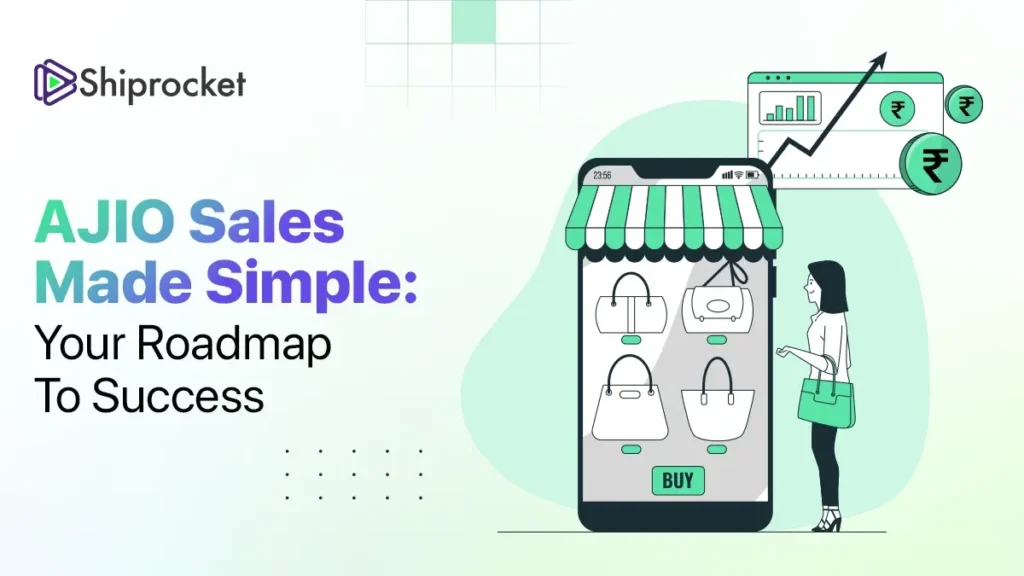 The Benefits of Selling on AJIO
Reliance has developed the AJIO application on a model that aims to empower physical stores and also understand the impact and power that online shopping holds. Online shopping becomes extremely advantageous today when people do not have the time and patience to walk into a physical store. Furthermore, online marketing is extremely powerful, making eCommerce platforms all the more popular. Deploying the O2O business model that AJIO uses can help any business multiply its sales rapidly.
Here are some benefits of selling on AJIO:
Using AJIO lets you grab your target audience's attention and the necessary traction to help you sell more, thereby maximising your business reach.
Shopping on platforms like AJIO allows customers to take their own time to choose and select merchandise that they want to purchase. Hence, it minimises the return rate and maximises the seller's profits.
Managing customers in physical stores becomes much easier as most of your consumers will choose to shop online. Hence, in-store traffic and online traffic can be optimised.
AJIO takes care of all your marketing needs. Thus, AJIO sellers do not need to invest in marketing. Furthermore, it takes the marketing burden off the seller.
AJIO has a never-ending consumer base. Hence, any seller on the platform gains access to all of these customers. Moreover, they also help you gain access to your target, guaranteeing more sales.
AJIO offers secure and safe payment methods so that payments can be made seamlessly without any hassle.
Buyers and sellers are given 24/7 consumer and seller assistance support; hence, all queries are easily resolved.
AJIO also has a very user-friendly and effective dashboard that anyone can manage. It enables you to list your products and manage your inventory efficiently.
Setting Up Your AJIO Seller Account
Reliance is one of the leading brands in the country, and thus, it is also the most trusted brand. AJIO, being their only lifestyle and fashion brand, is flourishing immensely. They have a straightforward registration process; hence, only registered and verified sellers can sell on the AJIO platform.
Follow the following steps to register on the eCommerce platform:
Step 1: You must visit the Reliance Retail platform to get through this hassle-free process. Log on to the Reliance Retail platform and fill in all your details and necessary information.
Step 2: The next step is registering yourself as an AJIO seller. Ensure you adhere to all the needs required to become a registered seller on the platform.
Step 3: After registering your name, you must give all your vital data, including your credentials. A business or office address will also be needed.
Step 4: You must submit all necessary documents to complete your registration process.
Step 5: The next step involves selecting your product category, and after this, you will be ready to sell your products on AJIO.
Documents needed to become registered AJIO Seller
Listed below are the documents you need to become an AJIO seller:
PAN Card and Aadhaar Card
Bank account details accompanied with a cancelled cheque
Logo if your business has one
Trademark certificate
GST Details
TIN or CIN certifications in the case of private companies
MSME certification
Strategies for Securing a Prime Spot in the Selection
Although you begin to sell on such a popular platform, building your online presence and brand is vital. Building a good reputation for your brand is rather challenging. Here are some strategies that will allow you to quickly become an AJIO seller:
Designing an attractive company logo: An attractive logo can help you and your brand build recognition and increase consumer engagement. It is extremely significant for any business to show consumers that they exist in the market. Hence, having a good logo can help you secure a prime spot in the selection.
Offering an MSME certification: Joining the AJIO platform is much quicker when you have an MSME certification. It allows you to gain quicker access to becoming a seller on the platform, even if other healthy competitors are in the queue. The Ministry of Micro, Small and Medium Enterprises gives the certification that your company is verified. It provides clarity to AJIO and, hence, speeds up your process. It allows them to forget the entire investigation process before you become an AJIO seller.
Adding a URL of your website: Building credibility becomes easier when you add a URL while onboarding AJIO as a brand. A URL can give the AJIO team an insight into your company and brand, the type of products you sell and the kind of services you provide. Your onboarding chances will increase rapidly when you do so.
Adding a trademark certificate: Your company can be represented at AJIO more effectively when a trademark certificate is incorporated. It enhances brand positioning quickly and gives you the ultimate evidence to sell your products on any platform. In cases where you do not possess such a certificate, AJIO will need you to provide a self-clarification.
Promoting Your Products Effectively on AJIO
Promoting your products on AJIO requires strategies to gain maximum reach, enhance sales and maximise profits. Here are a few crucial steps to help you promote your products on AJIO:
Step 1: After creating a seller account on AJIO, you can promote your products after logging in.
Step 2: So, what's next once you have registered as a seller? Well, in this step, you must create a product listing. The product listing requires a title and a short description of every product being sold. The prices and a good image of the product must also be mentioned.
Step 3: After you have created a complete product list you want to sell on AJIO, you must upload it to the platform. Once you have uploaded the list, your products should be available for viewing by potential buyers. It enhances your chances of selling your products, so you must consider running a promotion or discount scheme. Creating a promotional code for buyers can help you get discounts and offers on the products you want to sell.
Step 4: The last step includes spreading the word about your work. Sharing the lists on social media or other advertising methods can help you gain greater reach.
Receiving Payments on AJIO
Making some extra cash can be easy with AJIO. Here are some tips to help you make the most out of selling your products on AJIO:
AJIO does not charge you for listing your products; you will need to only pay a commission on the items you sell. Hence, it is best suited for selling shoes, clothes, accessories and other products.
Uploading well-taken pictures in well-lit areas and detailed product descriptions can help you gain more traction and sell more. It is vital to keep AJIO's commission in mind while setting your product prices.
Well, it's not so much a direct way to receive payments on AJIO, but it still can help you increase your sales. You must use the right hashtags while promoting your products on social media. Why is that important? Because it's a great way to attract potential customers, drive up sales and gain extra cash.
AJIO's built-in messaging system can help you reach out to potential buyers. It allows you to promote your products by targeting them and helping you reach the right buyers.
Conclusion
AJIO is a trendy lifestyle and fashion eCommerce platform in India. It's an online marketplace that lets you easily buy and sell your products while exposing them to the largest of audiences. This platform will help you maximise your sales and drive up your profits. It eliminates all the marketing expenditures you must invest in to promote your products. By becoming an AJIO seller, you can easily access all these marketing tools and user-friendly dashboards to manage your inventory.
Furthermore, becoming an AJIO seller allows you to create promotional codes and other offers for your consumers, making your products seem more attractive. Thus, AJIO brings your target consumers closer to use without any hassle. Simply follow the registration steps to become a seller on AJIO.
What is the commission rate for AJIO sellers?
If you sell your products on AJIO, you might have to pay a commission of 8% to 10% on each sale. However, registering and selling your products on the platform is free, so you don't have to pay any fees unless you make a sale.
Can I sell on AJIO without a GST number?
No, you can't sell on AJIO without a GST number. You must have a regular (and not composite) GST number to sell on AJIO.
Who is the delivery partner of AJIO?
AJIO, a Reliance-owned eCommerce marketplace, has partnered with a leading logistics company, Delhivery, to offer its customers top-notch delivery services nationwide.
What is Ajio's self-ship service?
Ajio's self-ship service means that once they receive the order, they pack and deliver it through a third-party courier service to their customers.
Calculate Your Shipping Costs Now