Best Ways to Choose the Right eCommerce Platform for Your Business in 2023
Are you looking to create an online store for your small business in India? Do you want to sell your products online? If your answer is "yes," then you'll benefit from using an eCommerce platform. Today, there are several website-building services available in the market. With so many options to pick from, how to choose the right eCommerce platform for your business? What are the various factors to consider when selecting an eCommerce platform?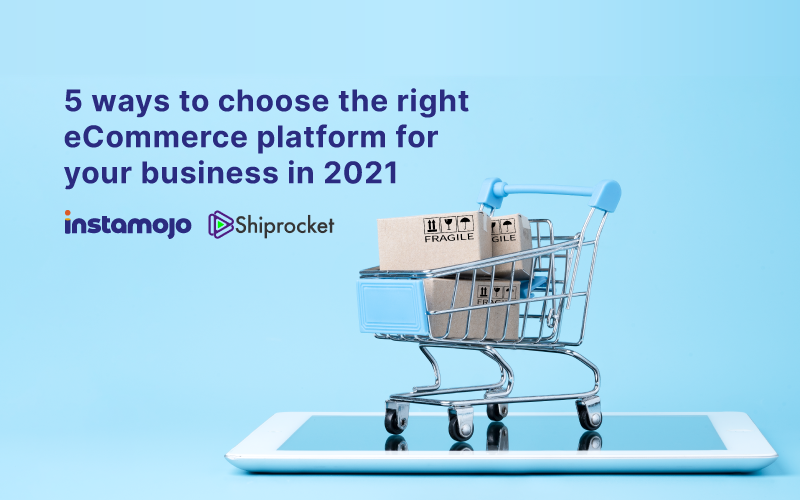 This article gives you a comprehensive checklist to help you decide the best eCommerce platform in India for your business.
Small Business Guide to eCommerce Platforms
Choosing an eCommerce platform is not a one-size-fits-all decision. The platform that suits your business depends on your specific needs and your technical expertise.
If you are an entrepreneur who does not want to deal with the complications of website development, we recommend you start with a SaaS-based (Software-as-a-service) eCommerce platform.
One great example of a SaaS-based eCommerce platform is Instamojo. Instamojo gives you a complete eCommerce experience with end-to-end solutions like in-built payments, CRM & marketing tools, and more.
You can focus on your business and growing your sales. At the same time, a platform like Instamojo will take care of the technical aspects like web hosting, payment processing, platform customization, and more. As a result, you can quickly and easily launch your eCommerce business online.
If you aren't from a technical or eCommerce background or are just starting in the online space, this guide can help you decide. Here are five factors that you need to consider when selecting the right eCommerce platform for your business in 2021:
6 Ways to Choose the Best eCommerce Platform for Your Business
Cost
Whether you're a small business or an already established brand trying to make it online, you need to understand the cost structure of each platform. Almost all platforms will have a monthly fee. Consider how your customers will pay for your products to help assess opportunity costs.
While you want the best features from your eCommerce platform, you also don't want to overpay. So do your research and weigh the pros and cons of each platform. Decide which platform offers the best features to benefit your business, then look for the price that fits the bill.

Easy to Use
Aim for a clean and easy-to-use interface that will give you the ability to capture the feel of your unique brand fully. Look for features that make it easier for your customers to shop from your eCommerce business and for you to sell online efficiently.
For example, look for features like drag and drop. This feature will allow you to design your store quickly and effortlessly without the need to know any programming language.
Look out for these points while choosing an eCommerce platform:
Are you able to create different categories for your products and map them easily?
Does the platform allow you different shipping options?
Can you collect bulk payments?
Can you create product variations based on color, size, etc.?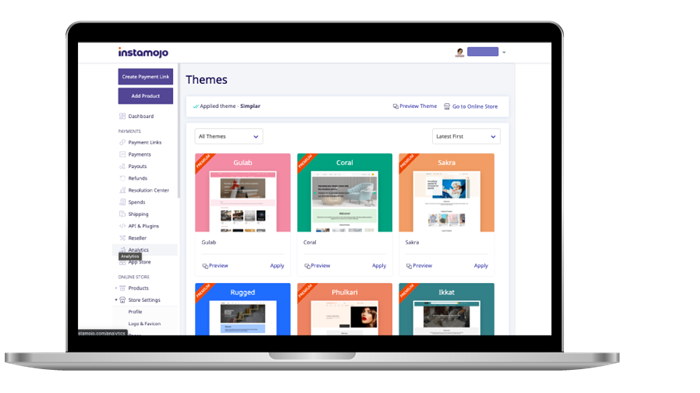 The Instamojo dashboard gives you an intuitive and easy overview of your store, orders, payments, and customers. You can customize your store according to your brand and control all aspects of your online business from one dashboard!
SEO Friendly
Having an SEO-friendly eCommerce platform is critical to the success of your online business. A website that is optimized for SEO helps consumers to discover your business through search engines. That's why your eCommerce platform must-have SEO abilities that can help you get discovered online easily.
For instance, look for a platform that allows you to keep up with Google algorithm changes and has the provision to edit meta tags and descriptions. Organic SEO takes time to build, and the task is much easier when the platform you choose has best practices inbuilt – just like Instamojo.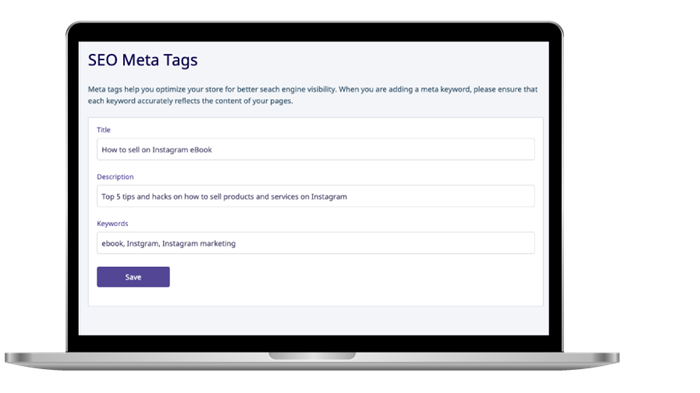 Analytics & Reporting
When running your eCommerce business, it is important to monitor your store's performance to make well-informed decisions at the right time. So look for an eCommerce platform that helps you track all the important things—number of sales, payment methods, order amounts, and more. Ensure that the stats are displayed in an easy-to-understand format. These features will help you analyze your business performance over time.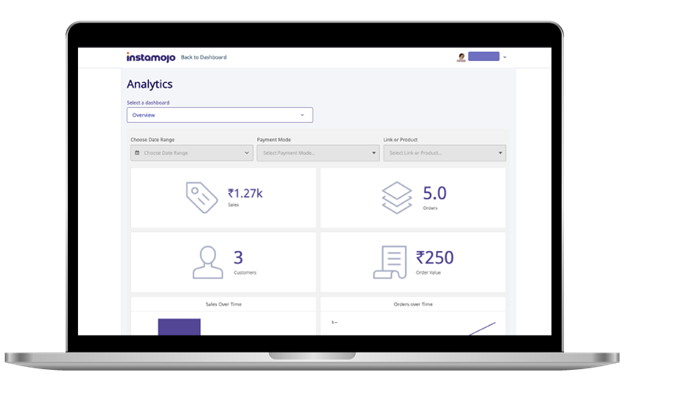 Tech & Customer Support
While managing your eCommerce store, you might encounter problems that will require troubleshooting on an urgent basis. Therefore, it is good to look for an eCommerce platform that offers a solid tech and customer support team. You don't want to pick a platform that offers tech support only during specific hours. So make sure the platform provides support 24×7 via email, live chat, or phone.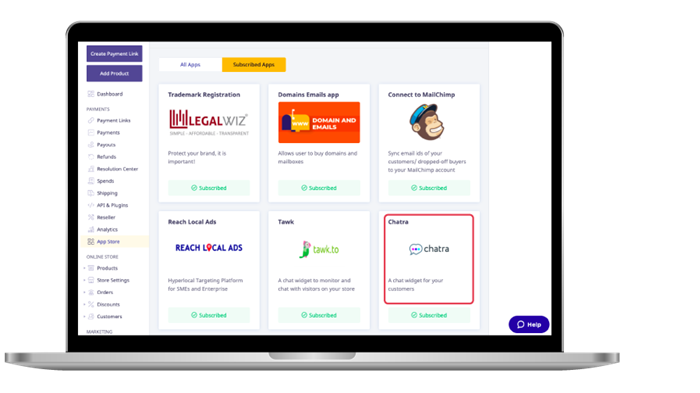 At Instamojo, you can choose from a host of plug-and-play apps and tools for all your business needs. Right from chatbots, lead forms, warehousing tools, and more – we've got all your needs covered on a diverse app store.
Built-in Shipping for Wider Customer Reach
As a small business owner or a DTC (Direct-to-customer) brand, you need to make sure your products reach your customers on time and in perfect condition. Don't forget to check if your eCommerce platform supports in-built shipping or has shipping plugins.
You would want to choose a shipping partner that doesn't just deliver your products safely and on time but also supports Cash on Delivery, allows you and the customer to track shipment status, and provides a reliable experience.
Shipping platforms like Shiprocket do that and more. Combine it with the Instamojo online store, and you're set!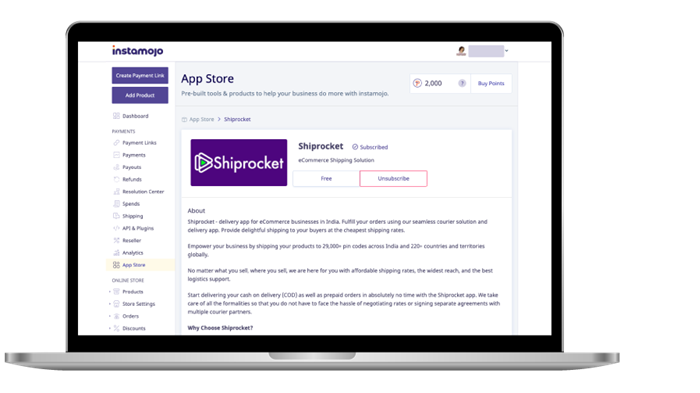 If you are looking for the best way to deliver your shipments, choose Shiprocket. You can send, track, and schedule shipments directly from your Instamojo dashboard with Shiprocket. You can also calculate costs and manage parcels from a single dashboard – save time and money with the Shiprocket + Instamojo experience.
Launch &v Grow Your eCommerce Business with Instamojo
Want help creating an eCommerce website or growing your existing business online? At Instamojo, we take care of all of the above factors to provide the best experience to over 15,00,000+ small businesses in India.
With the Instamojo online store, you can:
Create a store and start receiving orders safely in just 5 steps!
Ship products with Shiprocket anywhere in India.
Grow your business with our in-built marketing tools and features.
Choose from 20+ different online store themes, set up SEO for discoverability, and more.
Connect your social media accounts to your Instamojo online store.
24×7 customer support for all of your eCommerce queries
An eCommerce platform will be the backbone of your business. The best platform is the one that successfully delivers the outcomes and objectives that you have set for your business.
Want to know more about the Instamojo online store? Just write to support@instamojo.com, and we'll connect with you.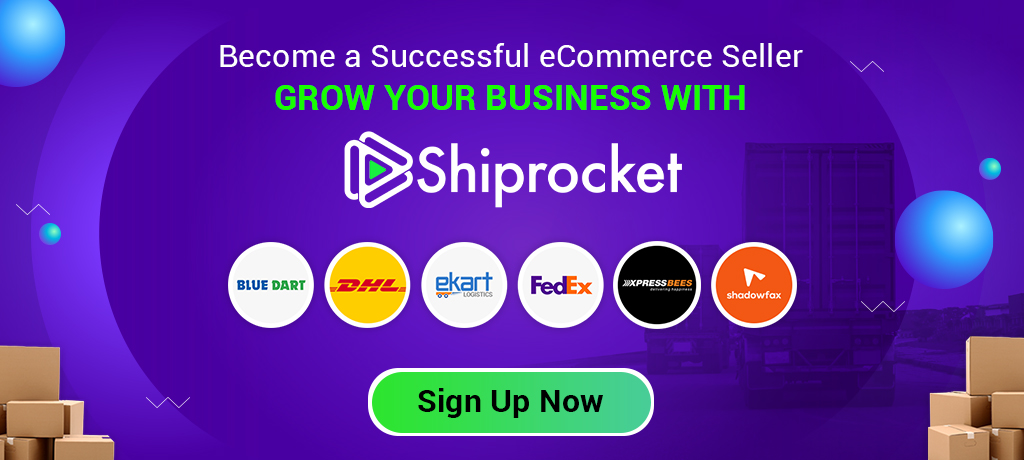 Calculate Your Shipping Costs Now