Step By Step Guide For Switching to Amazon Self Ship From Easy Ship or FBA
As explained in some of our previous blogs, Amazon has three kinds of shipping models – Self Ship, Easy Ship, and fulfilled by Amazon(FBA). Each has its pros and cons along with differences in what they have to offer to merchants. With many choices, comes slight confusion as well. There is a chance you started shipping with FBA, but eventually, you realize it is much more profitable for your business if you fulfill these orders yourself and fulfillment by Amazon can be expensive too!
Maybe you need COD for some months, and the rest of the year you can do without Amazon's Easy Ship. These are scenarios when you plan to make a shift towards self-ship. But there's another roadblock, you don't know how to! Read to clarify this dilemma and proceed to Self Shipping your eCommerce orders.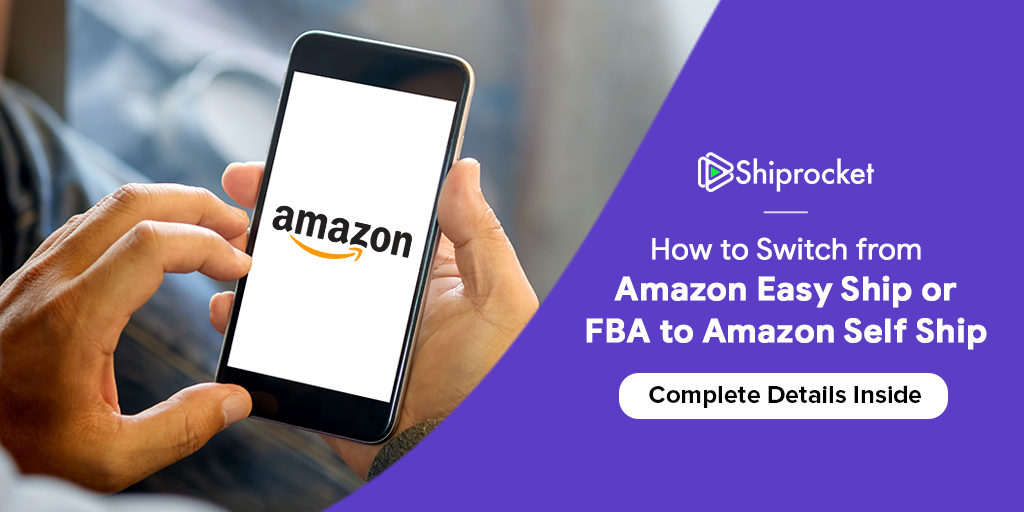 Brief About Amazon's Fulfillment Models
Amazon FBA
Amazon FBA is a premier shipping model wherein you only have to send your inventory to Amazon Fulfillment Centers. Everything else including inventory management, warehousing, packaging, and shipping is Amazon's responsibility.
Usually, businesses that have a large shipment volume and ship to different locations in the country, use Amazon FBA to ensure their products reach faster. However, the products are not very expensive or fragile.
Amazon Easy Ship
Under this model, you have to take care of your inventory management, warehousing, and packaging. Amazon will ship your products using the Amazon transportation network, and you can schedule pickups and hand over your products to them.
Businesses that are just catching up and slowly expanding their business are on Amazon's lookout for this fulfillment model. It gives give services to Amazon but a complete hold on their inventory.
Amazon Self Ship
Amazon Self Ship is the thorough merchant fulfillment model where you are responsible for all functions including shipping. You only receive orders from Amazon's marketplace.
This model is suitable for all businesses that want to ship with their own means and have complete control over their logistics.
Amazon Easy Ship to Self Ship
If you're currently shipping using Amazon Easy Ship and want to shift to Self ship, follow the steps given below :
1) Login to your seller central account, go to settings, and choose 'Shipping settings.'

2) Under this section, you can see that the Easy ship model is already opted as the primary mode of shipment.

3) To disable Easy Ship, you will have to contact Amazon support. To do so, go to the 'Help' section.

4) Go to 'Get Support'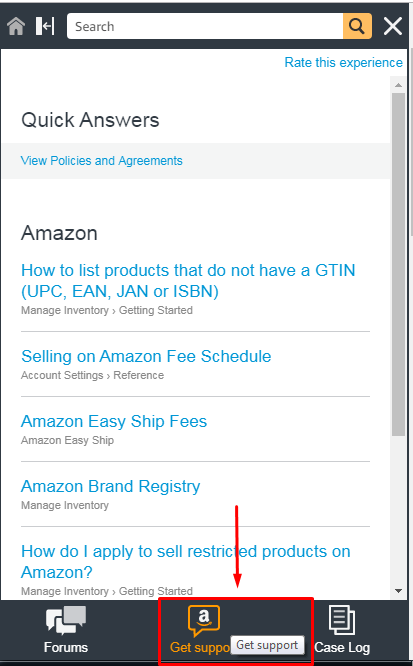 5) Choose 'Shipping settings.'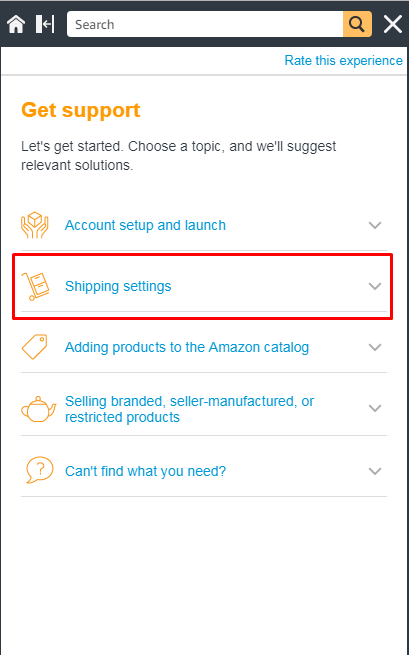 6) In 'Your account,' choose 'change selling plan' and begin chatting with a customer associate from Amazon.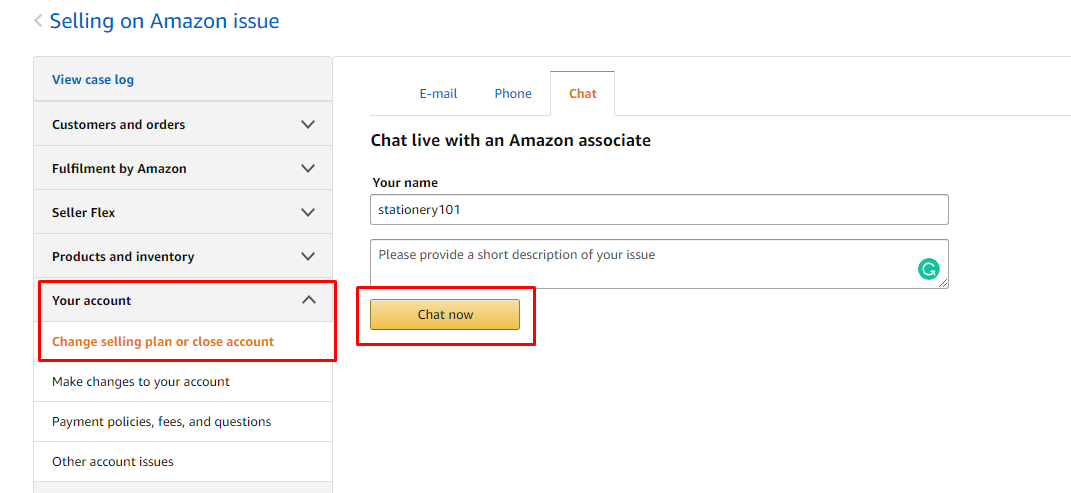 7) Raise your concern on chat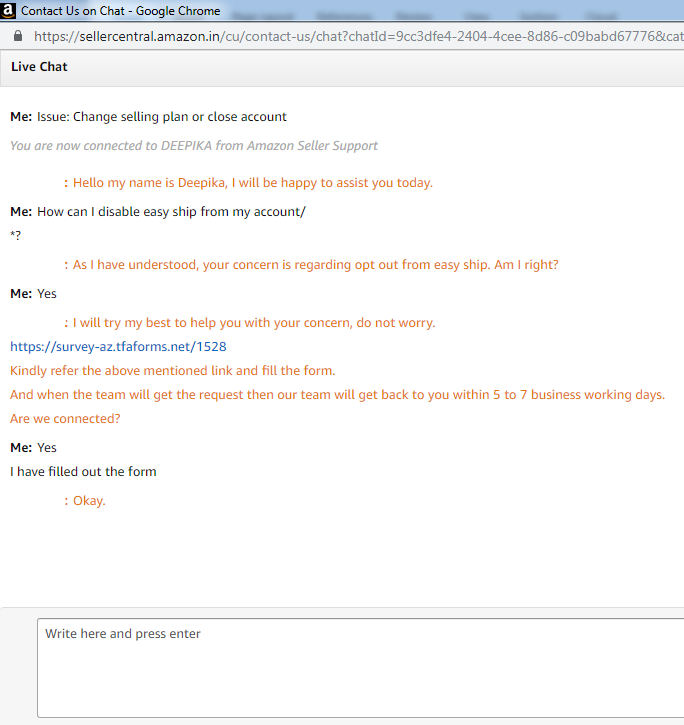 8) Post explaining your concern, they will send you a survey link. Fill out the survey form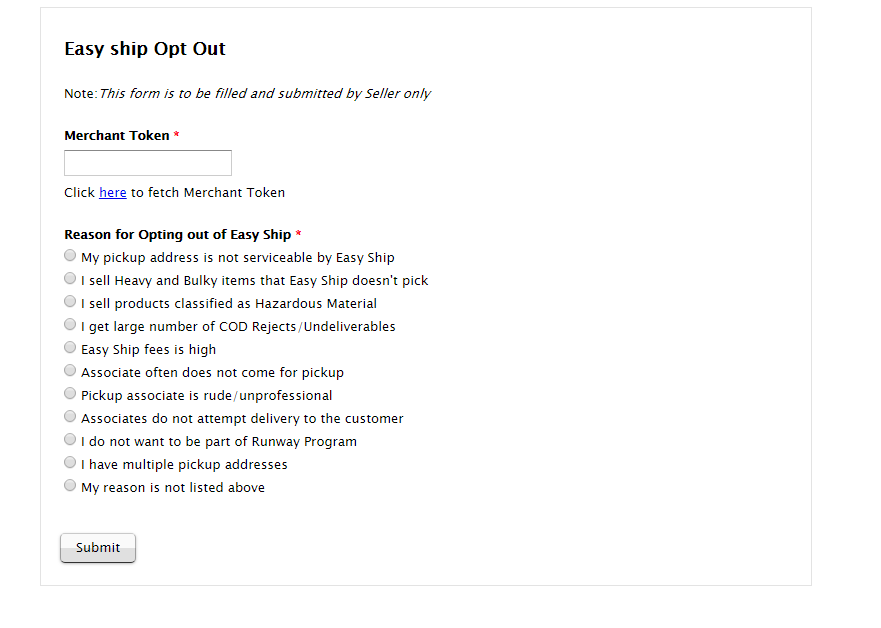 9) Upon filling out your survey, you will receive the following confirmation, and you can resume Self Shipping in 5-7 days.

If You Want To Self Ship and Easy Ship at the Same Time
This option does not mean you will be able to choose which order you want to process using Self Ship and which order you wish to prepare through Easy Ship. Here, the orders which are eligible for delivery with Easy Ship will be picked by Amazon and the remaining orders can be fulfilled by you.
To enable Self Ship for orders which are not eligible for Easy Ship,
1) Go to → Settings → Shipping settings
2) Under the shipping settings, select 'interested' and click save to begin using Self Ship (for orders that cannot be processed by Easy Ship)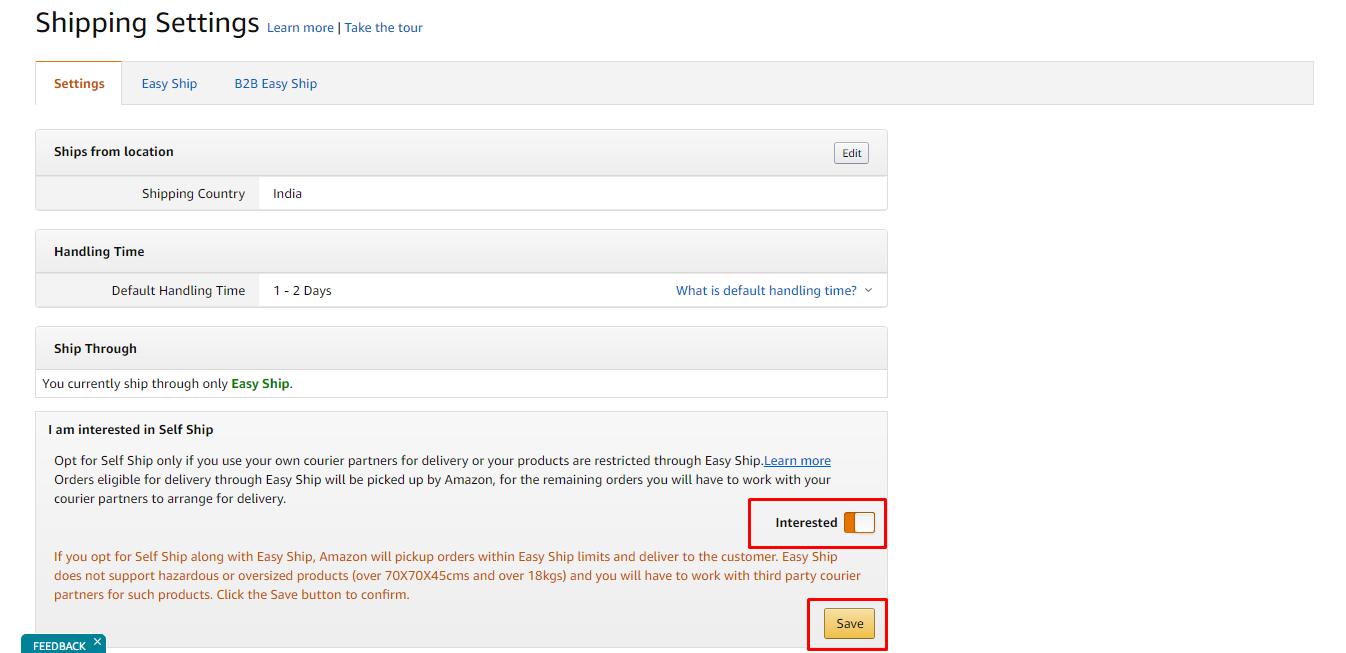 Amazon FBA to Self Ship
To disable FBA, you will need to opt-out of sending inventory to Amazon's fulfillment centers. For removing items, a small fee will be charged per item. For doing so,
1) Go to Manage inventory

2) Select the things you don't want to send to Amazon's fulfillment centers
3) Create a removal order
4) You can choose to pick up your items from an Amazon Fulfillment center or have them delivered to you at your default return address.
5) Review and place your order
6) Pay the Fees
It is advised you make a shift from FBA after you exhaust your inventory currently present with Amazon. After you stop sending them any fresh stock, they will automatically remove your account from FBA. You can speak with Amazon's support team (like we did in the above section) to confirm your opt-out from Amazon FBA.
We hope with these steps explained; you can make a simple shift from any Amazon fulfillment model. Start selling hassle-free on Amazon and choose the fulfillment model that best matches your need.
Once you opt to Self Ship your Amazon orders, you have another decision to make, how do you proceed with these shipments? To process your Amazon orders in an efficient manner, you can opt to Self Ship with Shiprocket where you can schedule pickups from multiple locations, deliver to over 27000 pin codes across India using 17+ courier partners. Also, you can easily integrate your Amazon account with Shiprocket to automatically fetch orders from the marketplace.
Also, if you are worried about where you will stock your products if not with Amazon's Fulfillment centers, then we have the perfect solution for you – Shiprocket Fulfilment. Shiprocket Fulfillment gives you access to tech-enabled warehouses where you can store your products and leave the rest to us.
In these warehouses operations like picking, packaging, and logistics will be carried out for all the incoming orders you receive for the zone you have selected. All you have to do is send your products to the warehouse, and wait for everything else to happen. This will not only lessen the burden for storing your product securely but also gives you a chance to deliver much faster and store inventory much closer to your buyers.
Final Thoughts
Delivering your products yourself and having complete control over inventory can be a great boon for your business as you are the key decision-maker. By tying up with partners like Shiprocket Fulfillment, you can achieve this without having to invest anything extra in warehouses or expansion. Read more about Shiprocket Fulfillment and how you can get started as soon as possible!
Does Amazon allow COD in Self-Ship?
Amazon only allows you to collect prepaid payments when you switch to Amazon Self-Ship.
Can I ship with my own courier partners in Self-Ship?
Yes. You can ship with your own courier partners when you ship using Self-Ship. You can also opt to ship with aggregators like Shiprocket?
When I ship using Self-Ship, can I still store my products in Amazon's fulfillment centers?
No. You need to manage all aspects of fulfillment yourself under Self-Ship
Calculate Your Shipping Costs Now