Different Applications To Edit YouTube Videos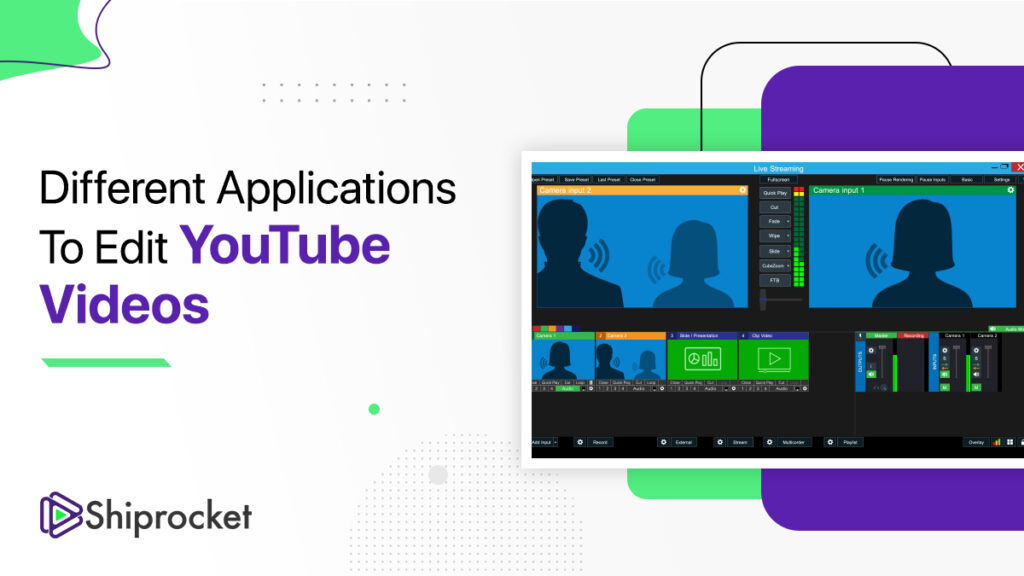 YouTube has evolved from a simple video-sharing platform into a worldwide sensation. So much so that some people now prefer to watch YouTube over traditional television. Creating videos for YouTube may be a satisfying experience, whether you aspire to be a YouTube celebrity or simply want to share films with your friends. However, you'll need the necessary tools to create and edit YouTube videos. With that in mind, here are the finest YouTube video editing applications.
Adobe Premier Rush
When it comes to video editors, Adobe Premiere comes close to being a household name. It's really powerful, but some YouTube creators could find it overkill. Premiere Rush might be a better choice if you're seeking for a video editor for YouTube.
Adobe Premiere Rush, as its name suggests, is designed to help you put together videos more quickly. There's no need to incorporate After Effects into your workflow because it includes motion graphics templates. This is just one of a number of tools that make it easier to get videos out.
Premiere Rush is also relatively affordable at $9.99/month. If you want to have Premiere Pro available as well, you can bundle both for $20.99/month. You might also want to consider exploring Adobe Premier Elements, which is a scaled-down version of Adobe Premiere Pro.
Pinnacle Studio 24
The software features a clean interface that is easy to use. It's a good option for people who want to gradually transition to more advanced video editing. The only shortcoming of Pinnacle Studio is that it's not as powerful as other video editing tools such as Premiere Pro. But for beginners, it's more than enough. The software is available for Windows at a one-off price of $129.95. There is no free trial, but it does offer a 30-day money-back guarantee.
Avidemux
Avidemux is the lightest of the applications on this list and should only be used if your video editing work consists entirely of simple cutting, filtering, or encoding. Avidemux is one of the greatest YouTube editing applications for absolute novices because of its simplicity. You do not need to pay to use the software because it is totally open-source. All popular video formats, such as AVI and MP4, are supported with Avidemux. This is an excellent solution for individuals with slower machines because it is not resource-intensive at all. The only catch is that it may be too simple for you, and you may rapidly outgrow it. This is especially true if you want your videos to have more spectacular sound and video effects.
Blender
Blender may at first appear to be an odd choice for this list. After all, it's known for its 3D rendering capabilities. Blender contains a full-featured video editor, which is unusual. This makes it one of the greatest YouTube video editors, especially if you're into 3D visuals. Blender can perform basic video editing operations such as cutting and splicing as well as more complex activities such as masking. You can have up to 32 tracks (or slots) for video, music, pictures, effects, and other things. It's also open source and free.
Shotcut
Shotcut is both open source and free. As a result, you shouldn't anticipate the same level of interface cleanliness as you would in a premium software. That doesn't negate the fact that this programme is quite capable. Shotcut stands out amid the mass of free YouTube editing tools because of the tutorials available. This isn't necessarily true when it comes to open-source software. This is definitely worth trying if you're searching for a simple, free solution on Linux. You might enjoy it on Windows or Mac as well, although the competition is much tougher there.
Wondershare Filmora
Filmora combines practicality with a pleasant aesthetic. It has advanced features like motion tracking, but it's also capable of doing simple operations like chopping and combining videos. Transitions, visual effects, and audio functions are all included in the software. As a result, it's one of the greatest YouTube editing programmes on the market. An annual subscription to Filmora costs $51.99 per year. A one-time purchase of $99 is also available, however it does not include any software upgrades beyond Filmora's current version.
iMovie
You might not want to invest any money if you're just getting started and aren't familiar with all of the YouTube editing programmes. Simple videos aren't difficult to make, so you don't need require expensive software. Look no farther than iMovie, which comes free with your Mac if you want a simple, inexpensive choice. You won't be able to use iMovie to edit a big film, but it'll enough for basic editing duties. It goes beyond YouTube's built-in editor, which might be enough for you.
Final Cut Pro
Final Cut Pro X was disliked by the original Final Cut Pro supporters when it was originally released. While some still refer to it as "iMovie Pro," it's actually rather useful if you're searching for more advanced YouTube video editing tools than iMovie. Although you won't feel completely cut off, Final Cut Pro is far more powerful. Final Cut Pro is a Mac-only application that makes use of capabilities like the MacBook Pro Touch Bar and the Metal graphics API to boost performance. The app isn't cheap at $299, but it's not much more than a year's worth of Premiere Rush and Premiere Pro CC. You're truly purchasing the app in this scenario, therefore you won't be charged on a monthly basis.
Hitfilm Express
Hitfilm Express is another professional editor with a free edition. It's one of the best video editing programmes for YouTube. It, like DaVinci Resolve, allows you to edit practically any type of video, including 4K footage. If you're new to video editing, Hitfilm Express features a more user-friendly interface. A complete edition of Hitfilm Express is available for $299, but it also has a free version. Optional add-ons for the free version can be purchased for roughly $10 to $20 each, providing bits and pieces of functionality.
Calculate Your Shipping Costs Now