Ideas For YouTube Channel To Earn Money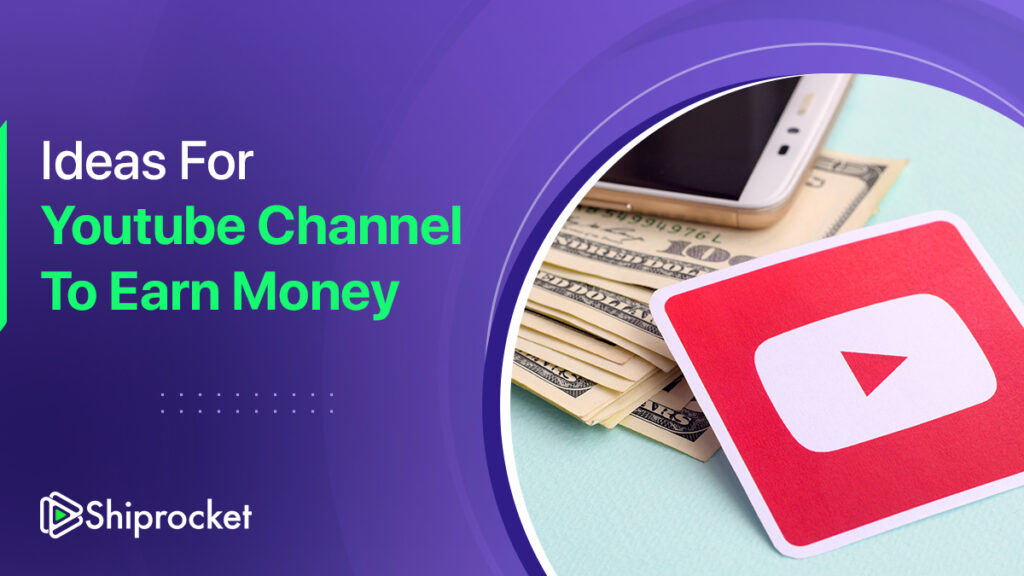 You want to make money on YouTube, and all you need to get started is a great YouTube channel idea. Futhermore, this blog post is all about channel ideas that can make you a lot of money. Let's get directly to the meat of the matter.
What Are The Various Types Of Youtube Channels?
Gaming Channel
Many other YouTubers make money by playing games and leaving comments. Building a game channel takes effort. Gaming channels expand faster than different genres. People enjoy watching games and return for more.
It may be claimed that the market is saturated and that breaking into the major leagues is extremely difficult. I won't deny that the market is competitive, but I don't believe it will ever be saturated for those with strong personalities and gaming abilities.
Internet Marketing Channel
Many people are interested in learning about internet marketing, so starting a channel on it is a fantastic idea. Compared to other media, your internet marketing channel will receive less traffic, but the quality of visitors is more important.
You can create a simple sales page that explains your product and directs traffic to it via your channel. You can refer individuals to your course, which will educate them about internet marketing. Building your channel will take a lot of time, but by driving people to your digital product or items, you may earn more money than you can through adverts.
Educational Channel
Whether it's quantum mechanics or modern economics, you can educate people about anything you know. However, if you have extensive expertise in a subject, I believe that creating a video lesson on sites such as Skillshare would be far more beneficial. You can earn more money than you would on YouTube if you have the necessary expertise. YouTube is an excellent alternative if you're just someone who wants to share his knowledge about anything. The benefit of this video sharing service is that it has a far wider audience than sites dedicated to education. You can also ask for donations to continue to educate them for free.
Product/Service Review Channel
This channel is suitable for persons with the financial means to purchase products and services for review. If you select products or services from the appropriate category, you will never run out of video ideas. Using an affiliate link in the description of the products or services you recommend to monetise your channel can significantly enhance your earnings. Tell your viewers that you're an affiliate for a product and include a call to action at the end of each video. A call to action tells viewers what they should do next. You can just ask them to look into the product you've suggested. You can use services in the same way.
Travel Channel
If you travel to exotic locations and enjoy exploring new sights, recording with a camera is a terrific idea. Perhaps one day, with the money you earn from your channel, you will be able to go to unique locations. There is no doubt that many viewers are fascinated by famous locales and desire to learn more about them. They want to learn about the culture, gastronomy, and amenities, among other things. Through your channel, you will respond to these inquiries and assist them in deciding whether or not this location is worth visiting. I believe that combining your personal experience with the perspective of the region you see is a beautiful idea. You may use your channel to show off your room, the market, interact with other users, etc.
Health/Fitness Channel
Although health and exercise are inextricably linked, I recommend focusing on only one of them. They're such vast themes that you can quickly develop several video ideas just by covering one. You can either make a channel about healthy living focusing on specific diseases or a fitness channel.
Cooking Channel
Without including food, this list would be incomplete because a large portion of the public is interested in learning how to prepare various cuisines that tickle their taste buds.
It would be unfair to imply that recording cooking videos about everyday foods can earn you money. However, creating a cooking channel might earn you some extra cash or perhaps a full-time income. To make your channel effective, you must do something unique and concentrate on your area of expertise.
Let's get started!
There are other channel ideas, but I believe these are pretty profitable and will continue to work in the long run. All of the above suggestions will necessitate hard work and dedication, so pick something you are enthusiastic about.
If you're having trouble deciding, try brainstorming video ideas and seeing how many you can come up with for each one. The next step is to do some YouTube research to discover how many of your pictures have previously been covered. If you notice a lot of unexplored territories connected to a particular channel, that channel is your best chance.
Calculate Your Shipping Costs Now