Best Dropshipping Products In India To Maximise Your Ecommerce Sales
Dropshipping is a retail fulfilment method that has become increasingly popular lately. A dropshipper, or the seller, buys products from a manufacturer or supplier and delegates delivery of the order directly to the buyer to speed up the online shopping process. Notably, a dropshipper buys a product only when he receives an order. Therefore, this business model is lucrative and simple to set up without additional investment in infrastructure or storage facilities.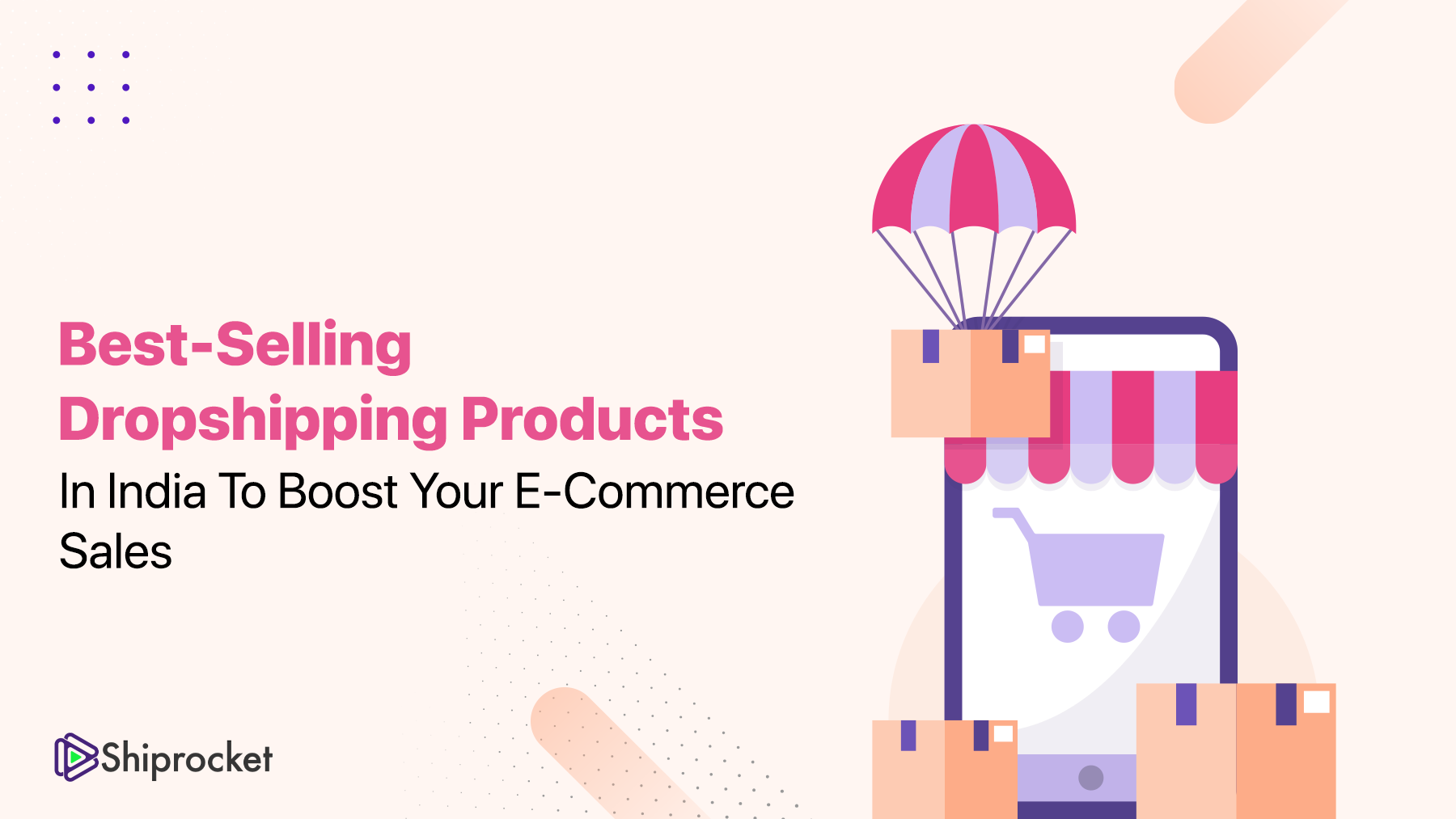 In this article, we'll talk about great things to sell using dropshipping and why dropshipping is a good way to do business.
Why Should You Begin a Dropshipping Business?
Dropshipping as a business has various advantages:
Low Investment and Low Risk: One of the most significant benefits of dropshipping is that it requires very little investment and involves very low risks. Unlike traditional retail models, there is no need to hold any inventory or stock. Thus, it is an ideal business model for those just starting or who have less capital to invest.
Flexible and Convenient Dropshipping: It is a very flexible business model that allows you to work from anywhere and anytime. You can manage your business anywhere with an internet connection, laptop, or smartphone. Also, dropshipping requires a little time or effort, so you can also start and run your business part-time.
Wide Range of Products: Another advantage of dropshipping is that you can sell a wide range of products without worrying about inventory. Experiment with different products and niches without committing many resources.
Additionally, depending on their popularity or demand, you can add or remove products from your store. To facilitate quick business progress, the following section discusses the most popular dropshipping categories and products.
Top 10 Best Dropshipping Products You Can Consider
The top 10 dropshipping products include:
Electronics
These are always in demand, making an excellent choice for dropshipping products. From smartphones to laptops and cameras to gaming consoles, there is a wide range of electronics that you can sell from your dropshipping store. Some other electronic products include wireless headphones, fitness trackers, and smartwatches.
Fashion and Accessories
This is another popular category of dropshipping products. From clothing to jewellery, shoes to bags, there are many different products to sell in this category. There is room for creativity and innovation to differentiate your store with unique and trendy products.
Home Decor and Furnishings
Since the pandemic, lots of people are thinking about making their homes look nicer. They're planning to spend more than $838.6 billion on home decorations and furniture by 2027, so it's a good idea to sell these things. People are often searching for home decorations, especially in January and July. So, if you want to sell stuff, focus on things that make homes feel cosier, more comfortable, and prettier.
Health, Beauty & Personal Care
The beauty industry worldwide is expected to get much bigger, reaching more than $550 billion by 2026. This is because many people want to look and feel good, so it's a good idea to take advantage of this. If you promote products like skincare, makeup, hair care, and fragrances in the right way, they are likely to be very popular. Most people like traditional products, but there's also a growing interest in things that are organic, natural, and eco-friendly.
Sports and Outdoors
This category of products is also popular among dropshippers. Many products can be sold in this category, from fitness equipment to camping gear. Additionally, there is a lot of scope for niche targeting, meaning you can specialise in a particular sub-niche, such as hiking or yoga, and cater to a specific audience.
Apparel and Footwear
As fashion will always be an evergreen choice, apparel and footwear are excellent choices for dropshipping. There are unlimited choices – from trendy streetwear to elegant formal wear clothes. To pair with them, you can also provide comfortable sneakers to stylish heels; the possibilities are endless. Another factor you can focus on is the demography. Vary the apparel for young and trendy users to office-going formal clothes or weekend clothes for middle and senior executives. It will help if you are up to date with the latest fashion trends and seasonal collections to attract fashion-conscious customers.
Baby Products
Selling baby products is a good idea because there are lots of different things parents need for their babies. Make sure the things you sell are good quality, feel nice, and are comfy for babies. You could sell cute baby clothes, soft blankets, useful diaper bags, and things that babies need. There could be a market segment for affordable baby products and a second niche of buyers who want sustainable, organic clothing and accessories, where all toys are non-plastic or non-toxic certified.
Pet Supplies
As pet parents begin to care more and more for their pets, the market for pet supplies is ever-expanding. If you are familiar with pet care or are a pet parent, this is the niche you should explore for your dropshipping business. The pet supplies range can include – nutritious pet food, durable toys, cosy beds, grooming tools, stylish accessories, and much more. You can also target pet supplies for certain breeds or sizes to become a niche drop shipper.
Phone Accessories
Smartphones are more than a communication tool and are an extension of personal fashion or style. Dropshipping phone accessories is set to grow as the market size only increases exponentially. You can offer a variety of phone cases, screen protectors, charging cables, wireless earbuds, and trendy phone grips. These can work as style statements or increase the use cases of a smartphone, like phone covers that can cover wallets or hold ID cards and some cash for emergencies.
Car Accessories
Making cars comfortable and convenient for work or leisure is important. Selling car accessories using dropshipping can make you a good amount of money because people who like to improve their cars are usually interested in new and trendy stuff. You can sell things like organisers, safety gadgets, things to make the outside of the car look better, and things to make the inside of the car nicer. But a big trend right now is selling products that help keep cars clean and in good shape.
What are the Costs Involved in Starting a Dropshipping Business?
The cost of starting a dropshipping business depends on the type of products you want to sell, the platform you choose to use, and the marketing budget. Here are some of the essential costs to consider when starting a dropshipping business:
Platform Fees: If you use a dropshipping platform like Shopify, WooCommerce, or Magento, you need to pay a monthly subscription fee. This fee can vary depending on the platform and the features you need.
Product Costs: You will need to purchase your products from your supplier. Make sure to research and find suppliers who offer competitive pricing to maximise your profit margins.
Website Design and Development: To create a unique and professional-looking website, you may need to invest in web design and development. This cost can vary depending on your needs.
Marketing Costs: Once your website is up and running, you must promote it to attract customers. It can include paid advertising, social media marketing, and email marketing. The marketing costs can vary depending on your budget and the strategies you choose.
Miscellaneous Costs: Other expenses are domain name registration, hosting fees, payment processing fees, and legal fees.
Thus, it is essential to carefully consider your budget and expenses before getting started to ensure that you can run a profitable business.
How to Find Suppliers for a Dropshipping Products Business?
Finding suitable suppliers is crucial for starting a successful dropshipping business. Some ways to find suppliers are:
Research Online:
Start by researching online for potential suppliers.
Use search engines, online marketplaces, and industry directories to find suppliers who offer the products you want to sell.
Look for suppliers with good reviews and ratings who have been in business for a while.
Attend Trade Shows: Attending trade shows is an excellent way to connect with suppliers in person. Look for trade shows in your industry and attend them to meet potential suppliers and learn more about their products.
Contact Manufacturers: If you have a specific product in mind, contact its manufacturer to inquire about dropshipping opportunities. Many manufacturers offer dropshipping services to retailers.
Use Supplier Directories: You can use many online supplier directories to find potential partners. These directories often include supplier ratings, minimum order quantities, and pricing information.
Ask For Referrals: If you know other retailers or business owners in your industry, ask them for supplier referrals. It can be a great way to find reliable and trustworthy suppliers.
Evaluate and review potential suppliers and compare their offerings and prices before deciding. You should also contact each supplier to ask about their policies, shipping timings, and prices. You can find the right supplier to build a successful dropshipping business through due diligence.
Conclusion
Dropshipping is a flexible and convenient business model with many benefits. It is a low-risk and low-investment business without having to worry about inventory. It is possible to start a profitable dropshipping business almost immediately since there are no rigorous regulatory restrictions to comply with. Once you have your favoured products list and partner with the best supplier and manufacturer, your dropshipping business is well on its way to profitability.
Frequently Asked Questions(FAQs)
Can I make a significant income through dropshipping?
Yes, it's possible to make a significant income through dropshipping. However, like any business model, it requires hard work, dedication, and intelligent decision-making. Choosing the right products, pricing them competitively, and providing excellent customer service is essential to increase your chances of success.
Does the dropshipper handles the order?
It is an on-the-go business model where the seller purchases from the manufacturer and gets the product directly delivered to the customer without handling the order at any point.
How do I find the best dropship products?
There are various ways to find products to dropship, such as using product research tools, analyzing trending products, and conducting keyword research. Choosing products with high demand, good profit margins, and low competition is essential to increase your chances of success.
Do I need much money to begin a dropshipping business?
You only need a little money to begin a dropshipping business. One of the advantages of this business model is that you don't have to purchase inventory upfront, which can save you a lot of money. However, you must invest in a website, domain name, hosting, and marketing. Setting aside some money for unexpected expenses or reinvesting in your business as it grows is also a good idea.
Calculate Your Shipping Costs Now