Top Courier Services Companies in Mumbai [2023 Updated]
Finding a suitable courier service in Mumbai can be challenging, especially when there are several options available in the market. A courier service company plays a crucial role in the supply chain process and overall business efficiency. A courier company can influence your business' bottom line – it can save resources, money, and time. In all, it can help streamline business operations and improve profitability.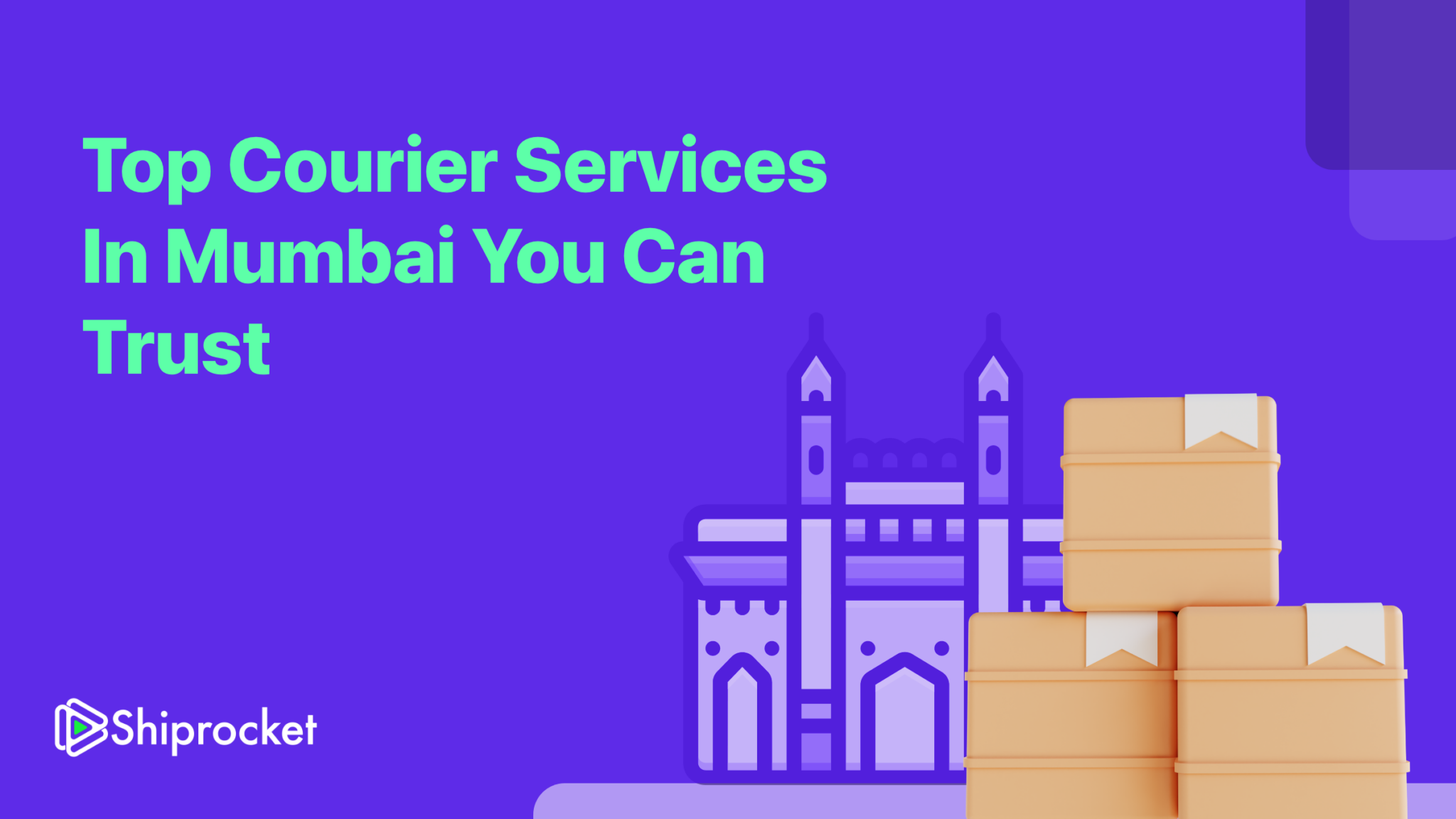 On the other hand, inefficient logistics and courier services can lead to late order deliveries, dissatisfied customers, and a negative brand reputation. Thus, it only makes sense to choose the best courier services in Mumbai for efficient transportation and maximum customer satisfaction.
Best Courier Services Companies in Mumbai
Mumbai is one of the fastest-growing Indian cities that offers many opportunities for people looking to start a business. This also means that there are several logistics companies operating in Mumbai to support these businesses with their shipping needs.
If you are looking for the best courier services in Mumbai, then you just got lucky! In this blog, we will discuss the top courier services in Mumbai to help you choose the best company for your business needs.
1. Blue Dart
Blue Dart is one of India's leading courier service providers, an express shipping company that delivers to more than 55,400 locations in India. It has a strong presence in Mumbai and offers a wide range of services, such as same/next/two days delivery options and time-definite delivery. Blue Dart has a 24-hours counter at Vile Parle Airport, Mumbai. The company also has a dedicated customer care team to resolve issues on a priority basis.
2. FedEx
FedEx was started in 1973 with the vision of making an impact in the logistics market. It is known for its shipping solutions and is one of the top courier service providers in Mumbai. Apart from the regular products, you can also ship hazardous products like lithium batteries, dry ice, and fragile items with FedEx at affordable prices. The company also offers customized shipping solutions as per the needs of different businesses.
3. Delhivery
Delhivery was established in 2011 and has quickly become one of the most preferred courier companies among online businesses. It offers high-quality customer services and has more than 10,000 customers across the country. You can deliver across 18,400 pin codes in India. Delhivery also has 93 fulfillment centers. The company offers same-day, next-day, and on-demand delivery, reverse logistics and cash-on-delivery services. The best feature of Delhivery is it reattempts delivery three times in case of non-delivery.
4. DHL
Another major courier service provider in Mumbai is DHL, which offers its services on a global scale. The company was founded in 1969 and offers services in 220+ countries and territories. DHL serves several sectors, including auto-mobility, chemicals, consumer, energy, engineering and manufacturing, life sciences and healthcare, public sector, retail, and technology. You can also deliver cash-on-delivery cross-border orders with DHL.
5. Shadowfax
Shadowfax is a tech-driven courier company in Mumbai that offers lightning-fast delivery services. It has 30 lakhs verified riders and delivers 15 lakhs+ orders daily. The company is operational in 900+ cities and 8500+ pin codes. Shadowfax also offers hyperlocal delivery services. The company only offers domestic shipping and reverse pick-up and a COD facility.
6. Aramex
Aramex was founded in 1997 in the UAE. The company offers international deliveries and has its office in Mumbai as well. Aramex offers logistics and transportation solutions. Its other services include co-packaging, order tracking, record management, and supply chain management.
7. DB Schenker
A global logistics company, DB Schenker offers end-to-end supply chain solutions. The company offers road, air, and sea logistics services, customs clearance, and warehousing and distribution solutions. DB Schenker is known for offering efficient services to its clients.
Shiprocket – Simplifying eCommerce Shipping
Shiprocket is a logistics aggregator that has onboarded 25+ courier partners. You can deliver to 24,000 pin codes and 220+ countries and territories with Shiprocket. Rather than partnering with a single courier services provider in Mumbai, you can partner with Shiprocket and ship your orders with different courier service providers in Mumbai as per your needs.
Besides, you can also integrate your sales channels with Shiprocket and manage and process all your orders from a single platform. Shiprocket also offers live order tracking, and you can keep your customers informed about their order status via SMS, email, and WhatsApp communications.
Conclusion
Mumbai is a hub for many online businesses, and with the list of top courier service providers in Mumbai, you can explore their services and choose the one as per your business requirements.
Calculate Your Shipping Costs Now