How Shiprocket's Discounted Shipping Rates Helped an eCommerce Seller Scale His Business?
Shipping has never been more accessible and affordable. Shiprocket has been making shipping delightful for thousands of eCommerce sellers. This blog highlights the story of one of our sellers – Krunal Mehta, from Gujarat as he shared his success story with Nishtha Chawla, one of our marketing specialists. Read on to find out what Mr Krunal has to say about his eCommerce business and his shipping partner, Shiprocket!
When did you start using Shiprocket?
Krunal: It has been two years since I have been using Shiprocket. I needed multiple courier partners to handle my shipping requirements. Given the scenario, Shiprocket turned out to be the perfect product to use.
How did you come across Shiprocket?
Krunal: I researched a lot on the Internet and found Shiprocket. The sign-up panel just spoke to me. It was magnetic. I felt compelled to choose it.
Tell us about your business
Krunal: Mine is a family business. It has been running since 1973. My father started it. However, it was a couple of years ago when my wife Megha decided to take over the legacy and expand it further. I chose to support her and here we are – operating happily and continuing the family legacy with grace.
Where is your business located?
Krunal: We operate from Ahmedabad, Gujarat.
What do you like the most about Shiprocket?
Krunal: I love how easy it is to use the panel. My wife and I are non-tech individuals and we are able to use the panel very easily.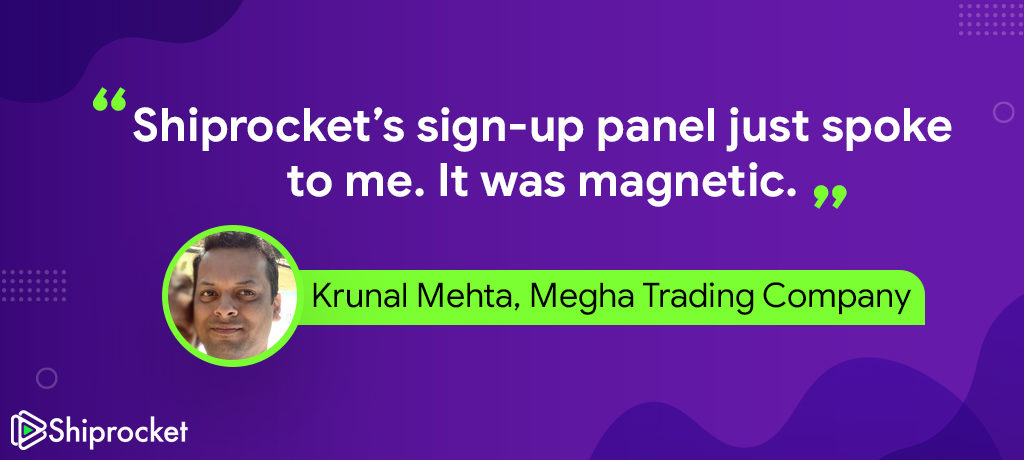 What is the most monumental thing you have achieved with Shiprocket?
Krunal: Business growth. Before using Shiprocket, we used to receive 30 to 35 orders in a month. Now, we get 70 to 75 orders. Order fulfillment has led to such an increase in the numbers. We couldn't be happier.
Do you use Shiprocket Post-Ship?
Krunal: No. Not yet. I will read about it. (Click here to know more)
What do you think is the major reason behind order fulfillment?
Krunal: I believe it's the timely deliveries which make our customers happy. Some partners, like FedEx and Delhivery, are immensely efficient in their working styles. Courier Recommendation Engine filters the best courier partner, given the place of delivery.
What is your biggest takeaway of using Shiprocket?
Krunal: To me – Shiprocket is all about convenience. It is an easy to use platform that provides me with flexibility when it comes to choosing courier partners for my shipments. Also, whenever there is an order with lesser profit margins involved, I am assured of the fact that the shipping won't cost me a lot – thanks to the discounted shipping rates that Shiprocket provides to its sellers.
Being able to provide our sellers with delightful shipping experiences and hearing good things in return is a uniformly pleasing thing for us. With an ever-increasing number of happy sellers, Shiprocket is perennially working hard to maintain their level of satisfaction.
If you also want to run a successful eCommerce business with discounted shipping rates and maximising business reach (and among many other things!) – register today with India's #1 shipping and logistics platform and get featured.
Calculate Your Shipping Costs Now