eCommerce
Marketing
How to Earn Money from YouTube and Monetize your YouTube Channel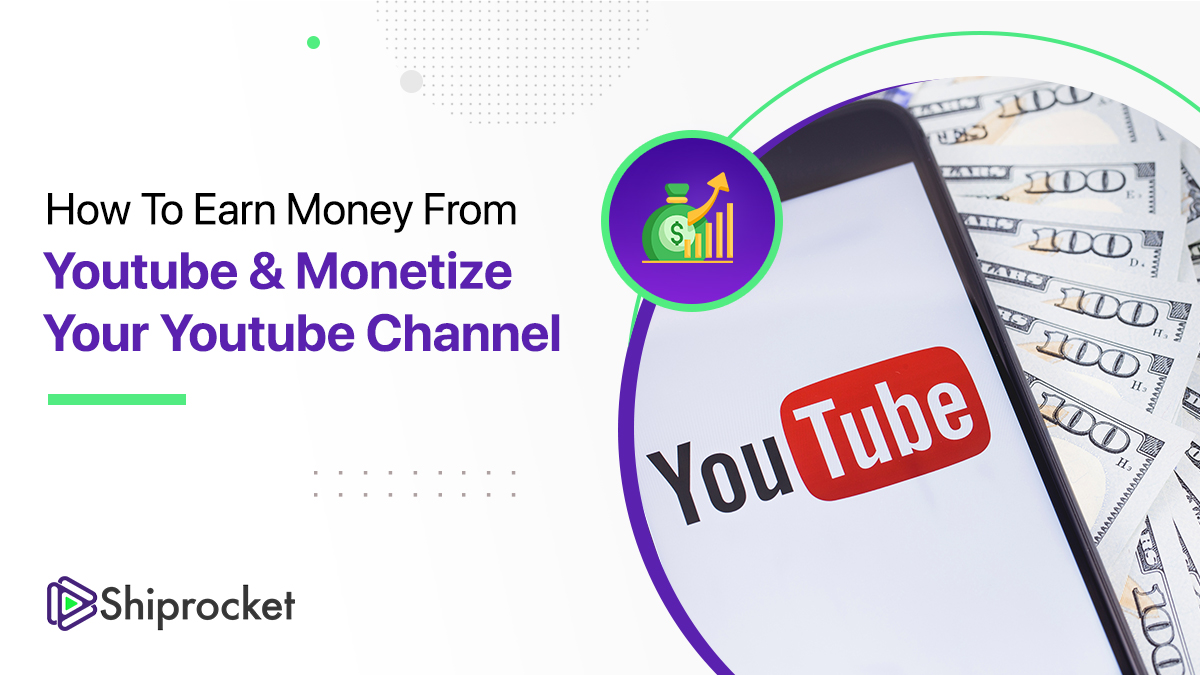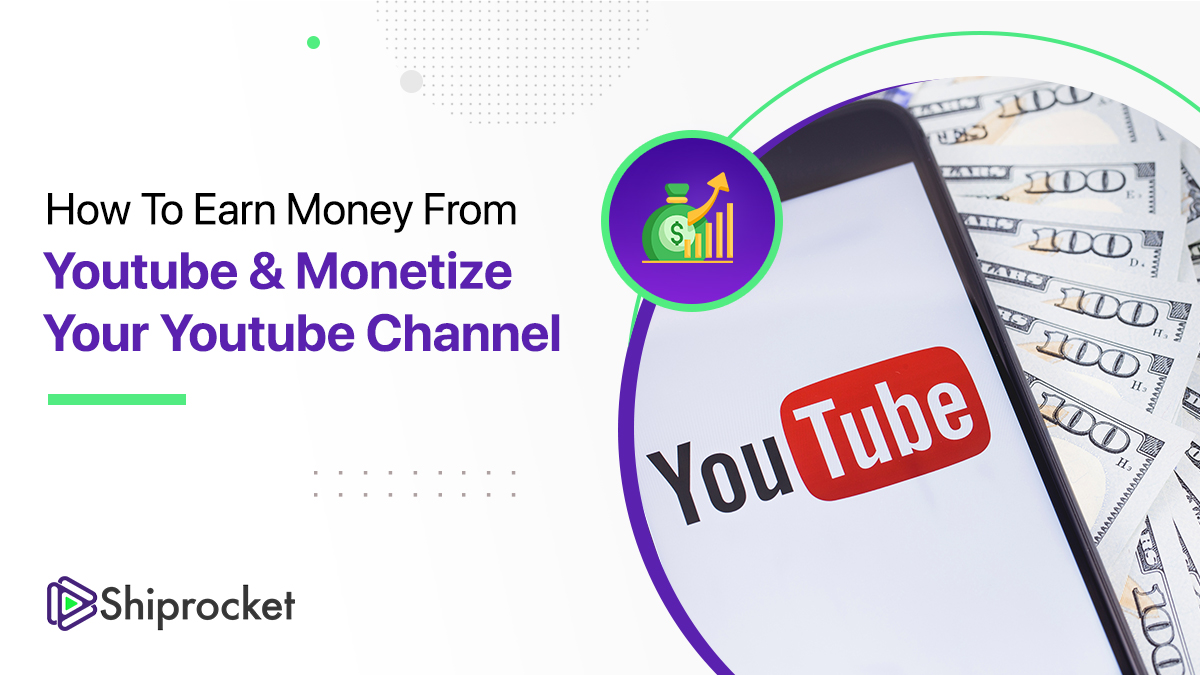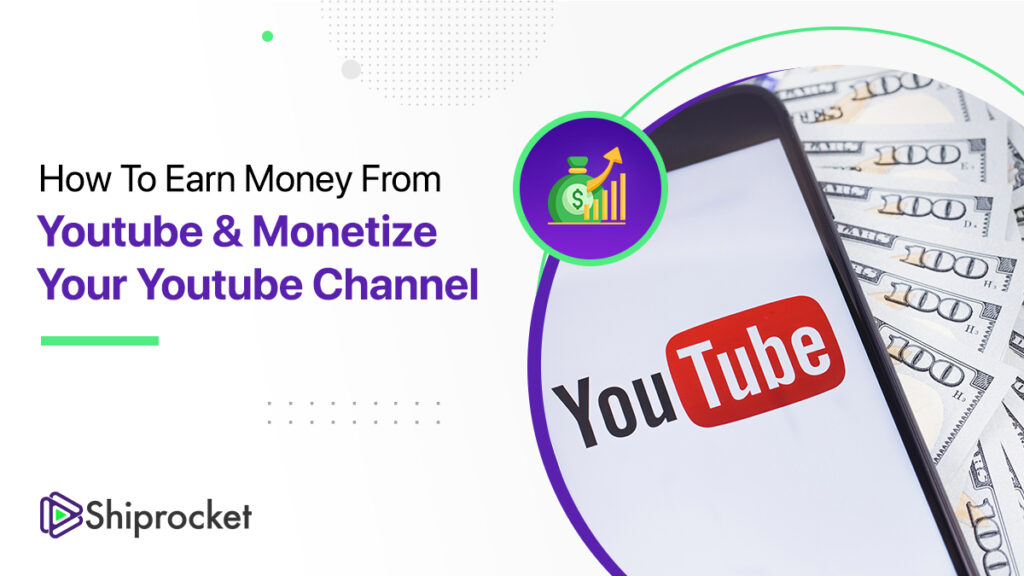 The growing creator economy has uncovered various ways to generate money on YouTube. While some strategies have a lower entry barrier than earning money through advertisements, great content and an interested audience are essential.
You might be able to make money on YouTube if you tap into your creative side and are ready to put in a lot of effort. Here are a few approaches to consider.
How to Get Paid on YouTube
Reach 1k subscribers and apply for the YouTube Partner Program
Become an affiliate marketer
Create sponsored content through brand deals
Create and sell your product or merchandise
Turn to crowdfunding
Reach 1K Subscribers and Apply for the YouTube Partner Program
First and foremost, let's get this out of the way. The most challenging part of joining the YouTube Partner Program is getting 1,000 subscribers. It then becomes possible to make advertising revenue.
Before you can become a partner, you must meet the following requirements:
Your films must follow the site's advertising restrictions and have accumulated more than 4,000 valid public watch hours in the previous 12 months.
You must reside in a qualifying location.
A Google AdSense account must be linked.
Once you've met the requirements, go to your profile and look for the "monetisation" area.
You can make money as a partner by selling commercials, membership privileges, and services like Super Chat, which allows users to pay to have their questions answered.
How many Views on YouTube does it Take to Make Money?
You are not compensated for each video view. Instead, you get paid when someone watches or clicks on an ad in your video.
According to Influencer Marketing Hub, the average YouTube channel can generate around $18 every 1,000 ad views. Considering the rate of commercials viewed corresponds to $3 to $5 every 1,000 video views.
So When do you Start Making Money on YouTube?
Assume that it takes 1,000 video views to earn $4 from viewers who viewed adverts. To get $100 from those commercials, you'd need 25,000 video views. Once your amount hits $100, you will be compensated.
You may only be paid every few months if you have a small channel. You should also understand how Google, which handles AdSense payments, takes taxes.
Sound like a Long Road Ahead?
Below are alternative ways to earn before you hit 1,000 subscribers.
Become an Affiliate Marketer
Affiliate marketing may be the most practical approach to monetise your YouTube audience if you want to publish product review videos. This is how it works:
You apply to join an affiliate programme run by a firm or seller, such as Amazon Associates.
You'll use their process to create specific links to products you want to showcase in your films once you've been accepted.
In your YouTube videos, demonstrate, evaluate, or refer to the products, and paste your personalised affiliate marketing link(s) in the description section when you upload.
When a viewer clicks your unique link and purchases a product, you will receive a commission as a brand affiliate.
Create Sponsored Content through Brand Deals
Another approach to making money on YouTube is to land a brand partnership, similar to affiliate marketing: Companies interested in your audience may sponsor your videos or offer product placement deals in exchange for a shoutout.
The keyword here is "audience," which suggests that these opportunities are more likely to offer themselves when you have a following. As your channel expands, you can approach brands directly or use resources like the affiliate mentioned above marketing platforms to discover corporate partners who complement your content style.
You can receive lump sum payments, earn commission on a per-sale basis, or receive the product or service for free with brand discounts.
Create and Sell your Product or Merchandise
If you have merchandise or a service that your audience would be interested in, tell them about it and include links in your videos.
You may need to buy materials or hire a manufacturer to offer a physical product, but you can also sell downloadables like e-books, art prints, or virtual classes. Before advertising your products, be sure you have a safe payment mechanism.
While producing your products is more complex than pitching those of other companies, you may be able to make more money this way because you will keep the majority of the proceeds as the product owner.
Turn to Crowdfunding
Another way to monetise your channel is through crowdsourcing. Recurring and project-based crowdfunding are the two most common types of crowdfunding. Fans of the track pay a small membership price for privileges and an exclusive tier of access in the first, which is better suited for content creators.
More subscriptions equal more money in your pocket. Viewers may be enticed to sign up by incentives like one-on-one video conversations, special classes, or goods.
A project-based crowdfunding campaign is a way to go if you have a concept for a project that needs funding.
Earn an Audience, and Earn More in the Long Run
YouTube provides opportunities for everyone, but it is not a get-rich-quick scheme. Making money on YouTube involves time, effort, and a dedicated audience. The good news is that with a bit of desire and work, you can earn money before you reach the coveted 1,000-subscriber mark.
As you begin, keep the following suggestions in mind:
The easier it is to hit the viewing-hours requirement, the more videos you generate and upload.
The more effectively you target your material to a specific audience or niche (for example, film photography), the more likely your viewers will subscribe for more.
It pays to prepare and execute thoughtful, entertaining videos because they are more likely to gain views.
Don't discount the power of a targeted title and standout thumbnail to attract viewer attention.
Calculate Your Shipping Costs Now