Facebook Retargeting: 5 Effective Strategies for eCommerce
Imagine yourself in the shoes of a retail store manager. You're watching people visiting your store and filling up their carts with their favorite products.
But instead of heading towards the billing counter, they leave their carts abandoned and go away. Would you watch this happen all day?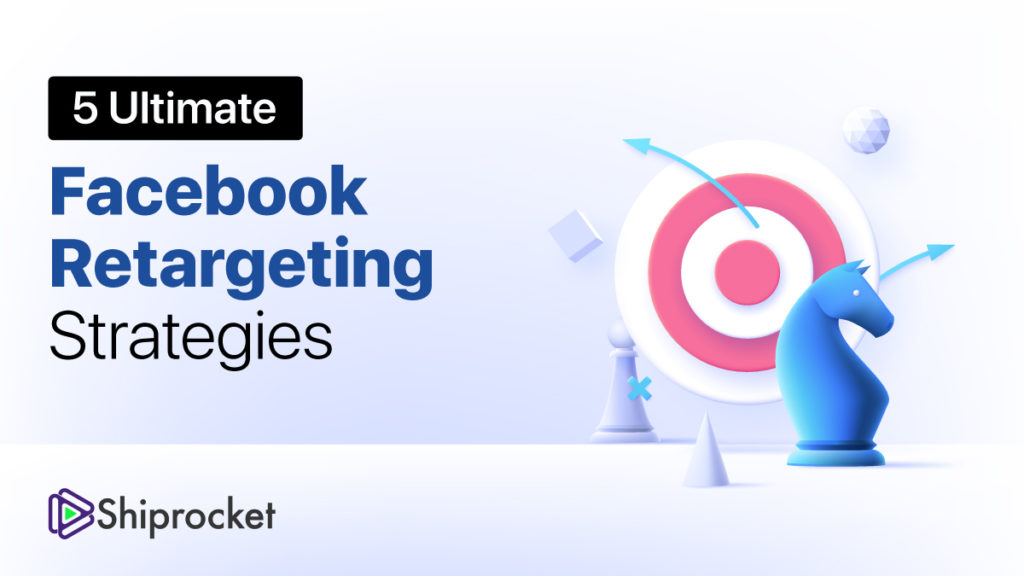 The answer is no, not just in this case but also in an eCommerce store. According to many studies, nearly 7 out of 10 online shoppers leave their purchase midway.
There could be many such people who have already interacted with your brand in one way or another. As a seller, you must strike while the leads are hot and convert them.
One of the most tried and tested ways of doing this is through an effective Facebook retargeting strategy.
What is Facebook Retargeting?
Facebook refers to it as communication that "inspires people to rediscover what they love about your business."
In other words, Facebook retargeting means showing personalized ads, also known as Facebook retargeting ads, to people who have recently visited your website, app, online store, or Facebook page.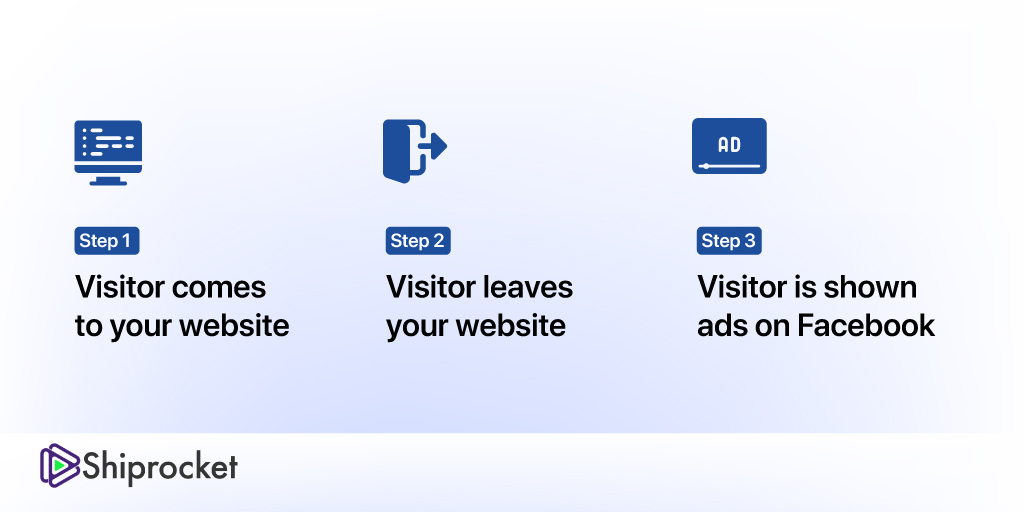 You've got to find such people, make a list of targets, and start showing them ads to make them want to complete the incomplete. Doing this is practical considering that Facebook has over 2.8 billion monthly active users.
While there isn't one perfect Facebook remarketing strategy to have, here are the most effective ones for you to consider: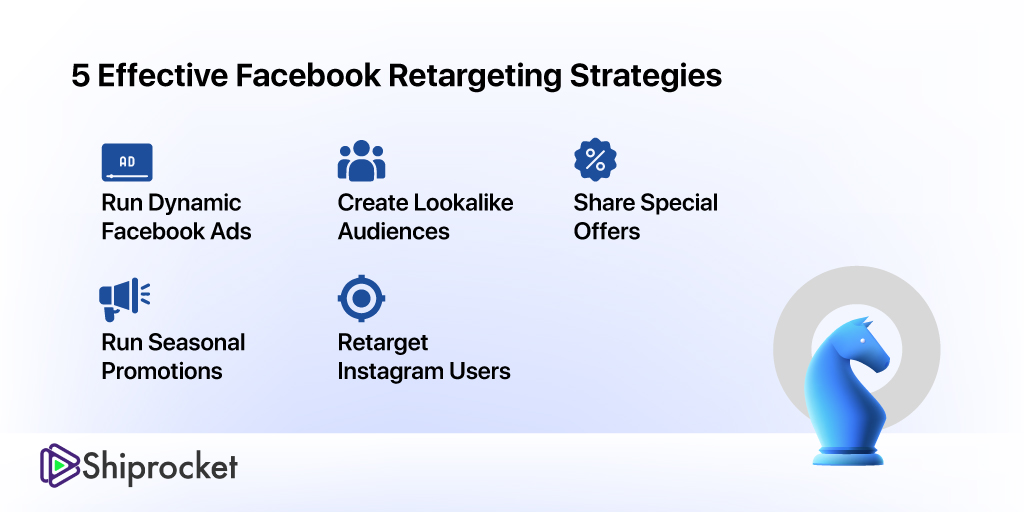 5 Killer Facebook Retargeting Strategies
1. Running Dynamic Facebook Retargeting Ads
Dynamic Facebook Retargeting Ads empower you to retarget users with highly relevant ads featuring the products they recently looked at or added to their cart. The goal is to bring them back to complete their purchase.
Facebook pulls the right products directly from your ecommerce store to show them in the suitable ads to the right users at just the right time. You can do this through a remarketing pixel.
It's a small yet powerful snippet of code that you can insert into your website's backend. All you need is to set up your Business Manager account, update your Product Catalog, and let Facebook's remarketing pixel do the trick.
2. Creating Lookalike Audiences
Sometimes, a slight similarity makes a big difference. Facebook allows you to find and create a list of users with similar interests and attributes as your existing prospects.
You can do this by importing custom lists of your website visitors, leads, or actual customers. Such lookalike audiences are more likely to convert if you show them personalized Facebook retargeting ads.
Experts recommend that your source audience must contain 1,000 to 50,000 people. The attributes match better if your audience size is lesser.
3. Sharing Special Offers and Discounts
One of the most widely-used Facebook retargeting strategies is to share special incentives to your prospects. This is based on their stage in the buying journey and their behavior on your website.
The key is to make your potential customers feel special. Share personalized offers such as special discounts, referral rewards, or gifts to those who complete their purchase via Facebook retargeting ads.
For instance, an online fashion retailer can run personalized ads featuring a 30% extra discount on the same shirts that a visitor saved to their wish list but didn't purchase.
4. Leveraging Seasonal Facebook Retargeting
Seasonal retargeting is a Facebook retargeting strategy based on the age-old concept of seasonal advertising. It uses themed promotions that match the holidays and seasons to get users back to your website.
For example, you can create remarketing ads around holidays, festivals, and seasonal events such as Independence Day, Raksha Bandhan, Summer Sale, Monsoon Sale, etc.
Once the number of leads from one campaign goes down, switch to the next one. If you operate in India, you've got many seasons and festivals to cash on.
5. Retargeting Instagram Profile Visitors
According to Instagram's data, more than 200 million users visit at least one business profile every day. 2 out of 3 such users say that Instagram helps them start conversations with brands.
You can take advantage of this by creating custom audiences based on your Instagram visitors, followers, and engagers. The next step is to retarget these Instagram users with Facebook retargeting ads.
Since you can now create an additional online shop on your Facebook and Instagram pages, you can also target users who browse your products or add them to the cart.
Start Retargeting Today
By now you must have understood some of the most effective Facebook retargeting strategies. Start putting them to practice. Use that tiny power-packed remarketing pixel to take your ecommerce business to the next level.
However, things don't end here. With the range of remarketing Facebook offers, there are many more ways in which you can customize its features to your advantage.
Clocking a growth of over 57% annually, Facebook may soon offer more remarketing features and upgrade the existing ones. As a seller, you'd want to keep a close eye on the same.
Ship Your Orders Faster
Here's wishing you the utmost success with your Facebook retargeting strategy. Now that you'll start converting more prospects into customers, you'll also need a robust shipping solution to meet the increased demand.
If you've already set up your Facebook store, you can quickly create shipments for your orders using Shiprocket. We help you provide faster than ever delivery using advanced features like a multi-functional dashboard, easy channel integration, courier recommendation engine, and much more.
Remember, retargeting is all about aiming for your target until you reach it. To hit the mark, always aim above the mark. Good luck!
Calculate Your Shipping Costs Now