Setup A Facebook Store in 5 Easy Steps & Start Selling Now
Did you know India has the largest number of Facebook users as of now? We have almost 270 million users on the social media platform! Those digits are not only massive but are highly consequential when it comes to e-commerce social selling.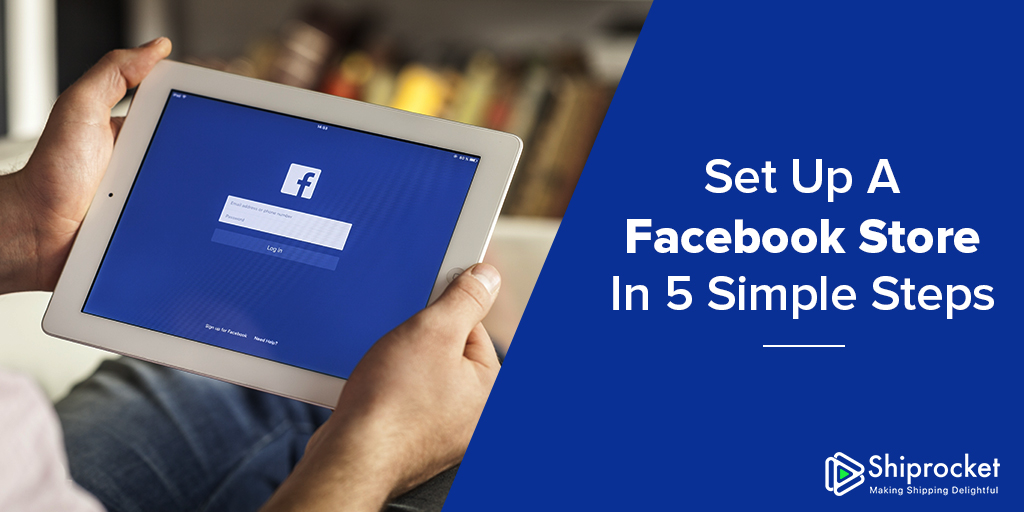 Nearly everyone we know uses Facebook almost daily. It's a market that every seller should tap into and make the most of. Selling on a social platform enables you to reach a wider audience and convert them into customers. It's good for self-promotion and connecting with people from all over the world.
What Are The Benefits Of A Facebook Store?
Let's take a look at the benefits of owning a Facebook store:
Zero Investment
Starting a store on Facebook is not an expensive task, it requires zero investment. Owning a Facebook store allows reaching the maximum number of audiences at zero investment. Starting a store will also add the Facebook pixel to the website that helps track the advertising's effectiveness, customer behavior on Facebook ads, and conversion rates. With the collected data, you can remarket to the right audience.
Mobile-friendly Experience
A Facebook store offers a seamless shopping experience to the audience. It displays products efficiently on any screen – be a mobile phone, tablet, or laptop. Also, you can systematically organize all your products in different collections. It will offer better visibility and prioritize best-sellers on Facebook.
Better Connections
These days people don't trust companies. They don't often believe the authenticity and genuineness of the brand videos. Facebook stories work as an organic way to connect with the target audience. With a Facebook store, you can demonstrate why and how you offer the best products. You can also introduce your staff members and let your audience know the people behind your brand.
Valuable Insights
Facebook Feature Insights feature allows online businesses to get insights into the important features such as Facebook page reach, posts' engagements, posts clicks, etc.
You can also download the insights and dig deep and analyze the performance of your posts. Besides, you can also find out your customers' demographics. With the help of Facebook store, you can:
Drive more sales
Increase brand awareness
Gain recognition
Provide offers to your customers
How To Create A Facebook Shop?
Here are the steps to create a Facebook Shop in few minutes:
Step 1. Create A Facebook Business Page
You can create a business page by going to facebook.com/business and clicking Create a Page. Next, select the type of page you want to open. Fill in your details, add content, and upload pictures to complete the page.
Once you're done creating your business page, click on Add a Shop Section. Click on the button and accept the terms and policies after reading them.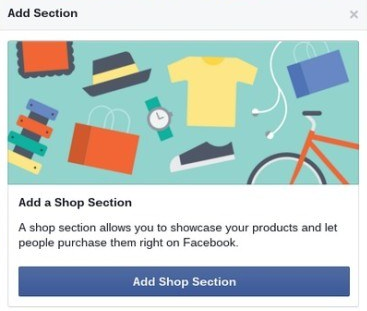 Step 2: Fill In Your Shop Details
The next pop up will ask you to fill your shop details, such as, Business Email, Address, etc. You can also select the box for sending all the customer inquiries to the same email ID. This will ensure that you are always on top of the queries which your customers or potential customers might have.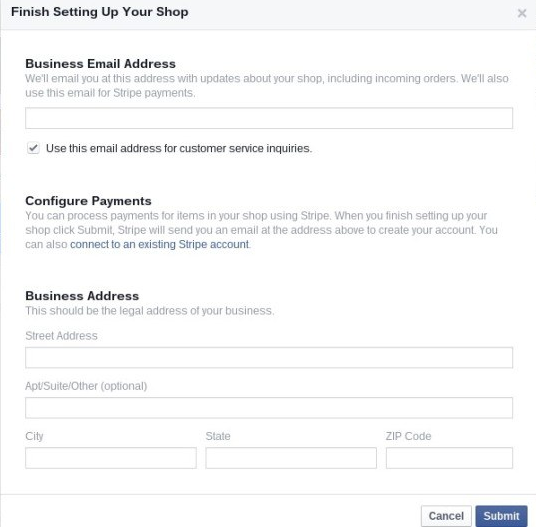 Remember, it is important to fill in the details carefully.
Step 3: Select Checkout Method
This is a crucial step where you must decide the payment method you would like to choose. You have two options, you can either use the 'Check out on Facebook' option wherein you have can accept payment via Facebook itself. Or you can choose to redirect your customer to an external payment gateway.
Fill in your company details and choose the method of receiving payment.

Step 4: Complete Your Store Setup
After you have successfully completed all the above-mentioned steps. It's time to complete the remaining few steps and your store will be ready for selling your products.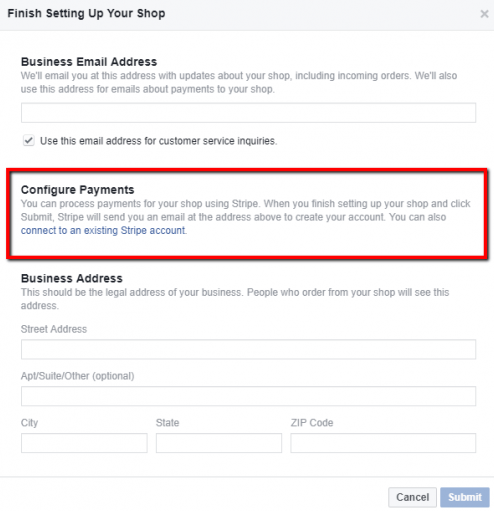 Step 5: Start Adding Products
Now that your page is live you can start uploading products by going to the Facebook Business Page and clicking on the 'Shop' button. Here on the 'Add product' section you can upload images, variants, product description, and the price. You can include the product category and other details to make it easier for the customers to buy them. After you have uploaded the products you can modify them or remove them once they are sold out.
What To Keep In Mind While Selling On Facebook Shops?
The Facebook store is an excellent option for sellers who want to expand their social media strategy. While launching Facebook Store and selling on it is indeed very advantageous for your business, there are still some points that you must keep in mind while going ahead with this idea:
Promote your Store
You must promote your store. If your audience and followers don't know about your products and brand, they might never buy from you. That's why is imperative that you promote your shop, products/services, and brand as you do with your other online store/website.
Be Prepared for Bulk Orders
Great product listings lead to people buying from you in large numbers. But if your team is unable to respond to their queries and demand, delayed orders and other such snags can be detrimental for your business. Be prepared to respond to bulk orders and high demands.
Brand Consistency
Although you have launched your Facebook store on a social media platform, it doesn't mean you should not focus on your brand. If the style, images, and layout of your Facebook Store look inconsistent and unprofessional, it may lead to people not trusting your brand. They might be less willing to provide you with any payment information.
Creating your shop on Facebook is an easy task. It is growing to become quite important too with the growing number of people who have acknowledged the usefulness of the platform. So don't delay any longer and go get signed up!
Calculate Your Shipping Costs Now