Best Payment Methods for Your eCommerce Store
When your customers purchase goods from your website, payment is an important concern for them. As people from different demographics visit your site or marketplace every day to make a purchase, it can get difficult if you provide them with only one mode of payment. Many people are more comfortable with an offline method of payment wherein they pay for a product after they purchase it whereas those who usually don't stay at home due to work or other commitments, prefer paying online. Since there are so many different requirements, as a seller, what options can you offer to your customer to provide them with a pleasant shopping experience? Here is a list to help you with different modes of payment.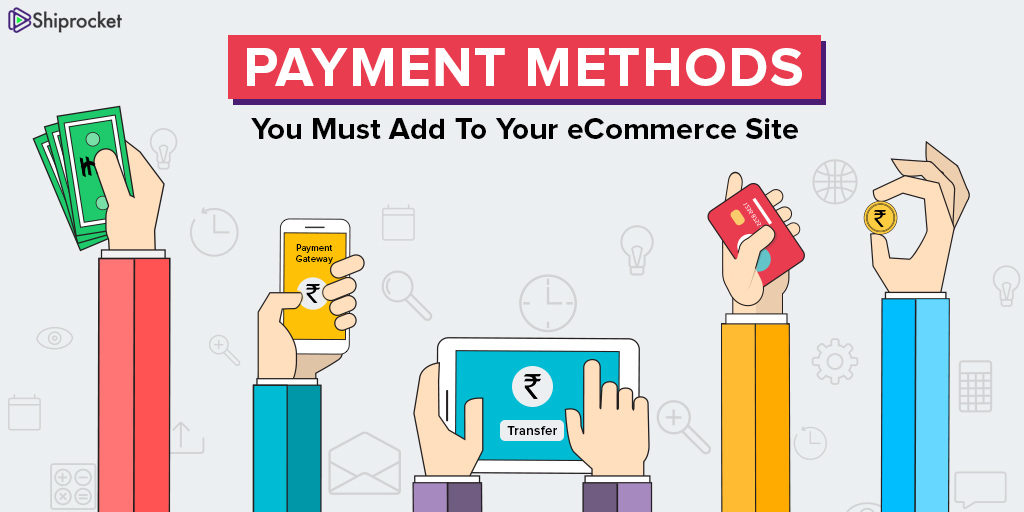 Online Payment Options
Credit Card
Credit cards have become a popular method for collecting money from Buyers. The buyer only needs to add their card number, expiry date, name on the card, and a CVV number on the back of the card. You can even save the details of this card for your buyer to facilitate faster future transactions. After entering the details, your buyer will be asked to enter their one-time password sent on their phone/email id. These measures are done to ensure security and protect the details of the customer.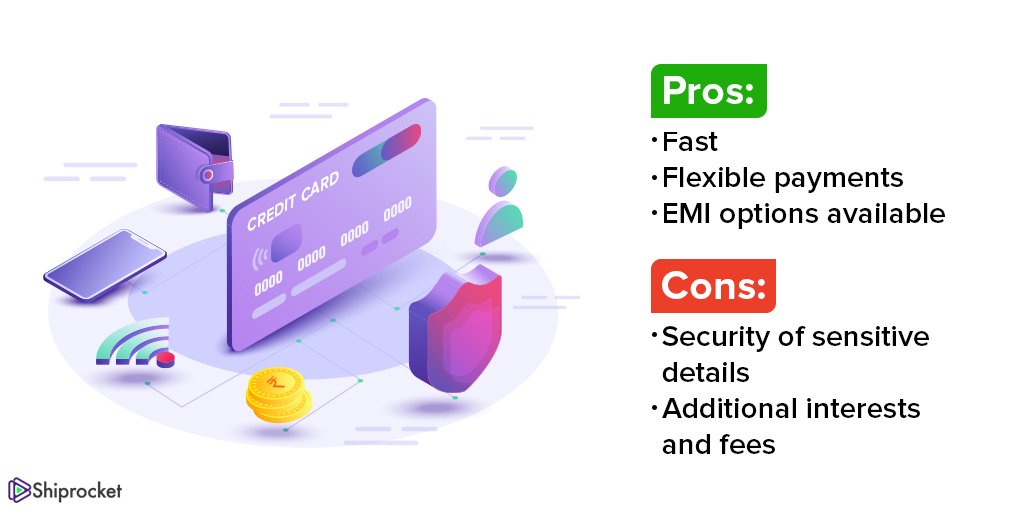 Advantages:
1) Fast and easy to carry out.
2) Flexible payment options as the buyer can shop now and pay later
3) EMI options available if you purchase something expensive and want to spend on the go
Disadvantages:
1) Security of sensitive details as fraudulent activities are common
2) Additional interests and fees on every transaction are done using a card
Debit Card
Just like a credit card, payment by a debit card also follows the same process. The only difference is that with a debit card, the buyer directly pays with the money already present in their bank account whereas with a credit card they spend at the end of a billing cycle which can be of 25-30 days.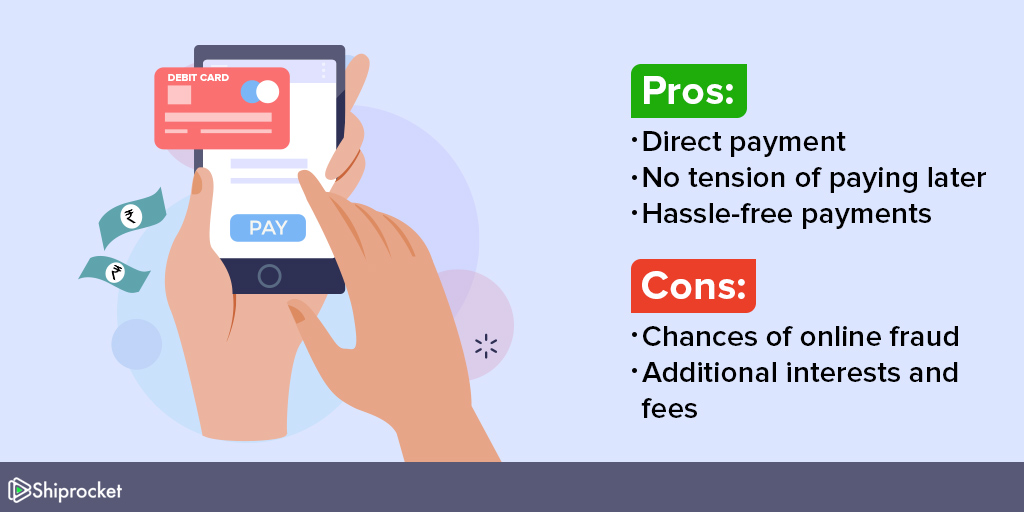 Advantages:
1) Direct payment from an existing account
2) No tension of paying later or arranging funds for the same
3) Hassle-free payments with just bank details and a one time password
Disadvantages:
1) Chances of online fraud
2) Additional interests and fees levied on debit cards
E-wallets
E-wallets like Paytm, Phonepe, Mobikwik, Freecharge, etc. have come into the picture recently. Your buyer can use them like a digital wallet where they store money and use it as per their convenience. You must have seen their advent after the demonetization in the country. This method has facilitated digital trade and has reduced the use of cash to a large extent. Even Amazon has launched its own Amazon wallet by the name of Amazon Pay! Therefore, you can tie up with these providers and give your buyer the option to pay from their wallet.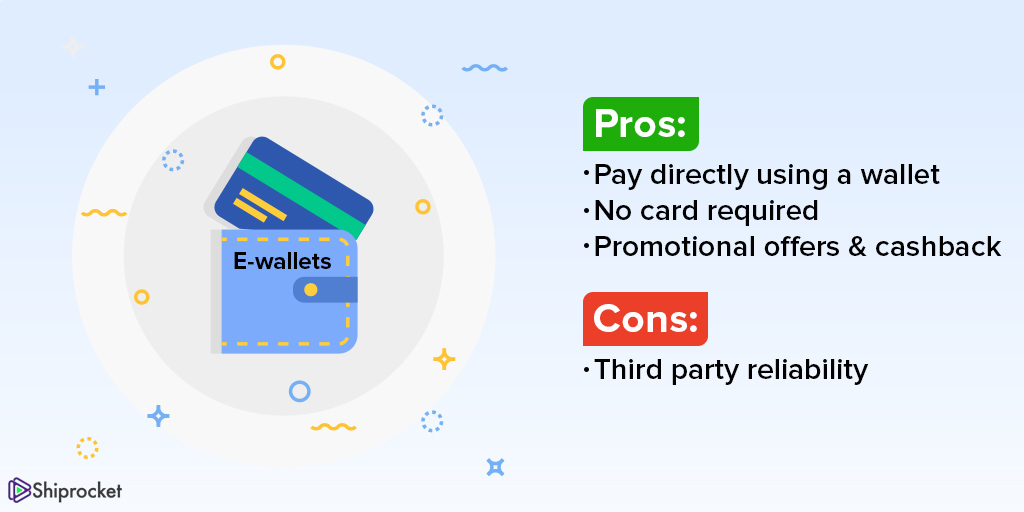 Advantages:
1) Buyer can pay directly using wallet where they can store money
2) No card required to make payments
3) Promotional offers such as cashback can be offered
Disadvantages:
1) Third party reliability and a relatively new phenomenon
Netbanking
Using net banking, the user can pay for his transaction directly from his account without his/her debit card. You redirect the user to the bank's website where they enter their login credentials such as, login id and pin following which the money is directly deducted from the customer's bank account. It is a fast and simple option your website can have to make the process easier for buyers.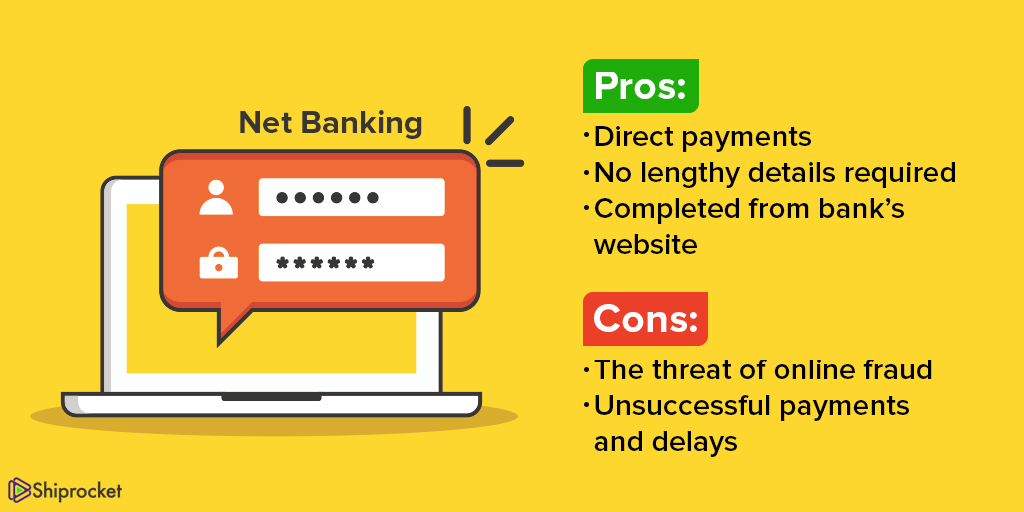 Advantages:
1) Direct payments through bank
2) No lengthy details required such as card number, CVV, etc.
3) Completed directly from bank's website
Disadvantages:
1) The threat of online fraud
2) Unsuccessful payments and delays which lead to deduction of money from source account but not transfer it to the destination account
UPI Payment
A recent trend is payments using UPI where you don't need to send across any sensitive details like account number, IFSC code, etc. Just a simple UPI id does the trick. So basically, UPI stands for unified payment interface using which you can transfer money in real time using a Virtual Payment Address(VPA) through a mobile application. Moreover, you can link more than one account to a UPI id. It is being considered as the fastest and most safe payment option as it occurs in real time. Most leading banks have already joined UPI and applications like Google pay, BHIM UPI, Paytm, and Phonepe are a few using which you can pay through a UPI id.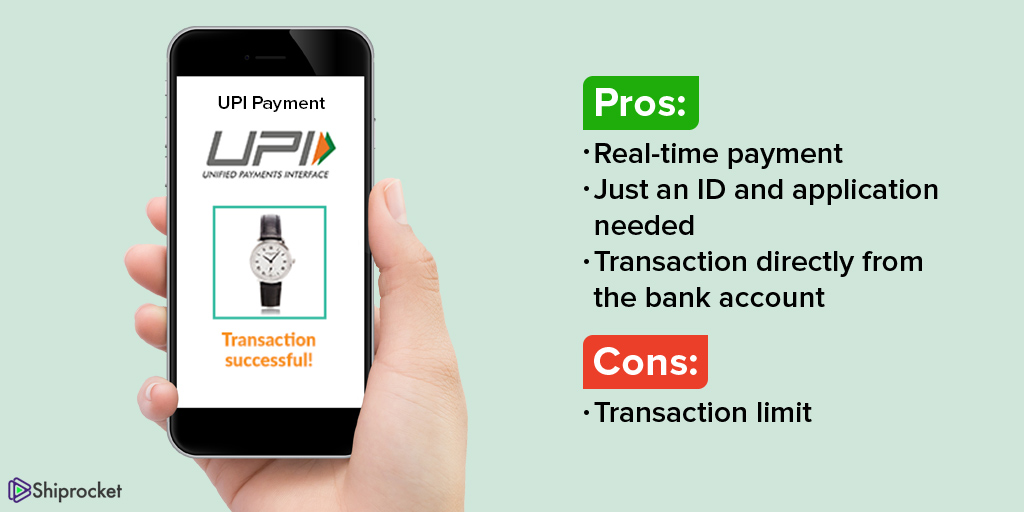 Advantages:
1) Real-time payment from buyer's bank to seller's account
2) Just a UPI ID and mobile application needed
3) Transaction directly from the bank account
Disadvantages:
Transaction limit for some banks
Prepaid Cards
Prepaid cards are a form of payment where your buyer may have a card already loaded with money and he/she may use that for making payments. Typically referred to as gift cards, people are now opting for these to gift someone a 'gift of their choice'. It's an upcoming and trend and it is catching up for people looking for simple gifting options. You can try to generate your own gift cards to bring back more customers to your store.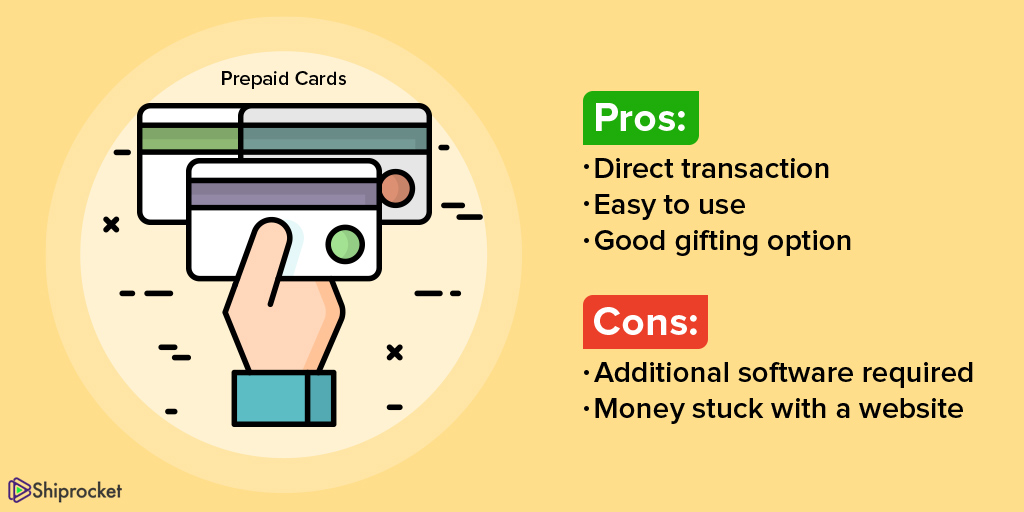 Advantages:
1) A direct transaction involving no bank
2) Easy to use as no third party involved
3) Good gifting option as only a recharge required for reuse
Disadvantages:
1) Need other software to generate them
2) Not used regularly as that money binds you to one website
Most people in India have started using these online payment options recently. As eCommerce is relatively new and still in it's developing stages in the country; people are still worried about the security involved around these modes of payment. Therefore, be sure you tie up with a reliable and secure payment gateway provider that can help you properly conduct these payments.
Offline Payment options
Pay on Delivery
Pay on Delivery is a fast catching payment option among eCommerce sellers. An apprehension to pay before a receiving an order persists among customers, therefore, providing them an opportunity to spend with their choice of payment method upon delivery is an ideal scenario. It includes giving them an option to pay with a credit card, debit card, mobile wallet or cash on the time of delivery. This process requires the delivery executives to carry their own POS devices, e-wallet links, etc. to make sure they can accept payment when they reach the buyer. Thus, make sure your courier partner provides you with this facility.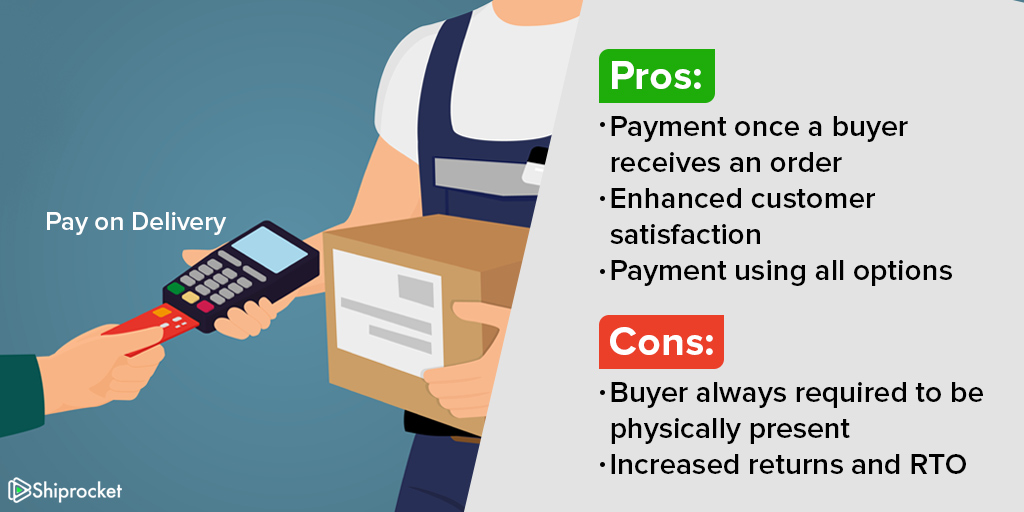 Advantages:
1) Payment is made once the buyer receives the order
2) Enhanced customer satisfaction as their trust is maintained
3) Payment using all options such as a card, cash, e-wallets, etc.
Disadvantages:
1) Buyer always required to be physically present
2) Increased returns and RTO if buyer not present
Cash on Delivery
When eCommerce started in India, the one option that got many buyers to the platform was cash on Delivery. It means the buyer pays in cash for the good he has purchased online. Cash on Delivery continues to be a favorite for many buyers who aren't very comfortable with the idea of buying online. Its use has inevitably reduced, but it remains to be a prominent mode of payment for most sellers.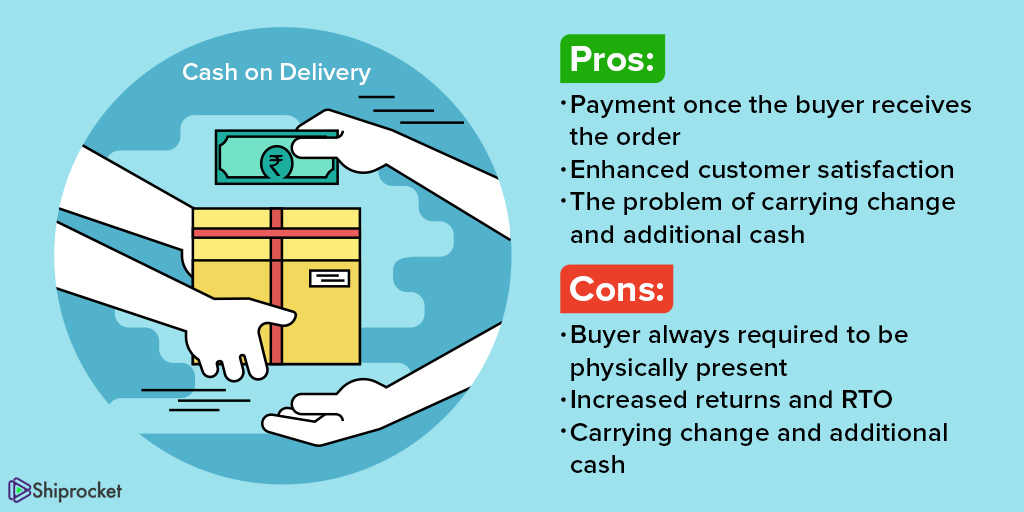 Advantages:
1) Payment is made once the buyer receives the order
2) Enhanced customer satisfaction as their trust is maintained
Disadvantages:
1) Buyer always required to be physically present
2) Increased returns and RTO
3) Delivery boy has to carry change and additional cash
Think wisely and decide on the modes which work best for you! You don't need to keep them all, but the more you try and incorporate, the more options you can offer to your customers.
Calculate Your Shipping Costs Now