Top 7 Factors Influencing eCommerce Consumer's Purchase Decision
eCommerce is a phenomenon gaining greater prominence and rapid development. It is a never-ending rat race to earn and retain customers. To successfully run the business, it is vital that businesses understand the requirements of the customers. The eCommerce industry runs on the consumer decision-making process.

Read on to know what influences consumer buying behavior!

Customers research products. They compare prices and services offered by competitors. Of course, the product quality and seller's reputation matters a lot. When the product matches the consumer's requirements, what influences consumer buying behavior?

Below are the top 7 factors which influence consumer's purchase decisions, take a look: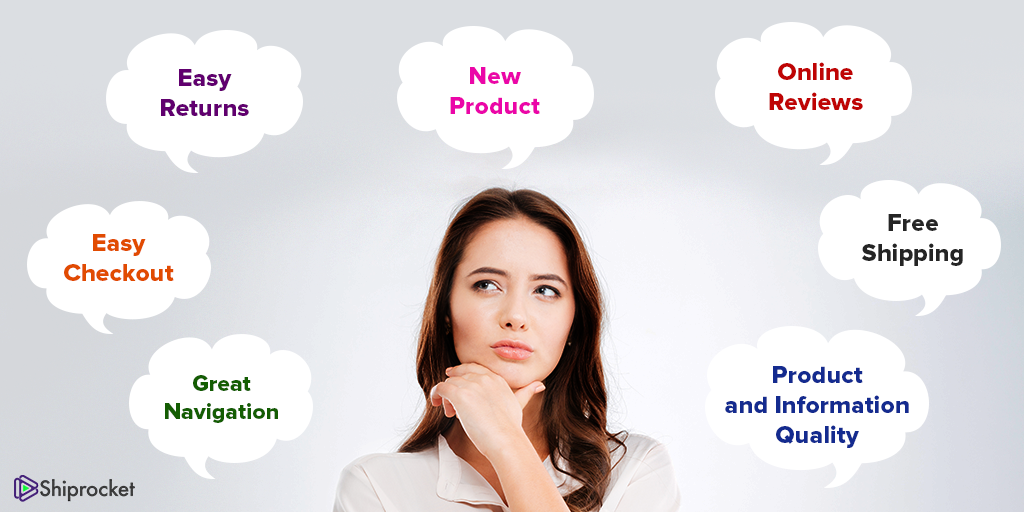 Online Reviews
According to a study by Marketing Land, about 90% of people read online reviews before buying a product. The online reviews, whether positive or negative, are the most source of finding out about the products of the company.

Pro tip: To get some positive reviews for your company, encourage happy customers to leave positive reviews on the site of their choice.
Free Shipping
With a contribution of 49%, free shipping is the second most significant factor that influences the consumer decision making process. Free shipping usually attracts customers who purchase very often from online stores and websites. Free shipping helps to keep the customers hooked for a longer period of time.

Pro tip: To avoid bearing the entire burden of shipping costs, you can add a fraction of shipping costs into your products but remember that prices have to be competitive too.
Product and Information Quality
One of the most important factors that influence the consumer's buying behavior is product quality and product information. Promoting and selling good quality products at the right time and the right platform are vital to a business's success.
Pro tip: Product descriptions, specifications, product videos, and more can be utilized to influence the consumer's decision making process.
Easy Returns
Undeniably, a lack of personal touch is something which an eCommerce business suffers from. But, it can overcome this challenge by putting an easy return policy in place. Defined and easy return policies are really very helpful if they are in favor of consumers. In a business where sie or color of the product can mismatch, easy return policy helps you get the consumer's trust.
Great Navigation
A Great Navigation in the eCommerce website helps in getting positive user experience. It will help the consumers in getting the idea where they are and where to move on. Good navigation includes everything from well-defined categories to site maps. It gives a simple sneak-peek into the list of products that the company offers.
Easy Checkout
The process of checkout must be really simple. If the checkout process is complicated, there are chances that the customer might lose interest in purchasing the product. Ensure a great CX for the consumer buying process.
Pro tip: There are a few things which can make the check out process easy. For example, customers are able to send 2 different products in 2 different states, they are able to apply discount coupons easily, send personalized cards with different products and more.
New Product
Customers often lookout for new products. Try to add new launches to the product catalog. Consumers always look for something that is new and innovative. Moreover, new products attract more traffic too.

Pro tip: To increase the traffic on your website, it is considered as a good practice (from an SEO point of view) to add a 'New Products' section.

In conclusion….

With the above seven factors in mind, analyze the business model of your business. Take necessary actions to positively influence your customer's purchase decision. There are many factors that influence the customer's decisions. Thereby, analyze the requirements of your business and focus on providing maximum CX to your customers. To keep your business on top of the competition, make sure that you analyze the marketing trends properly and include them in your strategy.
Calculate Your Shipping Costs Now