A Definitive Guide To Google Shopping & Google Merchant Center
In this ultra-competitive eCommerce space, everyone wants to stand out and sell more each day. But, only a few can decipher the hack of doing it successfully. If you, too, are looking for a suitable approach to reach your prospects faster, then you are at the right place. A report by Shopify states that all product searches begin on Google or Amazon. Whereas Amazon accounts for 49% of these searches, 36% of these are still dominated by Google. Like we spoke in our Google AdWords blog, reaching out to customers and engaging with them is faster and much easier on Google. Let's explore Google Shopping and see how it can prove as a useful tool for reaching out to customers.
What is Google Shopping?
Google Shopping is a branch of Google's advertising initiatives, Google Ads, where eCommerce sellers can showcase their products and lead buyers directly to the product pages.
It is a function of two platforms – Google merchant center and Google Shopping Ads. Google Merchant Center is where your product listing is stored, and Google Shopping Ads is where you display ads to buyers.
Even though Google Shopping is a subset of Google Ads, it does not work on the same methodology. Keywords are not the primary deciders of your Ad Rank in this case. To understand this platform better, let's see the basics of Google Shopping, and it's components.
Google Merchant Center
Google Merchant Center is a platform where you can upload all your product listings and make them available to all users across Google. It is your route to get your shop up and to run on Google.
Google Shopping Ads
When you search for something you may want to buy, a list of options is shown at the beginning of your SERP, and these lead you directly to the product page.
This is what they look like –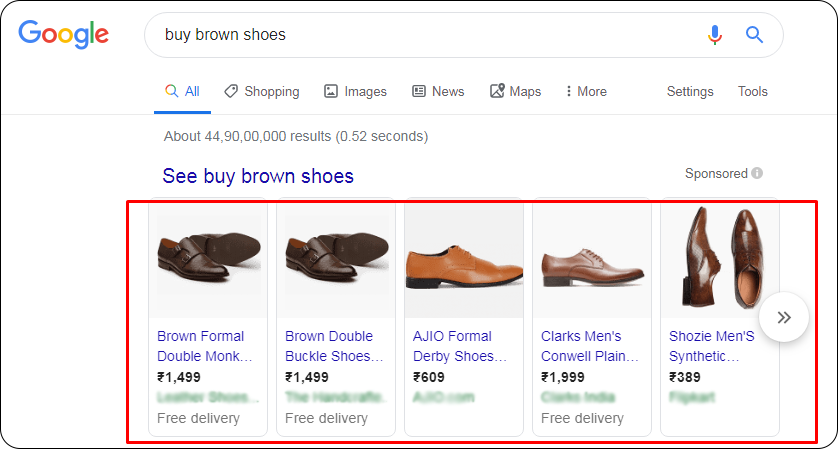 These are Google Shopping Ads that form the face of Google Shopping and help sellers reach out faster to customers.
How Does Google Shopping Work?
Google Shopping has a different mechanism than regular Google Ads such as text ads, display ads, video ads, etc. Here, instead of bidding on keywords, your products are displayed/ranked based on –
Google Merchant Center feed
Bids
Website
When you upload your product listing on Google Merchant Center, you can keep optimizing your product feed and bid according to ongoing trends and practices. Based on these factors and the accuracy of the information you provide, Google decides on which search query your product will be displayed.
How to Get Started With Google Shopping and Google Merchant Center?
When you're trying out Google for your retail business for the first time, it can get messy to figure out the process. So here is a step-by-step process for you to start with your Google Shopping account.
Google Merchant Center
Go to → Google For Retail → Get Started

Next, click on 'Merchant Center' from the options below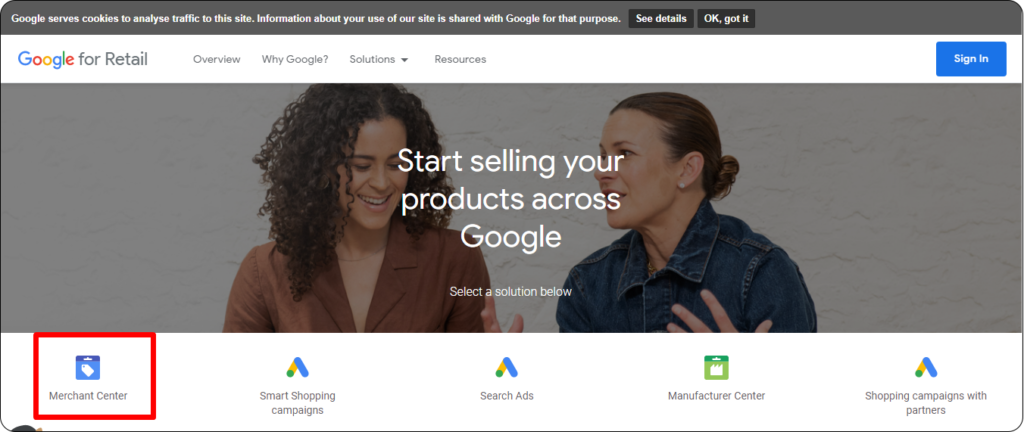 Next, click on get started to set up your Google Merchant Account

In the next step, fill in your business details like Business country, Business display name, and time zone. Accept the terms and conditions and move to the next step.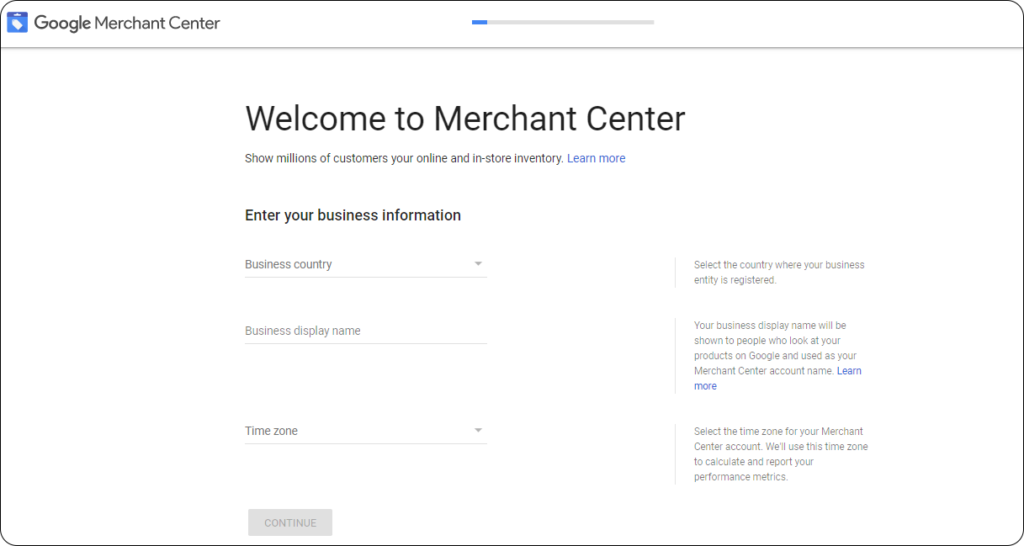 Choose the programs that can help you with your end objective — for example, increasing reach, sales, etc. You will come across two objectives –
i) Surfaces across Google – This is a free program, and you can use it for displaying your products to more individuals on Google. Your products will appear on Google searches with enhanced information. Currently, Google offers this facility only in India and the USA.
ii) Shopping Ads – These are the Google shopping ads that we are talking about. They are paid programs that help you advertise your products to potential customers and increase sales.
In our opinion, you must opt for both. But if you have budget constraints and you cannot invest in shopping ads as of now, you can start with the 'surfaces across Google' option.

After following these steps, you can upload files to your feed and view your products in the products section.
Feed
A feed is a file that contains a list of your store's products. Feeds use different attribute groupings to define each product uniquely. These feeds identify the products for your ads. Therefore, you must perfect these files regularly.
This is what your Merchant Center feed will look like when you create an account –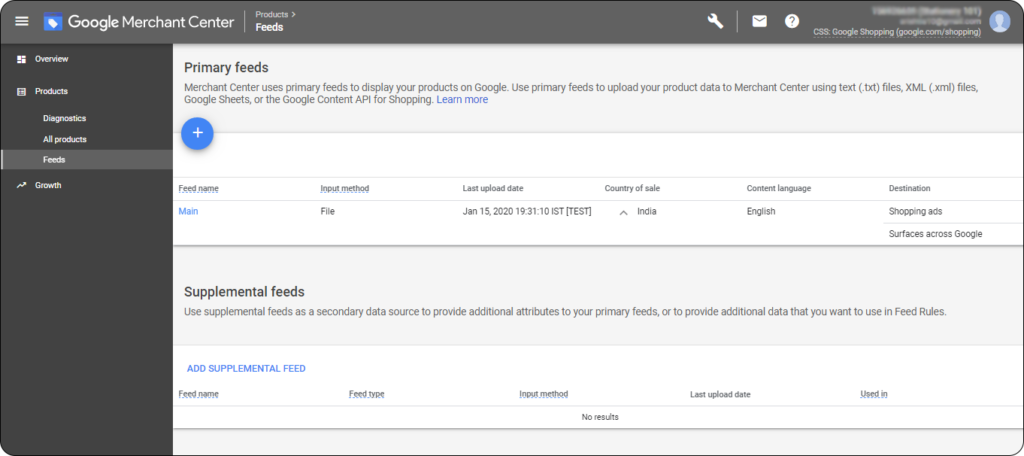 Through a google sheet
An excel file that you upload manually
Through a content API
Scheduled fetch that syncs your feed with your website.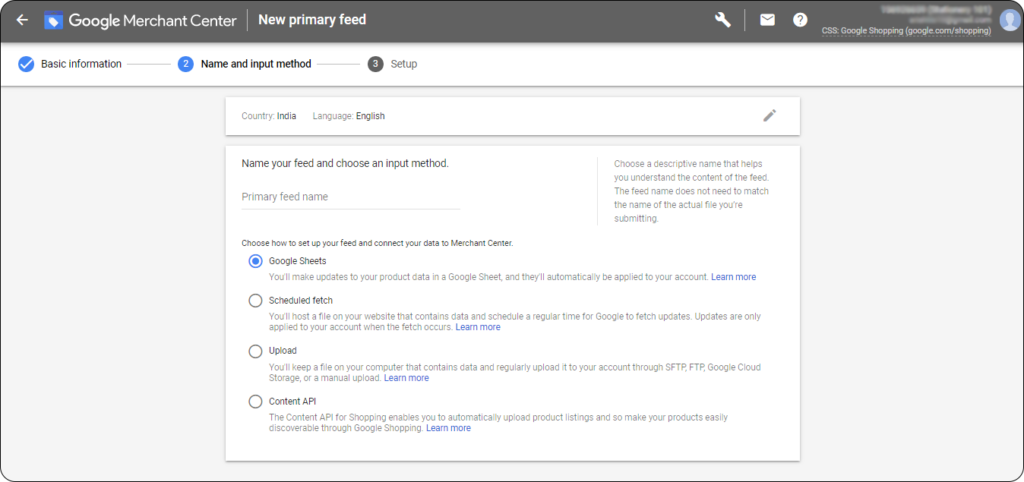 Linking AdWords Account
Once you're done setting up your Google Merchant Center account, you will have to link your Google AdWords account with this account. You can do so by going to the settings tab in your Merchant center account and selecting the 'Linked Accounts' option.

If you have a Google Ads account on the same id, you can directly click on 'link' and successfully link your account –

After this step, you can start showcasing and advertising your products via Google Shopping.
Tips To Optimize Your Google Shopping Ads To Increase Sales
Google fetches your product information from your feed and then triggers search queries toward your products. Hence, you must keep updating them with the latest products and correct information. Since the competition on Google is intense, you must experiment with different elements to make sure your feed stays fresh and is following Google's norms.
Here are a few elements that you must take care of in your feed –
1. Reviews for the Win
Adding reviews gives your buyer a sense of security that the product has been used before, and there is backing for its performance. Displaying reviews in the form of star-based ratings can help convince the customer to purchase from your store. Ratings are a useful tool to push the customer to make a decision sooner.
2. Add Special Offers
Special offers are the top-most attraction for buyers. For example, if you are offering free shipping to your buyers, you can add that to the special offers section. In today's time, providing free shipping is not a hassle with shipping solutions like Shiprocket. Other than that, you can also display a reduction in the price to show a price drop. For example –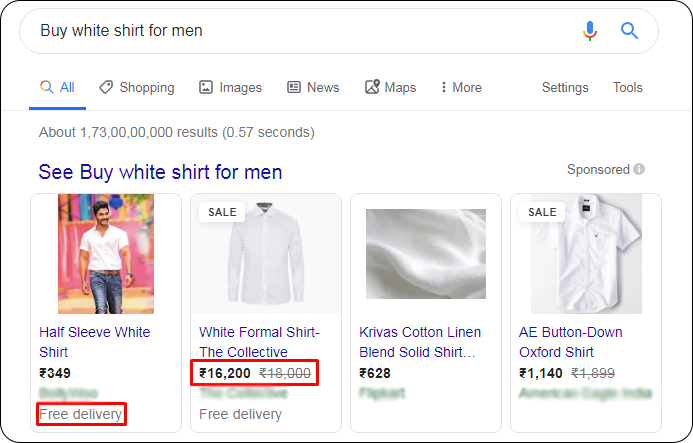 Use An Attractive Title
Your title must contain the correct attributes that accurately describe your products. For example, if you are selling shoes, your title must include relevant keywords and characteristics like brand, gender, color, size, etc. If your title is specific, it will be displayed in the correct search queries, and the chances for it being clicked will be more.
Superior Product Images
Product images should match the title you decide upon. A good picture showing the product resonates better with the buyer. A report by Justuno points out that 93% of consumers consider visual appearance to be the key deciding factor in a purchasing decision. Therefore, make sure your image conveys the right message to your buyer.
Brand Name
Sometimes, people search with a particular intent and that also includes names of specific brands. Thus, if you specify your brand name, they will get acquainted with your brand much sooner. So if you are selling on a marketplace, don't forget to name the marketplace in your brand. This can help you lead consumers to your marketplace store.
Conclusion
Google Shopping Ads are a powerful tool to engage with your target audience. Continuous optimization can help you land in the correct search queries and perform better. Google is an ever-growing platform with numerous opportunities; hence, utilize it to its maximum potential to take your business to greater heights!
Calculate Your Shipping Costs Now