How a Kolkata Based Woman Entrepreneur Grew her eCommerce Business with Shiprocket?
Delivering shipments on time is a perpetual requirement of every eCommerce seller. However, it is more of a necessity for small sellers. Since these sellers don't have a big marketing team or budget to back themselves, all they have to rely on is excellent logistics services, and as a result, such sellers are always looking out for a reliable delivery service that can ship their products at reasonable rates.
This week, we are sharing the story of one of our budding sellers aka Monalisa, the co-owner of MD Fabrics as our Marketing Specialist Nishtha Chawla interviewed her about her journey with Shiprocket and how our services upheld her business with the necessary push.
Tell us about your business.
Monalisa: My business is all about top quality fabrics that are meant for inspiring my customers with beautiful, ethnic designs. I had a family business in the same industry. I was studying fashion designing and after graduating, I decided to extend my family's legacy by creating and designing my own fabric.
I have travelled across the country to take a closer look at the different varieties of fabrics. At MD Fabrics, we use the material that comes from Gujarat and Mumbai. It was my intense love for fashion and also, being an independent woman that drove me to open 3-4 offline stores in my city, along with an online clothing store.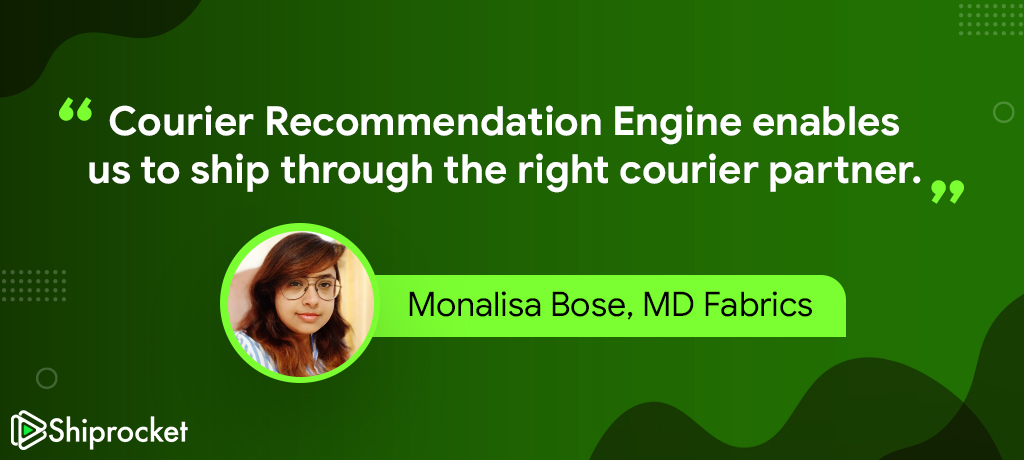 How did you come across Shiprocket?
Monalisa: A local courier company told us about Shiprocket. I was looking to work with multiple courier partners to ensure I have more than one option in times of need. That is where Shiprocket struck a chord with me.
As I registered with Shiprocket, I started getting emails on how to make the most of their services for business growth. All of it has been very instrumental.
How do you find the services of Shiprocket?
Monalisa: Great! The process of delivery is very smooth, and the tracking facility is fantastic. The customer support team is also very supportive.
Have you noticed an increase in the volume of shipments?
Monalisa: Not too many for now. We are yet to expand the business on a large scale. However, for now, the handful of shipments are handled successfully through Shiprocket, and we couldn't be happier.
Has Shiprocket solidified your shipping process?
Monalisa: Yes. It is mainly because of the Courier Recommendation Engine. I think it is incredible how it enables us to ship the products through the right courier partner who gets the job done efficiently.
Do you use Shiprocket Post-Ship?
Monalisa: No. I haven't. I will surely give it a try.
What is your final verdict?
Monalisa: I feel Shiprocket is a reliable logistics aggregator for all small and medium businesses. It empathizes with its sellers and ensures there is an improvement in their business efficiency.
Shiprocket continues to improve its product offering that, in turn, results in the enhanced business performance of our sellers. If you are also a budding entrepreneur willing to step into the world of eCommerce, register today with Shiprocket and get a one-stop solution for all your shipping hassles. We are here to make shipping delightful.
Calculate Your Shipping Costs Now