How do I integrate WooCommerce with Shiprocket
WooCommerce undoubtedly stands out as one of the popular and most used open source eCommerce platforms for sellers. It is a highly customizable software for building your online business and reaching out to a wide audience. WooCommerce powers nearly 28% of all online stores along with offering eCommerce sellers a feature-packed platform.
Shiprocket offers integration with WooCommerce to facilitate hassle-free selling and shipping- all from a unified platform. With Shiprocket's plugin for your WooCommerce store, you can enjoy the following benefits:
Benefits of using WooCommerce with Shiprocket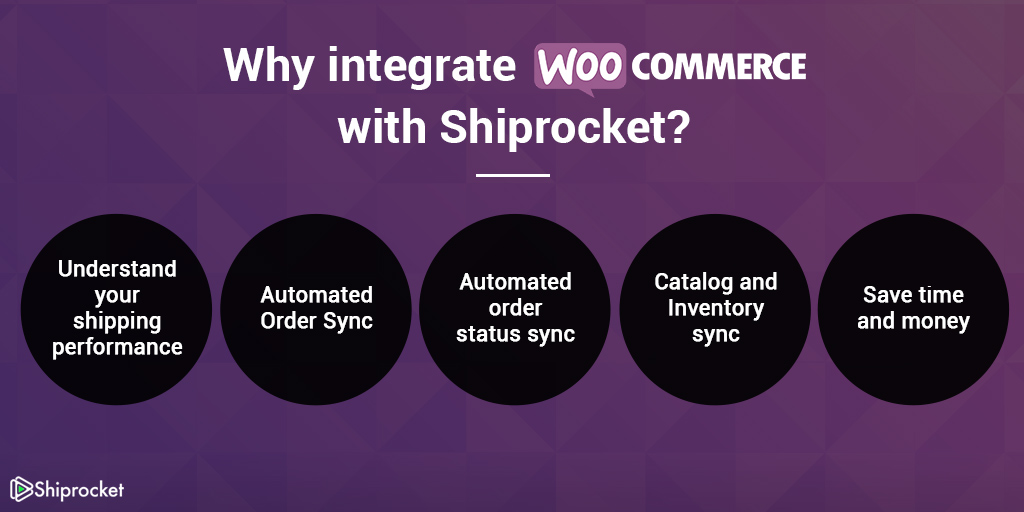 Save time & money
We have tied up with all major courier providers, which help you deliver to 26,000+ pin codes and at the same time reduces the cost.
Always stay notified
Stay notified via email and SMS on all the activities happening on your orders
Automatic Billing Reconciliation
With Shiprocket, you can manage all your billing at one place with automatic reconciliation without any manual effort.
Understand how your shipping is performing
Our unique dashboard lets you analyze your performance against the industry best metrics. So, you figure out the points where you lack.
Sync all your marketplace and WooCommerce inventories
If you are selling on multiple marketplaces and also have an eCommerce WooCommerce inventory, you can manage all of them at one single place.
In addition to integration with WooCommerce, Prestashop, Magento, and Opencart, we've numerous other features also.
Integrating WooCommerce with Shiprocket
Woocommerce can be integrated with Shiprocket can be done in a matter of a few clicks. Here is how you can do so-
1. Login to Shiprocket panel.
2. Go to Settings->Channels.
3. Click on "Add New Channel" Button.

4. Click on WooCommerce -> Add.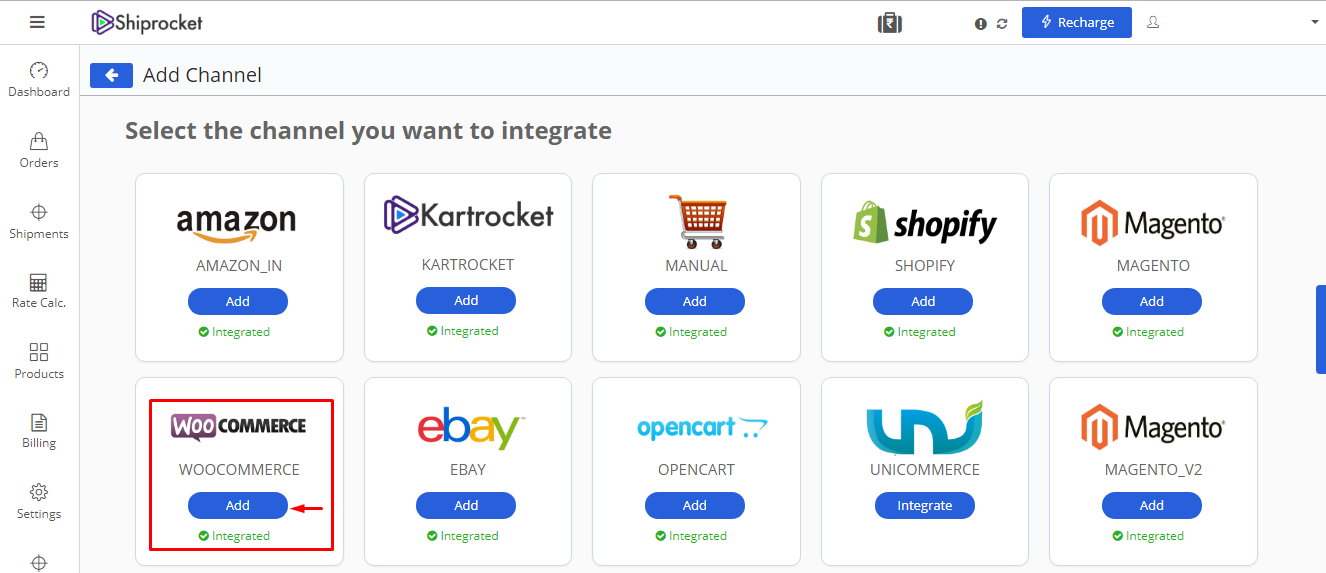 5. Enter the store URL and click on 'Connect to Woocommerce'.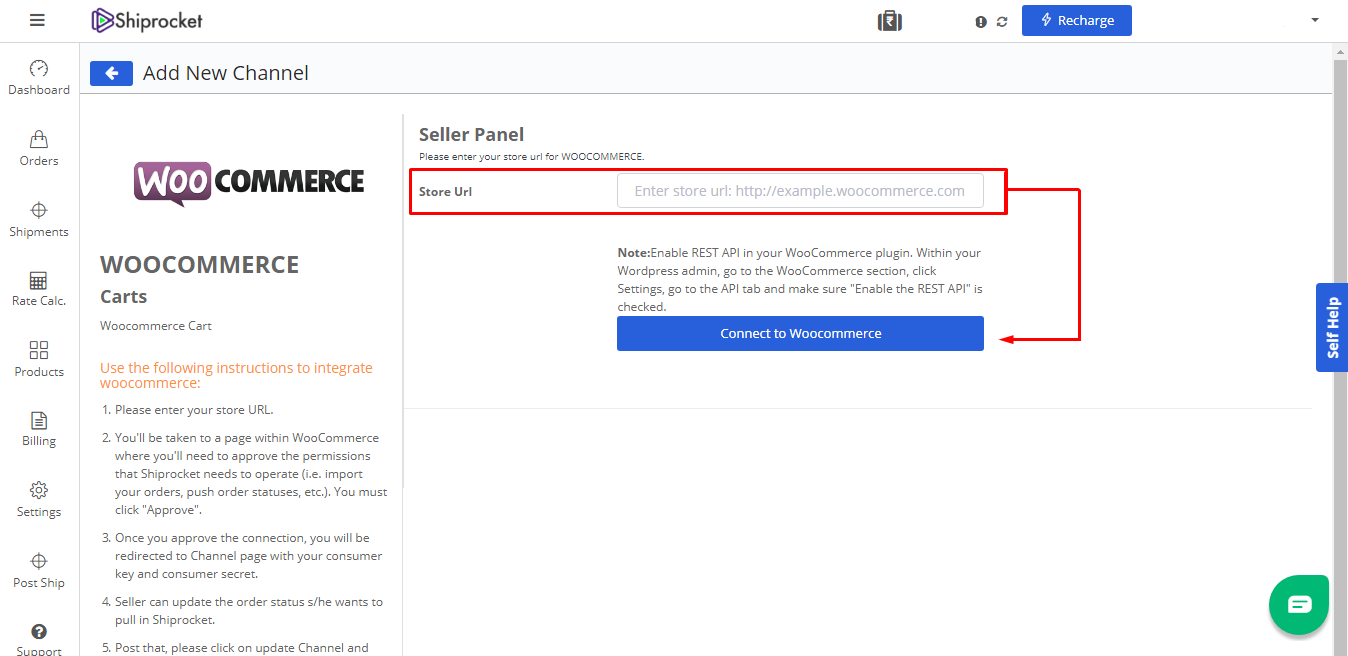 6. Next, you'll be taken to a page within WooCommerce where you'll need to approve the permissions required for Shiprocket to operate (i.e. import your orders, push order statuses, etc.). Here, you must click "Approve".
7. Once you approve the connection, you will be redirected to the Channel page in Shiprocket panel with your consumer key and secret key.
8. When redirected in the panel, you can now update the order status (s) they want to pull in Shiprocket.
9. Post that, please click on update Channel and test Credentials to create the channel in Shiprocket.
10. Note: Enable REST API in your WooCommerce plugin. To do so, go to your WordPress admin account, locate the WooCommerce section, click Settings-> API and make sure the option "Enable the REST API" is checked. If you don't have an API tab, you must upgrade your WooCommerce plugin.
11. Click "Save Channel & Test Connection".
6. The green icon indicates that the channel has been successfully configured.

Now you are all set to integrate your WooCommerce store with Shiprocket.
Shiprocket is India's first automated shipping solution that aims to reduce the hassles in eCommerce shipping. We are simplifying eCommerce shipping for Indian merchants and helping them save their precious time and money.
In addition to integration with WooCommerce, Shiprocket also offers integration to Prestashop, Magento, and Opencart, Amazon etc.
FAQs (Frequently Asked Questions)
How do I connect Shiprocket and WooCommerce?
With the easy and detailed steps mentioned above, you can easily connect your store on WooCommerce with Shiprocket.
Can I also integrate Opencart with Shiprocket?
You can integrate all top channels and marketplaces with Shiprocket, including Opencart.
Can Shiprocket deliver my order in Kannur in Kerala?
Yes, you can deliver orders to more than 29,000 pin codes in India with us. You can also ship your orders across 220+ countries via Shiprocket X.
Why Should I integrate WooCommerce and Shiprocket?
Integrating your sales channel with Shiprocket allows you to process your orders and manage inventory seamlessly in one place.
Calculate Your Shipping Costs Now