How to Know The Air and Surface Shipping Charges for Shiprocket's Carriers?
In today's fast-paced world of technology, hundreds of eCommerce businesses are popping up every day. However, their success or failure is subject to many variables. One of them is shipping. And shipping includes other factors like delivery time, shipping charges, etc. Shiprocket takes care of all these factors to end all kinds of shipping hassles for you. We offer you multiple shipping options so that you can deliver your products to your customers on time and in minimum freight charges.
What Is Air & Surface Shipping?
Air Shipping or Air Freight is a logistics service to send shipments through air transport. Air Shipping is comparatively quicker and more expensive than surface shipping. For almost all international and a few domestic pin codes, it might be the only option to ship & deliver products.
Surface Shipping is a logistics service wherein the shipments are sent through land. It is less expensive but slower than air shipping. Surface shipping is especially preferred for large or heavy deliveries or for sending dangerous goods which are prohibited through the air.
Understanding Air Shipping and Surface Shipping Charges
Shiprocket offers both air and surface shipping. The prepaid shipping model combined with our courier recommendation engine (CORE) gives you a flexible pathway for choosing how you want to ship your products.
The concept is simple, you recharge your wallet and the amount for each shipment is deducted from your account when you select your courier partner and process the order.
For both the shipping modes, you can easily estimate the costs using our shipping rate calculator that you find on the Shiprocket website and the app.
How to Use the Shipping Rate Calculator?
You can locate the shipping rate calculator in the 'tools' segment of your Shiprocket app.
Here, just fill in the following details –
Shipment type – if it's a forward or return shipment
Pick-up Area Pincode
Delivery Area Pincode
Approximate Weight – This is the gross weight of the final package
Dimensions – this includes the dimensions of the final package
COD – If it is a cash on delivery or prepaid order
Declared Value in INR – The final cost of the product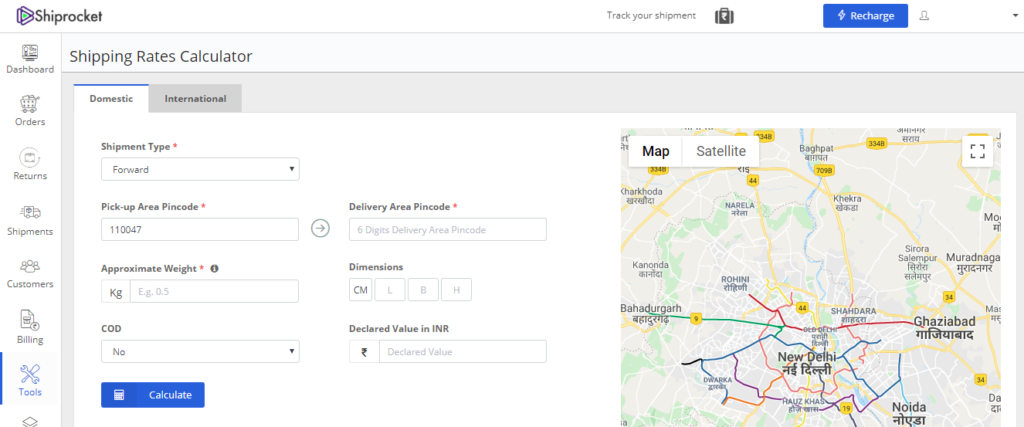 Once you fill in all these details click on 'Calculate' to find out the estimated shipping costs
Upon clicking 'Calculate', you will find a list of rates from different courier partners for the air mode and the surface mode for shipping.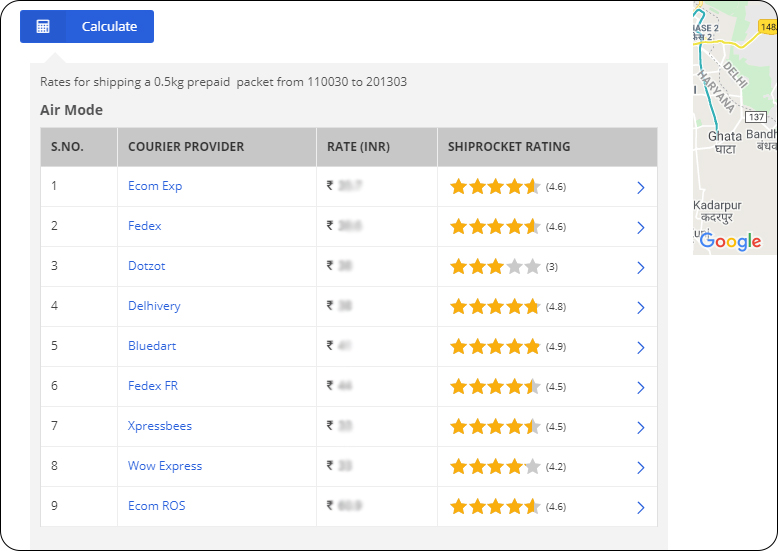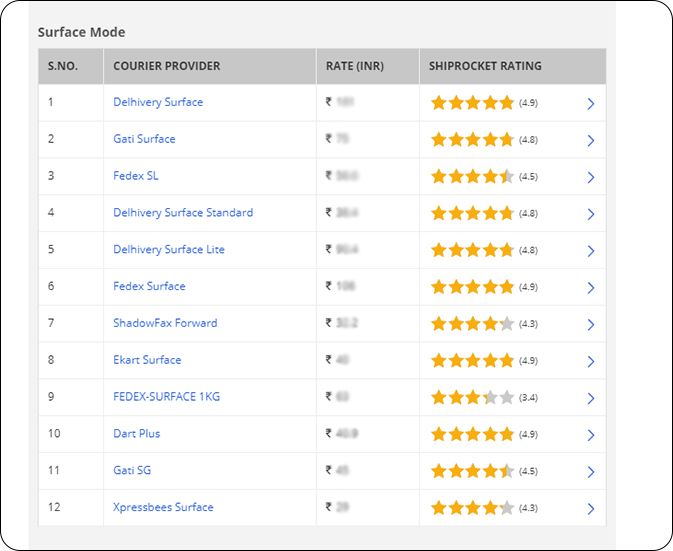 You can see which courier partner is most suitable for you and ship with them accordingly.
Along with this, the rate calculator you can also check the plan wise rates for different zones for air and surface shipping mode.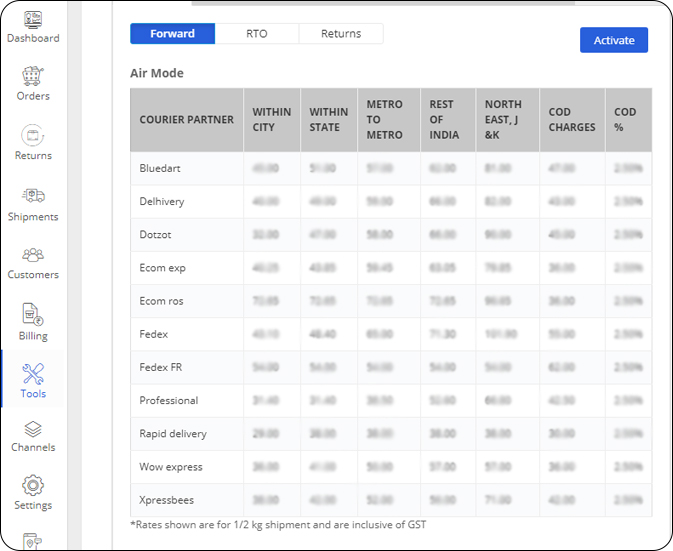 Now, move over tricky calculations and use exhaustive data for making important business decisions such as choosing your courier partner or your shipping costs.
Next, when you select your courier partner while processing an order, the amount is deducted from your Shiprocket balance directly.
When you assign a courier, this amount is directly reduced from your wallet and you can continue shipping with ease.
Conclusion
Both these modes of shipping have their relevance and the prices can vary drastically. Thus, it is a good idea to be aware of the costs before making a strong business decision. Look out for this rate calculator for in-depth costs and choose the best courier partner for every shipment.
FAQs (Frequently Asked Questions)
What are the 3 types of shipping?
The three modes of shipping are land, air, and sea.
What is surface-mode shipping?
Surface mode shipping is when the shipments are shipped and moved through the land.
What is the difference between air and ground shipping?
In air shipping, the shipments are shipped via air and in ground shipping, the shipments are moved through land. While air shipping is faster, it is costlier as well.
Can I calculate the shipping cost before shipping?
Yes, you can use our Shipping Rate Calculator to check the shipping rates.
Calculate Your Shipping Costs Now