Shiprocket Pricing Structure for Air And Surface Shipping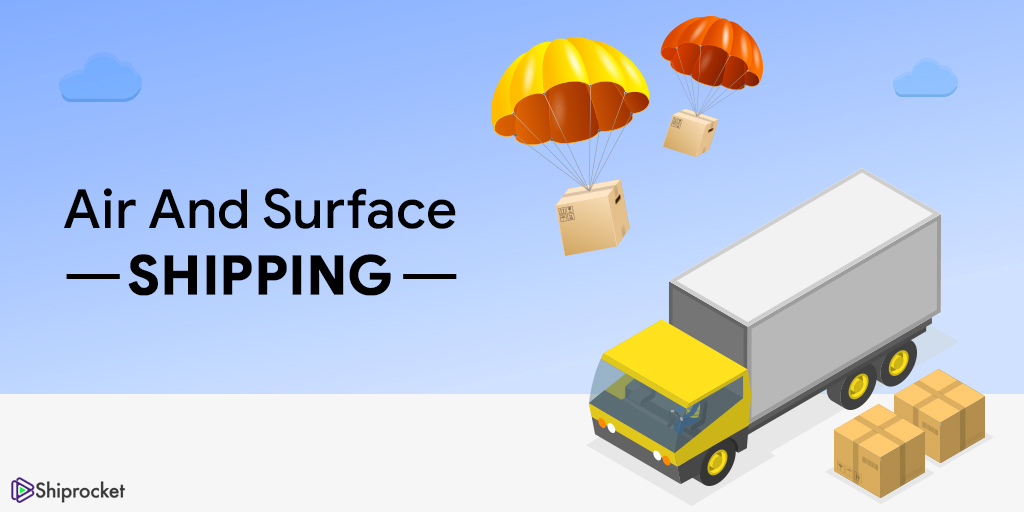 In today's fast-paced world of technology, hundreds of eCommerce businesses are popping up every day. However, their success or failure is subject to many variables. One of them is shipping. And shipping includes other factors like delivery time, shipping charges, etc.
Shiprocket takes care of all these factors to end all kinds of shipping hassles for you. We offer you multiple shipping options so that you can deliver your products to your customers on time and in minimum freight charges.
What Is Air & Surface Shipping
Air Shipping or Air Freight is a logistics service to send shipments through air transport. Air Shipping is comparatively quicker and more expensive than surface shipping. For almost all international and a few domestic pin codes, it might be the only option to ship & deliver products.
Surface Shipping is a logistics service wherein the shipments are sent through sea or land. It is less expensive but slower than air shipping. Surface shipping is especially preferred for large or heavy deliveries. We offer Surface Shipping through FedEx Surface.
Understanding Air Shipping and Surface Shipping Charges
Shiprocket offers you both air and surface shipping services. However, after the introduction of prepaid shipping, the charges and shipment weight deduction have changed. Let's understand how exactly it works.
Before getting started, please make a note that Surface Shipping Weight = 5 x Air Shipping Weight.
This means if you recharge your Shiprocket account for Rs. 3000, then you will get 25 kg of Air Shipping or 125 kg (25×5) of surface shipping and so on.
In Case Of Using Air Shipping
For example, if you utilize 1 kg for air shipping, then the remaining air limit will decrease to 25-1 = 24 Kg. The weight deduction will also be reflected on the Surface Shipping limit and it will decrease to (125 – (1×5) = 120 Kg.
Here are a few more examples.
In Case of Using Surface Shipping
If you use Surface Shipping for product delivery and ship product of 10 Kg weight, then the left surface limit will be 125-10 = 115 Kg. For air limit, the deduction will be done using this formula.
Air Shipping = 25 – (Shipment Weight / 5)
So, in this case it will be 25 – (10/5) = 23 kg
Please note that the minimum amount of shipment for surface shipping is 10 kgs. This means even if you ship 8 kg shipment using surface shipping, then also 10 kg will be deducted from your account. However, the deduction for air limit will be for 8 kg.
For example, if you ship 8 kg from surface shipping then the remaining air limit will be 25-(8/5) kg = 23.4 kg. For surface shipping limit, the deduction will be (125-10) kg – 115 kg.
Here are some more examples.