How Does Shiprocket Handle Weight Discrepancies?
Businesses ship numerous orders each day, and courier partners process them relentlessly. However, in these complex processes, there are sometimes gaps in operations, leading to a break in the smooth running of the process. One such gap that needs attention is the discrepancies surrounding the weight of the package. Bridging this gap is vital, as each discrepancy involves a monetary amount.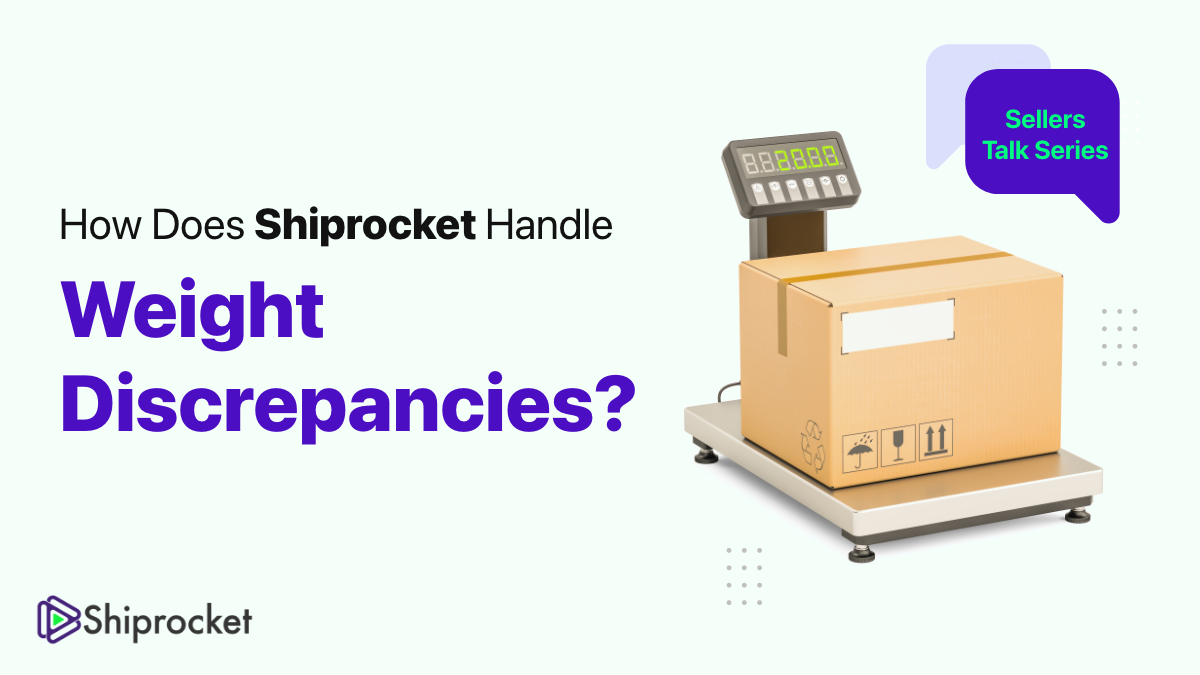 What is Weight Discrepancy or Dispute?
Weight discrepancy refers to an issue arising between a seller and the courier company regarding the attributed weight of the package. It usually happens when the courier company disagrees with the order weight provided by the seller. It is a common issue that arises while shipping parcels with courier companies.
When shipping with Shiprocket, in case of a weight discrepancy, sellers can dispute it within seven days from the Shiprocket panel. They can provide the necessary information requested, and Shiprocket will provide a resolution within 3-5 working days.
Below is an example of how Shiprocket helped Rakesh Chaturvedi, a manager at an apparel store in Muzaffarnagar, to provide a resolution to his order's weight discrepancy.
Audio Transcript
SR Rep: Good evening. This is Sanjay on behalf of Shiprocket. How may I help you?
Seller: Hello, haan ji main Rakesh Chaturvedi bol raha hoon Aliza Fashions se. Pichle hafte hum ne 30 orders process kiye the Shiprocket se. Unmain se 1 order main weight discrepancy dikha raha hai.
SR: We are sorry to hear about your experience, sir. While weight discrepancies are very rare, I would like to apologise on behalf of the courier partner. To assist you better, I will need a few details. Sir, please tell me the AWB number of the shipment.
Seller: Yes, it is 53380085XYZ
SR: Thank you for the information, sir. As I can see from my end, the applied weight was 1 kg, and the charged weight is 3 kg. Is that correct?
Seller: Haan bhai, wahi na, jab maine saaman weigh kiya tab 1 kg ka tha, ab achanak kaise 3 kg bata rahe ho aap? Aur abhi excess charges dene ko keh raha hain ₹230. Kya hain yeh?
SR: Sir, I understand your frustration; let me clarify this concern. Ek aapke order ka actual weight hota hai, aur ek volumetric weight.
Courier charges apply on the dead weight or volumetric weight, whichever is higher. Aap jab order ka weight daal te ho toh aap product ke hisab se dalte ho, yaani actual ya dead weight. But as per the courier, the parcel's volumetric is higher in this shipment, hence unhone wahi weight charge kiya hai.
Seller: Nahi bhai, kaise baat kar rahe ho, hum ne toh volumetric weight hi dala hain. Baaki koi order mein dikkat nahi aaye, bas isi mein kyun?
SR: Sir, in that case, let me give you the solution. In case of any weight discrepancy, you have 7 days to raise a dispute. Aap seller panel mein left side panel se weight management choose kijiye, udhar weight discrepancy tab par jaake apne yeh order ke against 'dispute discrepancy' pe click kijiye. You can submit images of the package length, width and height, weight, and label on the shipment. And we will provide a resolution within 3-5 working days.
Seller: Bas yahi? Aur kuch nahi karna?
SR: No sir, that will be all. Jo bhi next step hoga you will be intimidated via email and on the seller panel.
Seller: Chalo, I will do that. I hope yeh problem dobara na aaye. Thanks for the quick fix.
SR: You're welcome, sir. Is there anything else I can help you with?
Seller: No, that's all.
SR: Happy to help, sir. We are always here to resolve all your queries. Thank you for calling Shiprocket support. Have a great day!
Summary
Businesses should avoid weight disputes. Shiprocket ensures that every seller, small or large, is taken care of and that their packages are weighed correctly every time. Keeping situations like weight discrepancies in mind, Shiprocket has features that safeguard the sellers' interests to make their shipping experience more unique.
Stay tuned for more such seller talks. Have a query that needs answering? Write to us at support@shiprocket.com.
Calculate Your Shipping Costs Now