How To Avoid Late Deliveries For Your eCommerce Business
The critical issue when it comes to deliveries is how to avoid delivery delays. Since the advent of e-commerce, the ease of doing business has improved dramatically. As an entrepreneur, you don't have to own or rent a physical store to do business.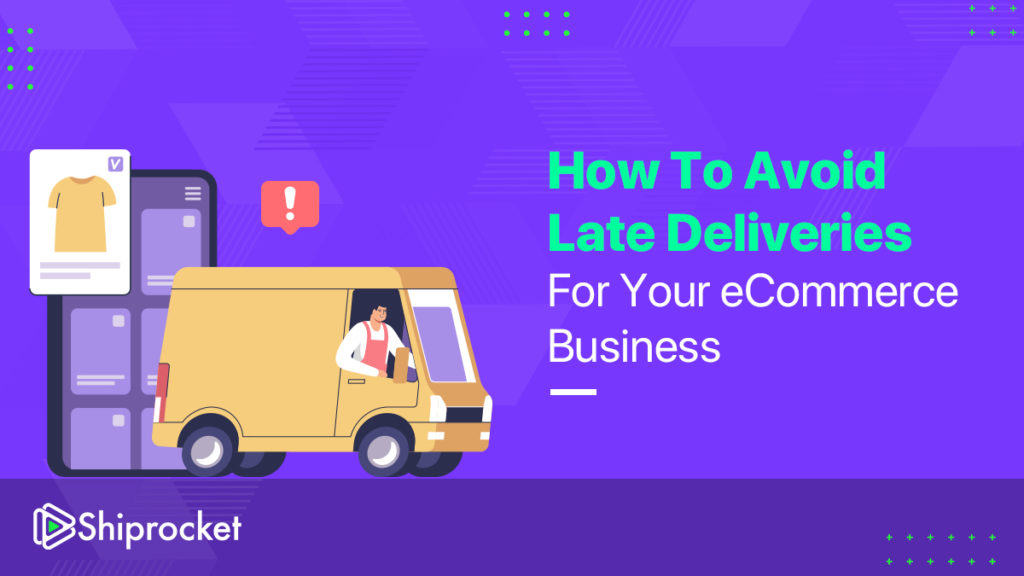 Your e-commerce website acts as your online store. In addition, consumers no longer have to go to physical stores to buy their products according to their tastes. They can do it from the comfort of their homes and receive the product at their homes.
There are challenges in starting an e-commerce business. One of the challenges is that business owners need to be ready to provide delivery services to their customers. However, the main drawback is the delivery date.
Can your online business handle the demanding delivery times your customers want? Avoiding late delivery can make a big difference in achieving customer satisfaction and ultimately improving business growth.
What Causes Delivery Delays?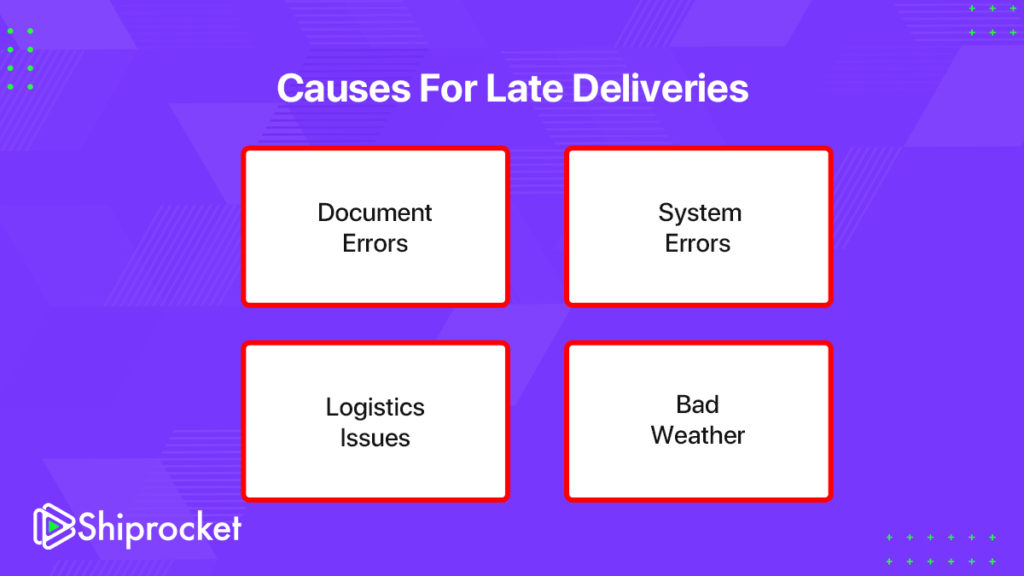 To understand how to avoid delivery delays, you need to identify the causes of these delays. It is often difficult for some companies to deliver products to their customers quickly. Some of the reasons for late delivery may be due to customer mistakes. However, in most cases, eCommerce retailers are often blamed for late deliveries.
Some of the common causes of delivery delays are:
Document Errors: These include misspelled addresses, mis-filled order forms, and inadequate information. This error can come from a customer or the retailer. The merchant may not properly document the order, especially if he is processing a large number of tasks simultaneously. If the information provided to the courier company is inadequate, the package is less likely to reach the consumer.
System Errors: The e-commerce business runs 24 hours a day, 7 days a week. However, if your business relies on a bad hosting company, your website may experience technical issues. If the system crashes frequently, it will not be able to respond to requests. This will lead to delayed delivery.
Logistics Issues: Logistics issues can be a nightmare for small businesses. One of the reasons at the top of the list for late delivery is logistics. The high demand for products and the inability to handle large numbers of orders can be the final nail in the coffin. In these situations, the online business must outsource its delivery service.
Bad weather: Mother Nature can make it difficult to deliver products to customers quickly. Bad weather, such as heavy snow, hailstorms, and foggy conditions can affect delivery times and cause delays. It certainly goes beyond the delivery company, but it's no excuse for late delivery.
Impact of Delivery Delays on Business
There are many causes of delivery delays, not limited to the above reasons. Delayed delivery can have a negative impact on your e-commerce business. Companies that do not act to mitigate delivery problems often experience a decline in sales.
Most customers understand the situation and are easy to handle. They know that human error can cause delivery problems. However, one or more delivery delays can lead to a loss of trust in your business. Delay in deliveries puts the reputation of the eCommerce businesses at stake. Therefore, it is imperative to address delayed issues immediately.
Delivery time is directly related to customer retention. Customers who receive their orders after the stipulated time on their first order are unlikely to re-order from the same company. Delayed delivery also affects loyal customers.
It will probably take a long time for them to re-order. You can imagine how this could have a significant impact on your reputation and your revenue. This explains why some e-commerce businesses are so successful while others are lagging. If you can't manage timely delivery, we recommend hiring a fulfillment company service.
Avoid Delays in Delivery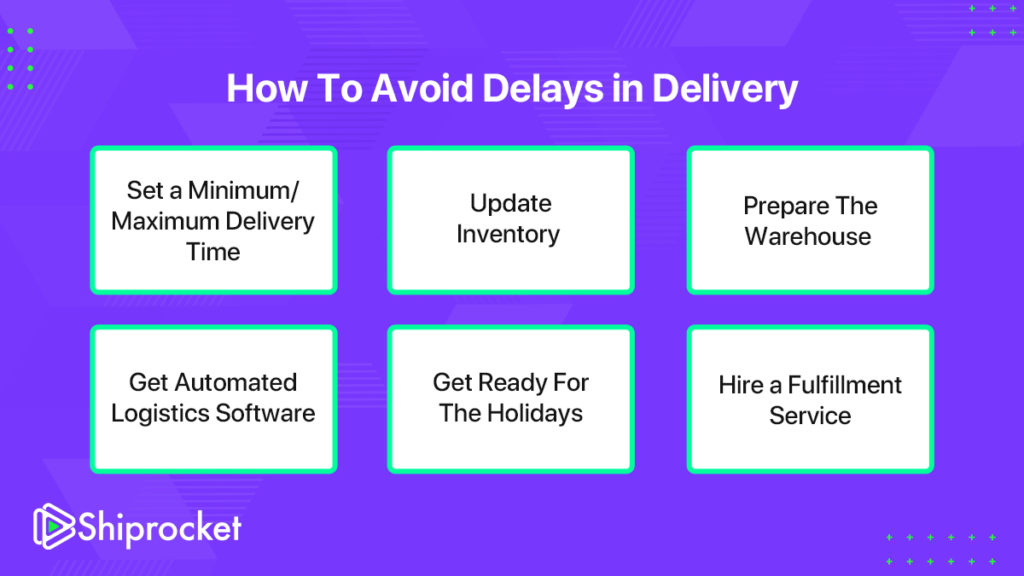 eCommerce businesses can use various strategies to avoid delays in delivery. These include:
Set a Minimum/Maximum Delivery Time
You can set the shortest delivery time to respond to your order quickly. Delivery times must be realistic in the sense that they are not exposed to pressure. On the other hand, delivery times should not discourage customers. When customers place an order, they hope that they will receive their products on time.
Update Inventory
It's very frustrating when a customer orders a product that isn't in stock. Often it is clear that some of their products are more popular than others. For this reason, inventory must be updated regularly to replace products that have already been delivered.
Prepare the Warehouse
As your eCommerce business grows, more and more orders will come on your website. Always have a warehouse ready so that you can easily ship your products to their destinations. Organize the most popular products first, then the least popular products.
Get Automated Logistics Software
Automation significantly contributes to shortening delivery times. Purchasing automated logistics software can be expensive, but it helps avoid delays in delivery. Automated software determines which products to ship based on order time.
Get Ready for the Holidays
Businesses regularly experience increased orders and sales during the holidays. Unfortunately, most courier companies do not work on holidays. Therefore, you will need to make another arrangement to deliver the orders in time on such occasions. Be sure to send your order before the holiday begins to avoid delivery delays.
Hire a Fulfillment Service
Hiring a fulfillment business service is the most viable way to avoid delivery delays. Fulfillment services is a third-party company that handles the storage, packaging, and delivery of orders on behalf of the e-commerce business. There are many benefits to hiring a fulfillment service. Reduce operational costs, improve business focus, improve scalability, and avoid delivery delays in particular. You don't have to buy automation software or worry about delivering goods on holidays with the fulfillment service.
Final Thoughts
The best way to avoid delays in delivery is by hiring a fulfillment service for your eCommerce business. Shiprocket Fulfillment is one such service that can help you streamline your shipping operations as it offers fulfillment and logistics services.
With Shiprocket Fulfillment, you will never have to worry about deliveries as all your deliveries will be taken care of and will be fulfilled within the stipulated time. You will focus on bringing in orders while we focus on packing and delivering your orders.
Calculate Your Shipping Costs Now