How To Start An Export Business From Your Home?
According to a study by the US Small Business Association, 50% of all small-sized businesses begin at home.
This automatically implies that there are more businesses starting at home than we normally think there are. In the budding era of eCommerce, it isn't tough to take your business online from the comfort of your home, and that too, within your budget.
But first, let's see how starting exports from your home can benefit your business.
Benefits Of Exporting From Home
Zero Investment In A Brick & Mortar Setup
Your home could be anything and everything – from an office to a warehouse, or a product creation workshop. You do not have to invest separately in renting out or buying a space for setting up your startup business.
Convenient And Flexible
Operating an export business from home is not only comfortable, but also allows you enough time and flexibility to process orders, select pickup timings according to your convenience, and allows minimum warehouse management hassles.
Getting Started With Minimum Risks
A home export business means getting started with just the minimum documentation and still reaching the maximum number of customers. There are zero hassles of inventory damage and loss because your products are stored in the safety of your own homes.
Challenges Of Starting A Home Export Business
The very first challenge of a home-growing export business is visibility. In an already saturated market, the chances of buyers noticing your brand are very low. Due to the very small size of the operation, your product can go missed even if it is the first of its kind.
Secondly, you would also need to do most of your work all by yourself. This could be sourcing raw materials, building domains, running marketing and advertising campaigns, registering for a proprietorship license, and many other requirements. Additionally, keeping track of all your sales, which are bound to arrive twenty-four hours a day considering its global business, is overwhelming at times. Most times, calculating profit margins are backlogged because of inefficient tracking.

Best Practices To Start Export Business From Your Home
Start Research For Your Desired Market
Whether it's a home export business or a full-grown one, research is one of the key players in making the brand successful. Here, the research could be for two categories – target market and product. It is important to identify your target market and analyse which countries pose the maximum demand for your business, and create product categories and combo offerings as per the demand captured.
Set Up Your Business Online
From curating a domain and assigning a domain name, to creating a trust with contact support, your business is now ready to be launched as a global entity. Once you have your domain registered, it is now turn to integrate your products into an eCommerce marketplace. There are numerous marketplaces like Amazon, eBay, and Etsy that allow enhanced visibility of your products to twice the number of global customers as compared to those landing on your domain site.
Streamline Delivery Processes
With the help of emerging cross-border delivery solutions such as Shiprocket X in the industry, you can avail more than just shipping for your business, which includes packaging your products securely, ensuring same-day pickups, and acquiring insurance cover for all shipments being sent across borders, all by just submitting an IEC and AD code.
Clear Customs Smoothly
From confirming the tax and duties of exporting your products to verifying whether the documentation attached to the shipments is updated, a cross-border delivery solution would also help you clear your customs seamlessly without any hassles or penalties involved. They'll also provide you with an assorted list of prohibited goods banned from shipping globally.
Get Started With Exporting Your Home Business Effortlessly
Whether it is a home-growing business or a partnership venture, every export business requires guidance while getting started. Partnering with logistics companies involved in cross-border eCommerce is one of the best ways to ensure you start your business affordably and you start it right. From consultations on smooth customs clearance, unified tracking for all shipments, and integrations with the marketplace, to round-the-clock customer support from account managers, India's most reliable, low-cost international shipping platform – Shiprocket X, is just what you need to go abroad with your small-scale business.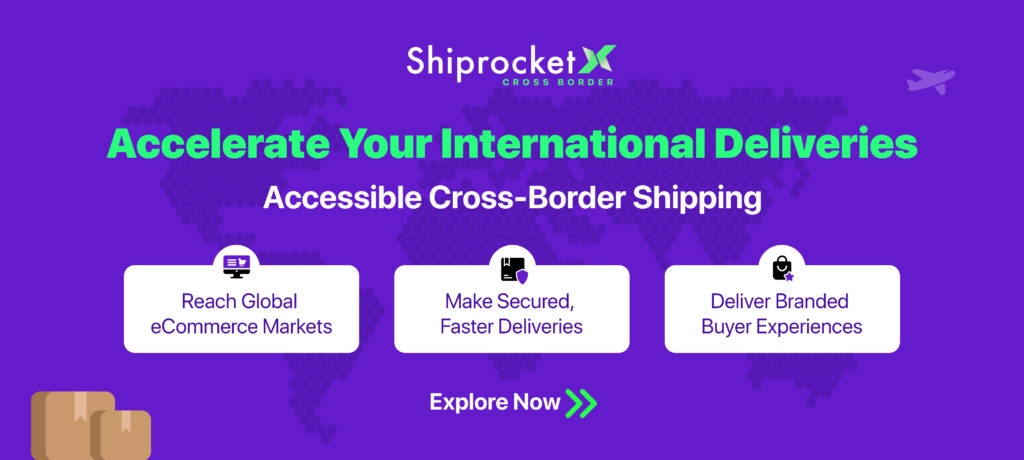 Calculate Your Shipping Costs Now