7 Best Practices That Ensure Success for International eCommerce
Globalization has brought the world to our doorsteps. Be it the easier access of information or business opportunities, geography is no longer a barrier to the plethora of options available in today's world for businesses. Adding to the spirit of global company was digitization, that spread like wildfire among industries.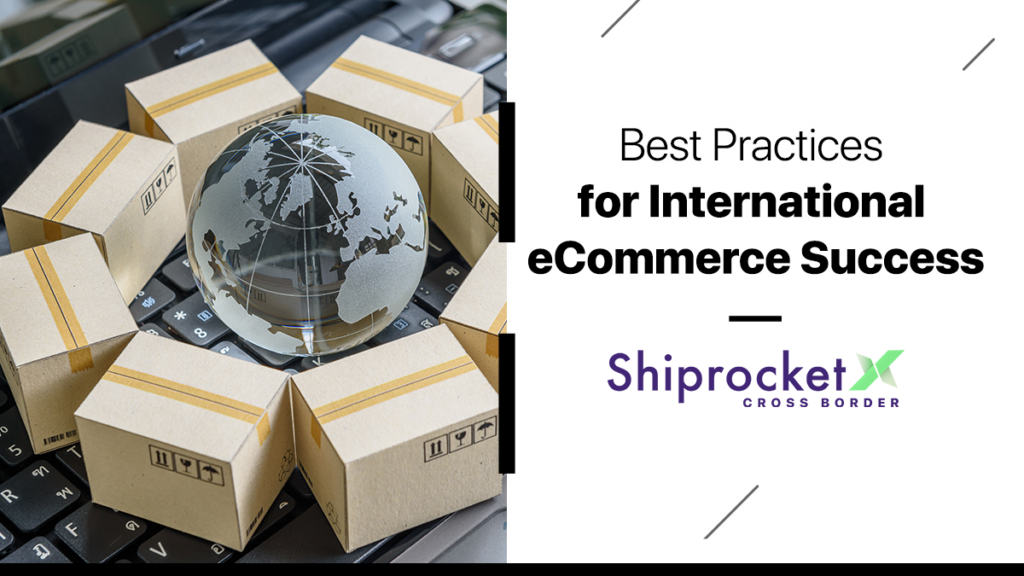 As a result, even the littlest things of our needs today are sold on the Internet. eCommerce has emerged as the greatest victor amidst the ever-changing business scenario of the world. Statistics suggest that worldwide eCommerce sales will equal as much as $4.479 trillion by 2021.
Implying the success of eCommerce, many businesses ventured into it, with the expectations of huge returns. While the boats of many sailed to the lands of the island of treasure, others sank. Even though everything appeared comfortable, there were many background costs involved that businesses failed to anticipate.
Take eCommerce logistics as an example. Shipping to countries took more than just packing and posting the order. There were many details involved, such as the kinds of goods to be sold, the strategy adopted for picking, packing, shipping these goods, the estimation of costs, and derived profits and keeping the customer engaged. The businesses who overlooked these had little to hold onto, especially considering the rising competition.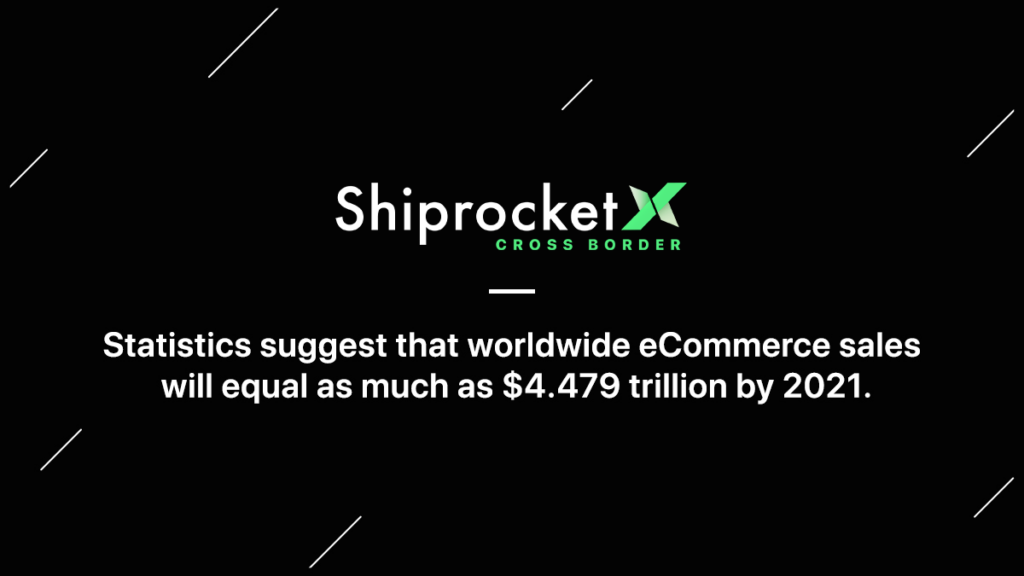 One of the biggest things that businesses lacked when it came to international eCommerce was developing a strategy. Since cross-border trade is a tough nut to crack, companies need to strategize several things in advance and understand that going too fast can be a recipe for disaster. For example, one of the most common mistakes that businesses make in cross border trade is assuming that the audience of a country with a similar culture will respond in the same manner as the other. However, there is no necessity that it might always work.
Similarly, there are many other things that organizations need to be wary of if they want to succeed with International eCommerce. While you might fathom and keep stressing about them, we've gone ahead and compiled the best international eCommerce practices for you. Read on to find out more-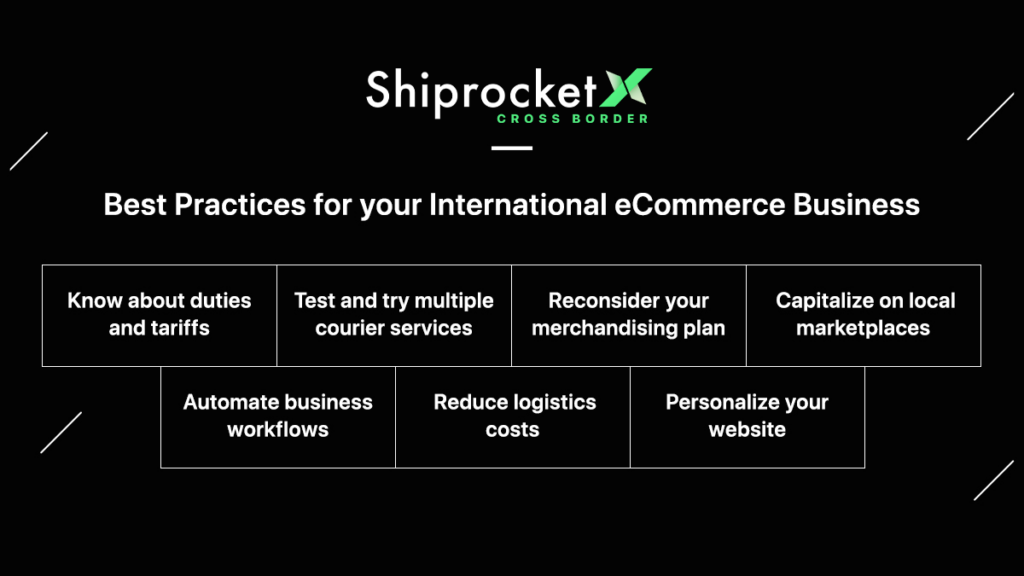 Get Familiar With All Applicable Duties And Tariffs
The profits of international eCommerce don't come that easy. There are many additional costs involved that sellers must know about. These costs impact not only your business but also the customer experiences. For this reason, you should understand these costs and their breakdowns in the early stages of your planning.
Understanding duties and tariffs also serve another purpose. It helps you calculate your total landed cost, which is nothing but the sums of these tariffs and responsibilities often borne by an international customer. Be sure to inform your customers about these in the product pages and avoid any unwanted cart abandonment that may arise due to surprising costs during the checkout.
Test International Shipping With Multiple Carriers
As you formulate your shipping strategy, you may pick a favorite courier because of its reputation in the market. Regardless of the country, you're shipping to; you might want to ship all the orders with this popular courier partner. However, it is imperative to realize that some couriers have better networks in some countries, regardless of their international popularity.
Before you zero in on anyone's courier company, test multiple couriers. Ship products in markets that are more open to cross-border trades, like Australia and Canada. While it might be time-consuming for you to ship via multiple courier partners, enter the product details repeatedly on different platforms, etc., there seems to be a solution to this. Try shipping via logistics aggregator services such as Shiprocket, which let you ship via multiple courier partners at the lowest rates from a single platform.
Personalize Your Website For The Target Country
If you still have a static website and you're targeting international eCommerce, the chances are that you might not be able to make sales despite your marketing efforts. Personalization is the key to the customer's heart in today's world and something you must swear by. Localize your content based on the region you're targeting. For example, start by focusing on the currency, product titles, product descriptions, etc., and enable translation, making it easier for your target customer to understand your business.
Reconsider Your Merchandising Strategy
As enticing as international shipping sounds, you can't just list all your inventory and go overboard your audience, expecting them to purchase everything. The people of every country have like,s dislikes, preferences, etc., of their own. Make sure you study customer personas and the culture of the country well before anything else. This must reflect in your products you set out to sell in the country. For example, keep in mind the current season and holidays if you're selling apparel in your target country.

Scale Your Business On Local Marketplaces
One of the best practices to adopt while selling internationally is capitalizing on the country's existing market. Explore marketplaces that might be popular among your local audience. For example, many countries have their local version of Amazon, which is flooded with customer orders. You can register yourself on the platform by providing all the necessary information asked.
This would also offer you an opportunity to benefit from the hassle-free payment options of the marketplaces. For example, Amazon offers Amazon Pay, a single click payment service. It would be advantageous for you if customers can pay for your products using such one-click payment methods.
Automate Your Workflows
You might be tempted to do everything on your own when you're a novice to the world of international eCommerce. But, as your business grows, it might become difficult to compete with others and cater to your customers' demands, with multiple manual processes running around. For this reason, automate your workflows so that you have enough time to form growth strategies for your business. This practice would also allow your team to indulge in more immersive experiences than redundant tasks.
Reduce Your Logistics Expenses
Logistics expenses have significantly increased in the past few years. If you don't look for cheaper yet qualitative options, the chances are that the burden of logistics expenses might become too much for you. As a result, your overall business profitability will be impacted, and the motivation to do business will diminish. To escape all this trouble, choose a 3PL service provider to take care of your entire business' logistics. Not only will it uncomplicate day to day tasks for you, but it also provides the best courier service based on your budget.
Conclusion – Plan, Reduce Costs, And Succeed!
Even with multiple nuances involved in international eCommerce, success can be achieved with effective planning. Instead of investing separately in your order fulfillment aspect, you can opt for a unified solution that integrates with your business. Shiprocket is a one-stop solution that takes care of your international eCommerce business as you would do.
From order fulfillment to offering you an AI-backed automation platform, it helps you speed 3X faster and grow our business like never before. Remember that order fulfillment is a crucial part of shaping your customers' experience; make sure that you give it your best and establish a rapport with your customers by smartly choosing an all-encompassing solution.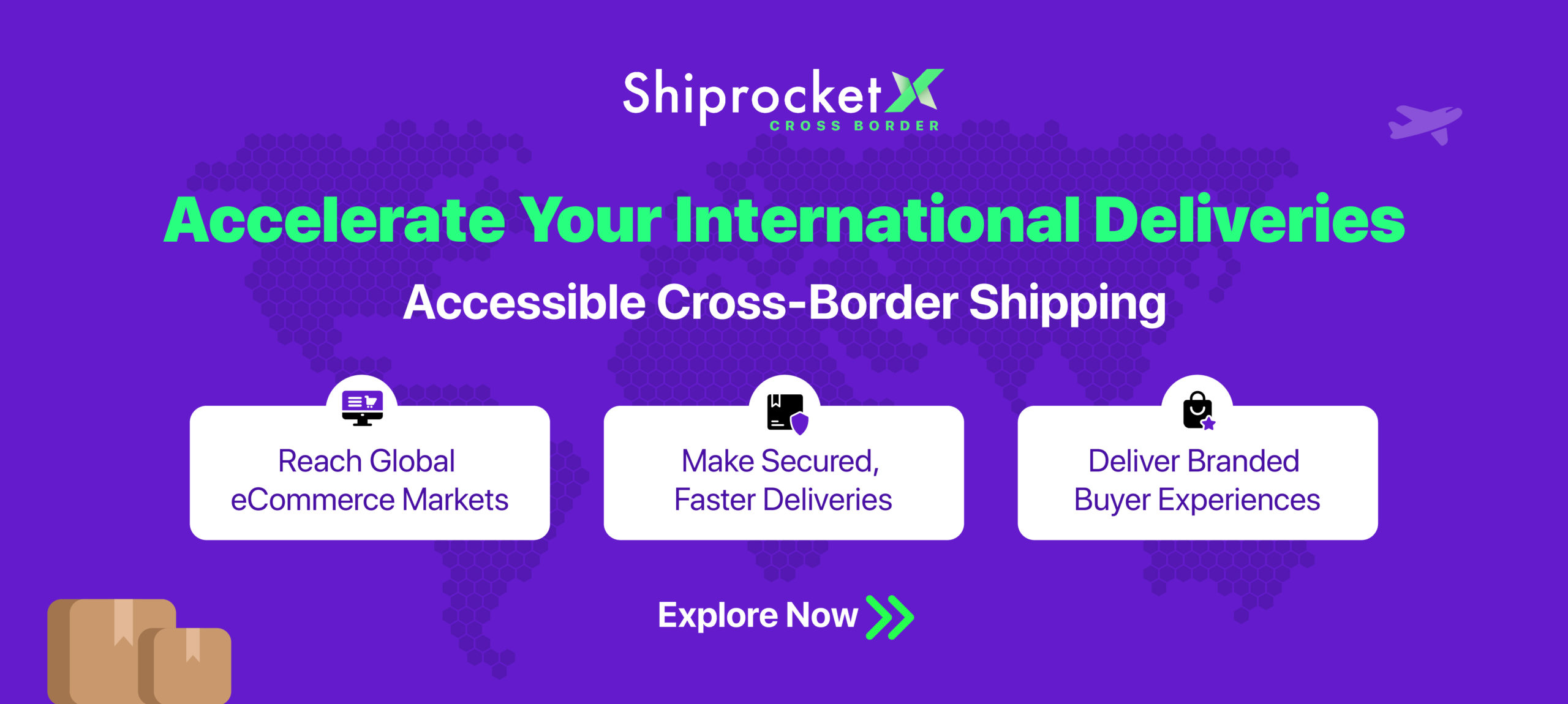 Calculate Your Shipping Costs Now