Logistics Costs: How to Reduce It For Your eCommerce Business
Running a business successfully involves planning a budget and sticking to it strictly. Yet, many businesses overspend, especially on the logistics cost. Indeed, managing the supply chain can be costlier when competing with other players to provide the best customer experience. But it is also crucial to know how to keep the logistics cost down while being profitable.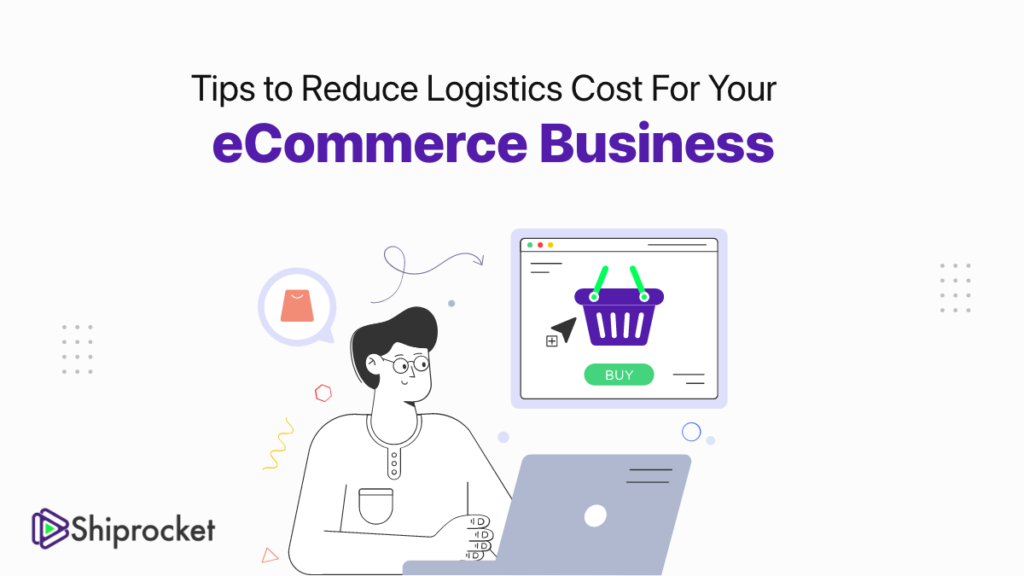 In this blog, we shall discuss some tips and tricks to help you scale your business by saving money on logistics costs.
What are Logistics Costs?
Every company can have a different understanding of what qualifies as a logistics cost. Generally, it includes all the expenses incurred while moving the final product to its final delivery, i.e., the end-consumer.
This cost can also include procuring and storing inventory, labour costs, and packaging and transportation costs for moving products from the seller to the buyer. In many cases, this cost is paid to a logistics aggregator or 3PL vendor (warehousing space, courier companies, etc.).
Different Types of Logistics Costs
1. Staff Labour
Businesses need a lot of labour in the warehouse to move inventory and pack boxes. You will also need management, customer service and many other team members performing various logistics tasks based on your business needs.
2. Supplies & Warehouse Equipment
In addition to having a warehouse and your inventory, there are many other equipment and supplies that is required to manage a warehouse. We need proper storage space and for that we need shelving units and pallet racks. Along with this, we also need forklifts, conveyors, and other equipment.
For packaging, you need shipping supplies, boxes, envelopes, tape, dunnage, labels, printers, and other packing materials.
3. Warehouse Rent
We are already seeing a 10% rate hike in rents and there is a huge demand for warehouse expansion and construction. Warehouse expenses are extremely overwhelming when it comes to long-term commitments.
4. Transportation & Shipping
Transportation costs are one of the largest buckets within the supply chain and include getting your inventory from the manufacturer to your warehouse and then to your customers.
5 Proven Ways to Reduce Logistics Costs
Here are some practical tips for reducing logistics costs:
1. Partner with a 3PL
Sometimes, you need to delegate some tasks to ease your workload. But how about getting an expert to handle your business operations while also offering services at cost-effective rates? This is why we suggest you partner with a third-party logistics provider that can provide customised solutions per your requirements and also help reduce logistics costs.
The 3PL providers offer professional services and can suggest ways to reduce costs while ensuring that your customer expectations are met successfully. For instance, they have better connections with courier companies as they ship with them in large numbers. They can negotiate with them to get you the best shipping rates.
Also, they offer a wide range of services, including warehousing, inventory management, order processing, packaging, and forward and reverse logistics.
2. Reduce Cart Abandonment Rate
Cart abandonment is basically buyers liking what you are selling but not the overall offer. As per studies, the two biggest reasons for this are the lengthy checkout process and additional shipping charges. The bottom line is that you lose a potential customer unlikely to return to your online shop.
In a nutshell, you need to reduce your cart abandonment rates to maximize your profits. But how? Simple offer free shipping. Or, if it's not practical for your business, you can also set a minimum order quantity to provide free and faster shipping. Notably, minimum order quantity also increases revenue cost – you can push your customers to add one more item to their cart for free order delivery. As a result, they get free delivery, and you get increased revenue.
3. Improve Customer Experience
When buyers see that you cannot deliver the product when they need it, they go away. Affordable and fast delivery essentially makes the customers happy. It also helps turn them into repeat customers, and it is easier to retain existing buyers than acquire new ones.
However, this is not enough these days. The increased cutthroat competition has resulted in online sellers looking for new ways to satisfy their customers, which has eventually led to higher customer expectations. Apart from fast and free order delivery, you also need to offer your customers live order tracking notifications via SMS and email. Many sellers are sending notifications on WhatsApp also.
So, partner with a 3PL that can help you send live order tracking updates to your customers.
4. Optimize Warehousing Space
Warehousing comes with a notable cost, whether renting or buying. However, partnering with a 3PL provider like Shiprocket Fulfillment can help save on warehousing costs significantly. Not just this, but you can also store your inventory in different warehousing units across the country and ship orders from the warehousing unit nearest to your customers. This will help reduce logistics costs to a great extent.
Besides, you can also get access to their technology and expertise to manage your inventory and orders well – this will help reduce the overall operational cost.
5. Ascertain All Costs
All businesses have some fixed and variable costs. You need to keep a tab on the same and work towards reducing all expenses. For instance, some costs are indispensable while some are not.
Conclusion
If you wish to keep your logistics costs down, you need to look for hidden costs that can eat up your margins. You also need to outsource time-consuming tasks like order management, inventory management, and order fulfillment to get time to scale your business and work on sales and marketing.
Calculate Your Shipping Costs Now