Popular Subscription Business Models For eCommerce & How They Work
The subscription business model isn't new. When a business charges a recurring fee for its products or services, it is referred to as a subscription model. The subscription business model is in our everyday lives, from Amazon subscriptions to your 'Book of the Month.' So what makes the subscription business model so popular among customers and businesses?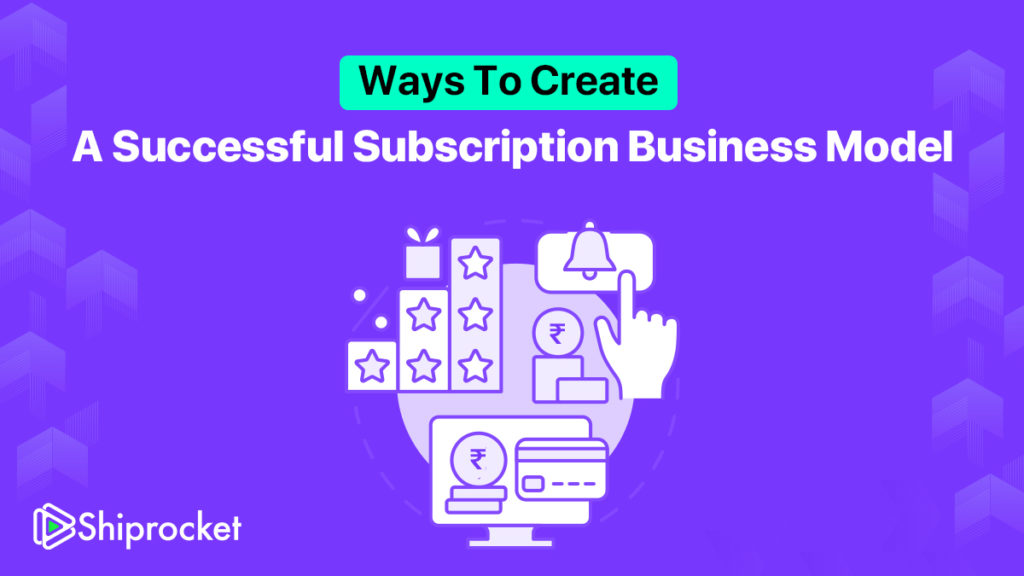 The recurring charges can be on an annual or monthly basis. The answer is so simple, for customers, it provides offers, and for companies, it provides convenience.
Why Are Subscription Business Models So Popular?
Customer Loyalty
Subscription business models are opted by customers for the convenience they offer. They can be scaled well as the customer grows. Plus, it gives the option to personalize a product or service. This kind of convenience and flexibility helps develop customer trust and loyalty.
More Profits
The subscription business model creates more sales and profits for businesses. The increased profits can ensure the increased viability of your business in times of pandemic-induced lockdown and financial troubles. Moreover, it also keeps your business operations running smoothly in tough times.
Easy Forecasting
The subscription business model helps you to forecast future revenue and investments accurately. It can be helpful for any business that has a high demand for its products or services; the subscription model can help streamline demand forecasting.
Lower Spends
Your product or service subscribers get to buy from you regularly automatically. So businesses don't have to invest extra money to target more customers. Some long-term subscribers are committed to paying you periodically and are less likely to back out.
Better Opportunities
Your business can have better expansion opportunities with a subscription-based business model. This allows you to get more customers at no extra cost. You can also invest more in up-selling and cross-selling with no additional fees.
Types of Subscription Business Models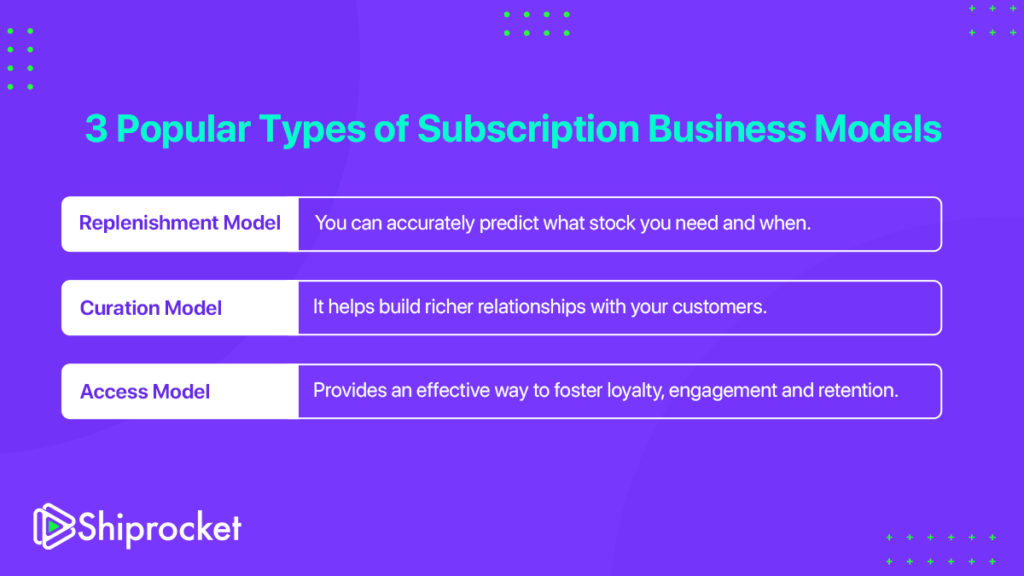 Categorization/Curation Based Model
The categorization-based subscription model is so popular because it allows your subscribers to regularly receive a unique selection of items according to their needs and preferences. It not only satisfy your customers but also increase the chances of personalization. Your subscribers feel more valued and connected with your brand after receiving a list of well-curated items.
This model also gives a chance to discover new products that your customers have not tried before. They can test out these new items without spending a single penny. Additionally, the curation subscription model benefits increased return on investment through recent customer acquisition and lower spending on advertising for businesses.
Automated Replenishment Model
The replenishment subscription model automates the purchase of items that need to be delivered regularly. This type of service is often referred to as a 'Subscribe and Save,' becoming increasingly popular among businesses dealing in commodities like eCommerce and fashion industries.
The replenishment subscriptions offer the best convenience to the consumers by giving them their desired goods delivered directly to their doorstep. And your customers can subscribe to this service in just a few clicks. It saves time and money on their expenditure.
This is why adding a subscription service to your eCommerce store is essential to add a competitive advantage to your brand. It helps get new customers and sign up for regular deliveries of your products at regular intervals.
Access-Focused Model
The access-focused subscription business model allows subscribers to get attractive discounts and early access to new products. As the name suggests, the access subscription model provides new products and services of all verticals and brands.
It's all about the benefits that come with a subscription service. When your customers feel special and valued, they'll engage more with your brand. And will keep coming back to your website. They are also likely to recommend your subscription services to other brands that save the cost of acquisition.
The Bottom Line
Whether it's subscribing for a replenishment model or to the access model or curation model, getting a fast delivery of your products is assured when you choose a subscription service.
There are three types of subscription business models for ecommerce businesses; you can choose a model based on your business niche and customer preferences. We hope you're ready to get a new subscription service after seeing each model in action for your eCommerce business.
Calculate Your Shipping Costs Now