Powerful Product Updates From November 2021
The past few months have been eventful for us in terms of product updates and enhancements. We have worked hard and non-stop to provide you with the best features to help you ship orders seamlessly.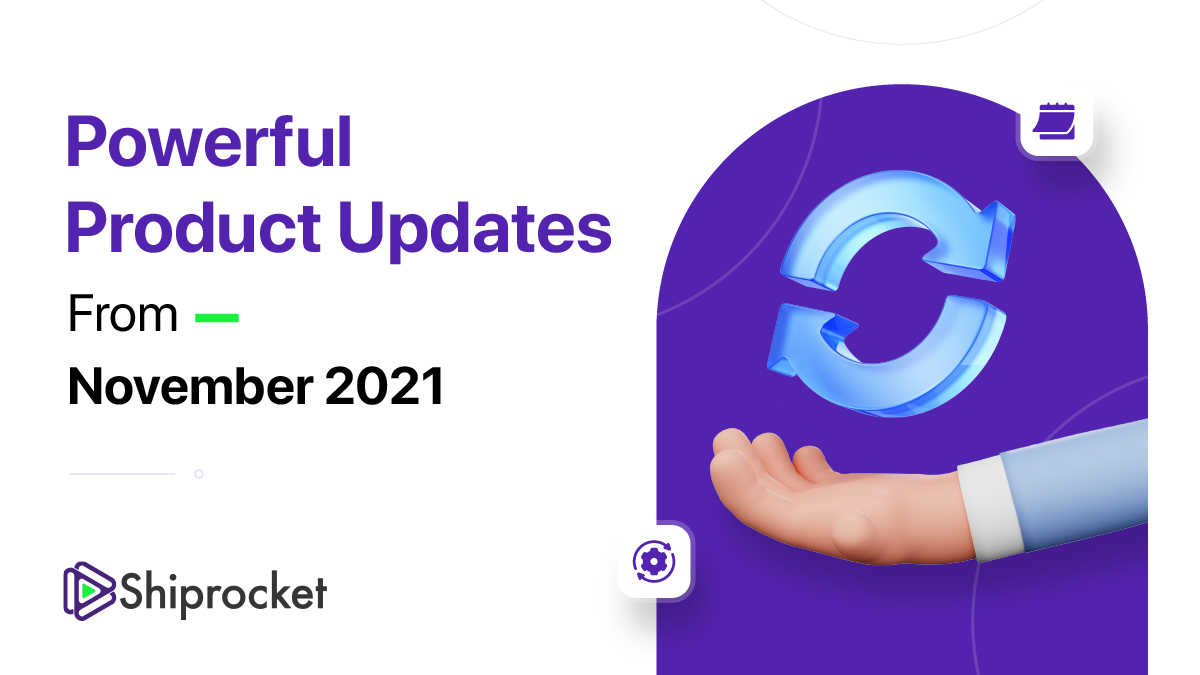 Right from the launch of Shiprocket Secure to changes in our mobile App, here is all that's new at Shiprocket:
Secure High-Value Shipments
Your shipment's security has been our prime priority. Here we introduce our new product to help you secure your high-value shipments and ship them with ease. You can secure all your shipments ranging from Rs. 5,000 to Rs. 25 lakhs against damage, loss, and theft. You can choose between two types of security cover – Auto-Secure (Blanket Cover) and Single-Shipment Secure (Selective Cover).
Blanket Cover
Under blanket cover, all your shipments will be auto secured as you will create and process them. The charges for each shipment will be added on the basis of the order value. Here is how you can opt for a blanket cover:
Step 1: Go to settings from the left panel.
Step 2: Go to Shipment Secure under the Shipment Features.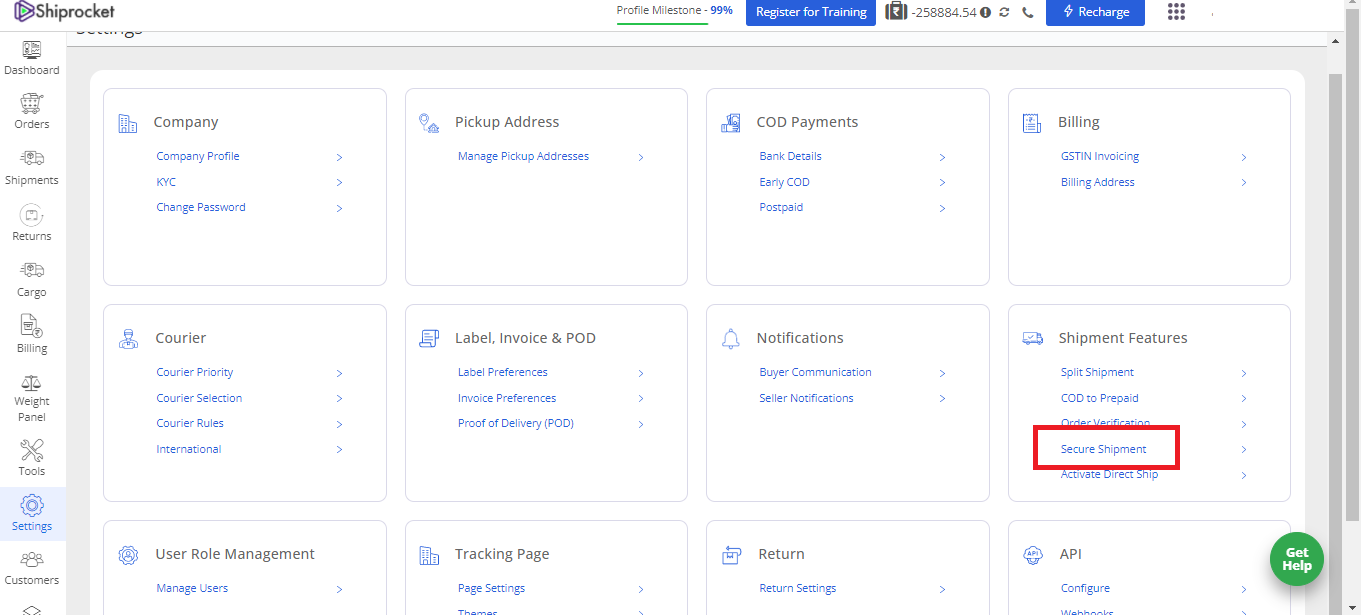 Step 3: Enable the Auto-Secure toggle to secure all your shipments above Rs. 5,000 value.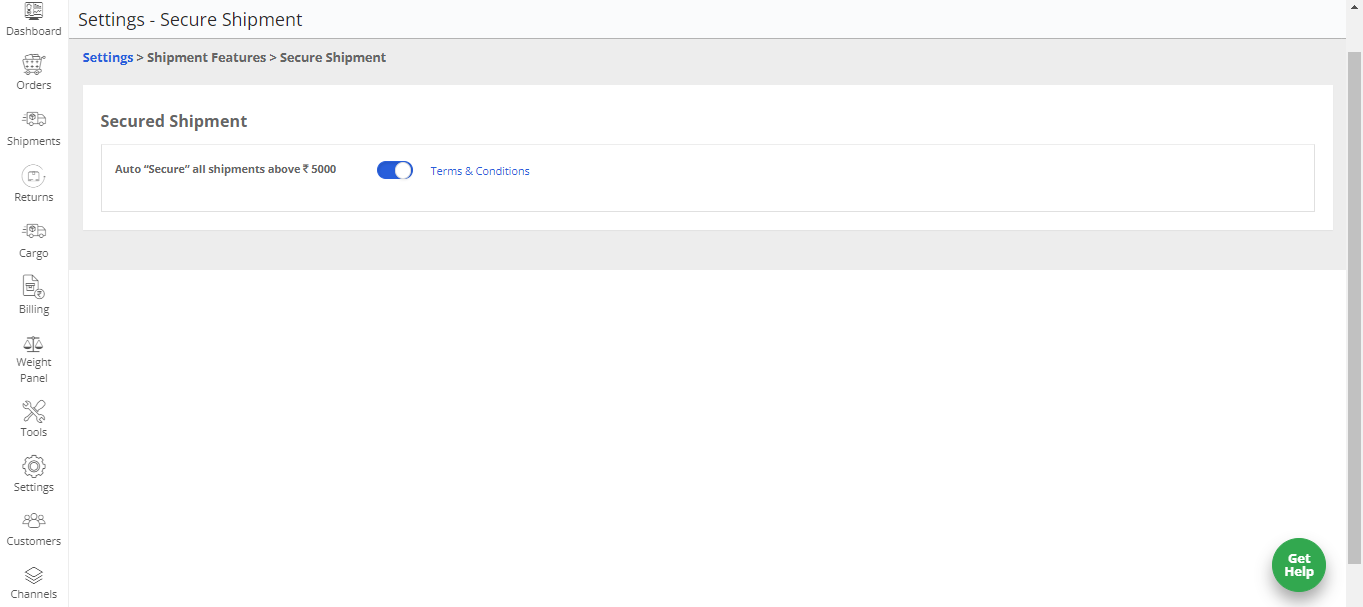 Single Shipment Secure
Under single shipment secure, you can secure selective shipments as per your need. Follow the following steps to opt for single shipment secure:
Step 1: From the left panel, go to Orders –> Process Orders panel.
Step 2: Under options, go to Secure your shipment.
Step 3: Opt for Unsecured shipments to secure your shipments.
Enhancements in Shiprocket App
We enhanced and updated a few features in our iOS App. We have new features like weight escalation, alternate number in pickup address, and the ability to add and edit order tags. In addition, we have also added a search bar to the pickup address screen to help you look for the pickup address by location, state, city, or pin code.
Weight Escalation (H3)
To escalate weight discrepancies, follow the following steps:
Step 1: From your iOS App, go to More from the bottom panel.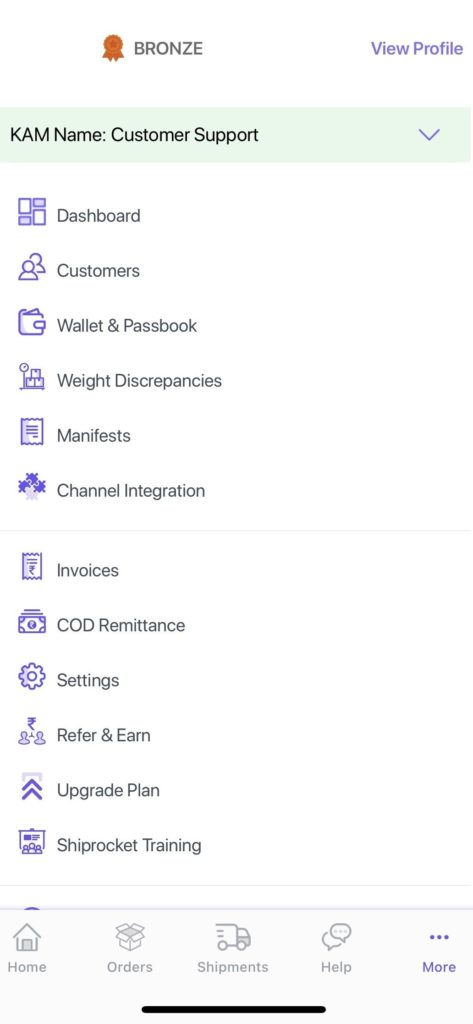 Step 2: Click on weight discrepancies.
Step 3: From the window opened, choose the product for which you want to raise a dispute.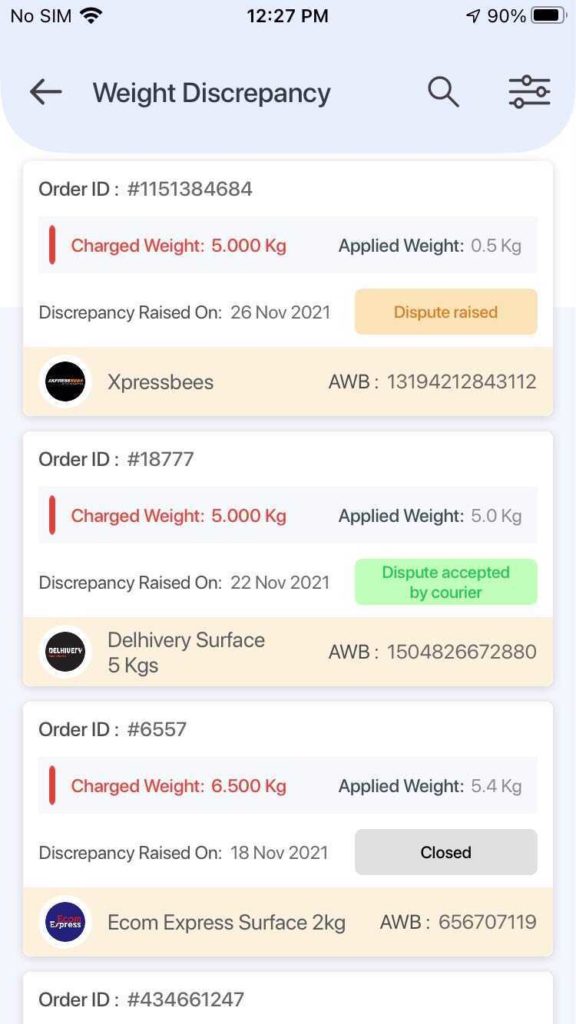 Step 4: Lastly, you can raise a dispute.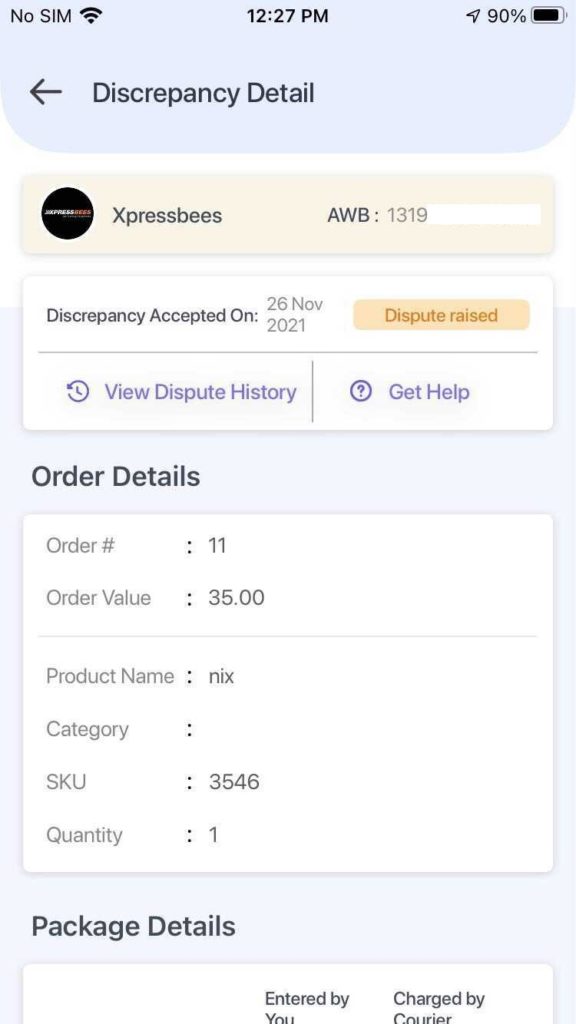 How to Enter an Alternate Number in the Pickup Address?
To enter an alternate number in the pickup address, follow the steps mentioned below:
Step 1: In your iOS App, go to More from the borrow panel.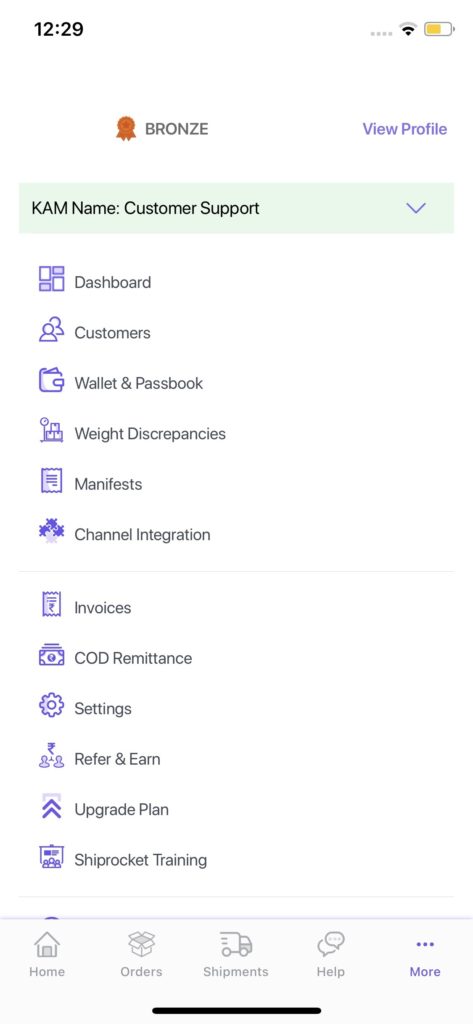 Step 2: Open Settings and go to Pickup Address.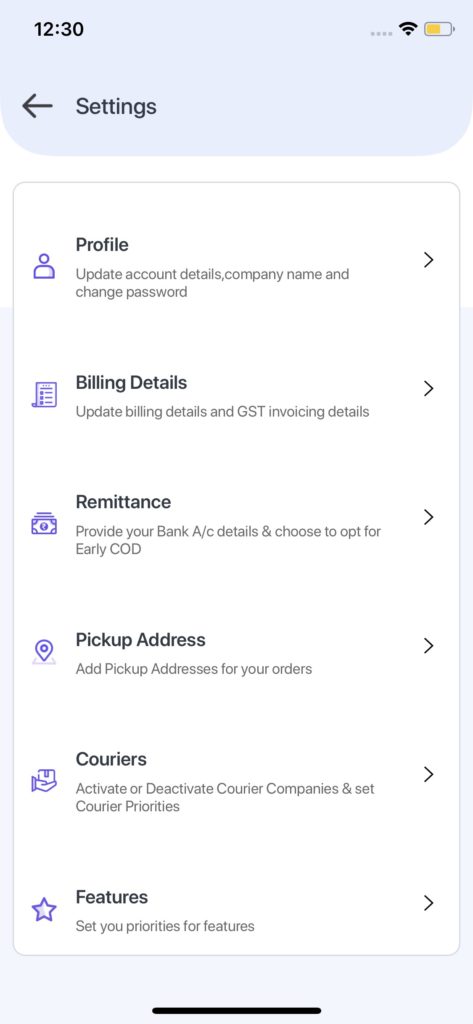 Step 3: Click on the pickup address that you want to edit.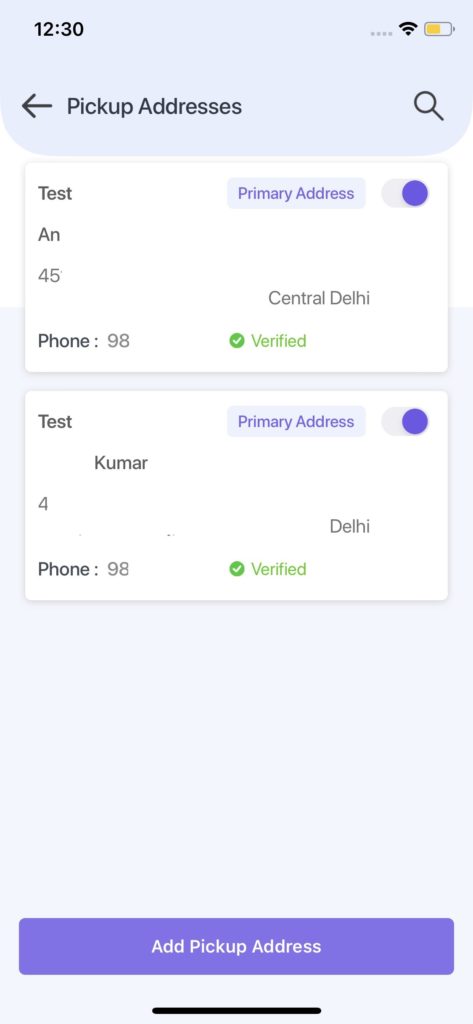 Step 4: Add the alternate number and save.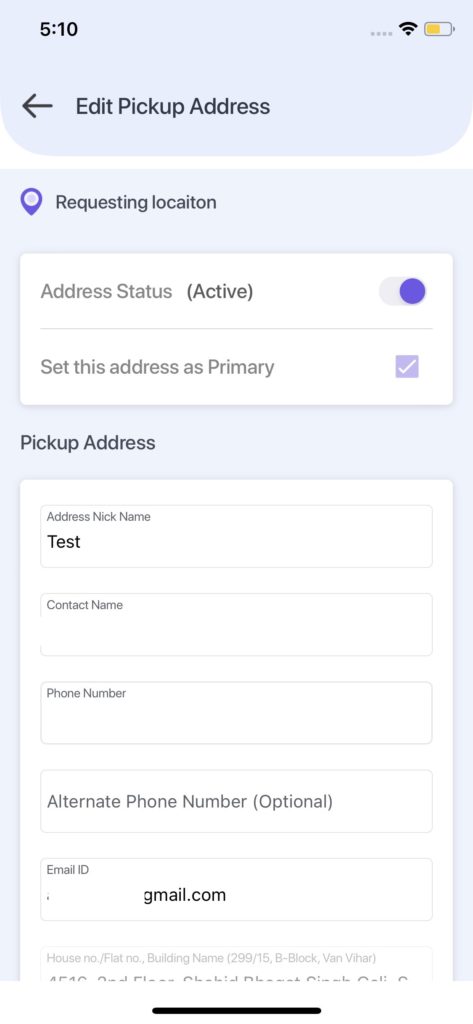 Share Feedback
Apart from that, we have made some changes to our android app as well. We have added a 'Share Feedback' section in the App. You can contact us if you have any suggestions or questions related to our product. Your feedback will help us serve you even better. Here is how you can share feedback:
Step 1: To to Share Feedback section from the More menu.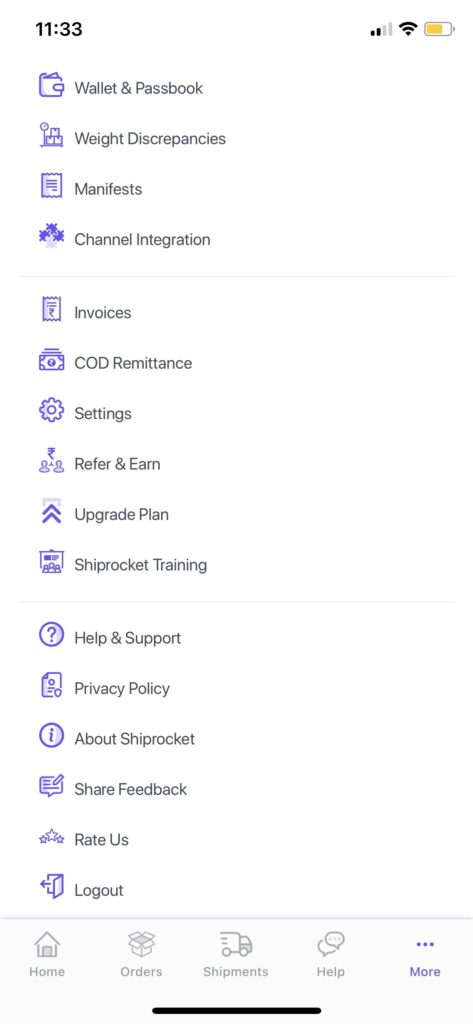 Step 2: Write your feedback and submit it.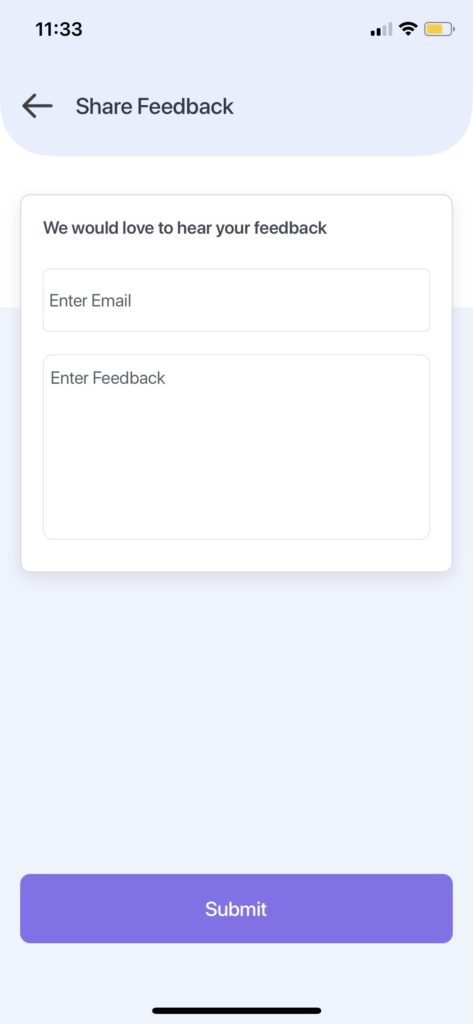 Revised NDR History Section
We have made several changes to the NDR history screen. We have added field executive call details and location to the screen. In addition, we also have an events timeline section and courier logos with names for easier understanding. We have also made some UI/UX changes to make it more convenient for you to track orders.

The type of communication, like WhatsApp and IVR with the logo used to receive responses from the buyers, is also visible. The responses on communication, like instructed by the seller, requested by the seller, or Shiprocket/Courier Action by will also be visible. Also, now a reattempt can't be attempted on Sunday.
Shiprocket Smart: Check Refund History of Assured Shipments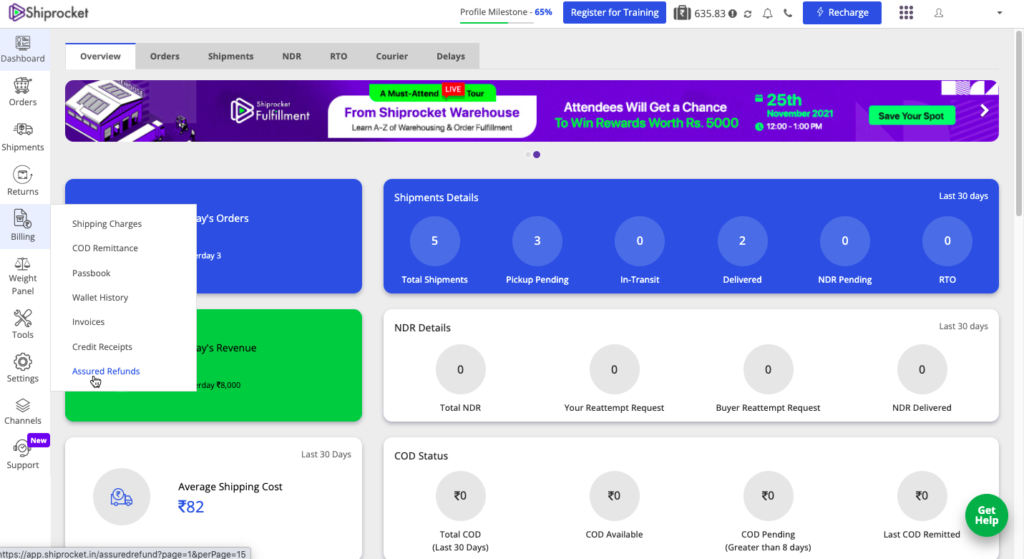 Now you can check all the refund history of your assured shipments with a single click. Shiprocket Smart sellers can now view their refund details for their Assured Shipments in the billing section.
To check your refund history:
Step 1: From the Billing Section in the left panel, go to Assured Refunds.
Step 2: You can check all the refunds history.
Step 3: Also, you can also use filters to check data as per your requirement.
In the Assured Refunds screen, you can also check: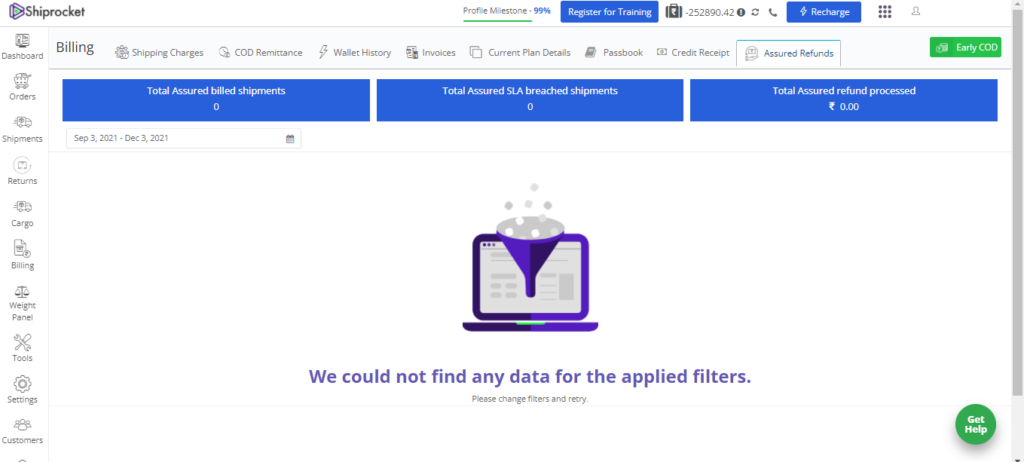 Total Assured billed shipments
Total Assured SLA breached shipments
Total assured refund processed
In addition, we have also added Smart rates to your rate calculator screen to help you compare the rates of different couriers in one place.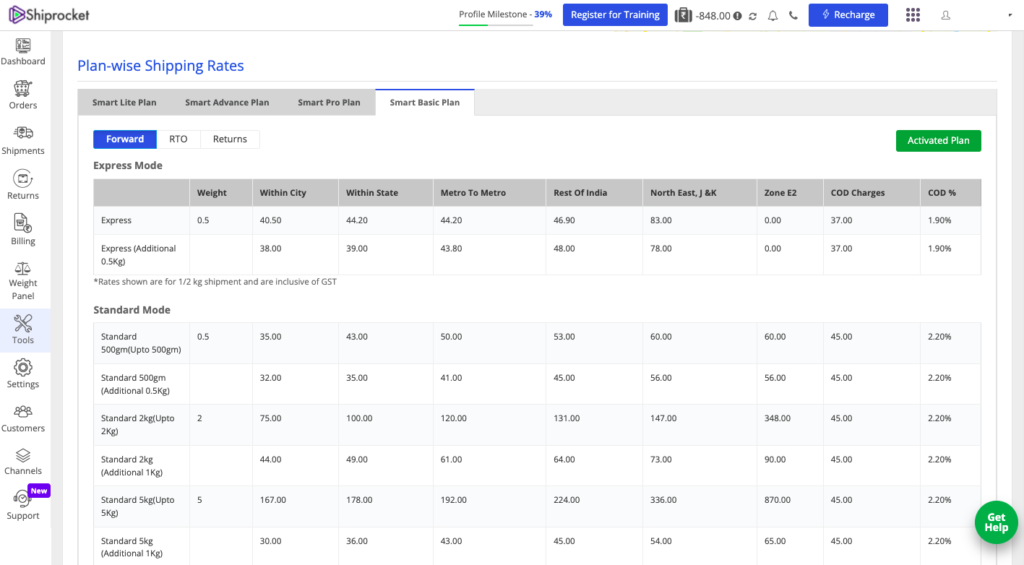 DHL Deactivated as Courier Partner on Shiprocket
DHL has discontinued its eCommerce services, including DHL packet, DHL packet plus, and DHL parcel direct from India from November 30, 2021. As a result, DHL is deactivated as a courier from our platform from November 23, 2021. Also, you will no longer be able to use its international services.
We hope our product updates will help power your eCommerce business. Stay tuned for more! We will be back next month with more updates.
Calculate Your Shipping Costs Now