How to Sell Indian Products Internationally Through an eCommerce Website
In this era of digitalization, there is no limit for eCommerce businesses to extend their reach. If you're already running an eCommerce website, it will be much easier for you to expand your business to an international audience.
Think no more, and grab the opportunity to grow your business like never before by going global. Tapping the international market will not only give a boost to your business' revenue but will also help you stand out from your competitors.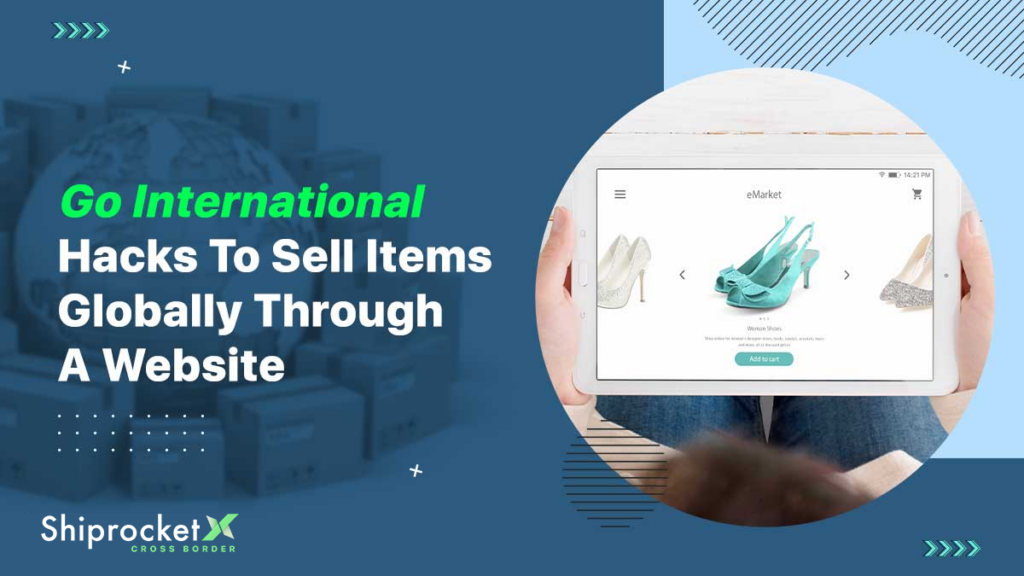 The best part is that a world of potential customers is waiting for you out there, just to purchase what you're selling. With the high penetration of the internet across the developing nations and the developed ones, buyers now have better access to businesses that sell products online all over the globe. And, if your product catches the eye of your target market and is unique, buyers will never refrain from purchasing it.
In this article, we will dive deeper into how to sell products globally through an eCommerce website. First and foremost, put a plan in place. Before you explore the international market, have a strategy framed so that you can be well-prepared to provide your customers with an excellent shopping experience. Here are five critical areas of planning for expanding your business internationally-
Find your Target Audience
The first part of planning your international expansion is researching your potential customers, what they like to buy, and their purchase behavior. Do your market research thoroughly.
Research demand for your product and the local buying trends of a country you wish to target. Look into the top countries that have a strong demand for your products.
Are there specific holidays during which your product might be popular? While you're at it, try to learn as much as you can about consumers' spending patterns and from which countries they typically buy.
Find Out how your Customers Want to Pay
In the next step, start researching how your international customers want to pay for their purchases. Your buyers' payment preferences might vary depending on the country you are looking at. Most people would like to pay in their local currency. In case you are unable to offer payment in the local currency, do provide your customers with a currency converter so that they can at least see what they are paying. Also, choose a payment provider with a reputation, such as PayPal.
Strategize Shipping & Returns Process
Your next step is to think about your shipping and returns plan. Firstly, set clear delivery expectations with your customers. International shipping takes longer than domestic shipping and costs more for customers, so it's crucial to keep them in the loop. Provide them with accurate delivery information and list shipping costs in an easy-to-find place on your eCommerce website.
Also, establish a return policy, and when mentioning your policy, do consider-
Any requirements as detailed by local consumer laws.
Refund stipulations, like when you'll issue them and whether you'll give store credit or a cash refund.
The time limit for returns.
Restocking, return delivery, or other fees.
Pay Attention to Country Regulations
Once you've decided where you'll sell your products, take the time to look into specific rules and regulations for that country.
Duties and taxes – Find out if duties and taxes will affect the prices of items you plan to sell in target markets. Make sure you understand the rules that apply to your products so you can let your customers know about any expenses they're expected to pay from the outset.
Customs – All your international shipments will have to make their way through customs, the agency that regulates shipments entering a country or region. Each package will need a customs form on the outside; some shipping services even help take care of this – do some checking to see if yours does.
Free-trade agreements are good news for international sellers because they help reduce or eliminate tariffs for some products.

Plan your Entry into the International Markets
Optimize your current eCommerce website for international buyers. You can start by simply highlighting your ability to accept international orders with information on countries served and the shipping costs. Once you have more experience, you can look into listing your products in local currencies and eventually install a multi-language toggle for your website.
Once you plan to enter the international market, you might want to create a custom website for specific markets. This can include investing in a local domain name. The products and strategies that work in India may not necessarily work in other countries.
Hence, a targeted website gives you complete flexibility to test the best presentation of your items. It's also a chance to optimize for the most popular search engine in the country you're selling. (It might not be Google.) If you take this route, just remember to test the experience to make sure that elements like text translation, currency conversion, and calculation of delivery costs work correctly.
Are you Ready to Sell Products Internationally?
After you are done with the planning and strategizing, the next step is to make sure your website is ready to face your global audience. Since your website will be your company's face for your international buyers, you must showcase the best one.
Language Barriers
The language barrier is one of the significant barriers that businesses often face while selling products online. Even the English language might be different in different countries such as the USA, UK, etc. Similarly, if you are selling on the American continent, you might need Spanish because many users speak and understand Spanish easier than English.
Currency Barriers
Another issue that many Indian eCommerce store owners face while selling products globally is converting local currency to international currency. Make sure that your website is ready to showcase payments in different categories. This will help your international buyers to transform your product price into their local currency quickly.
Shipping Barriers
For shipping your products to another country, it's best to tie up with a shipping solution like Shiprocket that offers you to ship globally across 220 countries* and union territories in the world. The shipping costs for international shipments start from Rs. 50/100 gm.
Indian Products that Are in High Demand in the International Market
The increased exports also played a critical role in the economic growth of India. The most important export products currently are automobiles, pharmaceuticals, petroleum, jewellery and others. If you are looking to expand your business and want to sell Indian products internationally as a part of your eCommerce offering, here is a quick list for you to consider.
Handicrafts: Traditional handicrafts of India are very popular across the world. Their vibrant colours, aesthetic value and the use of natural products have made them very popular in global markets. When you consider exporting these products, you will not need very high capital investment as most of these products are low-priced in Indian currency. Handicraft toys, home decor items, utility products like pen holders, paintings, and art are the primary products you can consider exporting. Such items are in huge demand in the US and the UK. You can either target these markets on eCommerce platforms or have your own eCommerce website.
Leather Products: India has been known to make leather products since historic times using sustainable methods. The wide range of leather products made in India are unique, stylish and easy to maintain. The most common leather items exported are jackets, boots, and bags. International demand for these products is very high, and you can offer regional products in overseas markets. Apart from natural leather, there is a growing demand for fashionable synthetic leather accessories in the United States, the United Kingdom, and top European countries like Germany.
Spices: The Spices Board of India regulates the export of Indian spices. You can source them from across the country. For cardamom and pepper, south India is the best place to get them for exports, or you should source them from the Spice Boards' auctions/farmer auctions for the best prices. India supplies 75 different types of spices in the world market, making them one of the major export items from India. For market data and registering for export, you should reach out to the Spice Board of India at the earliest.
Tobacco: India has a long history of tobacco export, as it is an important cash crop. India produces a wide variety of tobacco and sells it to different parts of the world, especially North American countries. India is the second-largest producer and exporter of tobacco. The overseas sales are operated via the Tobacco Board of India. You should reach out to the board if you want to export or participate in international tobacco exhibitions.
Indian gems and Jewellery: The demand for Indian precious stones, gems, and jewellery continues to be strong even today. India goldsmiths and jewellery designers are presenting old traditional craftsmanship in contemporary designs for easy wearing and maintenance. The United States, Europe, Japan, and China are traditional markets for Indian jewellery. This industry employs over 300,000 people.
Tea: India's tea varieties are cherished all over the world. Be it the Assam, Darjeeling, and Nilgiri teas, India is the largest exporter of this important beverage product after China. Indian tea is most sought after in Russia, Iran, UAE, the US, and China. As tea consumers' tastes are changing, Indian export is geared up to meet the global demand for green tea and other intense aromas. You should look at the Tea Board of India's website for the latest updates on tea exports.
Textiles: India's traditional expertise in textiles has made the demand always high for Indian-made textiles. The Indian cotton textile industry is the most benefitted one. Their production of massive varieties, craftsmanship, intricate design and natural colours have helped to create a loyal customer base globally. Refer to the Merchandise Export from India Scheme (MEIS) for further export information.
How to Promote your Products Internationally
Now that you have planned to sell internationally and have also found solutions to overcome the barriers, it's time to promote your products in a way that grabs the attention of customers.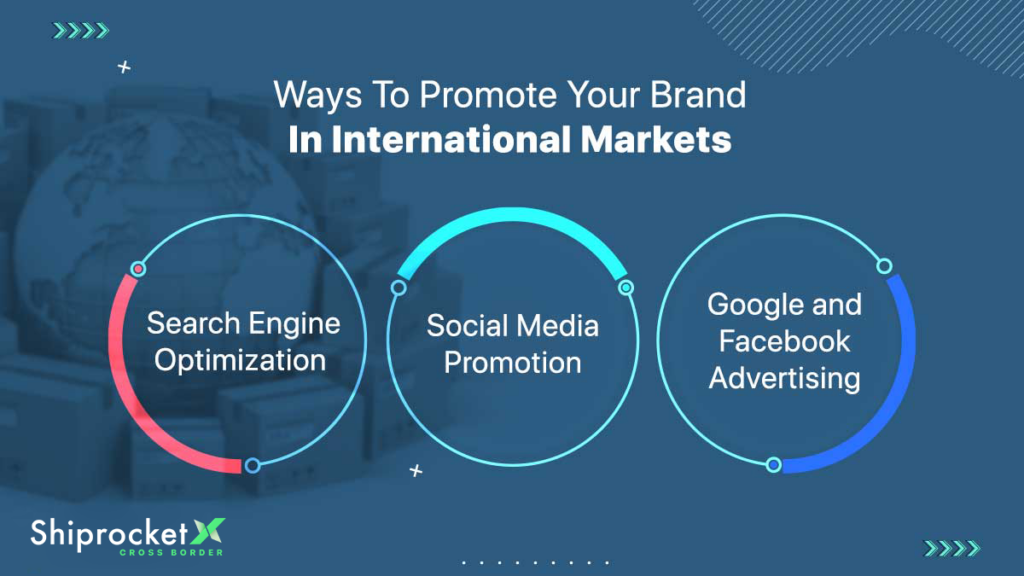 Search Engine Optimization
Let's start with the primary yet most effective marketing tactic, SEO or Search Engine Optimization. If you want to sell products internationally, make sure that you target popular keywords in your target market, either national or international. Google will help you know which keyword has got traffic from which demography. Work on those keywords to get yourself listed on popular search engines of your international market.
Promote on Social Media
Follow and make connections with the audience based in your international market and target them using different social media channels. Try to put your market research knowledge in here while posting your social media posts and products.
Advertising on Google and Facebook
The best thing about Google and Facebook advertisements is that they let you choose demographics where you want to showcase your advertisement. Select the demography where your target market is and run promotions efficiently.
Leave your comments to let us know whether these steps helped you or not. If you have any suggestions, let our readers know.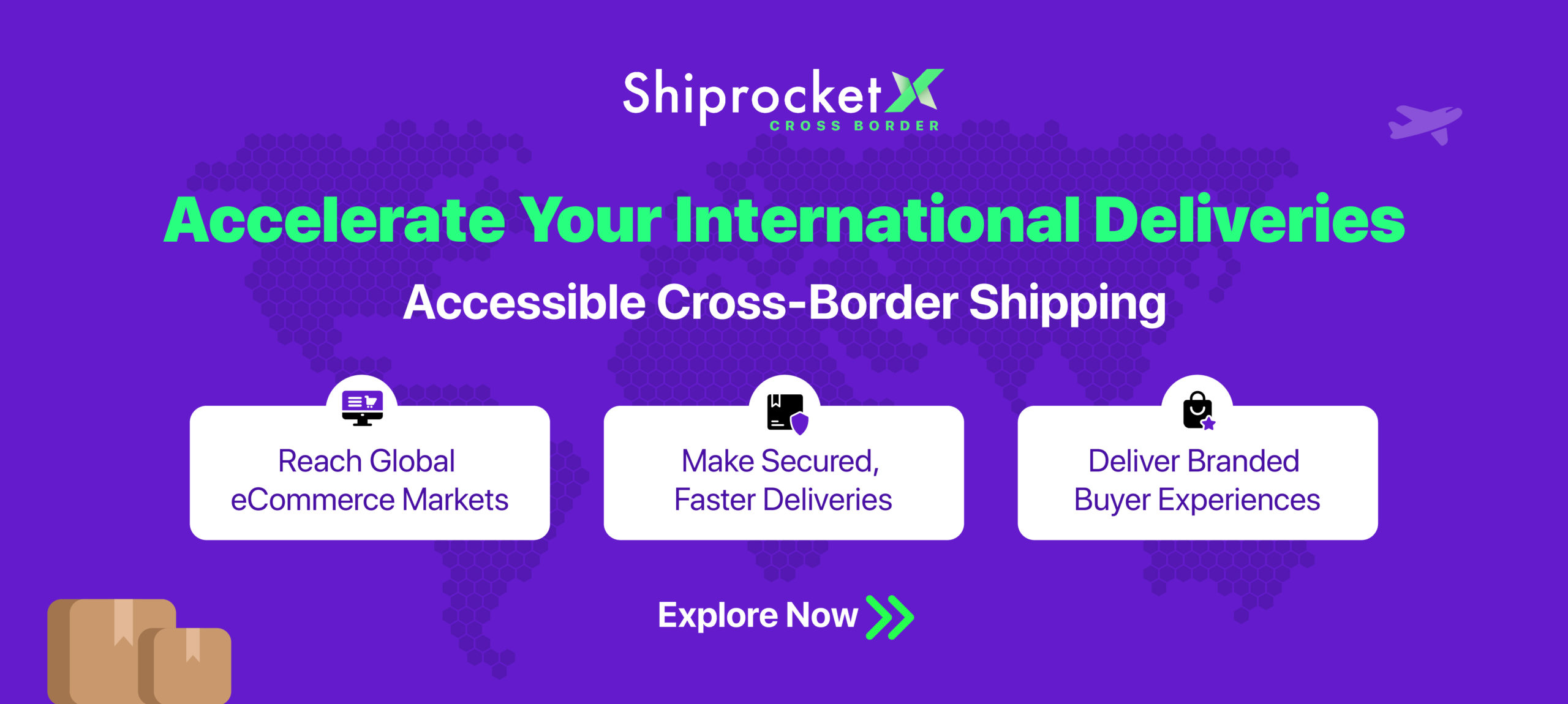 Calculate Your Shipping Costs Now