Top 10 Most Exported Products From India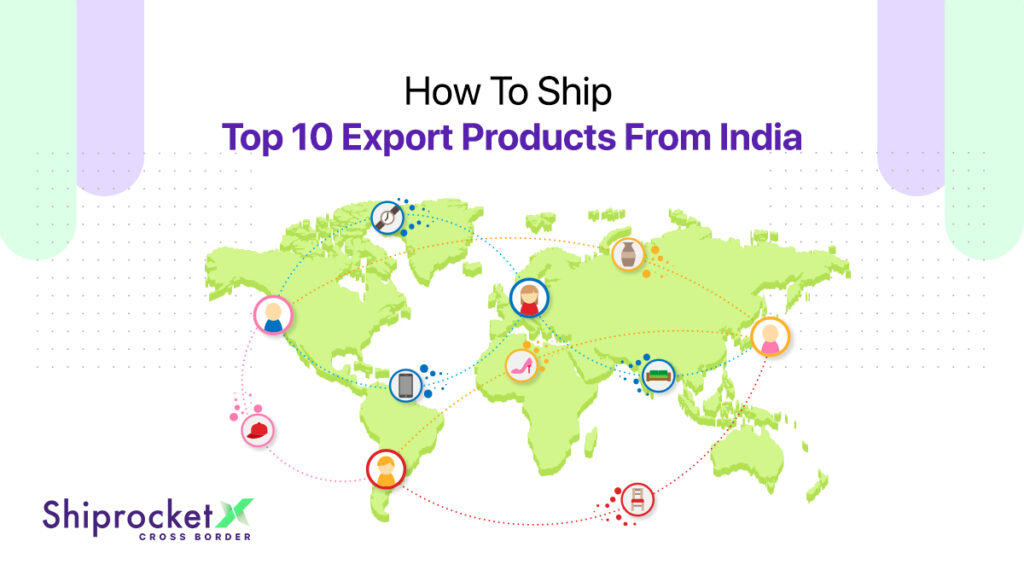 The past few decades have witnessed a steady increase in the Indian exporting sector. With export products such as ready-made garments, refined petroleum, and even valuable items like gems and jewellery, India is one of the leading exporting countries that fulfil the demand of many other countries.
India is the home of many significant agricultural and natural resources. Due to such a development, the growth of the exporting sector is inevitable.
The Indian exports topped at $538 billion in 2017 alone, an all-time high for India. And even though the Covid wave wasn't exactly favourable for the Indian exporting industry, the growth of the Indian exporting sector is rising again.
Being a top manufacturer of many goods and resources, let's explore some of the most exported products from India and what are the most convenient methods to start shipping them.
Top 10 Most Exported Products From India
1. Leather And Its Products
With several recipient markets around the globe, including Italy, China, Korea, and Hong Kong, the demand for Indian leather has only been growing over the years.
Indian leather manufactures items such as purses, coats, cricket balls, shoes, jackets, and more. In many cases, rather than providing the raw material, i.e. leather, items are manufactured in India only and directly exported to other countries.
Many luxury brands worldwide import their leather from India only. Primarily, markets in the US and Europe have been the biggest markets that demand Indian leather the most.
2. Petroleum Products
As one of the high-demand products for export, petroleum is the key item for the fuel and energy requirements of the world. After China, India is the second-largest refiner in Asia.
Petroleum products like Petrol, diesel, gasoline, jet fuel and LPG are very demanding in countries like the US, China, and the Netherlands. Because of this increasing demand, India's export of these products is also significantly increasing.
India has a very lucrative exporting business with other countries. And while the petroleum exports were impacted severely, they still rebounded this year.
3. Gems And Jewellery
Due to its natural wealth in gold, diamonds, pearls, gemstones, and other forms of jewellery, India is the world's fifth-largest exporter of such materials. And because of that, India owns almost 6% of shares in global exports.
In the list of products exported from India, cut and polished diamonds are the most exported items. Indian states such as Gujarat, Andhra Pradesh, and Madhya Pradesh are the primary locations where gold and diamonds are extracted.
These jewellery items are sent to Gujarat for polishing and cutting, followed by exporting to countries such as the US, UAE, UK, and Hong Kong.
4. Automobiles And Equipment
India is a rich country in terms of iron and steel. Due to this, India is a leading exporting country of machinery, parts, and, most importantly, automobiles.
The year 2021 has seen significant growth in engineering goods exports. Engineering goods single-handedly have made India more than $53 billion in 2020-21 alone.
Because of the demand in markets of China, the USA, and the UAE, the demand for automobiles and equipment is only increasing.
5. Pharmaceutical Products
With the Covid wave, the Indian pharmaceutical industry surprisingly kept an increased exporting rate. And because of that, India is the 14th top pharmaceutical exporter globally.
Some of the most exported products include active ingredients, biopharmaceuticals, and finished drugs. India was also an active exporter of the covid vaccines in 2020-21.
Because of the growth projection of the pharmaceutical industry, India is expected to increase its exports even more than right now.
6. Electronic Goods
Mobiles, laptops, computers, and other electronic accessories are always in increasing demand, and India has been fulfilling it for multiple countries for a long time.
In 2020-21, the Indian electronic goods garnered more than $11 billion. Since the global demand for electronics and accessories is growing every year, the Indian electronic goods exportation is also expected to perform better than ever in the coming years.
India is also actively producing multiple unique devices under the Digital India scheme, giving it an upper hand in technology and exportation.
7. Dairy Products
India primarily is an agricultural state, which is why the dairy and agricultural exports in India are popular across the globe.
The milk produced by the Indicine cattle is in high demand in many western countries. Because of this demand, the selling price of these products is usually three to four times higher in these places than in local regions of India.
Other frequently exported items are ghee, cheese, and curd, which are exported under different quality controls and refrigeration.

8. Handloom And Cotton Yarns
India is the second-largest cotton-producing country producing more than 23% of the global cotton demand. Because of this, most of the Indian textile industry is cotton-based.
This product is further used in producing sheets, towels, and other essential items and is primarily shipped to countries such as the US, Brazil, and Australia.
Because of this demand, yielding cotton is a job that feeds many families in India and provides multiple employment opportunities.
9. Textiles And Apparel
Textiles and apparel exported from India have found their very own enormous markets around the world.
With a significant contribution of more than $44 billion in 2022 alone, the Indian economy benefits a lot from exporting textiles to countries such as the UK, US, and UAE, among many others.
India exports a variety of natural and artificial fibres used in the manufacturing of t-shirts, jeans, jackets, suits, and other apparel outside the country. Moreover, Indian brands like Sabyasachi, Allen Solly, and Peter England have found their way to becoming the leading apparel companies worldwide.
10. Cereal
Much like China and Ukraine, India is famous for its abundant amount of production of wheat and maida.
This increased production volume is why India is primarily the top exporter of cereal to countries like Iran, Saudi Arabia, Turkey, and Middle Eastern countries.
This demand is also matched by the production of rice and other forms of food. The government is also trying to improve agriculture production sectors to become the leading exporters of cereal globally.
How To Start Shipping And Exporting Products?
Shipping across borders isn't easy. A slight compromise in quality or even a delay for a day could seriously impact your business and quality altogether.
Many small and large businesses rely on exporting for the stability of their businesses. This is why their shipping and exporting methods should also be flawless so that there's no loss on either side and the quality of products always stays uncompromised.
Leading international logistic partners like Shiprocket X will help you supercharge your business and start shipping to more than 220 countries by comprehensively streamlining your supply chain.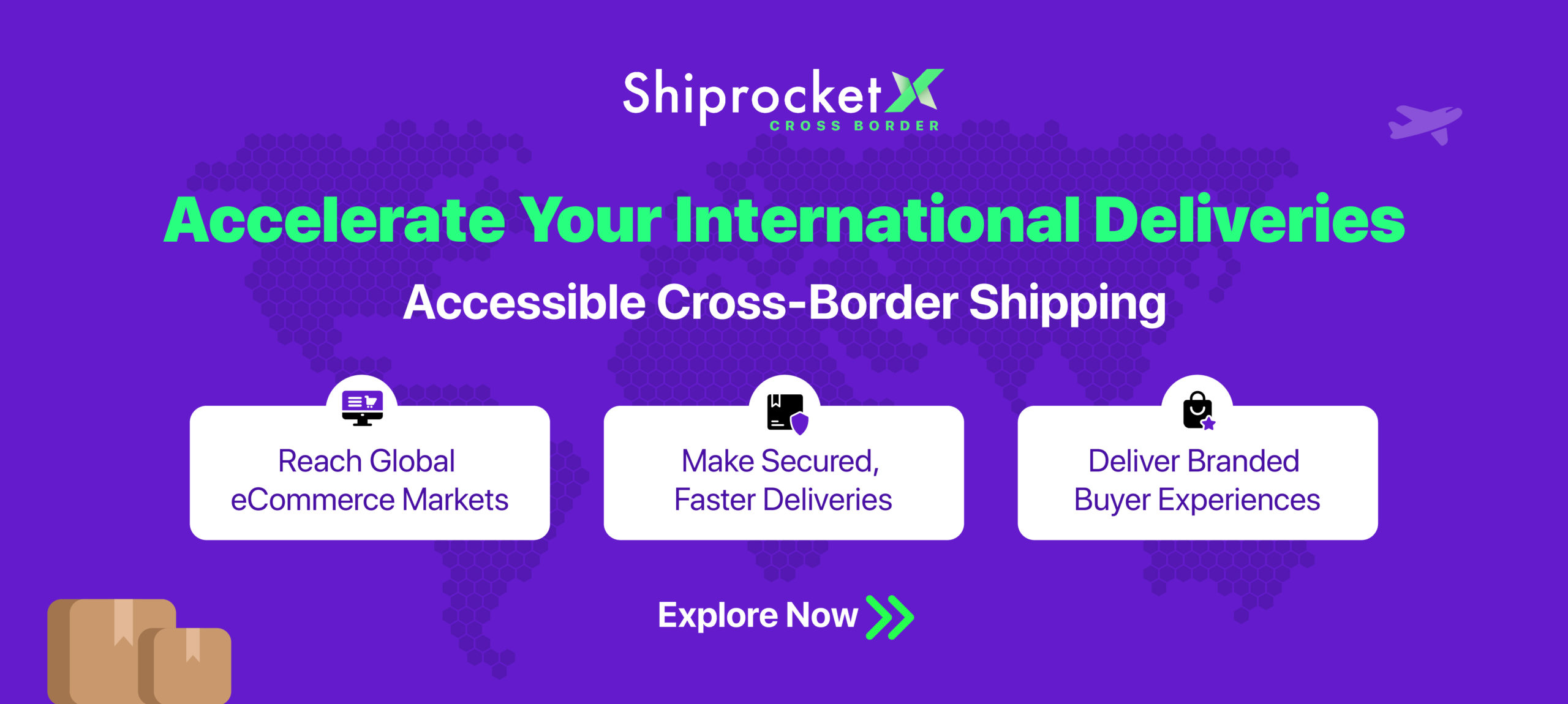 Calculate Your Shipping Costs Now