What is Shipping Insurance in eCommerce?
When it comes to eCommerce businesses, shipping is an important aspect that has the ability to make or break your business. As eCommerce is all about ordering the product online and then delivering them to the customer, shipping is of utmost importance. Without having the right shipping and delivery strategies in place, you will not be able to satisfy customers and create goodwill for your brand. So, what if the product goes missing or is damaged in the course of shipping?
There are always chances of unforeseen circumstances that we do not have control of. This is where shipping insurance comes into play.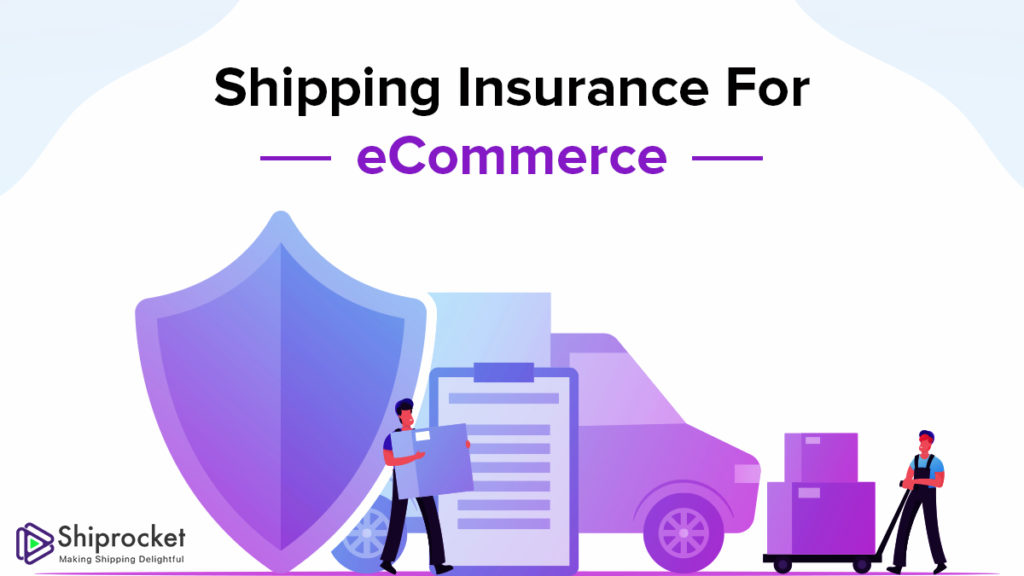 As per the definition, this is what a shipping insurance means:
Shipping insurance is a service given by the insurance companies to provide protection from financial losses to the parcel senders whose couriers are lost, stolen, or damaged in transit. In simple terms, the insurance company will reimburse your financial loss caused due to the loss or damage of your product/parcel during its shipping.
While a lot of eCommerce businesses tend to do away with the concept of shipping insurance, having a proper insurance coverage in place, protects you from an undue loss that you can incur due to exigencies or unforeseen circumstances.
Shipping insurance gives you that additional security coverage that helps you deal with emergency revenue losses.
According to a survey, businesses tend to lose around 3 to 5 percent of their revenue due to shipping losses. Well, that is a significant amount and having the right insurance can help you get rid of that loss.
Factors to consider before taking Shipping Insurance
Before you decide whether to opt for shipping insurance, there are certain things that you need to keep in mind. Accordingly, you can decide on the right type of insurance based on your preferences and budget.
First things first, you need to have an idea of which items can be insured and which cannot. There are some items, such as FMCG goods that usually do not come under the coverage of shipping insurance. In the same way, currencies, hazardous materials, and gemstones can't be insured. Before opting for insurance, it is important to know whether the item can be insured or not.
Secondly, read the terms and conditions of the insurance company with care. Each company has its own terms and conditions where all the restrictions and limitations are clearly defined. These factors differ according to the type of insurance coverage that you opt for. Accordingly, you would need to opt for the ideal insurance coverage.
Thirdly, you need to have an idea of the value of the shipment. It is perhaps of no use to get insured a shipment of a negligible amount. However, for valuable shipments, insurance is essential.
What is Shipping Insurance Coverage?
Shipping insurance coverage consists of the various items and clauses that are offered in the insurance policies. The coverage differs as per the insurance policy and companies. Businesses need to judge the coverage policies properly and make proper planning.
There is some basic coverage in shipping insurance that is offered in all policies. The secondary clauses differ according to the type of product, the type of shipping medium and the destination.
Some of the clauses that may be a part of the shipping insurance package are:
Compensation in case of financial loss for loss or damage of the product.
Compensation in case of undue shipping expenses.
Whether the shipping insurance is applicable outside the country of origin.
Reimbursements in case of loss of important shipping documents.
How to claim Shipping Insurance?
If your face any loss or damage of the product, you will need to file a claim to get the insurance reimbursement. Ensure that you have all the necessary documentation in place for making the claim. Once you successfully send across the claim and it is accepted, you will get the reimbursement within a period of time. This period depends according to the insurance company and the coverage.
Conclusion
Shiprocket also offers an insurance of upto Rs 5000 for damaged and lost goods. In case of an accident, whichever amount is lesser between the insurance amount the order value is given to the seller. Therefore, you get a solid reason to begin shipping with India's best shipping solution.
Happy Shipping!
Calculate Your Shipping Costs Now