End-to-End Warehousing Solution for Enhanced eCommerce Operations
Owing to increasing internet and smartphone penetration, the eCommerce industry in India is witnessing immense growth. As per government reports, the eCommerce revenue in India will likely jump from US$ 39 billion in 2017 to US$ 120 billion in 2020. With such an extraordinary growth of 51%, the highest in the world, the eCommerce sellers need effective warehousing that helps in the smooth movement of products within the system, which is a key factor when it comes to serving customers. However, proper warehouse management can be a daunting task. Well – not anymore.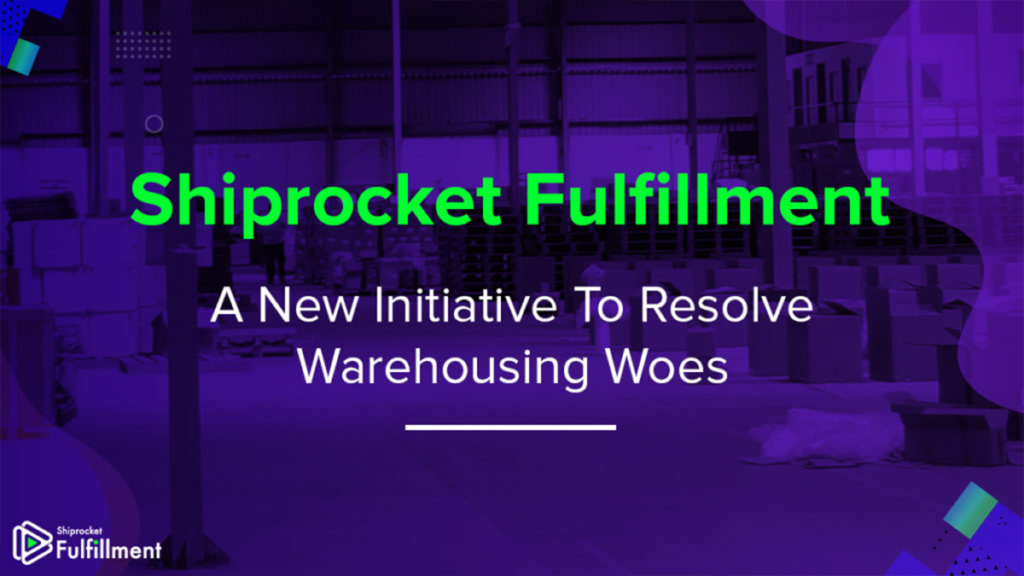 Shiprocket introduces Shiprocket Fulfillment. Read on to find out what it is and how it can benefit your eCommerce business.
What is Shiprocket Fulfillment?
Shiprocket Fulfillment is a unique offering by India's #1 eCommerce shipping solution, Shiprocket. It provides end-to-end warehousing solutions to brands and sellers selling directly to customers, either through their website, social circles and so on.
We, at Shiprocket, understand that no matter how small your order volume is, taking care of your inventory and processing orders is always a difficult task to perform. Hence, Shiprocket Fulfillment will be providing warehousing and fulfillment services to any seller processing 20+ orders a day.
"Our target is to attract both kinds of sellers…those who sell in large, and the ones who sell in a smaller volume because we do not want to differentiate. In India, B2C warehousing is getting more and more upgraded, and we want to help our sellers with these upgraded technologies."

Manish Gautam, Warehousing Expert, Shiprocket

Why do you Need Shiprocket Fulfillment for your eCommerce Business?
As an eCommerce business owner, your duties are as diverse as creating business strategies, developing sales techniques, managing your human resources, and so much more. With all these tasks already on your plate, looking after order fulfillment, along with warehousing, add on the extra pressure. Let us take a look at what are a few challenges that business owners face in terms of warehousing-
Distributed Demand but Single Warehouse
Typically, eCommerce businesses attract demand from all across the country. Moreover, in today's fast-paced life, customers want their products to be delivered on their doorstep in not more than 48 hrs. In such cases, operating from a single warehouse will cause a delay in delivery, which in turn leads to dissatisfied customers. Moreover, your freight costs will skyrocket if you are shipping the products to a farther location. Let us take an example for better understanding:
Abhay has an eCommerce store in Delhi and operates from a warehouse located in Gurugram. He receives an order from Mumbai and starts processing the order. Considering the distance from where (Gurugram) the order is processed to the customer's residence (Mumbai), it took 5 days for the order to get delivered. What is the final outcome? An angry customer, who wanted his order to be delivered within 2 days, but instead received it in 5 days.
How will Shiprocket Fulfillment help?

Shiprocket Fulfillment will help you connect to multiple warehouses in various locations across the country. With Shiprocket Fulfillment, you can stock your items near to your buyers which will lead to faster delivery to customers.
Doing In-house Is Difficult
Operating a warehouse from your residence can be a challenging task if you are an eCommerce seller processing nearly 20-30 orders per day. Along with space management, you need to take care of your inventory, handle manual labor, perform accurate inventory counting and many more related things. It takes away your focus from the core business responsibilities you should be taking care of. Order fulfillment is not just a single process; it's a combination of different procedures and units that work in sync to get your product delivered on time. Hence, you should outsource it to experts who have in-depth knowledge about warehousing and order fulfillment procedures.
How can Shiprocket Fulfillment help?
Once you tie up with us, Shiprocket will take care of everything starting from the sale up until the post-delivery experience of your customer. You need not worry about space management, managing warehouse operations, or sourcing material for packaging — everything will be taken care of by us.

High Capex Investment and Lead Time
We are in an era where expenses are rising, and capital is depleting. In such a scenario, investing in a warehouse of your own can be a considerable risk. The cost of constructing a warehouse based on the built-up area can range from anywhere between Rs. 800-1,500 per sq. ft. for pre-engineered building and Rs. 900-1,600 per sq ft for reinforced cement concrete. As a small business owner, are you ready to go ahead with such a high investment? Think about it!
Moreover, it will take you at least 6-9 months to launch a new warehouse of your own.

How can Shiprocket Fulfillment help?
We will offer you simple, affordable pricing based on the number of orders you process each day. There is no capital expenditure investment required, as the entire Shiprocket Fulfillment service is designed around the 'per-order pricing' method. The lead time will also be reduced by a wide margin because as soon as you connect your eCommerce store with us and send your products, we will start the process of order-fulfillment and ship the product to your customer within 48 hours.

What do Customers want and how Shiprocket Fulfillment will fulfill their needs?
Fast Shipping
Around 49% of customers say same-day or next-day delivery makes them more likely to shop online. Shiprocket Fulfillment will distribute your inventory across multiple locations within the country, meaning most of your customers will receive their orders within 48-72 hours.
Proper Handling of Their Order
No customer would want to accept a damaged product. Due to improper handling of goods, they get damaged on their way to the customer's residence. Experts at Shiprocket Fulfillment will follow appropriate packaging standards that ensure safe transport, storage, and handling.
Low Shipping Charges
Although shipping cost depends on many factors, the distance between the seller's warehouse and the buyer's residence is one of the major ones. Shorter the distance between the two, lower the shipping cost your customer has to pay. With Shiprocket Fulfillment providing you with multiple warehouse locations closer to your buyers, the shipping cost your customer pays automatically goes down.
Proactive Tracking Facility
Customers dislike uncertainty. They need to know where their order is and how long it will take to be delivered. With Shiprocket Fulfillment, your buyer will be notified with all the essential metrics such as "picked", "packed", "handed over to courier partner" and so on.
Start fulfilling your orders with Shiprocket Fulfilment, as our warehousing solution is now live. Keep following us for more interesting updates!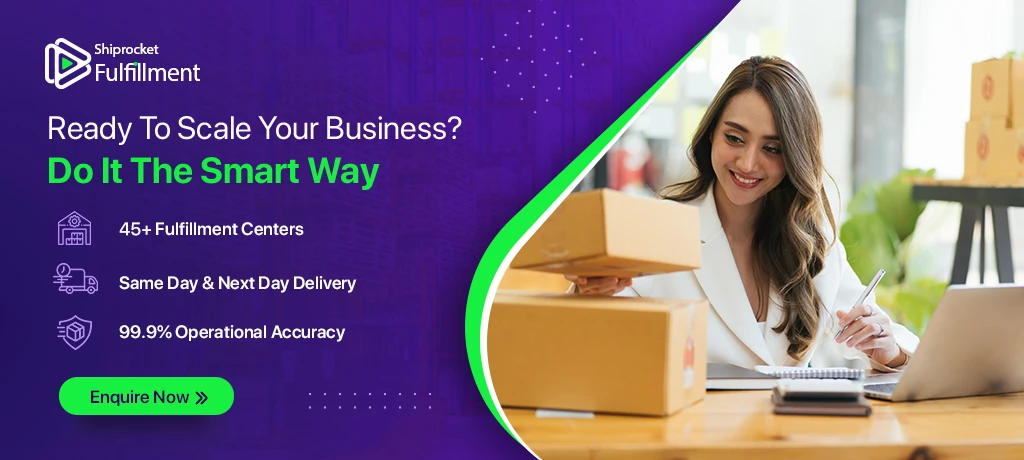 Calculate Your Shipping Costs Now