Shiprocket's Product Updates From March for Seamless eCommerce Shipping
At a time when the entire country is under complete lockdown, the Shiprocket team is continuously working hard to improve our panel, and mobile application features so that we can deliver essential items to your customers during these challenging times. Read on to find out how Shiprocket's latest features will help you with a better shipping experience.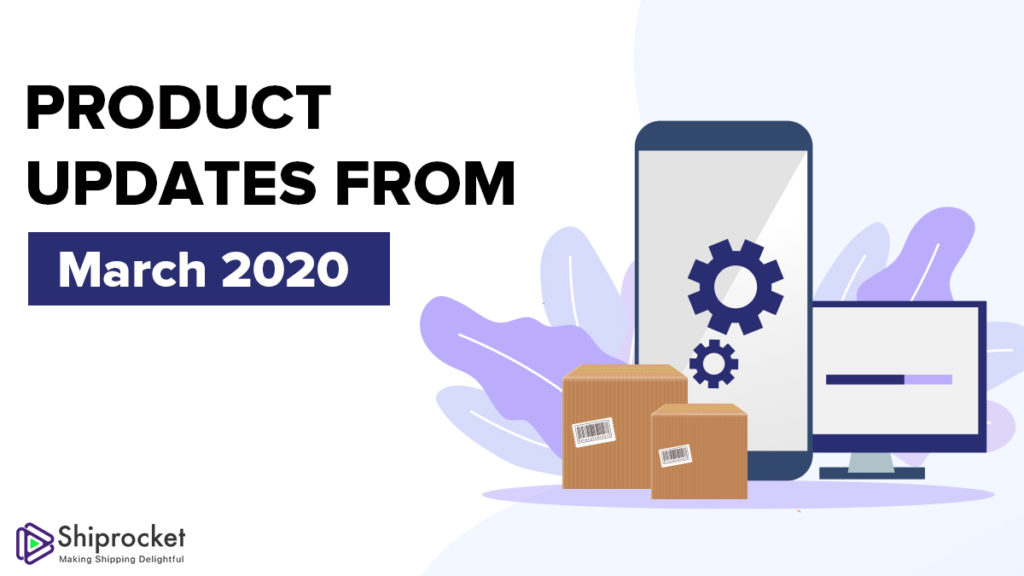 Updated Manifest Process
Time is the key when you are running an eCommerce business. Hence, we have updated our manifest generation process, where we aim to save on your extra time and efforts. You can now download and print a single manifest for all your bulk orders that are in the "Pickup Scheduled" category.
There are two ways you can follow to generate the manifest-
Select "Pickup Scheduled" Orders and Generate Manifest
Go to the "Orders" tab in your Shiprocket panel menu → click on "Generate Pickup" → Select your orders in the "Pickup Scheduled" status → click on the "Generate Manifest" button on your top-right corner.
Scan/Paste AWBs and Print Manifest
If you don't want to print manifests beforehand, you can simply scan or paste the AWB or tracking number and print the manifest instantly at the time of pickup. For this process,
a) Go to the "Orders" tab and click on "Generate Pickup". Next, click on the button on your top-right corner to "generate manifest."
b) To proceed, you can either scan your orders one by one or,
c) Paste all "pickup scheduled" AWBs in the given space.
d) Once generated, print the manifest in your desired format.
You can also scan the barcode of your shipment to generate the manifest instantly at the time of pick up of your shipment before delivering it to the courier executive.
Tracking Widget in Post Ship
We have made tracking of a package much more user-friendly for your customers. Your buyers will now be able to track their orders directly from your eCommerce website through a tracking widget.
How Do You Create The Tracking Widget?
We will provide you with an option to add a tracking widget to your eCommerce website in the post ship module. Once you choose to go ahead with it, you can customize the look and feel of your widget under Post Ship >>Tracking Widget by setting the background, button, and text colors as per your preferences. Post customization, copy and paste the HTML code on your website, and Voila! Your Tracking Widget is ready!.
How Can Your Buyer Access It?
All your customer needs to do is enter the AWB number a.k.a the order tracking number on this tracking widget, and that will take him to the tracking page where he can find the current status of his package.
Mobile App Updates
Along with updating our Panel, Shiprocket is constantly improving its Android and iOs mobile application.. We understand that you access your phone more as compared to a laptop/desktop. Hence, to make shipping from your mobile phones hassle-free, we have updated a few features in our mobile apps.
Android Application
Track the status of your shipment by entering the AWB number
Check the estimated pick up and delivery date on selecting a courier partner
Scanning barcode made much more simplified
iOS Application
Complete your signup by receiving the OTP on call
Save time by downloading invoice and label of your shipments directly from the shipment screen, unlike before when you had to visit the Shiprocket panel to perform this action
Request for download of Proof of Delivery from the app anytime
Overall smooth shipping experience in the iOS app, as existing bugs have been fixed
Final Say
We hope these features make your shipping journey smoother and hassle-free. Many more exciting features will be launched next month that will definitely help you with the easy shipping of your products. Keep following this page for more updates and the latest features. Till then, stay safe and happy shipping!
Calculate Your Shipping Costs Now