Shiprocket SHIVIR 2023: Nurturing eCommerce Businesses of the Future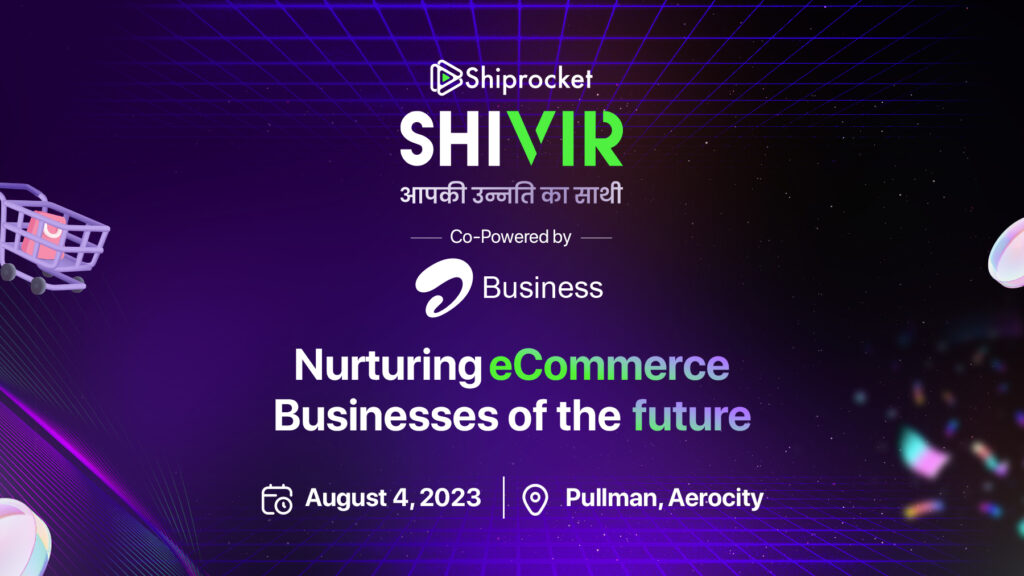 In the last decade, India has witnessed an unprecedented boom in digital commerce, transforming business operations and reshaping consumer engagement. Yet, this growth is no coincidence. It is the culmination of countless efforts by eCommerce stakeholders who have paved the way for success.
To thrive and expand in the eCommerce landscape, businesses must have a well-crafted strategy, the right support, and innovative technologies. It takes meticulous planning, reliable resources, and strategic partnerships to deliver an exceptional digital shopping experience that captivates consumers.
Insightful business conferences provide a valuable platform that brings together various elements required to drive business growth. As enablers of eCommerce businesses, we have played an important role in the growth journey of millions of businesses over the years, and we take great pleasure and pride in this partnership. We are delighted to announce Shiprocket SHIVIR 2023, an event that aims to bring businesses together and help them nurture.
After three successful editions, we are here with the fourth edition of Shiprocket SHIVIR 2023. The event is scheduled to be held on 4 August 2023 at Pullman Aerocity, New Delhi. It will be a meeting ground for more than 100 speakers, over 1000 attendees and over 500 brands. The summit offers unparalleled opportunities for knowledge-sharing and networking.
With the tagline 'Aapke Unnati ka Saathi' and based on the theme 'Nurturing eCommerce Businesses of the Future', the summit brings together India's craftsmen of entrepreneurship, visionaries of Atmanirbhar Bharat, new-age business owners, futuristic service providers and policy regulators/enablers. The aim is to nurture the vision of unifying India's diverse marketplaces, expanding the reach of digital commerce and empowering new-age regional businesses.
The event will feature informative keynotes delivered by industry leaders, compelling conference sessions, enlightening masterclasses covering various topics, and inspiring fireside chats between renowned business leaders. Additionally, there will be a dedicated session called 'Success Stories' (Hero Talks), showcasing captivating 3 to 5-minute presentations by eCommerce disruptors and change-makers, who will share their journeys and achievements.
Shiprocket SHIVIR 2023 will feature a lineup of esteemed leaders who will share their inspiring stories and valuable insights. Some of the notable speakers include Saahil Goel, co-founder and CEO of Shiprocket; Ahana Gautam, CEO and co-founder of Open Secret; Priyanka Gill, co-founder of Good Glamm Group; T Koshy, Managing Director and CEO of ONDC; Sunaina Harjai, founder and director of Hats Off Accessories Pvt Ltd; and Apeksha Jain, founder of The Gourmet Jar. These accomplished individuals will impart their wisdom and experiences during the event, offering attendees a unique opportunity to learn from their success.
Another exciting highlight of Shiprocket SHIVIR 2023 is the highly anticipated unveiling of the exclusive Indian eCommerce Vision Report by Shiprocket. This comprehensive report provides valuable insights, analysis, and projections about the Indian eCommerce landscape, offering a deep understanding of the industry's current trends, challenges, and future prospects.
The event will also host the prestigious Shiprocket SHIVIR Awards'23, powered by IndiaRetailing.com. These are regarded as India's most coveted awards in the eCommerce industry, acknowledging outstanding achievements across various consumption verticals and organisational functions during the financial year 2023.
eCommerce businesses have the opportunity to nominate themselves in multiple categories as long as they meet the eligibility criteria and align with the definitions of each respective award category. The categories include:
Emerging Disruptor of the Industry
Innovation in Beauty
Sustainability & Eco-excellence
Cross Border eCommerce
Innovation in Consumer Durables (CDIT)
Impeccable Craftsmanship
Emerging Brand of the Year
Fashion Trendsetters
Affordable Basics
Emerging Entrepreneurs
Cultural Legacy Sustenance
Winners of the awards will be announced on the evening of 4th August at a guttering awards ceremony.
With a focus on innovation and forward-thinking, Shiprocket SHIVIR 2023 will empower attendees to navigate the complexities of the digital marketplace with confidence.
Those interested in reaping the opportunities the transformative platform offers can reserve their seats online.
Let's embark on an entrepreneurial journey that redefines the realm of digital commerce.
Come be a part of it and experience something extraordinary.
Calculate Your Shipping Costs Now