Here's How Shiprocket Keeps Organic Skincare Brand Svatvak Organics' Customers Happy
The organic skincare industry was born and is rising only because of one reason, i.e., customers. Over the last few years, there is a shift in the skincare market towards organic and natural skincare products. Consumers have become conscious of the ingredients used in skincare products and their side effects on the skin.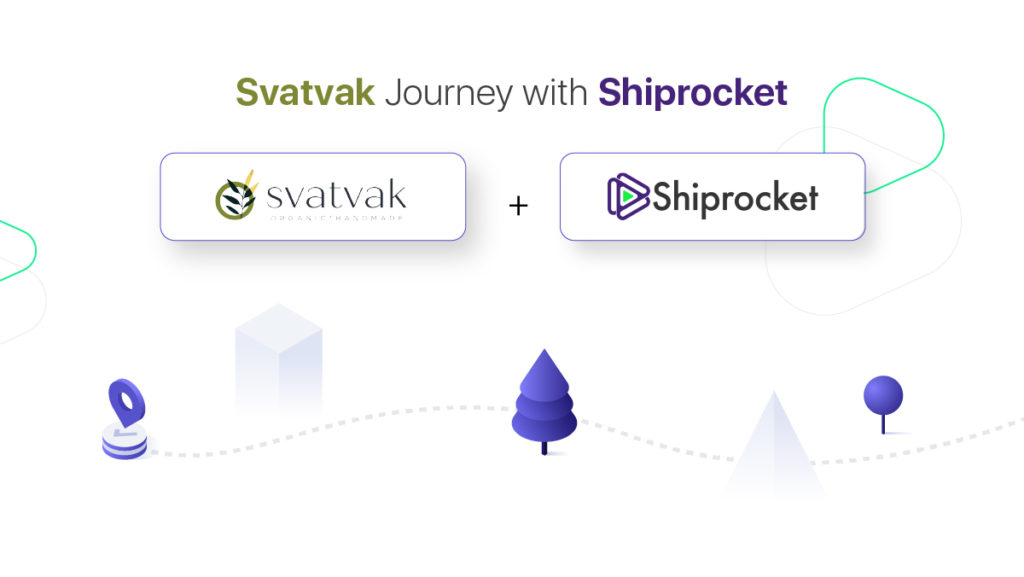 The skincare brands slowly started using chemical-free ingredients for manufacturing the products, which gradually turned into 100% plant-derived or vegan products. Many skincare brands are even using homegrown ingredients for their products. The customers, too, are mindful of words like organic, natural, and cruelty-free.
Initially, the organic skincare industry was a part of the skincare industry, and the products were affordable by the middle to higher income group only. However, many new and affordable brands are coming up these days, and they have started gaining momentum as well. Social media and word-of-mouth publicity are playing a crucial role in these brands' success.
One such brand is Svatvak Organics. Let's learn about the organic and natural skincare product brand and how Shiprocket has played a pivotal role in its success.
About Svatvak Organics
Svatvak Organics is a homegrown business started with a perspective of organic and plant-based ingredients. The founders of Svatvak Organics believe that the skincare available in the market is manufactured using many chemicals and parabens that are harmful to the skin. So, they have been making skincare products for themselves and their family members.
So, they came up with an idea to launch their own organic skincare brand and share their products with others. So, to encourage the usage of plant-based, organic, and sustainable products, Svatvak organics was launched in 2020.
Svatvak Organics – The Problem Solver
In many countries, people still use herbs and kitchen ingredients for healthy skin. Many studies also show that people who practice a healthy and greener approach to life and environment lead a healthy lifestyle. Svatvak Organics manufactures the products keeping the same in mind.
The brand believes that self-love and self-care are two significant attributes to live a healthy life. When people are healthy and practice a greener approach, they tend to live a comfortable and healthy life. The brand promotes the same practices through its products.
Svatvak Organics manufactures organic and vegan skincare products which can be used on all skin types. They have a broad category of products, ranging from face oil and hair oil to hair pack and lip balm. All the products are carefully manufactured using selected ingredients directly from their kitchen. Svatvak Organics sells its products primarily through its website and social media channels on Instagram and Facebook. The brand also follows a completely sustainable approach and doesn't use plastic packaging at all.
The brand wants to bring a change in the lifestyle of the consumers and encourage them to make a shift from chemical-induced products to organic and products.
Challenges Faced by Svatvak organics
All businesses face challenges, but what really matters is how they overcome them. Initially, Svatvak Organics faced many challenges in making a shift in people's lifestyles and asking them to try something new.
Another challenge that they faced was that the products were manufactured without water. Since no water is added to the products, their shelf-life decreases significantly. This also means that the products need to be shipped faster.
Svatvak Organics with Shiprocket

The brand came to know about Shiprocket through a friend. Initially, they were not sure if this will work for them. But, as they started using Shiprocket, they found that the platform has some amazing features and its helpful customer support provides clarity on everything.
The business was started in the year 2020 when lockdown and many restrictions were in place in India. This meant restrictions in shipping the products as well. However, with Shiprocket, the brand didn't face any issues in shipping their products.

In the words of Svatvak Organics, "we are able to place orders easily and track them conveniently as per our requirements. The customer care support has been prompt in solving our queries, especially during the lockdown. Shiprocket has undoubtedly helped us improve our business."
The brand says that they don't anymore worry about delivering or tracking their orders, which was earlier there when they were shipping with local facilities.

In their endnote, brand Svatvak Organics says easy pickups and scheduling has made our work easier. The shipping rate calculator has also helped us to plan our expenses. We can easily rely on Shiprocket, and for us, it is a partner that is easily accessible for the best shipping solutions. Shiprocket is doing a very great job, especially for small businesses like ours. We would recommend Shiprocket to everyone as a logistics partner.
Calculate Your Shipping Costs Now