4 Brilliant Tips For eCommerce Marketing Automation
While aiming to market products and services, businesses should realize the importance of adopting eCommerce automation strategies early on. Due to the high competition, eCommerce marketing strategies should be combined with technological innovations to evolve as a modern business.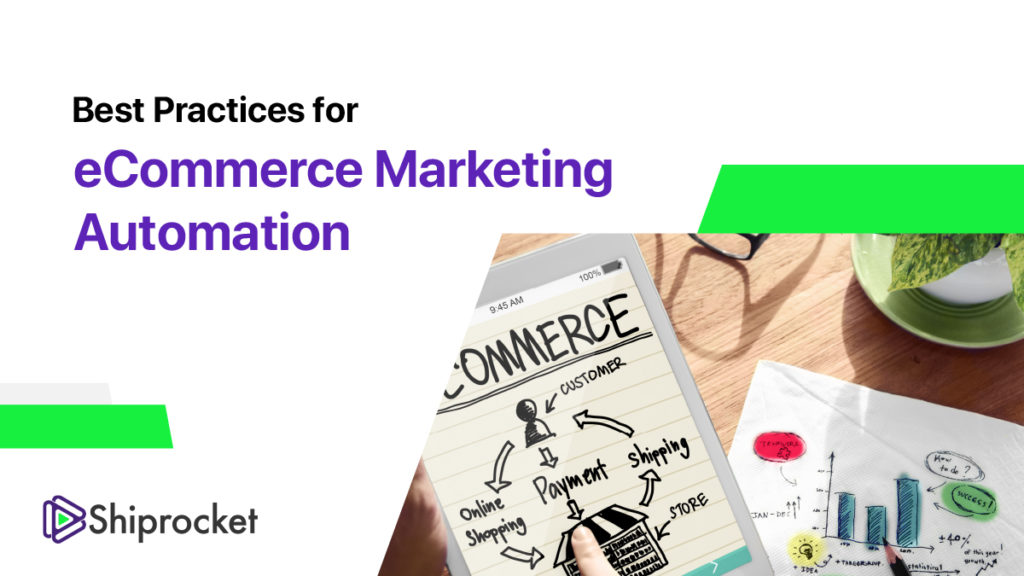 This is how eCommerce automation technology came into existence. It has traced its origins back to customer relationship management or CRM that acted as a rescuer for companies endeavoring to maintain their employees' and clients' records into a central database. But, today, it became the fundamental element and started finding its applications in professional business services as well.
eCommerce Marketing Automation In the Present Scenario
E-commerce automation has emerged as a potentially powerful tool for generating more leads and converting those leads into customers.
The phenomenal growth in more innovative IoT-enabled devices is a clear indicator of automation in eCommerce. It is making data and processes more relevant and valuable in less time. Automation tools work around the clock to keep you ahead of schedule and free to work on more detailed tasks. For example, eCommerce checkouts are now becoming a reality with IoT technology.
In addition to this, machine-to-machine automation tools minimize human errors and efforts. For example, you can confidently manage marketing information, develop marketing campaigns, and run and track them with automated rules.
Another significant eCommerce automation trend you need to know is the better mobile experiences for end consumers. Today more people mainly use smartphones to research products online.
E-commerce automation not only increases positive results but provides your marketing team an extra hand to manage your marketing campaigns.
4 Important Steps of eCommerce Marketing Automation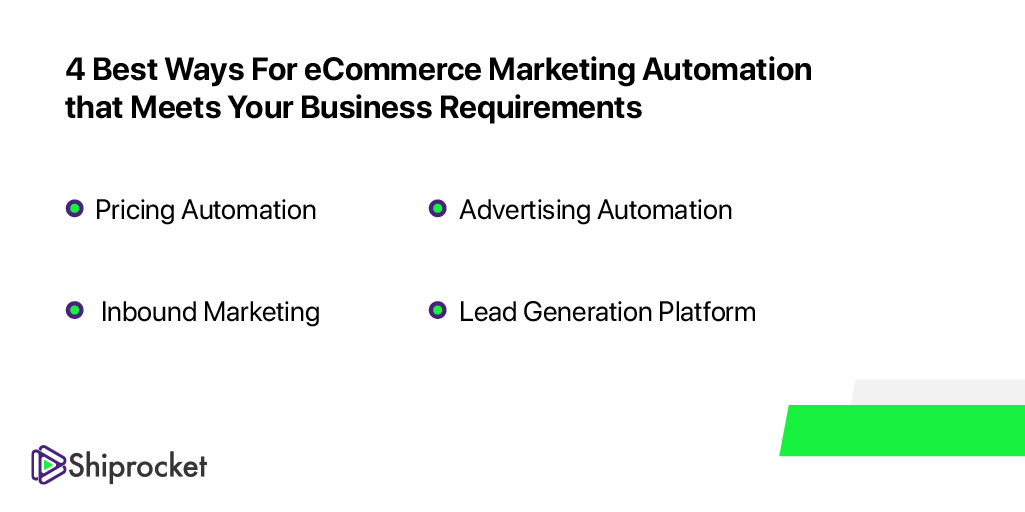 Pricing Automation
Pricing is one of the main factors of any e-commerce business. Businesses using a price automation tool can track their competitor's product pricing. The automation has taken pricing to a whole new level for both online and in-store. Value-based pricing is also one of the crucial factors to consider for businesses. Please consider the value of the customer perspective for a product and then price it according to that. The best example is Gucci, which sold its luxury fashion products at increasingly higher prices because of the brand's perceived value.
Investing in pricing automation tools is a crucial decision that made many eCommerce brands what it is today. It gives the brand an incredible advantage. It provides the retailer with an advantage to know, beat, and match anyone's price in the market.
Luminate Market Price tracking tool tracks the interaction between price and demand changes and allows you to optimize hundreds of prices every day with the power of artificial intelligence.
Prisnyc is a pricing automation tool for all eCommerce companies, automatically tracking competitor pricing information in its web dashboard.
The automation pricing tools will give you an analysis of pricing information according to your set threshold. So there is no need to use spreadsheets to track the competitors' pricing and your profit margins.
Advertising Automation
Ad automation is the process of automating different areas of your digital advertising efforts using software and tools. According to reports, it frees up 30% of your time so you can focus on other vital areas. It also optimizes your ad campaigns and helps streamline lead generation, CTR, CPC, customer segmentation, analytics, and more.
Fortunately, businesses can automate many tasks related to advertising, such as campaign bids, budgets, keywords selection, and everything that goes into optimizing digital ads. Most marketers need the automation tools and software for building ad creatives and optimizing bidding strategies.
AdRoll is the best advertising automation tool that makes it easy to run ads across every channel. It offers relevant recommendations for ads and email using AI technology and an intelligent predictive engine. Adroll allows eCommerce store owners to seamlessly connect their store to the AdRoll Marketing Platform to supercharge ads. Advertisers can find and re-engage more customers with Adroll's advanced and contextual audience targeting. It gives the power to target the right ads and drive high-quality results at the right time.
Zalster is also an advertising automation tool for eCommerce marketers. The tool works by combining automation technology and human expertise to optimize ad campaigns across platforms. It is best to use for Facebook and Instagram ads. Zalster offer features such as auto boosting of ads, creative tools for ad optimizations and simplifies the everyday workload for marketers.
Targeting the right ads to the right prospects at the right time is the key to generating more traffic and leads. The e-commerce marketing tools help businesses optimize and target ads relevant to the customer at the right moment. It simply allows them to connect with their audience and existing customers on a deeper level.
Inbound Marketing Automation
Inbound marketing can be defined as a strategy to draw more customers to your products or services via social media channels, search engine optimization, blogs, and web content. Automation of inbound marketing methodology tells us about what we need to deliver to the customers.
The process of inbound marketing automation allows delivering personalized emails, ads to audiences with content they are likely to be interested in. This ensures the delivery of contextual content fulfilling the consumer's need for relevant answers to their questions and challenges.
It's also possible to implement inbound marketing automation by getting a CRM. The HubSpot is one of the best free CRM tools with easy-to-use features and functionalities. It's a great way to implement eCommerce marketing automation. Also, you don't need to spend a lot of money on inbound marketing.
Marketing executives spend over half of their time spent in CRM trying to manage data and other tasks. Additionally, the increasing complexity of data, processes, and transactions makes it harder to understand customer patterns accurately. AI technology offers a solution to this challenge by automating most of these tasks and offering valuable insights.
By leveraging sentiment analysis during calls and chats, companies can optimize their inbound marketing processes. For example, a CRM with AI-enabled conversational analyses can evaluate customer emotions and respond to them. Similarly, with the integration of natural language platforms, CRM tools can automatically manage email content, ads content, and reports.
While AI and ML technology may provide the benefits of forecasting, sentiment analysis, productivity, cost savings, not every CRM or inbound marketing automation tool can offer predictive analytics capabilities. But your company should implement these applications to bring your business competitive advantage and sales revenue.
Automated Lead Generation
E-commerce automation methodology allows you to take control of the lead generation process. The process of automation is all about generating leads from a landing page or email campaigns, signup form, or social media marketing.
The automation of lead generation flow for your business allows you to set and personalize your interactions with each platform based on current scenarios and personal information about your customers. Inbound marketing is also one thing, but you'll need to automate your lead generation efforts to engage your audience.
Leadiro is a lead generation tool that not only automates your operations but increases your cold email campaign success rate. The tool gives you the ability to quickly identify demographics, context, and companies that are a great fit for your services. Marketers don't need to spend hours on social media channels to identify prospects for qualified leads. Leadiro's is ideal for your lead generation efforts with accurate software insights, hyper-focused b2b data, and perfect time recommendations.
Mailshake is a sales engagement and automation software to get qualified leads. With this tool, you'll be able to send personalized emails to prospects and engage with prospects via social channels and phone. Mailshake lead catcher lets you review and focus on your best leads that will convert. The goal here is to ensure your marketing team doesn't have to manually manage and check your list of leads and rely on quality leads being automatically identified by the automated system. You'll save your team hours of work and be able to get in touch with qualified leads at exactly the right moment.
By implementing these eCommerce marketing automation processes in place, you'll be able to take an overview of the efforts that go into nurturing your leads, ad promotions, automation, and adjustments to improve effectiveness.
Anyone can start automating their eCommerce marketing process using the strategies and tools that we've included here. So if you are ready to supercharge your online eCommerce business, contact us today.
Calculate Your Shipping Costs Now