Top 20 Affiliate Programs in India
In today's competitive marketplace, businesses are trying hard to get consumers interested in their products. Affiliate programs have emerged as a popular marketing tool to address this challenge. Instead of selling products directly, businesses partner with affiliates who promote their offerings through various online channels. In return, affiliates earn commissions or rewards for each successful conversion. If you're an affiliate looking to make more money, read on to know the top 20 affiliate programs that have the potential to boost your income.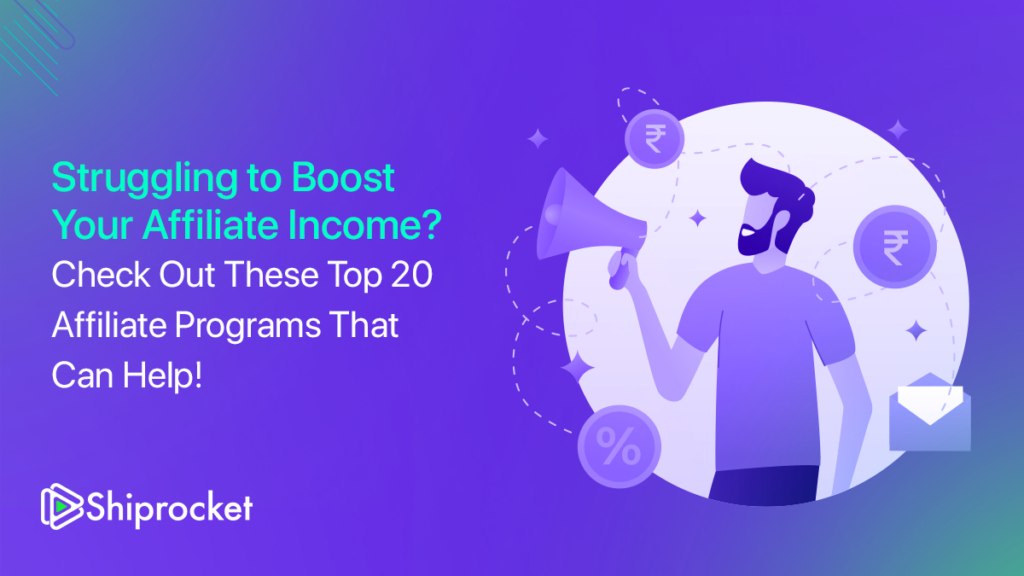 Understanding Affiliate Programmes and their significance in online marketing
An affiliate program is a mutually beneficial arrangement where one business or influencer, known as the affiliate, receives a commission from another business for driving sales. This commission is earned by the affiliate through various means, such as creating compelling internet content, leveraging social media platforms, or integrating products seamlessly.
Affiliate programs can be classified into many types, such as marketing programs, online courses, website builders, web hosting, retailing, cosmetics, travel, personal finances, and investment. These affiliate programs play a significant role in online marketing. It helps to increase the number of persons accessing these sites and helps to sell the products and services faster to a larger audience. Affiliate programs enable brands to develop connections to promote their brands online.
Maximise Your Affiliate Income: Discover the Top Affiliate Programs
With a variety of affiliate programs available, here are the 20 best affiliate programs:
1. Shiprocket
Shiprocket offers an affiliate program that allows individuals to earn exciting rewards and benefits by referring sellers to the platform. By becoming an affiliate partner, you join a community of creators, publishers, and bloggers who are already generating revenue through this program. With Shiprocket's affiliate program, you not only have the opportunity to earn rewards but also benefit from the association with a reputable logistics platform. Shiprocket's advanced shipping solutions and wide reach make it an attractive choice for eCommerce sellers, which, in turn, increases your chances of generating revenue.
2. Bluehost
Bluehost is a web hosting platform. The Bluehost Affiliate Program is a marketing program that is completely free to join. It provides reliable tracking technology to ensure you always get credit for every single referral done through your website, blog, social media channels, etc. One can promote Bluehost by using the banners and text links they provide. They pay fixed commissions of ₹5000 per qualifying signup at Bluehost India.
3. Kinsta
Kinsta is a WordPress hosting platform. Kinsta is a high-paying affiliate program wherein one can receive 5-10% in lifetime monthly commissions. Kinsta's churn rate is less than 4%, which means longer recurring revenue. Kinsta provides various rates of commission based on referring for hosting, reference for application hosting, and reference for database hosting.
4. Wix
Wix is a web hosting platform that offers $100 per Premium referral with no limit on the number of people you can refer to, but there is a payment payout threshold of $300 per month. If the payout threshold is unmet, the amount will roll over into the next month. Wix provides links and creatives in all languages to make it easy for you to include their link on your site.
5. Leadpages
Leadpages, a landing page platform, helps smaller business groups get leads and close sales through easily buildable websites, landing pages, pop-ups, alert bars, etc. An affiliate can earn up to 50% recurring commissions for every new customer referred. They provide a dedicated affiliate support team to provide quick answers. They also provide unique referral links to share with your audience.
6. Shopify
Shopify's affiliate program is free to join and caters to educators, influencers, entrepreneurs, and content writers. By inspiring your audience about entrepreneurship and promoting Shopify, you can earn commissions for each new merchant referral. Joining the program allows you to monetise your audience effectively.
7. Teachable
Teachable, an e-learning platform, helps to create and sell online courses. The affiliate program can help partners earn around $450 monthly, with many affiliates earning $1,000 or more monthly. Teachable provides tracking links, marketing language, and monthly emails about product updates to support your promotional efforts.
8. Kajabi
Kajabi provides all the tools you need to create online courses, coaching programs, memberships, podcasts, memberships, and communities. It is an all-in-one, ready-to-go platform that has everything a business needs. The Kajabi Partner Program is currently open to Kajabi users. As a Kajabi affiliate, you will receive a 30% lifetime commission for any new referral, provided they stay active past their trial period.
9. Thinkific
Thinkific is a platform that enables course creators to build their entire course through pre-built instructors, curriculum, key learnings, and course review sections. The Thinkific Affiliate Program is invite-only. You must know an existing affiliate partner to refer you to the program. By becoming a Thinkific Affiliate, you could earn up to $1700 per referral per year.
10. Instapage
Instapage is a landing page platform that provides tools to launch high-performing digital campaigns. The Instapage partner program will give you a recurring 50% split on each new sale you refer. Instapage rewards affiliates with profit-sharing opportunities and supports their efforts with social media assets and messaging.
11. Typeform
Typeform enables the creation of easy, stylish forms that make data collection interesting. Typeform affiliate program provides $20 for each referral when they purchase an annual plan.
12. Constant Contact
Constant Contact offers powerful email and digital marketing tools to create powerful marketing strategies. Their affiliate program pays $5 for each referral that signs up for a trial and a generous $105 when they sign up for a new account.
13. Unbounce
Unbounce is a landing page platform that combines more than a decade of conversion data with the power of AI to help users design high-converting landing pages. The affiliate program of Unbounce is free and provides opportunities to earn 20% of recurring revenue for every new customer referred.
14. Pabbly
The Pabbly Plus package offered by Pabbly is a comprehensive business management bundle that addresses all your sales and marketing needs. With the affiliate program of Pabbly, every recurring sale will receive a 30% recurring commission. This commission is valid for any user who pays for the service within 365 days of clicking the referral link.
15. Fiverr
Fiverr is a platform that connects customers with the right freelance service provider. The freelance services include categories like digital marketing, graphics & design, video & animation, programming & tech, etc. The affiliate program is free, with commission paid depending on the Fiverr product or service promoted.
16. ConvertKit
ConvertKit is a marketing hub for creators to grow and monetise audiences easily. ConvertKit provides landing pages, forms, email marketing, and designing features to make your work stand out. A ConvertKit affiliate can earn a recurring 30% commission. This commission is valid for up to 24 months for every creator you promote.
17. Moosend
Moosend is an all-in-one email marketing automation solution. Moosend can easily integrate with any eCommerce platform, CRM, or web app without any HTML knowledge. The Moosend affiliate program allows you to earn up to 40% lifetime recurring commission on every plan your contacts buy.
18. Elementor
Elementor is a WordPress website platform that helps users build, manage and host stunning websites. The Elementor affiliate program allows you to earn up to 50% commission on every new sale. It also provides custom rates for high-volume affiliates. They have a minimum payout threshold of $200.
19. HubSpot
HubSpot is a CRM platform that comprises Marketing Hub, Sales Hub, Service Hub, CMS Hub, Operations Hub, and CRM. As a HubSpot affiliate, you can receive a 30% recurring commission for up to 1 year for every sale.
20. FragranceNet.com
FragranceNet.com showcases top designer fragrances and products related to aromatherapy, skincare, haircare, and makeup. Through the Rakuten Affiliate Network, one can join the partners' program. Affiliates can earn 1-5% for every purchase generated through their link. It's a great fit for those in the beauty and personal care niche.
Conclusion
With various affiliate programs available, choose an affiliate program that suits your niche and audience. Ensure that the program you select has a good market reputation, joining terms, cookie lifetime, commission terms, and marketing tools availability. Do proper research and take your time to evaluate these affiliate programs before zeroing in on the correct one to boost your revenues. With dedication and effective promotion, you can create a successful affiliate marketing business and consequently increase your affiliate income.
Frequently Asked Questions(FAQs)
What are the advantages of Affiliate marketing?
Affiliate marketing helps businesses to target customers with products using a low budget, less effort, and less time. If managed well, it guarantees a high return on investment and helps to increase brand awareness and growth.
Are affiliate programs worth investing in?
Yes. Affiliate programs help marketers earn an income, provided they can target the correct audience and promote products that match their preferences and requirements.
Are there disadvantages to affiliate programs?
A few disadvantages of the affiliate program are no guarantees of revenue, the possibility of stealing affiliate links, and an inability to control competition.
Calculate Your Shipping Costs Now