What is the Value Chain in eCommerce and Why it Matters?
All eCommerce platforms have a value chain. Professor Micheal Porter coined the idea of a value chain at Harvard Business School in 1985 in one of his books, "Competitive Advantage: Creating and Sustaining Superior Performance."
Every single executive in the world certainly spends time thinking about how their goods and services stand out and how they can ensure maximum profits. It is the biggest dream of any business. The value chain model helps businesses establish their competitive edge and refine their business practices to operate efficiently and have the largest possible gain margins.
Let's explore value chains in eCommerce businesses in detail, their importance, the components that make up the value chains, and more.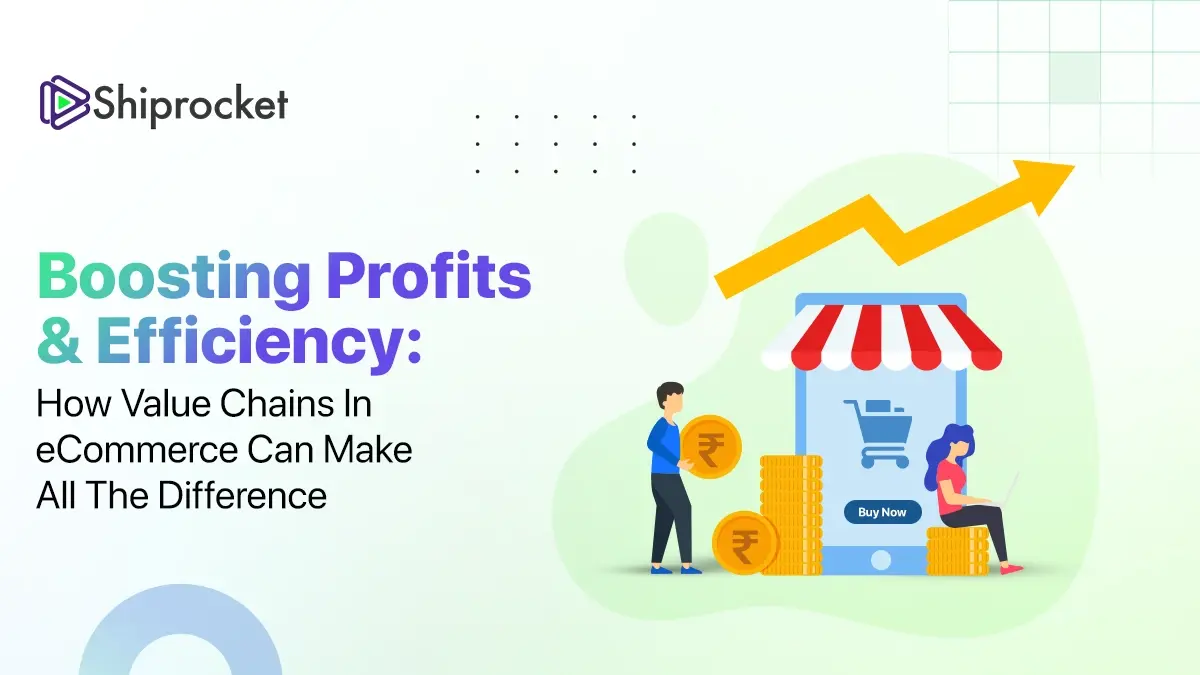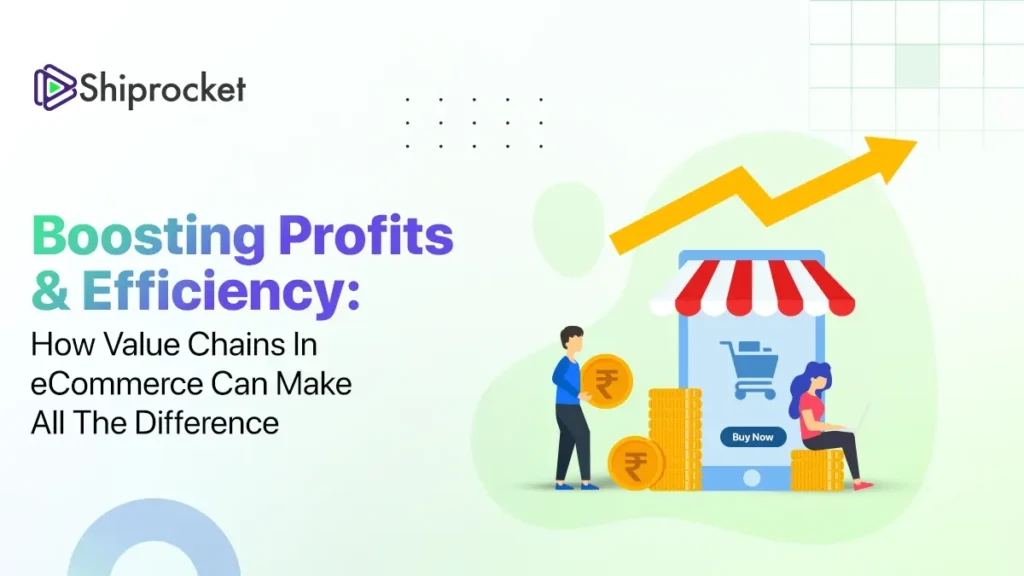 Grasping the Value Chain Concept
The eCommerce value chain is where a business creates and delivers goods and services to buyers over the Internet. The chain includes six major components, mainly:
Infrastructure
Content
Customer service
Security
Payment
Order fulfillment
Content means digital products or data businesses offer on their platforms. Infrastructure includes all the business's hardware, software, and networking capabilities to run all their operations.
Order fulfillment is simply the process of completing customer orders, including all the warehouse and inventory management, order processing, and shipping. Consumer services include all these activities businesses undertake to assist buyers before, during, and after purchasing.
Protecting all eCommerce data and systems from unauthorised access, cyber threats, and thefts is a part of security. The mode of enabling monetary transactions for goods and services is known as payment. eCommerce businesses can ensure a successful operation by effectively managing these components.
In-Depth Look at the eCommerce Value Chain
The value chain provides a framework to help businesses identify and group their functions into first and second-priority activities. To understand the value and need for the value chain in the eCommerce world, rewinding to 2020, when the COVID-19 pandemic began, will make it easier. As the global market has seen financial crises, economic slumps, climate change, and rising geopolitical changes, every industry in both manufacturing and eCommerce has been significantly impacted.
Since it began, all eCommerce businesses have engaged in several activities to deliver and fulfill their orders. These activities include acquiring raw materials, processing, manufacturing and assembly, packing, and dispatch. Together, these tasks fall under the purview of eCommerce value chain workflows.
Before the internet became so vastly popular, like in the early 2000s, the idea of value chains only applied to businesses like the brick-and-mortar or cement industry. It was clear, fair, and simple. These were produced in factories and sold to retail outlets, which were sold to the consumers. But the development of the internet has revolutionised every business possible.
Unlike before, where goods and services were sold to retailers, products were shipped to storage facilities and fulfillment hubs as inventory. These are then purchased by buyers from online retailers and delivered directly to the buyer's doorstep.
Buyers do not need to be physically present at a store. Instead, they browse online after preliminary research about the product before purchasing. All this is possible through value chains as companies assess their activities to ensure they provide the best for their consumers.
Expert Insights: Significance of the eCommerce Value Chain
Value chain experts have dived deep into the significance of value chains in eCommerce models. They have elaborated on how value chains improve the elementary features of an eCommerce platform that also identifies and meets consumer priorities. Customer priorities include all those factors for which they will pay a greater price or switch to suppliers who possess them.
Here are some of the major benefits of an eCommerce value chain:
Streamline and optimise activities to enhance output and reduce business operation costs.
Understand and build on the core competencies and other areas that need improvement.
Create a cost benefit over competitors.
Understand the relationships and interdependencies between different activities and areas of the business.
Determine where there are ineffective processes in place and propose corrective actions.
Support decisions of different business activities that emphasise granular workflows in detail.
Essential Components of an eCommerce Value Chain
Analysing and understanding all the activities and sub-activities value chains and their relationships helps eCommerce platforms understand them and their interdependent functions. It is known as a value chain analysis when value chain concepts are implemented in their activities. Here are the essential components of the value chain:
Primary activities
These activities help you enhance your product's physical creation, maintenance, sale, and support. The activities included:
The internal handling of resources and their management comes from outside sources like external vendors and other supply chain contacts and sources. Such outside resources flowing into your business are called "inputs." These inputs might also include raw materials.
Workflows and processes that convert inputs to outputs are a part of the operations processes. The outputs are the integral core products that allow you to sell the completed goods and services for a higher cost than the cost of the raw materials plus production to create higher gains.
The outbound operations include all the delivery outputs to the customers. Workflows involve different storage, collection, and distribution methodologies to the buyers. These include managing all the internal and external systems for your business.
All the branding and advertising are also value chain activities. They strive to enhance visibility, reach a larger target audience, communicate with buyers, and advise them on what to purchase to suit their needs.
Customer services and product support activities that reinforce a long-term and reliable relationship with the buyers who have bought your products and services.
Because the inefficiencies and management problems are extremely easy to look out for, preliminary activities are a source of business advantages. It means the business can make a product or service at a reduced cost than its competitors.
Secondary activities
The secondary activities support the primary ones. These include:
One of the key secondary activities is finding outside vendors, building and maintaining vendor relationships, negotiating costs, and other such activities connected to bringing in the required materials and resources to assemble a product or service.
Management of human resources
It includes the complete management of the human capital. It includes all the functions like training, hiring, maintaining, and building a business's culture. It helps in creating a healthy work environment and positive employee relationships.
Development of technology
Research and development strategies, IT, and cybersecurity management that help you build and maintain a business's technology comprise an important value chain activity. It ensures seamless operations throughout the supply chain.
Business's infrastructure
All the mandatory business activities like legal, administrative, general management, finance, accounting, public relations, quality, and safety assurance are a part of the company infrastructure activities.
Connecting the Dots: Value Chain and Supply Chain in eCommerce
In the eCommerce world, value and supply chains are two important supporting factors of the supply chain. They are intricately connected, and people use these terms interchangeably. There are several conceptual differences between these two terms in any eCommerce model.
The value chain process includes acquiring and manufacturing the completed product. On the other hand, the supply chain involves the services needed to deliver the finished product to the end customer. The value chain model elaborates on the methods to enhance product values as it progresses through stages, from assembly and manufacturing to distribution. The supply chain helps you determine consumer satisfaction methods when an order is placed within an eCommerce platform.
With a value chain analysis, businesses can assess activities and steps to enhance the final product. With supply chains, planning, coordination, and integration of stock flows and inventories within the business becomes easier.
Real-Life Value Chain Model Example
Understanding the value chain becomes much easier with a real-life instance. Let us consider Amazon, the eCommerce giant. It is a very client-centric corporation, and it follows the below primary activities:
The Amazon fulfillment services and data centers that form the heart of Amazon Web Services (AWS) supply products that are the key inputs of the business. By outsourcing, they minimise costs per unit.
They go beyond in-house distributions and capabilities due to co-sourcing and outsourcing from locals. By using robotics in warehouses, they also reduce labour costs.
This is the stage where Amazon converts its inputs to outputs. Their bi-directional delivery processes allow them a substantial benefit over their competitors.
Amazon has a wonderful sales and marketing team that has effectively demonstrated a large economic power to hold its position among the best brands in the world.
Mastering eCommerce Value Chain Analysis
A study that assesses every single activity that allows a company's value chain is called value chain model analysis. eCommerce businesses Conduct this study to understand where improvements can be made to enhance brand value and consumer value.
Performing this study can become extremely simple by following these three steps:
Step 1: Determine and understand all the activities included in the value chain process
Step 2: Understand and evaluate the costs of different activities included in the supply chain process
Step 3: Find alternative methods and strategies to gain a competitive edge against your competitors.
Conclusion
Value chains in the eCommerce world facilitate the study of all the operations involved in producing a finished product for sale. It also includes all the cost-reduction techniques that help your business maximise profits. They provide tips to streamline and optimise your processes, remove waste, and boost gains using value chain techniques. Moreover, it also helps you gain relevant insights into the inner workings that enhance the customer's overall experience while improving operational efficiencies. Thus, the value chain processes help businesses give the best to their consumers while investing the smallest possible amounts.
What are the six steps in the value chain in eCommerce?
You can begin the six-step value chain process by identifying the primary and support activities, estimating the cost of these activities, and identifying which activities will deliver great value to your customers. Once these steps are done, you must analyse the relationship between different activities, identify opportunities, and finally execute your strategy.
What are the challenges associated with value chains in eCommerce?
Managing inventory is the biggest challenge eCommerce businesses might face in a value chain. But it's not the only challenge. Other challenges include fluctuations in demand, meeting customer expectations, store management, deficiencies in infrastructure, tracking, and shipping-related issues.
Are there different types of value chains in eCommerce?
Value chains are not specifically classified into types, but they involve a series of activities. eCommerce businesses must perform these activities to deliver value to their customers. These activities involve the entire process, from planning to manufacturing to packing and shipping products to your customers.
Calculate Your Shipping Costs Now