WhatsApp Chatbot Integration – A Complete Guide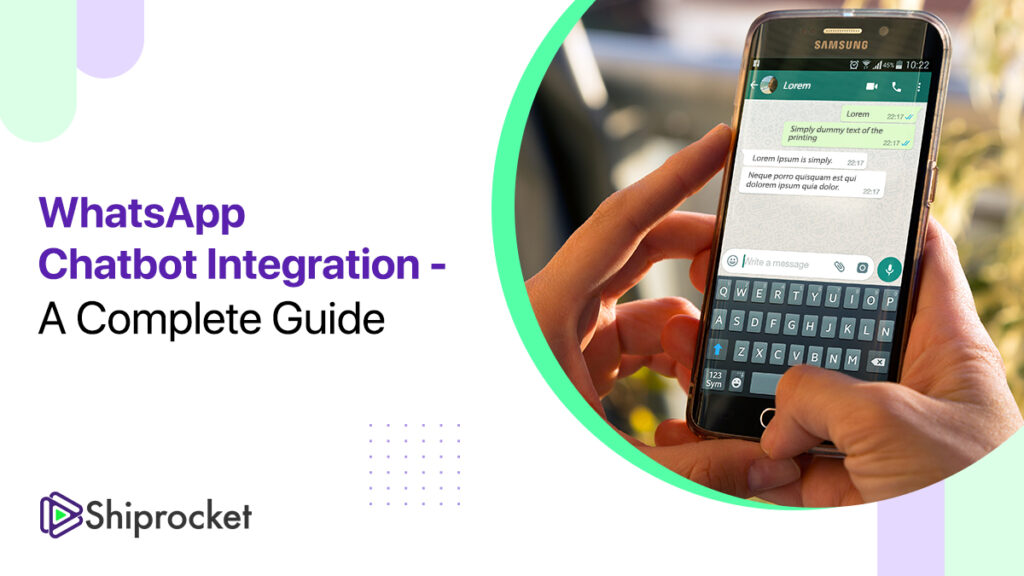 A WhatsApp chatbot is an automated piece of software that utilises artificial intelligence (AI) or rules. Users can converse with the WhatsApp chatbot through the chat interface in the same way you would with a real person. It's a string of automated WhatsApp replies that look like real human dialogue.
WhatsApp made its API available to all sizes of enterprises in May 2022. The WhatsApp API was previously only accessible to medium-sized and large organisations, therefore smaller businesses had to get in touch with alternative providers.
Today, any organisation can access a New Cloud-based API by immediately signing up or getting started through one of the business solution providers. Why not use WhatsApp Business to improve customer communication today? The process only takes minutes as opposed to months. WhatsApp business today?
Want a WhatsApp chatbot. Where do we start?
Before you begin creating a WhatsApp chatbot, you must finish the following 3 steps.
Step #1 Meet WhatsApp API limitations
Industry
WhatsApp pays attention to the industry your business operates in.
For example, it is tough to get API access for these industries:
– government,
– political organizations,
– independent software vendors,
– healthcare,
– supplements.
For these industries, it is easier to get API access because WhatsApp encourages them:
– financial services,
– retail,
– education,
– real estate,
– and telecom.
Chatbot's purpose
The aim of the chatbot is the most important restriction.
It's forbidden to use the WhatsApp chatbot for marketing and promotional notifications.
For customer support and non-promotional updates, WhatsApp chatbots work best. You are more likely to be granted WhatsApp API access in certain circumstances.
Step #2 Get WhatsApp Business App
If you checked WhatsApp API limitations and are sure that you are eligible – the next step will be registering your business in WhatsApp Business App.
There are 2 types of WhatsApp Business profiles:
– Official business account ( also known as a "green tick")
– Business account
The differences between them are a green checkmark badge and a visible business name.
You must download the WhatsApp Business application in order to create a WhatsApp Business Account (from Apple Store or Google Play Market). Then, use a UNIQUE phone number to register your company.
After receiving approval for WhatsApp Business APIs, you can submit an application for Green Tick.
Steps to get an official business account:
1. First, apply for WhatsApp API access through a WhatsApp Business Solution Provider
2. Once your WhatsApp Business API access is approved, you can reach out to your Business Solution Provider to apply for an official business account (green tick)
Step #3 Getting access to WhatsApp API
The final and most important step is to create a request for access to the WhatsApp API. There are two ways to gain access to the WhatsApp API:
First, submit an application for WhatsApp API access through a WhatsApp Business Solution Provider.
You can contact your Business Solution Provider to apply for an official business account (green tick) once your WhatsApp Business API access has been granted.
1. Partner up with business solution providers:
Working with a Business Solution Provider is advised by WhatsApp. There are 65 partners as of right now.
You must apply for access to the WhatsApp API by getting in touch with the partner's representative.
2. API self-request:
If working directly with WhatsApp is more your style, you can gain access to it by using the WhatsApp Business Platform. WhatsApp now provides communications on a scale for businesses of any size.
Step #4 WhatsApp Business Pricing
After setting up the WhatsApp Business API, be sure to take the price into account. From February 1, 2022, WhatsApp Business pricing will follow a conversation-based approach.
Prior to now, WhatsApp charged users for communications initiated by businesses and sent outside the 24-hour timeframe. Every communication counts under the new price scheme, regardless of who initiated it.
There are two conversation scenarios that will come into charge:
Initiated by user: Any form of client inquiry delivered to your firm that was initiated by the user. Once a company responds to it, the conversation begins and ends within a day. Businesses only need to pay once for a 24-hour chat session; there are no additional fees for any messages delivered during this period
Initiated by business: These are regarded as user-received message templates or any other type of message sent on a regular basis outside of the 24-hour support window. Regardless of whether the consumer responded, the session in this situation starts as soon as the message is delivered.
To Sum Up
Businesses now have countless options for connecting with and engaging with their enormous audience thanks to WhatsApp, a network that links billions of consumers every day. With WhatsApp for Business, businesses can now communicate with customers .Using WhatsApp chatbots, you can rapidly and efficiently engage users on the platform they choose.
Before beginning WhatsApp chatbot development, you should be aware of the platform's numerous restrictions. Building the bot from scratch might be difficult and time-consuming.
Different chatbot-building platforms can be used to build WhatsApp bots, but you should be cautious when choosing your vendor because some of these platforms won't help you obtain your WhatsApp company clearance. You also won't be able to launch your chatbot without WhatsApp's permission.
Calculate Your Shipping Costs Now