Zoho Commerce x Shiprocket – It's Time to Take Your Shipping To Even Greater Heights!
At Shiprocket, we are continuously working hard to make eCommerce shipping easier for your business. Therefore, our channel integration list is growing, and we are bringing on board more and more sales channels and cart software to make shipping more convenient and efficient for your business.
The latest addition to our list of channel partners is Zoho Commerce. Many of you must already be selling on Zoho Commerce, and may already be aware of this powerful ecommerce platform. So, let's dig deeper into what Zoho Commerce is and how you can integrate it into your Shiprocket account! Also, a surprise awaits you at the end. Read on-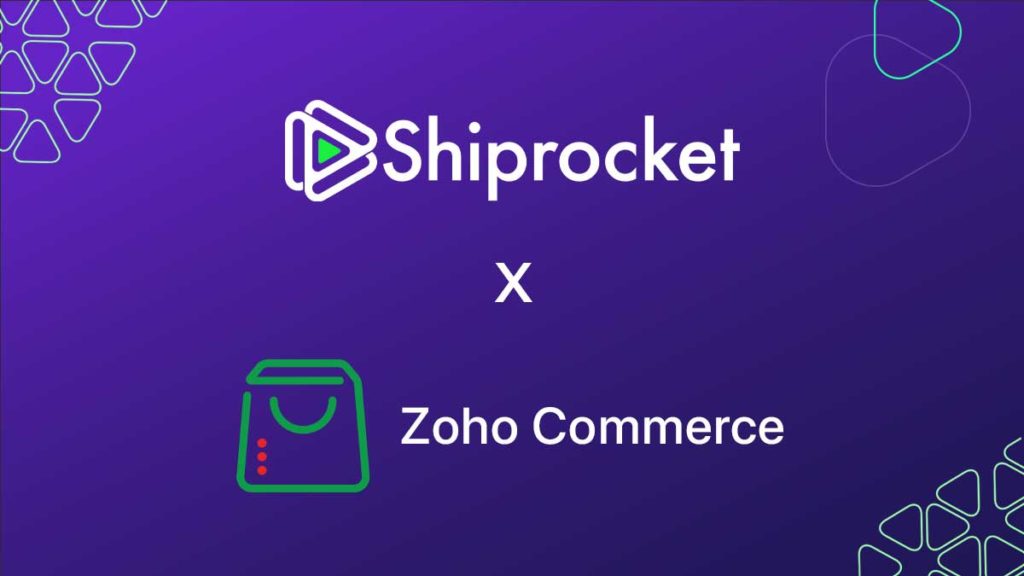 Zoho Commerce
Zoho Commerce is an end-to-end SaaS-based e-commerce platform that enables businesses to build their own ecommerce store, manage orders, track inventory, process payments, manage shipping and fulfillment, and market their brand without requiring any prior coding knowledge or experience.
Zoho Commerce powers merchants in 30+ countries, with competitive pricing plans fitting every need, budget, and scale-up requirement, and is a preferred platform for several SMEs and ecommerce sellers in India. With Zoho Commerce, you also get powerful integration applications for shipping, payments, marketing, analytics, accounting, taxes, CRM, stock management, and productivity to upscale your business as it grows.
A key element of a successful ecommerce store is shipping, for which you need a reliable logistics solution. Enter Shiprocket – a powerful shipping solution for your business needs!
You can integrate your Zoho Commerce account with Shiprocket to carry out full-fledged logistics operations for your store.
Integrate your Shiprocket Account with Zoho Commerce
Once you download the Shiprocket application from the Zoho marketplace, you will need to create an account with Shiprocket.
Click on Shiprocket under the Integrations tab of your Zoho Commerce store's Settings page, and then click on the Access Shiprocket button. This will take you to the home page of Shiprocket. Use your login credentials to enter the seller panel.
Next, follow the below steps to integrate your Zoho Commerce account with Shiprocket and import orders automatically:
Go to → Channels. Here, click on the "All Channels" tab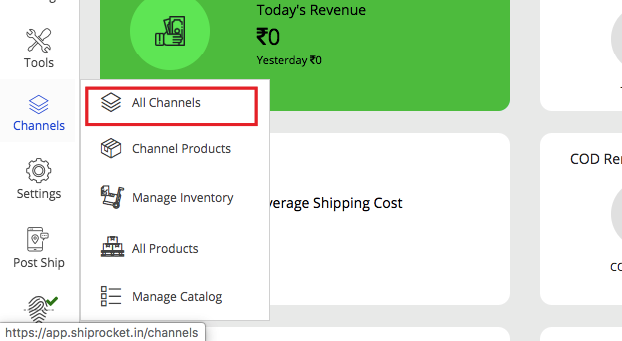 2. Next, click on the "Add New Channel" button placed at the top-right corner of your screen.
3. Here, click on the channel "Zoho_Commerce"
4. On the next page, click on the "Connect to Zoho" button.
5. You'll be diverted to the Zoho login page. Log in to your Zoho account by entering your username and password.
6. Once logged in, a pop-up will open where you can verify your account integration with Shiprocket by clicking "Accept".
7. Now, you will be redirected to the Shiprocket "All Channels" page. Here you can edit your "Zoho" channel to modify it as per your preferences.
Once you integrate your Zoho Commerce account with Shiprocket, your orders from the store will be automatically synced with Shiprocket, and all orders will be automatically imported into your Shiprocket account for easier processing and management.
Final Thoughts
Shiprocket can help you dispatch your Zoho Commerce store orders without any hassle. It is a great way to synchronize operations and make shipping and fulfillment streamlined for your business. We are live with Zoho Commerce on our platform, and if you are a Zoho Commerce seller, now is a good time to elevate your shipping and logistics to the next level. With the advance plan subscription, you can also take advantage of various fulfillment features to make ecommerce shipping more potent for your business.
So what are you waiting for? Sign up on Zoho Commerce today to build your dream ecommerce store in minutes!
FAQs (Frequently Asked Questions)
Can I integrate my Zoho Commerce account with Shiprocket?
Yes, you can integrate your sales channel on Zoho Commerce with Shiprocket.
How can I integrate my Zoho Commerce sales channel with Shiprocket?
Follow these simple steps to integrate your Zoho Commerce sales channel with Shiprocket.
Why Should I integrate my online store with Shiprocket?
Integrating your online store with Shiprocket allows you to process your online orders and manage inventory efficiently in one place.
Can I also integrate WooCommerce with Shiprocket?
You can integrate all top sales channels and marketplaces with Shiprocket, including WooCommerce.
Calculate Your Shipping Costs Now