What Is mCommerce And Why Does Your Business Need It?
Mobile phones are something you cannot do without. From paying bills to shopping online, people use their mobiles for everything. So, why should your store stay behind? When the world is making a shift to buying from the cell phones, it's high time you do too. Let's take a closer look at what mCommerce is and why you should invest in it.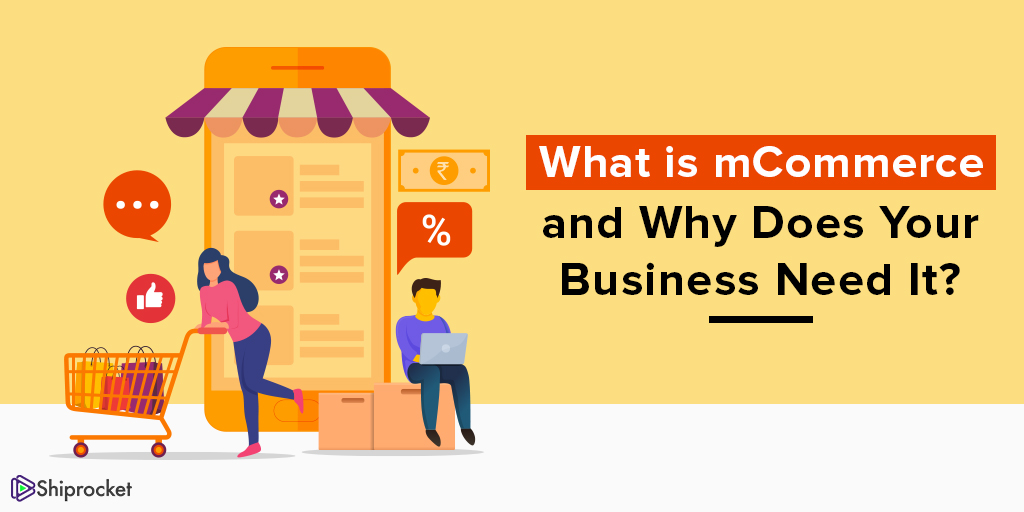 First things first, what is mCommerce?
mCommerce or mobile commerce refers to the process of buying and selling products through devices such as mobile phones, tablets, etc.
In simple terms, it is the process of setting up your shop on a platform where someone using a mobile phone can purchase it. So, if you have a website, it should be designed to work efficiently on a mobile browser, and if it's an app, it should have all the features of your store so that an individual can make a purchase directly from here.

Broad components of an eCommerce mobile application
Simple registration process
The onboarding process of your mobile app/website should contain not more than six fields. Ask for the relevant details like email address, mobile number, and shipping address. Other preferences can be recorded as the user interacts with the application.
Product descriptions & images
The product images and descriptions in your mobile app/ website should be optimized. As space is less, the content should be written in a crisp and catchy manner. You must not emulate the same material like that on the website, and vice versa as the platforms are different and the people access them with different intent.
Easy checkout process
The checkout process on the app must be short. It should not have many steps, and all necessary details must be recorded early on. To provide users with a seamless experience, you can also synchronize the app and website so that the user can log in directly without entering the details twice.
Payment gateway
The payment gateway you choose must have maximum payment options that support mobile payments. These provide users with multiple payment options which in turn will enable them to make purchases sooner.

Analytics
Analytics plays a critical role in any website/mobile application. Therefore, when you set up your app/mobile site, enter an analytics tracker in the framework, just like you would do for your website.
Customer support
An essential aspect of every eCommerce front. A mobile app, website, etc. are just fronts to your store. Customer support will always be necessary to tackle complaints, queries, etc. You must choose software that accommodates mobile-based platforms, and the team must be trained to look into complaints in a practical fashion.
Order Fulfillment
Even though this does not affect the user directly; it is imperative for your store. You have to make sure that the orders coming in from the mobile app or website are in sync with your shipping software. You can use platforms like Shiprocket that enable you to ship across India at rates starting at Rs. 27/500 gms. Also, you can directly sync your shop with their dashboard to automatically import orders.
Why should your business opt for mCommerce?
mCommerce has come into play as a branch of eCommerce that is growing rapidly. As the comparison table iterates, mobile commerce is slowly becoming your customer's preferred mode of purchasing things online. Here is a look at some of the reasons why mCommerce imperative for your business

Below are a few facts that state how mCommerce is growing to become the most sought after mode of purchasing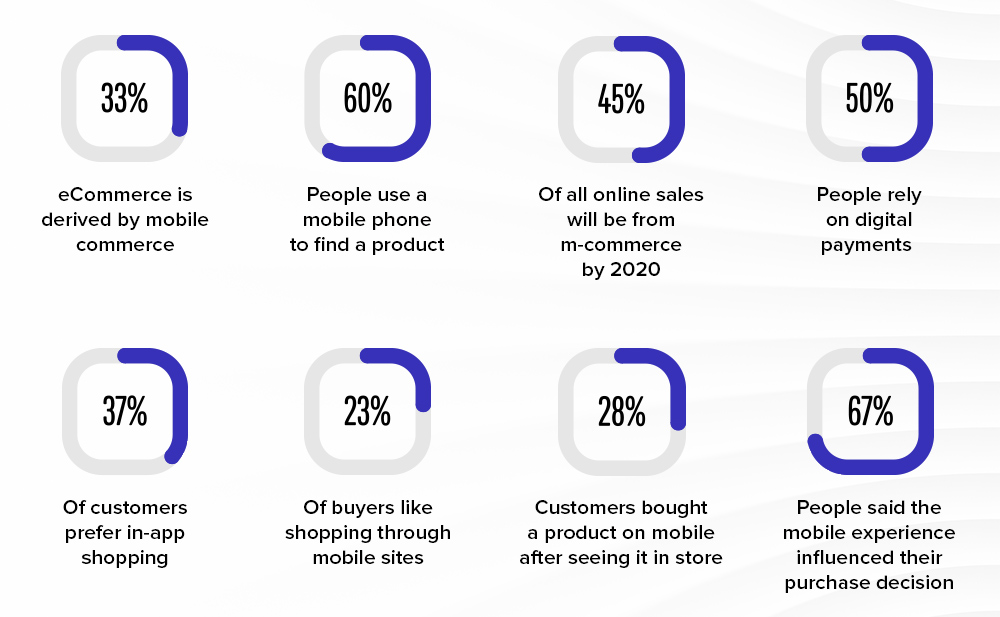 Here are a few other reasons to opt for mCommerce today!
Accessibility
A user can easily access your site's mobile app from anywhere at any time of the day. As individuals always carry their phones, it provides them with improved accessibility and their purchases can be completed faster.
Portability
The concept of 'carry your store with you' comes alive with mobile applications. A buyer can place an order on the go and also track them through the app itself. Also, if the website is optimized for mobile phones, it can make a massive difference to the number of people who access the site to complete purchases.
The rising number of users
In 2018, 54% of the people utilized mobile commerce for their online purchases. This number is only expected to rise by 2020. Therefore, it is a good idea to invest in mobile commerce which includes a mobile application and a mobile responsive website.
Enhanced user experience
As the mobile platform is smaller and subjective to each individual, the experience can be minimalistic and personalized for everyone who uses it. Furthermore, you can provide each user with personalized offers, push notifications, content, etc. with mobile commerce.
Increased payment options
You can offer customers with payment through mobile wallets. Since these have become an essential aspect of how you pay for day to day transactions, the conversion time for every sale can reduce drastically.
Ongoing mCommerce trends
Personalized experiences for mobile
eCommerce personalization is an upcoming trend which can be put to good use with a mobile phone. Customers have agreed that individualized offers and recommendations play a significant role in a purchase decision. Therefore, make sure you utilize push notifications, emails, and other methods to provide your customers with a personalized feed.
Mobile chatbots
To provide advanced customer service to buyers, eCommerce companies are now opting for chatbots in their mobile website and application. It works on Natural Language Processing (NLP). This provides a conversational experience to the buyer and enhances your customer experience by many folds.
Omnichannel retail
Omnichannel retail is a fairly new approach where you can sell across all channels in a unified manner. Mobile applications are one of the important aspects of omnichannel retail as it is a platform that attracts many customers. A mobile app and website positively contribute to the omnichannel experience and makes shopping easier for customers.
Native mobile applications
Native mobile applications are faster than mobile websites. Also, they give you a channel to send across push notifications and alerts to your buyers more easily. With apps, you can also add wishlists and give the user different customized looks. These features can play a significant role in increasing the average order size.
Augmented reality
Augmented reality is a fast-catching marketing phenomenon where the user can virtually experience the product in the app. Lakme is a good example where users can try out the different cosmetics on their images to get an idea about how the product will look on his/her face.
Voice search options
Voice search is the future of eCommerce. If you do not optimize your listings for semantic search, there is a good chance you may not be able to sustain the competition shortly. Voice search is becoming familiar with assistants like Siri and Alexa. They help buyers in locating their desired products and also reduce the purchase time by almost half.
Single click payment
Most mobile apps offer single-click payments. This includes finalizing the product and paying directly without having to enter details such as card number, account details, etc. again and again. One way is to integrate the single click payment option into your platform. This saves ample amount of time and increases consumer flow.
Calculate Your Shipping Costs Now