How Shiprocket Helped Azzah Perfumes Ship Products From Their Doorstep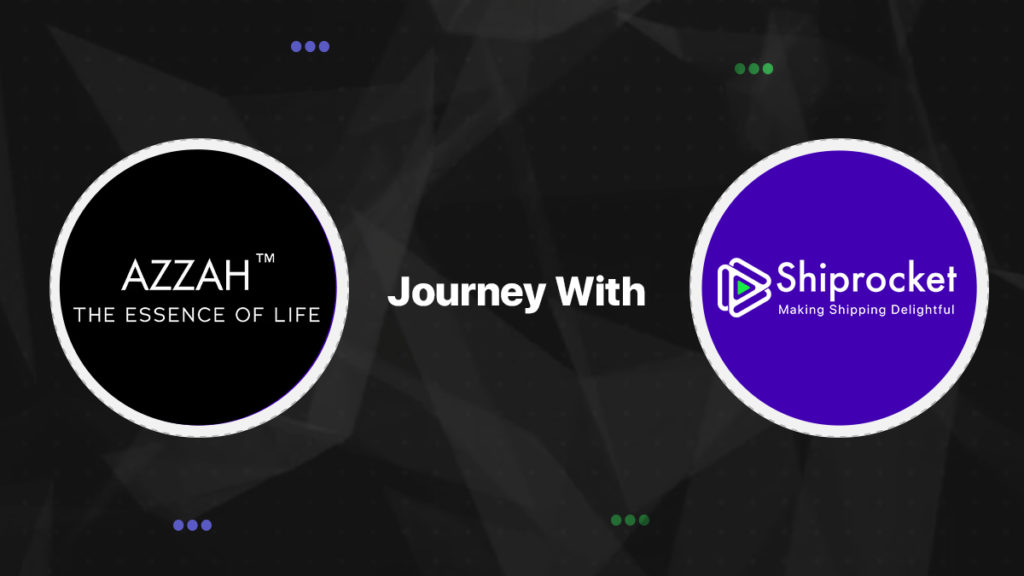 "You are never fully dressed without perfume" – C. JoyBell C.
Fragrance products like perfumes and deodorants have gained significant popularity as an essential personal care product in recent years. As per a Business Wire report, the fragrance industry is growing at an annual compound rate of 15.93% and is expected to reach Rs. 139.44 billion by 2024.
Earlier, wearing perfume was only associated with keeping unpleasant body odors at bay and ensuring that you smell nice and fresh. But now, the significance of wearing perfumes has changed. It is associated more with the personality and lifestyle now. People have started wearing designer perfumes that define their personality and are also willing to spend more on perfumes.
With time, people have also become conscious of what they are using on their skin. They are not only looking for long-lasting perfumes but also environment-friendly and chemical-free options.
The Inception of Azzah Perfumes
Sensing the great opportunity that lies in the perfume industry, the brand Azzah Perfumes was established. Passion for perfumes and the will to do something environment-friendly are the two crucial factors that drive the brand Azzah Perfumes.
Most players in the perfume industry hire factories and use chemicals and additives to make perfumes. The brand Azzah Perfumes has revolutionized this approach and makes fresh fragrances as per the needs of the clients. They deliver exactly what their clients want!
"Why compromise on fragrances when you can get one made as per your preferences."
The product line of Azzah Perfumes includes natural and skin-friendly fragrances for women, which are handmade without any chemical ingredients. All the perfumes made by the brand are long-lasting and skin and health-friendly.
Like any other business, Azzah Perfumes also faced many challenges initially. Their primary challenge was to gain customers' trust and make them believe that someone can actually make natural, long-lasting perfumes. It was hard for them to compete with other big giants already operating in the market and make the customers trust their capabilities.
"Making our target customers trust us and convince them to buy our products even for just once was a challenging task."
The Brand Azzah Perfumes also faced difficulty in shipping their products to the customers. In their initial days, they would go to the courier shops and then keep holding the slips to avoid the shipment's misplacement. Later, they tied up with a courier company that used to charge them a lot.
"I had no other option than to bear the unfair practices of the courier company."
Azzah Perfumes Journey with Shiprocket
The Brand Azzah Perfumes then got to know about Shiprocket through a Google search, and they found the solution to all their troubles. They are now able to ship their products from their doorstep. Besides, shipping with Shiprocket doesn't burn a hole in their pockets.

Shiprocket offers a comprehensive pin code coverage of more than 27000 pin codes. Besides, with our 17+ courier partners' network, the eCommerce retailers can choose the courier partner of their choice.
We are always working towards making shipping a hassle-free experience for our sellers. We offer a wide range of features, such as a shipping rate calculator, multiple pickup location options, insurance coverage, post shipping communication, and an NDR management solution.

"Shiprocket is much more than just a shipment solution. It is two-way communication between my clients and me. My clients can also track their order conveniently."
Shiprocket has made it easy for the brand Azzah Perfumes to ship their products. Their products are collected from their doorstep and safely delivered to the destination. With our automated email and SMS communication feature, the brand and its customers can track their orders with ease.
In the words of the brand Azzah Perfumes, "Shiprocket is a revolution in terms of shipping and eCommerce logistics companies. It has changed how we ship our products and made the process convenient, affordable, and safe. We no more have to keep running behind the courier guy. The process is now more systematic and highly professional. My clients can track their parcels easily just with a click."
Azzah Perfumes is a bootstrap company that is based on passion, trust, and commitment. Like ours, the brands' motto is to serve customers well and provide them with the most remarkable customer service. They offer a wide range of chemical-free perfumes, from woody to musky, at reasonable prices.
Calculate Your Shipping Costs Now