How are Client Testimonials Helpful for a Business
Once you start meeting the expectations of your customers, you can take their help to grow your business – by asking them to write reviews, client testimonials, and provide content for case studies. Customers these days can also be easily influenced by trustworthy and honest reviews.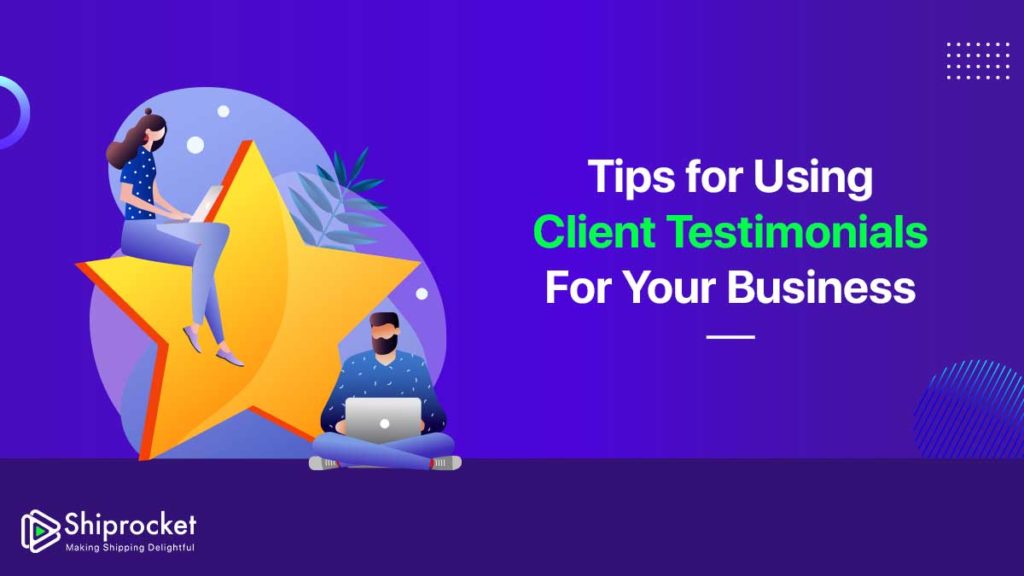 Your ultimate success is your customers liking your brand and products so much that they start recommending them to their family and friends. That they become the ambassador of your brand. Said that, client testimonials also deserve a place on the homepage of a website. They are proof of the outstanding work that you do.
What is a Client Testimonial?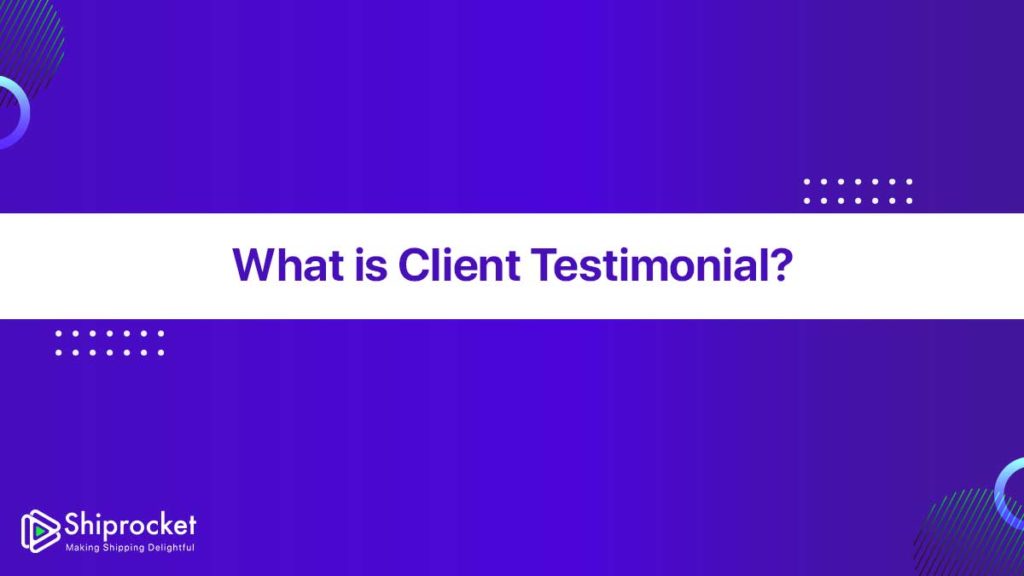 Customer testimonials are the advertisement of your product or service. The only difference between advertisement and customer testimonials is that the testimonials are honest, and they come directly from the end-users of your products, i.e., customers. You can post them on your website and even use them in your marketing material.
Client testimonials include information about the overall customers' experience and how your products/services added value to their life.
Importance of Client Testimonials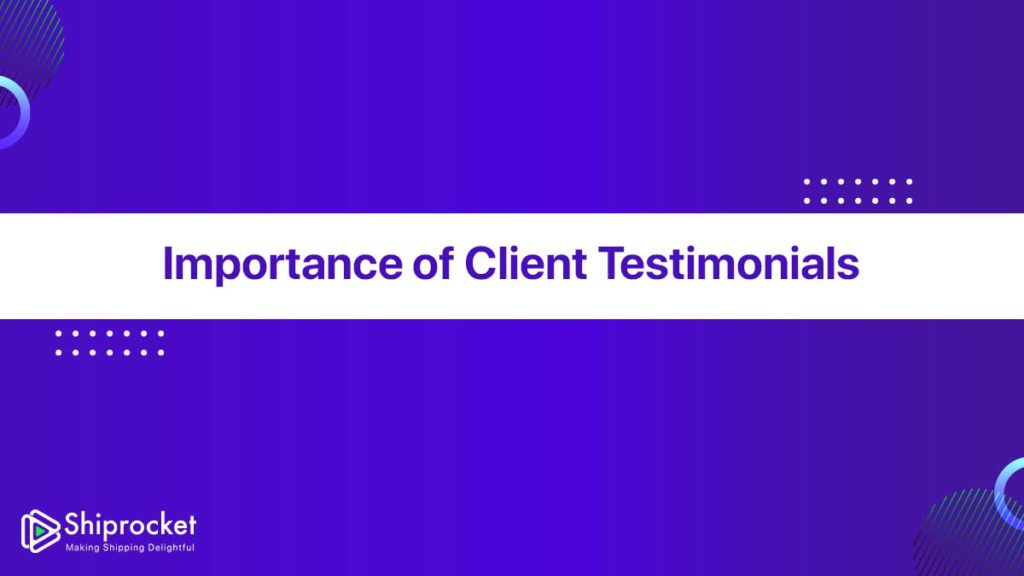 Client testimonials are important for both – customers as well as business. From the customers' point of view, testimonials help them in the decision-making process – whether to buy the product or not. They are influenced by how much the other customers trust the brand and products. While a negative review can sway the customers, a positive review can persuade buyers to make a purchase. Additionally, a business with no reviews rings an alarm for the customers, that no one is purchasing from the brand.
From a business's point of view, testimonials help them understand why customers are purchasing from them or why they aren't. With this information in hand, the businesses can make an informed decision on what needs to be changed and what needs to remain unchanged. Lastly, positive reviews help in changing potential customers into buyers.
How to Ask Customers for Testimonials?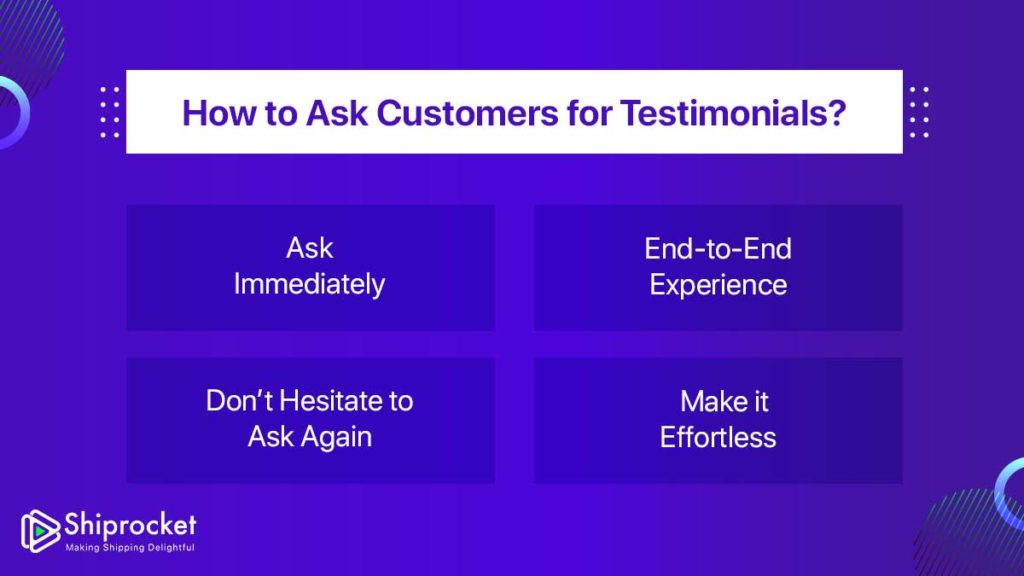 Customer testimonials have a great impact on business. Knowing this, you must be wondering how you can get some for your website. Here are a few ways how you can ask your customers for strong testimonials:
Ask Immediately
Ask for testimonials immediately after the customers have made a purchase and they are happy with it. If you ask them immediately, the information that you get is fresh, accurate, and specific.
End-to-End Experience
It's great to showcase the complete customer experience on your website. It must have an end-to-end customer experience. The customer testimonial tells your prospective customers how your product has resolved the challenges that your current customers were facing, or how their experience has been with the product.
Don't Hesitate to Follow-Up
If you ask for a review but don't get it, wait for a few days – maybe a couple of days or weeks. Then, try again. There is no harm in sending a follow-up message or email asking if would like to share their experience about the brand. Maybe their purchase made an impact on their life during these previous few days and they would like to share their experience.
Make It Effortless
In the effort of getting testimonials, don't forget to inform them how they can share their experience. You can share guidelines and links where the customers can easily share their testimonials.
How Customer Testimonials can be Helpful?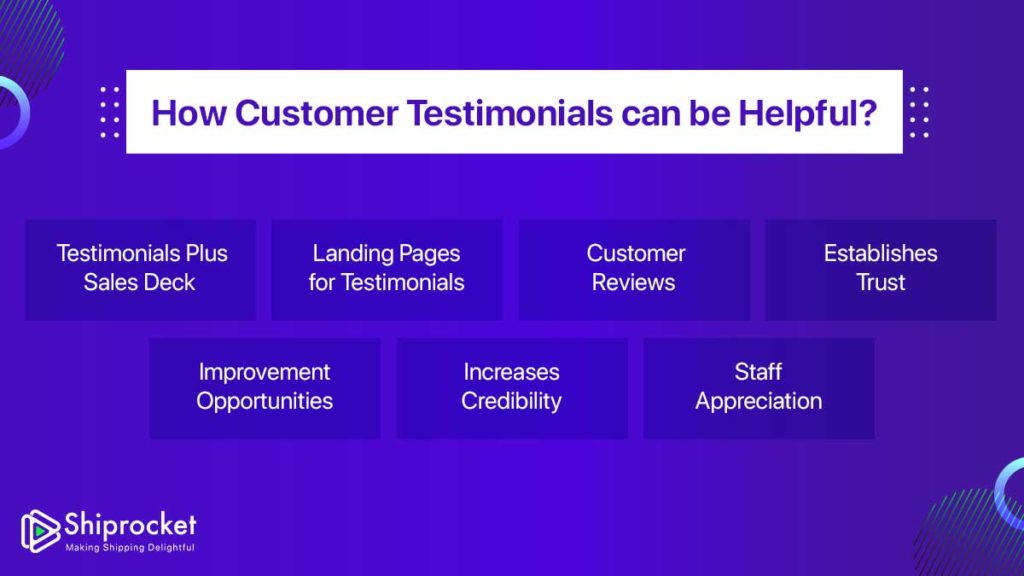 It is a common practice among marketers to use client testimonials for their business. Testimonials are a marketing strategy that involves advertisements of the brand and products but by the customers themselves. A positive client testimonial has the potential to convert prospective customers into current buyers. With the help of testimonials, you can answer all the questions of potential customers, and show them how other customers liked your products and services. With the help of reviews, you put your customers first and sell them by showing how valuable the products are.
Client testimonial doesn't require any pitch. It is a conversation and honest words of the customers. With the help of customer testimonials, you provide your customers with all the important information in the words of your current customers.
Testimonials Plus Sales Deck
Adding client testimonials to the sales deck provides potential buyers with additional information that supports their decision. In the sales deck, businesses generally talk about the buyers' needs and the solutions that the products offer to their challenges. They are also proof of the claims that you make. Client testimonials are certainly very helpful for your business.
Landing Pages for Testimonials
To make the biggest impact on your customers with the help of testimonials, have a separate page for all the testimonials – a single landing page. This will help your customers find the testimonials effortlessly. Many businesses have adopted this approach. They highlight a variety of companies or individuals that use their products and how they benefited from them. Also, they pair the testimonials with a picture. A picture with a name can offer a more personal and authentic experience to the customers.
Customer Reviews
Customer reviews help you understand why customers are using your products – what they like the most about your product and brand. Or it even tells what they don't like about the brand. Feedbacks are just one more way to improve the overall customer experience and how the customers interact with the brand. So, try to get accurate feedback. You can encourage customers to write honest reviews.
You must reinforce positive feedback and try to respond to the negative reviews. Understand what your customers think is missing and how you can improve their experience. Find ways to repair the buyer-seller relationship.
Establishes Trust
Since testimonials are unbiased and honest, readers trust them more. If your company representative tells you how good your product is, they might not find it trustworthy. However, when it comes from someone who is not linked to the brand, they trust it more. Thus, they help in your business.
Improvement Opportunities
Not all feedbacks are positive. Some feedbacks might not be positive but highlight some areas of improvement. Either way, collecting testimonials is important. They can be a great form of market research – collecting information and planning improvements. If you hear the same things again and again, perhaps you need to consider it and make some improvements.
Increases Credibility
Testimonials help the business grow. How? Well, the customers first search on the internet about the service provider/seller and how the product has impacted other customers. They make a purchase only after gaining enough information about the brand and the product. This means that client testimonials are a good way of attracting potential customers to your products and services.
Staff Appreciation
You can also ask your customers to give testimonials about your staff. Showcasing what your customers have to say about your staff is also a good option. This information can help in staff training.
The Final Say
By encouraging customers to provide reviews and testimonials about your products and brand, you can understand their pain points, prove the value of your products, and offer your customers the best product experience.
Calculate Your Shipping Costs Now