Boost eCommerce Growth With The Best Logistics Software
The term "Logistics" originated in the military. During the war, supplying equipment and supplies to the military was termed as logistics. Since then, it has remained a very important aspect of businesses.
eCommerce businesses nowadays are aware of the fact that their growth is not just based on attracting new customers, but also on the ability to build a loyal customer base that will purchase their products time and again. And this comes with ease of product purchase for your customers.
While logistics remains an important part of any business, its impact is often overlooked as the focus is shifted more towards features of the product, customer support, and after-sale communication.
One of the reasons for Amazon's huge success rate is its effective logistics strategy. Amazon is improving its e-commerce experience for customers (both buyers and sellers) in various ways, such as same-day delivery, the convenience of adding products to shopping carts by talking to Amazon Echo device and so on.
Such a shopping experience is continuously raising standards for all small and medium-scale e-commerce businesses. To stay at par with Amazon, these businesses are coming up with multiple delivery options, across several pin-codes PAN India. This is where an effective shipping and logistics aggregator comes into the picture.
How Can A Logistics Platform Boost Your Business Growth?
In today's fast-paced life, most shoppers prefer high-speed delivery and low shipping cost while purchasing a product. The delivery options your business offers can have a huge impact on conversion rates.
Here are few customer-centered benefits of having an effective logistics software –
Automated Tracking Updates For Buyers
A logistics software that offers automatic tracking updates to your customers about the products they purchased can be a boon for your business growth. Clarity of time of delivery would interest your customers to purchase more of your products.
Estimated Delivery Date (EDD)
Regular updates about the estimated delivery date of a product will lead to a higher delivery success rate for your brand, thus helping you to make your business profitable. If customers have a clear idea about the date when their product will arrive, there are fewer chances of the order to be returned due to unavailability.
Transparent Shipping Cost
When a customer is disclosed the shipping cost at the point of sale, he/she knows how much they are paying for the shipment, leaving them with no confusion and more clarity.
Along with improving the buying experience for your customers and growing conversion rates, an effective logistics platform can benefit your e-commerce business too in many ways.
Read about the business-centered benefits of having an effective logistics software-
Wide Pin-Code Reach
With logistics aggregators, you get access to a wide range of pin codes as you leverage the pin code reach of more than one carrier. Thus, with many courier partners at your disposal, you can reach out to a massive audience across the country.
Multiple Courier Partners
Logistics aggregators have several courier partners integrated with their platform. You can simply choose the best for your business and the one that matches the requirement for each shipment. Also, you can choose the service which offers the cheapest rate or is most liked by audiences.
Website Integration
You can integrate the logistics aggregator platform seamlessly into your website with the help of APIs. These APIs fetch your website's data and syncs your orders on the platform to make shipping possible hassle-free. This avoids any loss in orders and keeps your website in sync with the fulfillment procedure.
Along with the above-mentioned benefits, the right logistics software can reduce the amount of manual infrastructure required to support logistics, ultimately automating the entire process. With less time spent manually in logistics, you will also be offered more time to assess carrier performance and shipping data.
One such logistics platform that can offer you all these features and much more is Shiprocket.

Shiprocket is India's leading eCommerce logistics provider with a wide reach to over 26,000+ pin codes across India and caters to nearly 220 countries. It has 17+ courier partners, 13 websites and marketplace integration, and other super-efficient features to make logistics much easier for you.
This platform will be a valuable tool for your e-commerce store. It will not only take care of each customer's experience, but it also enhances their perception of your brand — all while helping you grow your business.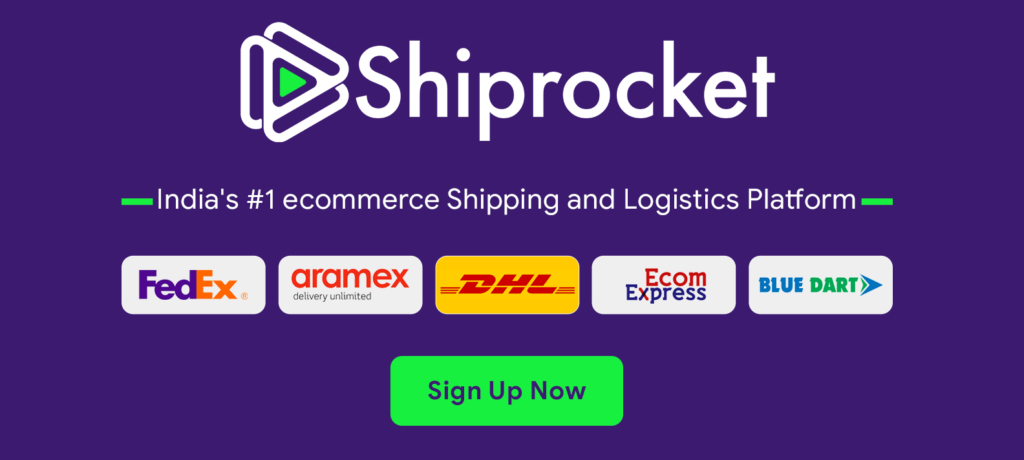 Calculate Your Shipping Costs Now