How To Improve The eCommerce Delivery Experience For Your Buyers
How can you provide your buyer with a top-notch delivery experience? This is indeed a frequently asked question by many sellers. Yes, there is no central dogma to approach this concern. But, there are some ways you can go about it. In this blog, we bring to you a few practical techniques that you can apply in your strategy to improve the delivery experience for your buyers. Let's get started!
Optimized website
This may not have a direct impact on the delivery of the package, but it hugely influences the purchase decision. Therefore, it is essential to effectively drive the delivery of the product and match up to the buyer's expectations.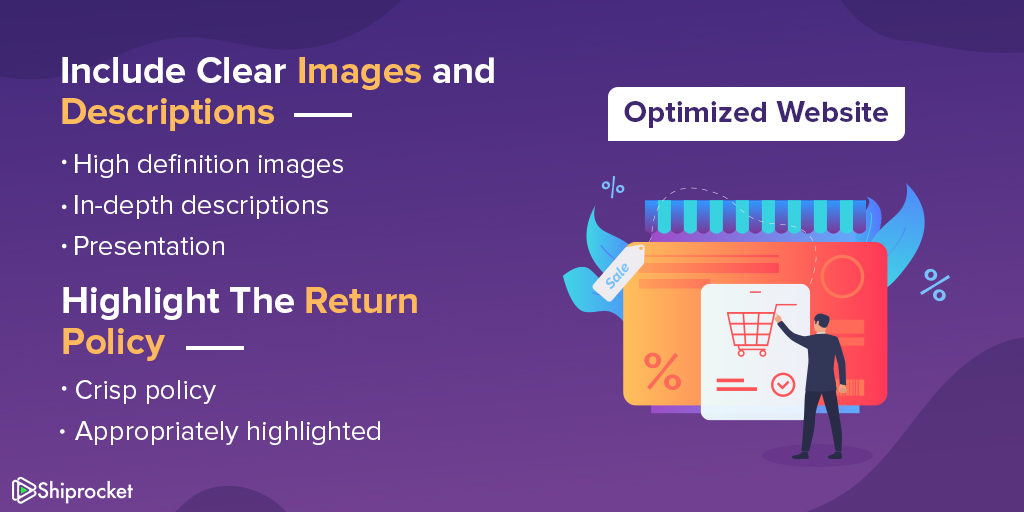 Include clear images and descriptions
High definition images give the buyers a clear picture of how the product looks. If it's apparel, the buyer can get a more definite sense of the fabric with a product image. Many times users remember images better than names. That also works in your favor if you upload clear product images. Along with images, description of the products also play an essential role in informing the buyers about your product.
Highlight the return policy
A thorough return policy is crucial for any eCommerce website. It is the easiest way to deal with returns and keep your customers informed. Thus, keep your policy to the point and make sure it is visible on your website.
Payment options
Payment is an arena where people do not prefer compromising or trying different techniques. Once they get comfortable with a payment mode, they like to use it for all orders. So, if you want more orders, focus on providing buyers with different payment options as below.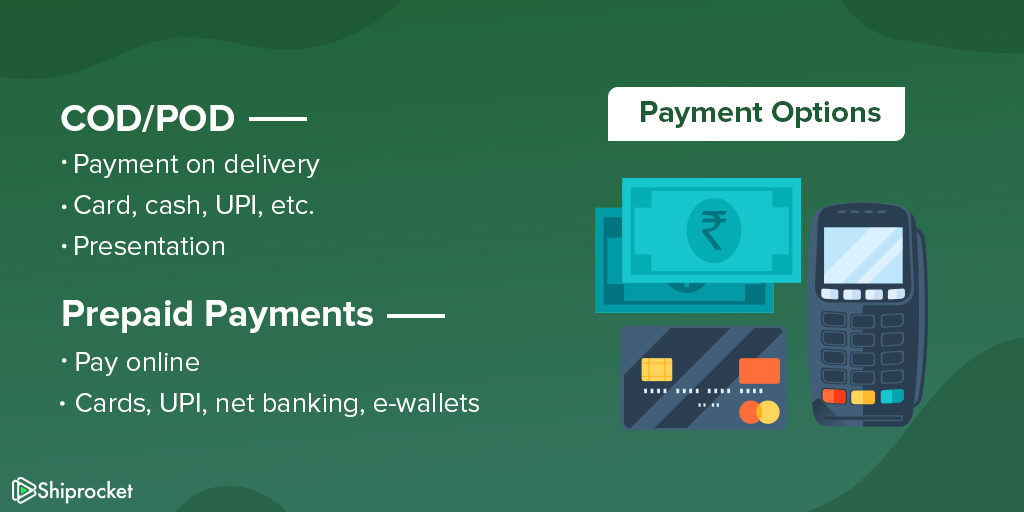 COD/POD
Pay on delivery is a popular choice with Indian buyers. They prefer paying for their orders once they have received them. Even though we are advancing to a more digital environment, there is a large population that still opts for paying for the products upon delivery. Cash on delivery, credit and debit cards, mobile wallets, and UPI payments can be accepted for collecting payments.
Prepaid payments
It is imperative to give your buyers an option to pay online. For most working individuals, this is the go-to option. Therefore, include prepaid options like credit & debit cards, net banking, e-wallets, UPI, etc.

Pro tip: Look for payment gateways that offer these payment options and shipping partners that can help you collect both forms of payments easily.
Packaging
Packaging of shipments defines your brand. Thus, it is necessary you spend ample resources for the packaging of goods. Imagine receiving a package that is tampered and has almost damaged your product. Doesn't seem appealing right? Therefore, invest in the safety and appeal of the package.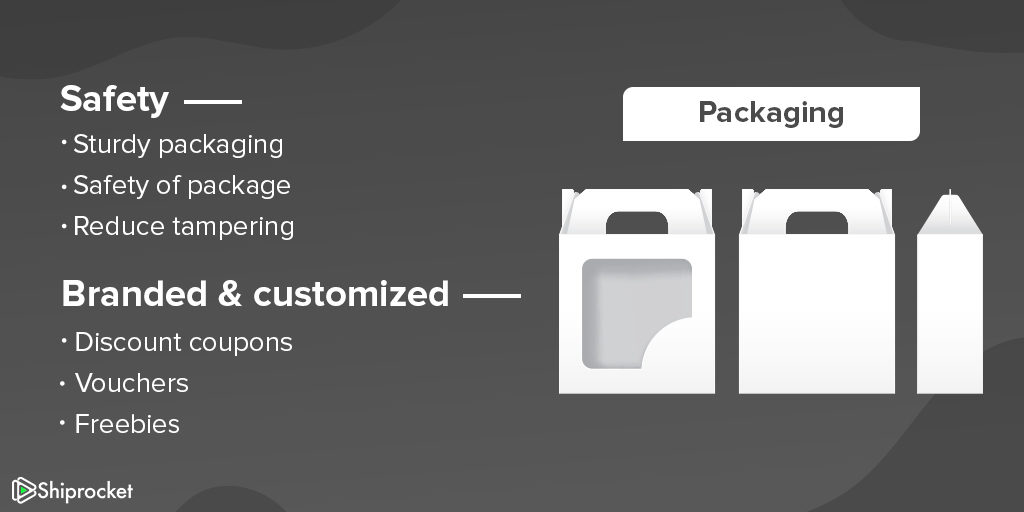 Safety
The package you ship from your warehouse has to bear the turbulence of air and road transport. Therefore, the packaging should be done in a way that it can withstand the friction it will face. In any case, the product must not be damaged when it reaches the customer. Deploy the practices of secondary and tertiary packaging to provide that extra layer of protection.
Branded & customized
If you've just started, you can avoid this. But, if you've expanded enough to ship more than 100 orders a week, you should invest in branded packaging. This involves sending out boxes with the name of your brand printed on them. Also, you can get the name of your company printed on the waterproof tapes that you use for packaging.

For customized packages, you can slip in hand-written notes along with offers to persuade the buyer for purchasing again from your website.

Pro tip: Always follow the packaging guidelines laid out by the courier companies and keep in mind the volumetric weight to make your shipment cost effective. Trust us; this small step can help you save a lot on shipping.
Seamless Shipping
Shipping is one of the significant contributors to a positive eCommerce delivery experience. Hence, it is always advised that you step up your ship and look for alternatives that can help you provide cheap yet quality eCommerce deliveries for your buyers. Courier aggregators like Shiprocket are a great choice. Since it is an automated system, you can directly import orders and process every order within a few clicks. Moreover, their prices are extremely less, and you can begin shipping orders at a starting rate of Rs. 27/500 gms. Here are a few techniques to provide smooth shipping.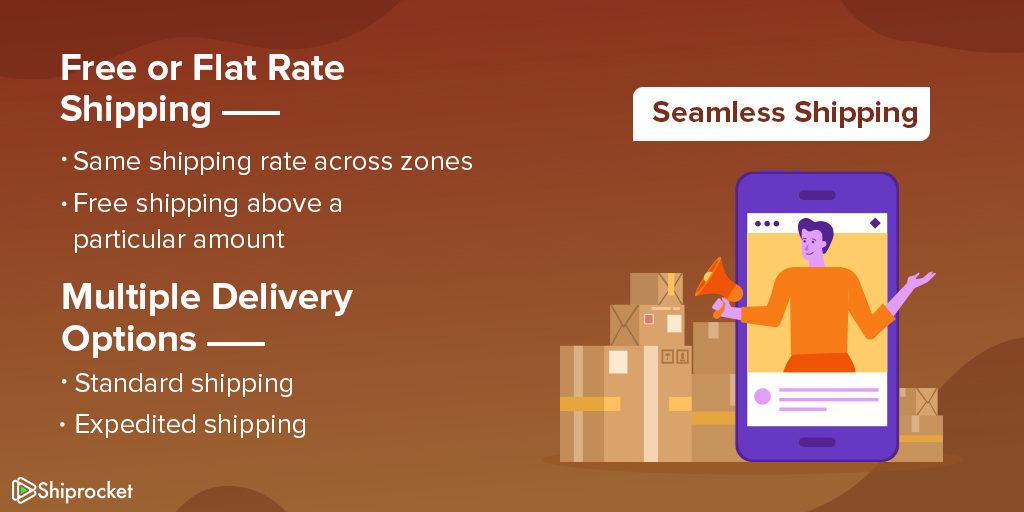 Free or flat rate shipping
Yes! Free or flat rate shipping is the key to convince your buyer for making that purchase. Trust us; nobody wants to pay an additional charge for getting their products delivered. Since you have a lot of competition surrounding your product, this strategy is almost like a necessity now.

Free delivery is any day the most preferred option. But, if you aren't able to do so, you can see an average of all the prices of your website and provide free shipping above that amount. For example, if the average price of all the products on your website is Rs. 2000, you can offer free delivery for orders above Rs. 2500. Most buyers are lured by this offering as well.
Multiple delivery options
There will be a variety of buyers who shop from your website. There won't be just one segment. Therefore, you need to have delivery options to cater to the needs of these diverse segments. There may be individuals who have stumbled on your site looking for expedited delivery, and there may be some who are okay with a slightly longer wait time that comes with standard delivery. Give them the option to select their preferred form of order delivery. This information can also help you save costs by prioritizing your orders.
An advanced Post-purchase experience
The services you render after the order has been placed drives a large part of the delivery experience. The time between the final delivery and the order confirmation is what keeps the buyer on their toes. To keep them satisfied, you need to engage them with information about their package regularly.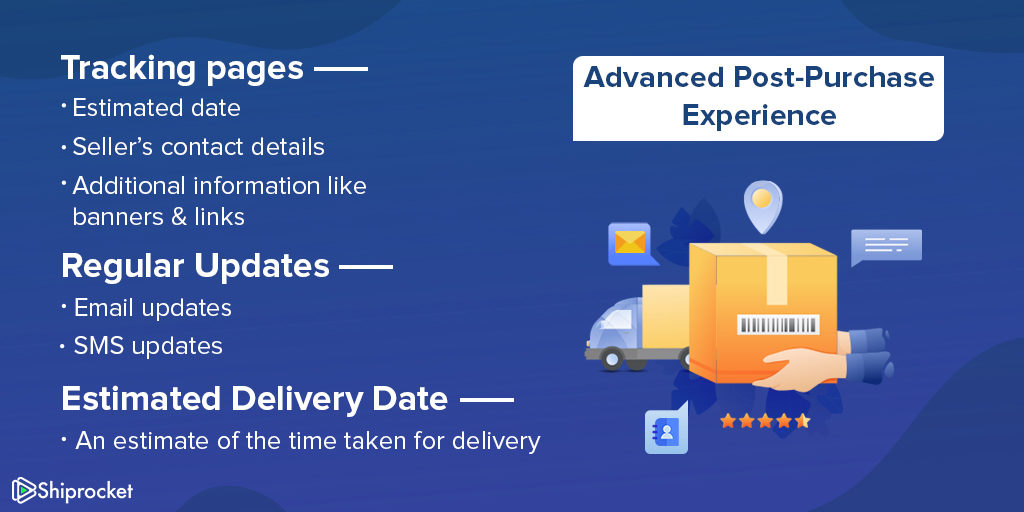 Tracking pages
Your customers are stalking their products continuously. Make it worth their while by giving them a tracking page with constant updates about their package. This tracking page can also contain your company's details and banners that link to other products sold by your store. It could help you attract more sales.
Regular updates
For those who are always on the move, email, and SMS updates about their package play an important role. They have many advantages. First, a person can view SMS updates without an internet connection, and second, the buyer is always in the loop and finds lesser chances to complain. You can also capitalize on these emails by sending along custom vouchers and updates that take place on your website.
Estimated delivery date
An estimated delivery date is significant as it seals the deal about when the product will be delivered. It is best if you can provide an estimate before the consumer confirms the order so that they are aware of when the product will be delivered.
Returns & exchange
Return orders are an indispensable part of your business now. You cannot avoid them at any cost. So, might as well make them profitable. Your first goal must be to reduce return orders which happen due to miscommunication and long drawn reattempts. But if a customer wants a return, you should entertain it positively. Here is how you can improve the delivery experience with proper returns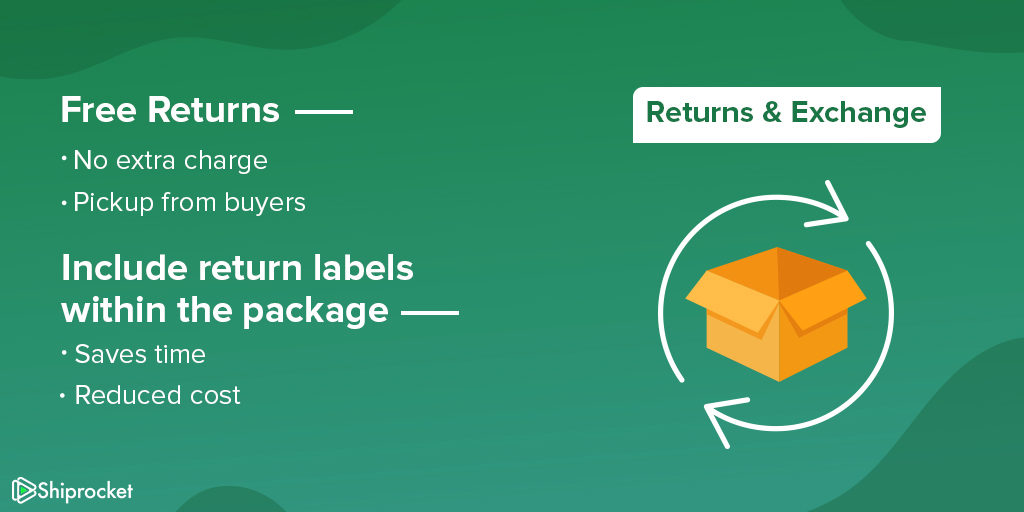 Free returns
Offering free returns equals to gaining brownie points. A great way to offer free returns is by including the partial cost of returns in your product's selling price. Thus, with free returns, customers will not hesitate while buying from your website.
Include return labels within the package
A great way to improve delivery and make returns easier at the same time is providing a return label within the box itself. The buyer can directly fill it out and attach it with their return package. This step has many advantages. First, it saves your buyer ample time. Second, you can avoid the hassle of product losses with an intact shipping label for your return order.

Read about the top ten courier partners suitable for reverse logistics in India!
Conclusion
Providing your buyers with a seamless eCommerce delivery experience isn't as difficult as it may seem. You need to follow some checks and balances and incorporate some changes in your strategy to make sure that the buyer is satisfied at every step of his journey.
Calculate Your Shipping Costs Now