Top 10 Courier Partners for Reverse Logistics
As we mentioned in our previous blogs, product returns are a significant part of your eCommerce business. You can choose not to process returns, but in today's eCommerce scenario, returns and exchanges are inevitable. They can drive away potential buyers.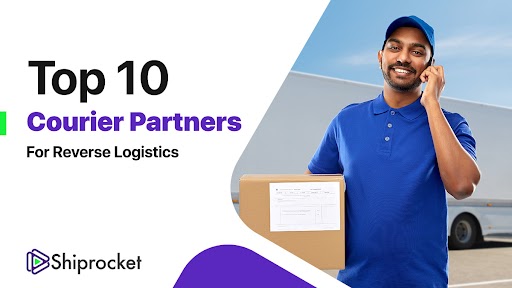 The cost of returns adds around 7-11% to the base price of the product. Thus, it is vital to process returns effectively at cheap rates to make sure returns don't incur a loss and at the same time keep your buyers happy! To do so, you need reliable and efficient courier partners to conduct return operations. Here is a list of the top 10 courier partners who provide reliable return logistics.
List of 10 Top Courier Partners for Reverse Logistics in India

Even though they are a courier aggregator, they do have a segregated NDR panel using which you can process returns faster than ever. The panel is automated, and any manual effort is reduced by half. This procedure saves you time, which helps you cut costs and RTO. Furthermore, they have top reverse logistics partners like Shadowfax and Ecomm express for processing reverse shipments. Thus, you save time, money, and aren't bound to any one carrier for order processing.

Ecomm is a renowned brand that offers efficient reverse logistics. Their fleet is known for their prompt reverse logistics and state-of-the-art technology used to carry out return shipments. They are working for all days of the year and make sure you get your package from the end consumer with 72 hours of informing them. Also, Ecomm has trained personnel to carry out a check of the returned products to ensure quality.

Shadowfax is a famous name among sellers and has an extensive outreach across India. Their logistics network includes about 70+ cities, with over 7000+ delivery partners & over 400+ vehicles. They are known for their last-mile delivery, and their return management is also said to be top-notch. Along with return pickups, they also offer doorstep quality checks to ensure the product provided for return is correct.

Delhivery is a famous name in the eCommerce industry, and they have grown tremendously over the past few years. It poses a reliable service for return orders and offers a separate returns module for its partners. You can utilize Delhivery for forwarding orders and return orders alike. They also provide exchange and product replacement services.

Xpressbees offer an on-time reverse order pickup service where they collect return orders from your buyer's doorstep and bring them to you within due time. Their service is exemplary, and they carry out return shipments seamlessly without any hassles. Not just this, they provide these services at nominal rates and make return shipments an easier task for you.

Bluedart is a household courier name for deliveries in India. Their return order processing is equally good. They process return orders from all over the country and are functional in over 17000 pin codes across India. They have an advanced logistics model designed for efficient pickup and processing and are a leading logistics network.

Rapidly grown into a global brand, Aramex is known for its innovative products and customer service. Not just in India, but Aramex offers its reverse logistics services across the world. The courier service provider offers comprehensive logistics and transportation services – express courier deliveries, freight forwarding, and supply chain management services.
First Flight Couriers Ltd.

It is a known company for eCommerce logistics, and many companies utilize its services to ship across the country. First flight has a renowned reverse logistics platform too, and they follow a six-step process to carry it out. The six-step process includes pickup from the customer's end, delivery to the warehouse, exchange of products, tracking, and global reach.
TCIexpress

TCI express has a separate section dedicated to reverse shipments for which they have 3000 designated cargo pickup points. Moreover, they provide centralized monitoring, tracking, and packing facilities for return orders.

Bizlog offers reverse logistics services for eCommerce and various other verticals. They claim to offer a reduced TAT, replacement, exchange, quality check, and packaging services for return order processing.
Choose the courier partner that offers you the maximum services; processes return orders efficiently, and at the same time helps you reduce RTO.
What is meant by reverse logistics?
Reverse logistics refers to the process of shipping back items to the original destination from where they were originally shipped.
Does Shiprocket offer reverse shipping services?
Yes. Shiprocket offers reverse shipping services with the best carriers.
Does reverse logistics mean paying extra money for shipping?
Yes. You need to pay additional costs for shipping goods back to their original location.
Calculate Your Shipping Costs Now