How to Start an Online Dropshipping Business
Dropshipping is one of the most popular business models for people who are venturing out in the world of eCommerce and are also new entrepreneurs. One of the main reasons for dropshipping's popularity is that this can be started with limited funds, from the comfort of your homes, and not requiring any kind of warehouse.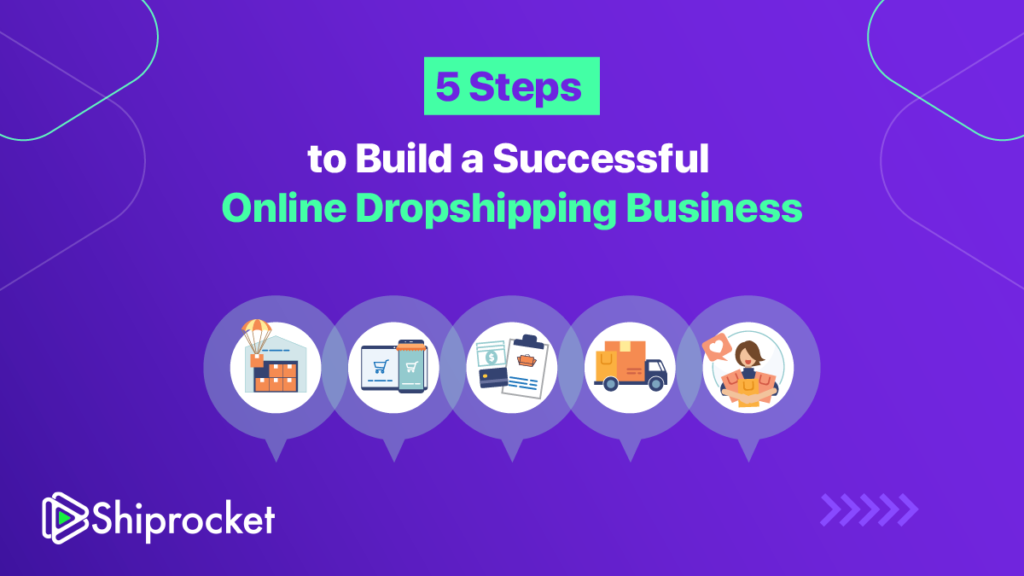 What Is a Dropshipping Business?
Dropshipping is a business model in which entrepreneurs can start an eCommerce venture with low, upfront investment. This model proposes selling products online without owning any inventory or shipping logistics. Let us look at the intricacies of dropshipping, explore the importance of choosing the right partners, and highlight the role of Shiprocket as a strategic ally in streamlining shipping for dropshipping businesses.
Dropshipping is an eCommerce business model in which the selling website purchases the items from a third-party supplier or manufacturer, who then fulfills the order on the behalf of the website owner.
Not only this reduces the operational costs majorly but also gives time to focus on customer acquisition and bringing business.
If you are ready to start your own dropshipping business, and on a limited financial capability, we have the perfect guide for you. Although it does not take a large number of funds, dropshipping businesses do require a lot of hard work.
Let's read and understand the steps required to start a dropshipping business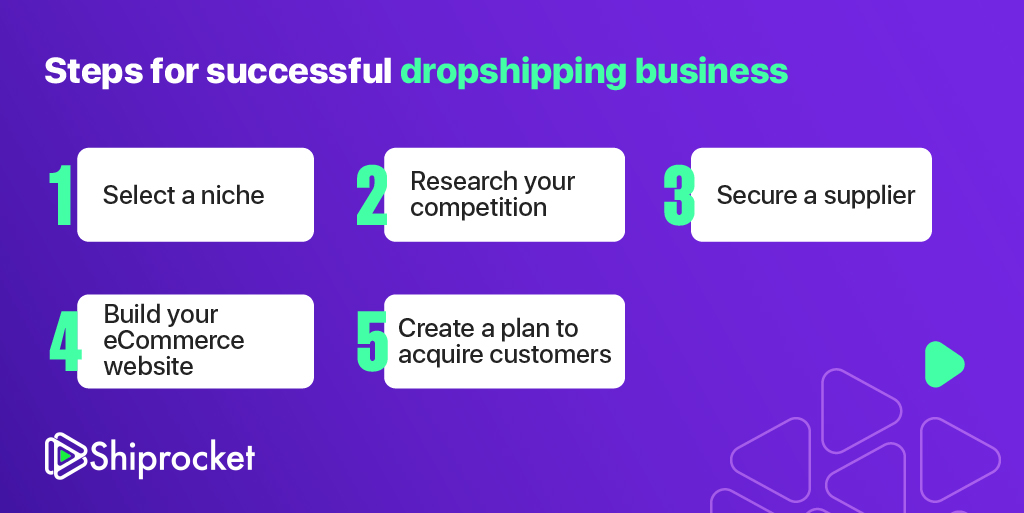 The 5 Step Dropshipping Business Plan
1. Select a Niche
It is important to select a niche when starting a dropshipping business, and the niche is supposed to be something you are interested in or are passionate about to ensure that down the line you won't get discouraged.
It takes quite an effort to scale a dropshipping business. When choosing a niche it is important to choose profitable products and products that can trigger an impulse buy. It is important to understand your consumers and the market to choose the right product.
You can also choose products that are not readily available, thus it will create an urgency for your product and brand.
2. Research your Competition
When you will start your dropshipping business, you will be competing not only against other dropshippers but also with retail giants such as Amazon. Researching about your competitors and the products they sell allows you to understand what is the demand of your customers.
Many products have low competition in the market, but the reasons for that include high shipping costs, manufacturing issues, or poor profit margins.
3. Secure a Supplier
The major part of any dropshipping business is securing a good supplier through which your business can procure products. You must conduct due diligence when hiring a supplier. Few points to keep in mind are – availability of products, prices of the products, shipping costs, and more.
There are many suppliers in the industry that offer you a chance to start your own dropshipping business by giving you products that are in demand, lucrative, can be shipped with a lower budget range.
4. Build your eCommerce Website
The fastest way to start your dropshipping business is to create your eCommerce website and list products sourced from the supplier. Many websites can help you set up your website without any technicalities needed.
Once the website is set up and the products are listed, all you have to do is start bringing in the customers, share your website with the audience, and get orders. Another option is to create an account on marketplaces and list your products there.
5. Create a Plan to Acquire Customers
Having a website is great, and having products listed on those websites is even amazing, but what good does that do if you cannot bring customers to your website. There are various ways through which you can bring customers to your websites such as Google ads, Facebooks Ads, word of mouth, and more.

You can also focus on search engine optimization, and email marketing in the long run. These are an easy way to leverage existing customers and lure a new customer base to generate revenue without additionally spending on advertising.
We have covered everything there is to know about starting a dropshipping business. By applying the advice given in the article above, you can start your own dropshipping business and work towards building your empire.
Choosing the Right Partners for Your Dropshipping Business:
When establishing a dropshipping business, selecting the right partners is crucial to ensure a smooth and efficient operation. Key partners include-
Suppliers
Manufacturers
Logistics providers.
It is important to understand the capabilities of suppliers by finding out their product quality, reliability, pricing, and shipping options. Building strong relationships with trustworthy suppliers is vital for maintaining customer satisfaction and delivering quality products.
At the same time, it is very important to work with reliable manufacturers. This step is vital as it is crucial for fulfilling orders. Thorough research and due diligence are necessary to find manufacturers with a good track record, excellent production capabilities, and the ability to meet demand fluctuations.
Additionally, partnering with a reliable logistics provider is essential for streamlining the shipping process. Look for a logistics partner with a robust network, efficient order fulfillment capabilities, competitive shipping rates, and advanced tracking systems. A logistics provider with extensive experience in handling dropshipping businesses can help streamline the shipping process, reduce transit times, and enhance the overall customer experience.
Shiprocket: Your Strategic Ally for Streamlining Shipping in Dropshipping Businesses:
Shiprocket is a leading logistics aggregator that offers specialised shipping solutions tailored to the unique requirements of dropshipping businesses. With its comprehensive suite of services and advanced technology, Shiprocket empowers entrepreneurs to streamline their shipping operations and scale their businesses effectively.
Shiprocket's platform integrates with multiple eCommerce platforms, enabling seamless order synchronisation and fulfillment. Shiprocket's extensive logistics network ensures fast order processing and timely delivery, irrespective of the destination.
One of the key advantages Shiprocket can bring to your newly set up drop shipping business is an advanced tracking system. With this system, both businesses and customers can monitor their orders in real-time, granting them crucial control over the shipping process. This feature greatly enhances the overall customer experience. Besides, Shiprocket's dedicated customer support team ensures all queries or concerns are addressed, leading to a seamless shopping experience.
Conclusion
As the eCommerce industry continues to evolve, dropshipping has emerged as a great avenue for successful businesses. It gives entrepreneurs a low-risk business model with significant potential for growth. The biggest challenge in setting up a dropshipping business is, perhaps, choosing the right partners, including suppliers, manufacturers, and logistics providers. In this regard, Shiprocket stands out as the ideal strategic ally for dropshipping businesses. With its wide array of shipping solutions, Shiprocket simplifies the logistics process and guarantees customer satisfaction. By entrusting their shipping logistics to Shiprocket, entrepreneurs can dedicate their energy to scaling their businesses, knowing that their logistics needs are being efficiently managed by industry experts.
Frequently Asked Questions(FAQs)
Why is shipping important in dropshipping?
Shipping plays a crucial role in dropshipping as it directly impacts customer satisfaction. Timely delivery, competitive rates, and transparent tracking are essential for a positive customer experience.
How can Shiprocket help my dropshipping business?
Shiprocket offers specialised shipping solutions tailored to the unique requirements of dropshipping businesses. With a comprehensive suite of services, advanced technology, and an extensive logistics network, Shiprocket streamlines the shipping process and enhances customer satisfaction.
Can I track my shipments with Shiprocket?
Yes, Shiprocket provides an advanced tracking system that allows you to monitor your shipments in real time. This transparency builds trust with customers and enables you to address any delivery concerns promptly.
Calculate Your Shipping Costs Now