Best Places to Source eCommerce Images For Your Business
Are you planning to build your eCommerce website? For that, you must be looking for some high-quality images online to place on your online store. You already have a lot on your plate to deal with your business and don't have the time to DIY product photography. To the relief of many of you, several photography websites exist on the web to help you with excellent free and paid stock images.
Suppose you're worried about which websites to track down for choosing the best images for your eCommerce website; worry not! We're here to help you with some of the best places to source images for your online store. Remember, using high-quality photos is an excellent way to attract customers, as humans, in general, tend to get more attracted towards a visual representation of a product than just written content.
The best and most effective way to make your eCommerce website look more professional is to use better images on your site. You don't need any technical skills or design skills to choose the best photo for your website, and you can easily upgrade the look and feel of your website in minutes.
Now, before getting into the best places where you can find the right images for your website, let us understand a few criteria you must keep in mind while selecting your pictures-
How to Choose the Right Images for your Website?
Say No to Low-Quality Images!
Using low-quality images is a strict no-no when it comes to choosing pictures for your website. Do not use pixelated images that get distorted and appear fuzzy when stretched. Low-quality images immediately disappoint the user who has visited your website, as it questions the website's authenticity.
Look for Unique Images
Sourcing images online can be a great way to save you time, but only if you use them correctly. Try not to use images that you see on almost all eCommerce websites. This will just hide your identity and not help you stand out from the rest of your competitors. Instead, use authentic and candid photos, as it connects much better with your website visitor.
Use Images with a Meaning
Look out for meaningful images rather than the ones that just appear to be excellent. Consider using images where people are doing some activity or interacting with each other. These kinds of pictures give you a way to express to your viewers what your business is about, with the added benefit of capturing more attention. For example, instead of just displaying an image of your product, use a photo of someone using or interacting with the product.
Now that we have told you about the three criteria to keep in mind while choosing photos for your website let us look at the sources of these great pictures.
To start with, there are two kinds of image sources you will come across — free and paid.
While we tend to opt for free images more, you must explore the paid sources and increase your options. However, for free images, you must provide proper credits to the picture owner by either citing the origin or the name of the person who clicked the photo.
Free images are usually more creative than the paid images, which are more commercial. You will always find more artistic and candid images in the free sources rather than the paid ones. Free images can be great to use as backgrounds, header images, and mood pictures to help set the tone of your eCommerce website.
Top 5 Best Places to Source Images for your eCommerce Website (Free & Paid)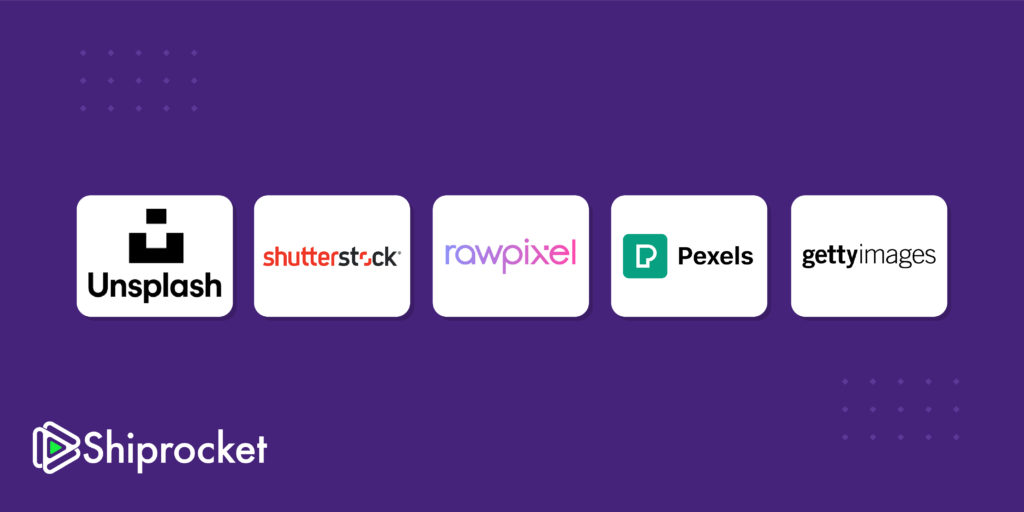 Unsplash
Unsplash.com is an excellent source for finding free images for your eCommerce website. It has over 1 million photos by highly talented photographers from all over the world. It has categories such as nature, textures and patterns, people, business & work, technology, and many more to choose from. All their photos are free to download and usable under the Unsplash License.
Since these are free images, they are not meant for commercial consumption purposes. So you can find a lot of landscapes, object images, and pretty random stuff. These are great for page backgrounds, header images and in any web pages that don't have specific commercial applications.
Getty Images
Gettyimage.com is a paid image source for eCommerce websites. It has some of the best images for commercial applications in advertisements, brochures, websites, and so on. They have one of the best selections of non-stock-like photos and graphics. Some of their images are exclusive to Getty Images, so you can't find those in other stock image resources. They also have a good search tool that allows you to find the images you need quickly.
They charge Rs. 23,000 per download for large images of 4K resolution and Rs. 7,000 per download for smaller prints.
Shutterstock
Shutterstock.com is a great platform to find affordable paid images for your eCommerce website. It has a wide range of photos and graphics you can choose from and are pretty reasonable. They have plenty of categories to choose from, such as technology, celebrities, nature, business, industrial, transportation, and many others. Shutterstock doesn't require you to sign up for a monthly plan if you need images just for a few times a year. You can use credits and use them toward whichever images you want for your website.

Pexels
Pexels.com is a free source of images that you must check out for your eCommerce website. Their photos are incredibly artistic and have over 50,000 photos available on their platform. They have photos ranging from music to technology. You must explore Pexels if you are looking for some high-quality, unique images for your website.
Rawpixel
Rawpixel is a great place to find free images that are usable for any eCommerce business website. Most of the pictures in this platform tell a story, which will create a stronger connection with your visitors and will also tell them what your business is about. In Rawpixel, you will need to subscribe before downloading any image. Just enter your email address and set up a password, and you are good to go.
Final Say
Now that you have the list of all the top platforms for image sourcing, picking the right ones will be fun for you. Do not limit yourself to just one resource; instead, explore all the platforms mentioned above to find all the images you want for your online store. Remember, images inject life into your website!
Calculate Your Shipping Costs Now